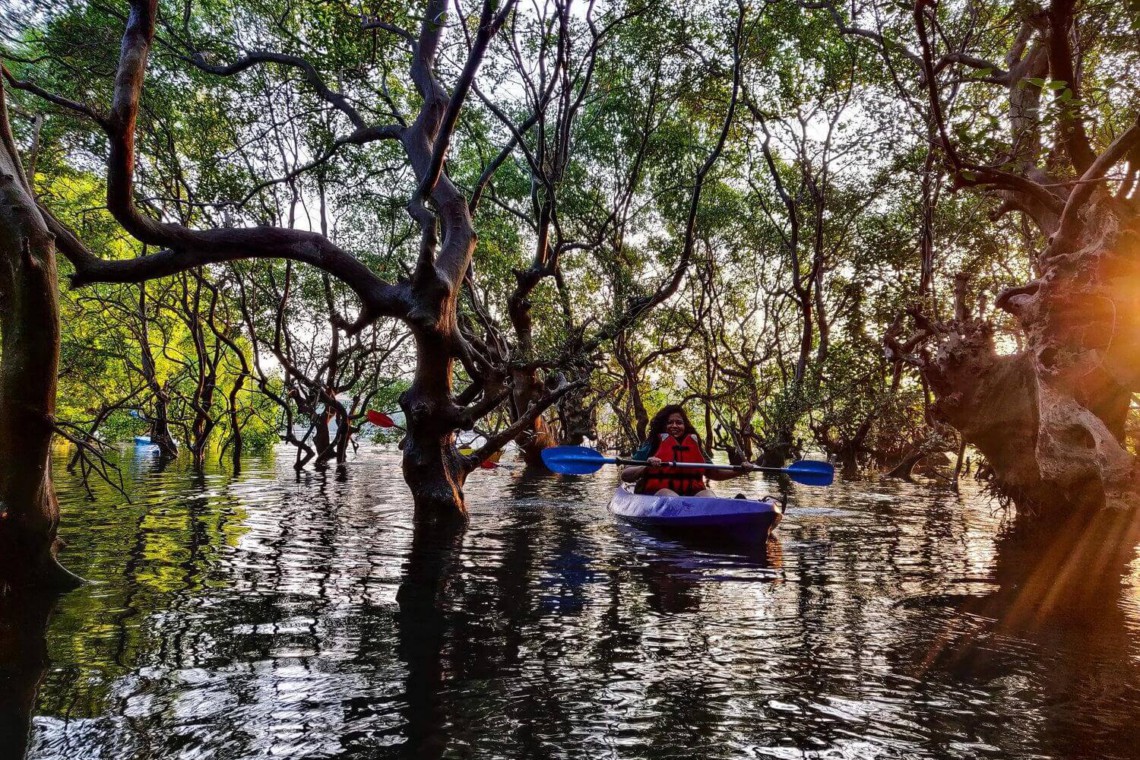 The reason that brings us back to Goa is the clean beaches and clear water with the mesmerising view and breathtaking sunsets. Apart from the calmness and relaxation, the beach has a lot to offer. Visits to the beaches are incomplete without watersports. One such water sport is Kayaking, which is relaxing in its own way. You will be amazed to see the beautiful locations of Goa that will relax your mind and soul—sharing some exciting places with you to have the best experience of Kayaking. Have a look!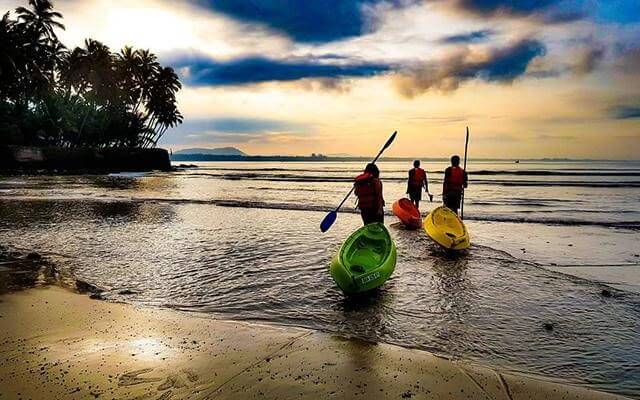 Kayaking in Backwater
It is the most popular spot to witness the exotic sunset of Goa. The mesmerising colours and the fantastic weather will bring solitude to your loved ones. It is one of the most famous places for Kayaking in the Chapora river. You can enjoy the ride for almost 2 hours. The thick jungle of Goa has a lot to offer, so paddle your way through to witness the breathtaking view of Goa.
Pricing – The package differs from Rs. 1200/- to 1600/- per person. This includes 2 hours of ride, with safety gear, equipment and proper instructions.
Also Check : Parasailing in Goa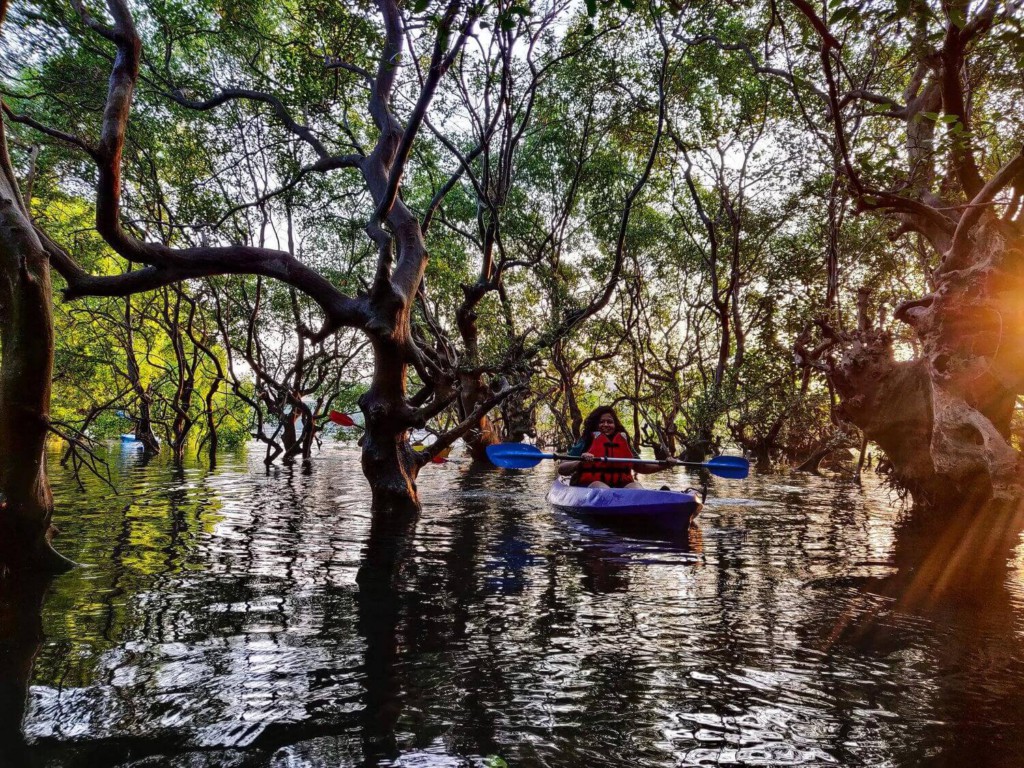 Moonlight Kayaking
One of the experiences that none can forget. Grab your partner and visit the perfect place for a romantic Kayaking under the moon's silver rays. It happens only during the full moon. Witness this jaw-dropping view while holding hands with your soulmate under the moonlight. The Kayaking lasts for 3 hours at Bambolim and Palolem
Pricing – The package differs from Rs. 1500/- to 1800/- per person. The package with food and drinks will cost a little higher.
Also Check : Surfing in Goa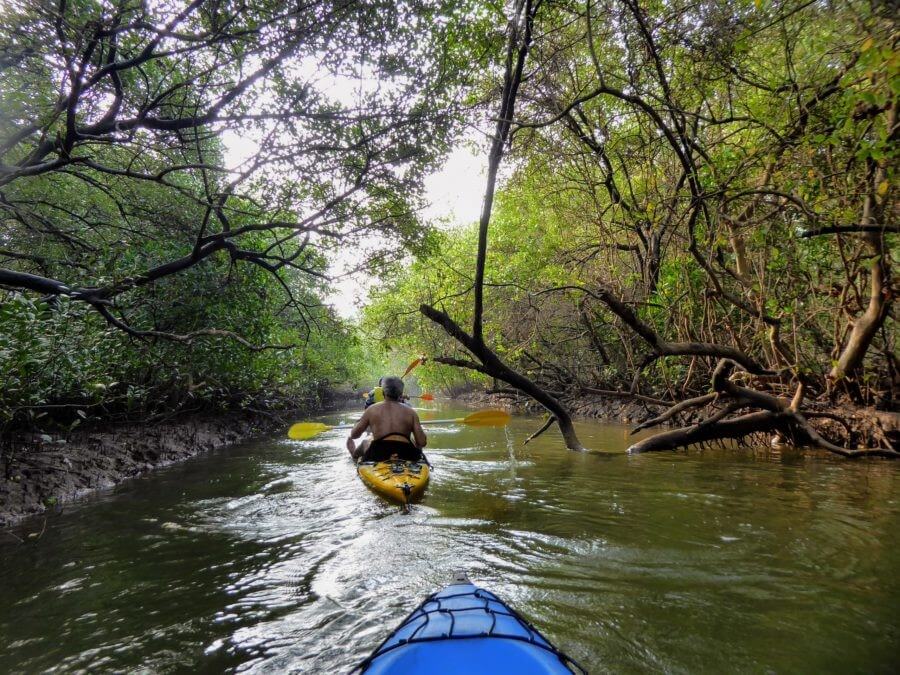 Baga Creek
If you are staying in North Goa, this is the nearest place for Kayaking. It is a tiny, stretched tidal portion known as Bada Creek. It is a narrow stretch with clear water and lush greens on all sides. It is located in Baga beach, which is easily accessible by cab, taxi or personal vehicle. You can also enjoy other water activities to kick in your adrenaline rush.
Pricing – Kayaking at Baga Creeks happens on a pocket-friendly budget. The package differs from Rs. 500/- to 800/- per person. It is a 60 minutes ride to experience sunrise or sunset.
Also Check : Hot Air Ballon flights in Goa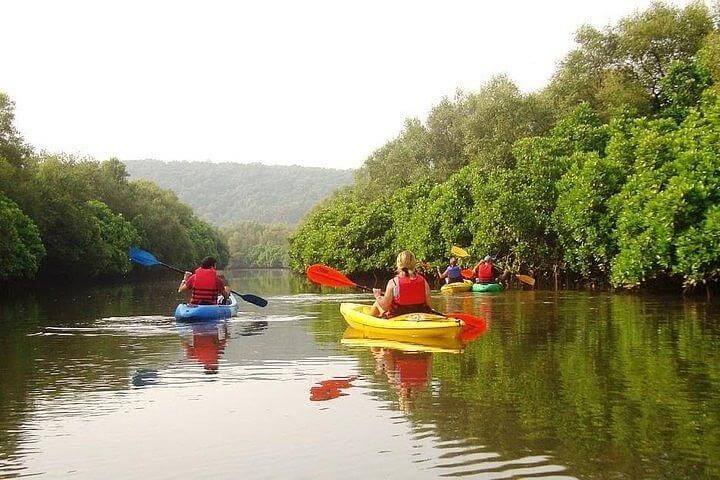 Mobor Beach
Another beautiful spot to experience Kayaking is Mobor beach. This exceptional water activity lets you explore some isolated parts of nature. It is located in South Goa, in the pristine water of the Arabian Sea. It is closest to the Goa airport and railway station.
Pricing – The package differs from Rs. 500/- to 800/- per person.
Also Check: Scuba Diving in Goa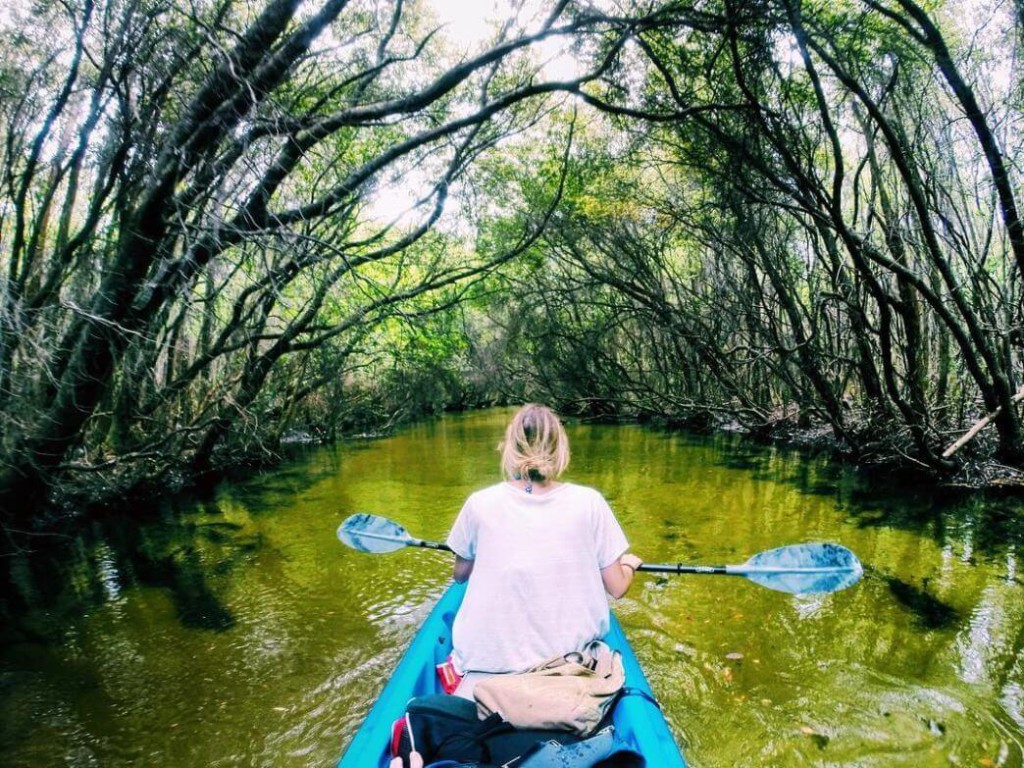 Sylvan Siridao
For all the water babies out there, Sylvan is the one-stop destination to explore all the water activities. To encounter the hidden gems of Goa, Kayaking is the best activity to indulge in. One such experience is at the backwater of Sylvan Siridao, where lush greenery and eye-appealing nature will leave you amazed. It takes place through the blackwater of the Zuari River, which is also famous for its sunsets.
Pricing – It is compulsory to have a group of 4 for backwater Kayaking. The price differs from Rs. 5500/- to 7500/- for a group of 4. It is a 3 hours activity with snacks and refreshments included.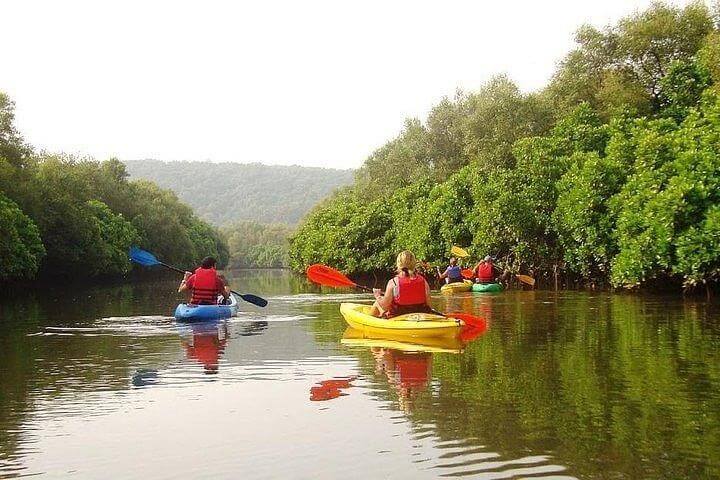 Goa Kayaking
It is located in Chicalim, where you can ride along the coast and river. Paddle your way through the calmness of nature and spot some exotic birds, creatures and sunset. The Goa Kayaking club also organises training programs, moonlight kayaking, races and festivals. This is a perfect choice to experience this sport.
Pricing – Rs. 1200/- approx per person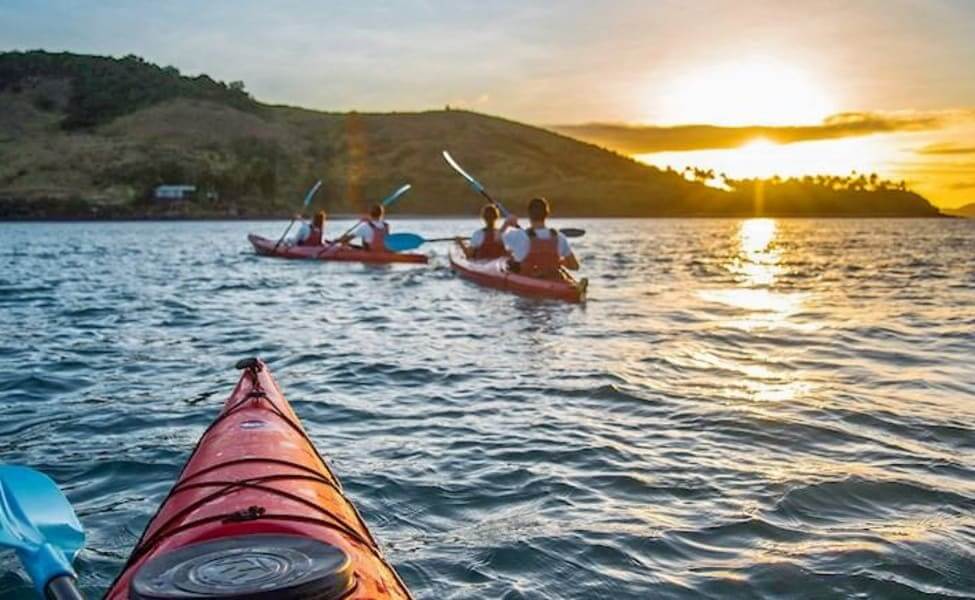 Konkan Explorer
If you are looking to kayak away from the hustle and bustle of the city, Konkar explorer is the place for you. Their specially designed vessels from New Zealand will take you to the place where you will begin your ride to discover Goa like never before. Sit-on-top expedition kayaks, stand-up paddles or mono-hull dinghies; they have it all!
Location – Old Ferry Ramp, Chopdem
Pricing – Rs. 1200/- approx per person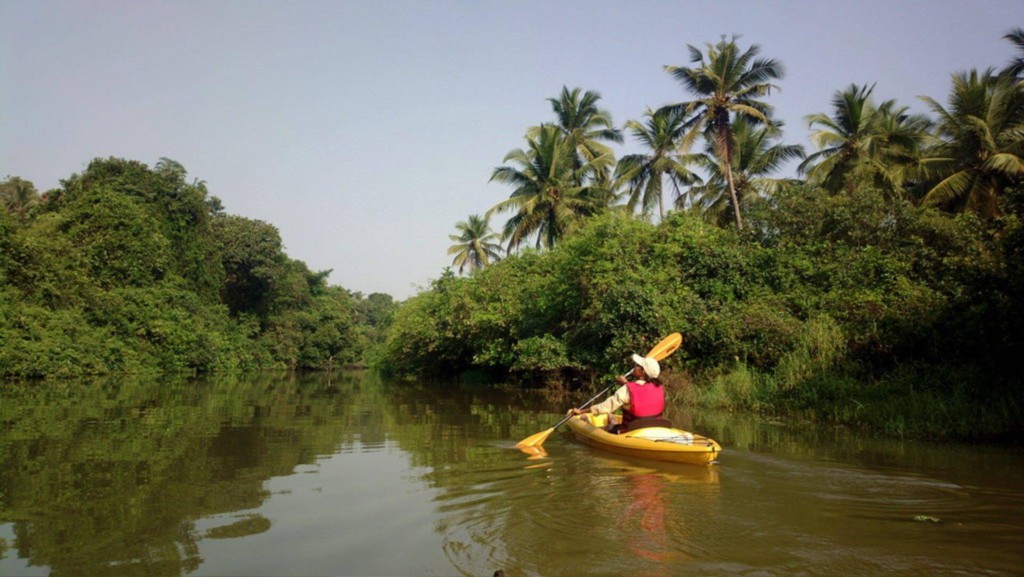 Things to remember while Kayaking
Always remember to take control of the situation, do not panic and understand safety measures before starting. Always check the weather before starting, wear a safety jacket and dress as per the conditions. It is suggested to not wear loose clothes and do not forget to have fun and enjoy the journey which nature offers.
check this also – quotes on goa