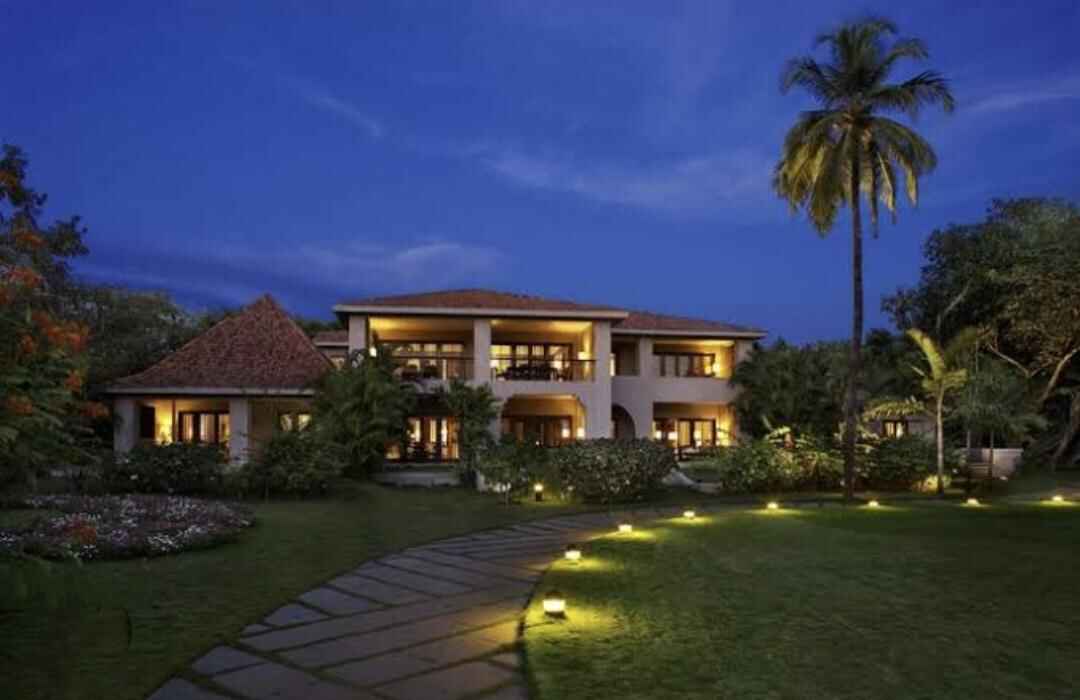 The name Mobor Beach strikes first in the mind when visitors talk about a fancy beach in Goa. Well, nature is not the sole contributor to its unparalleled beauty but luxurious accommodation and exclusive adventure options are equally liable for fascinating the selective visitors.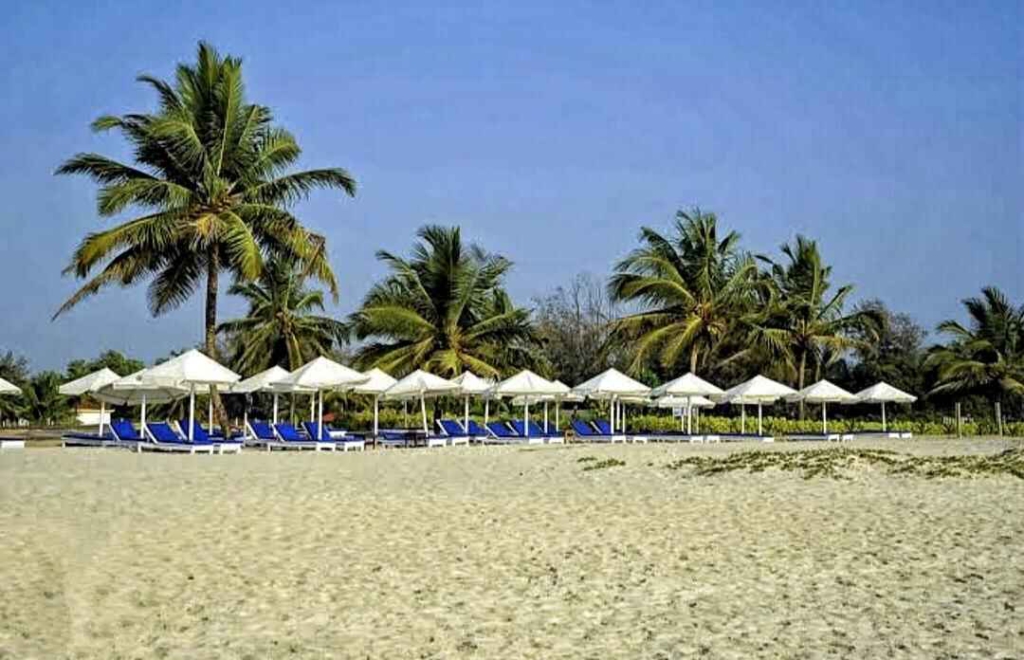 Nestled on the divine confluence of the giant Arabian Sea and the soothing Sal River, Mobor Beach offers a gateway of splendid beauty and dazzles hordes of visitors.
The pristine beach location is repleted with the sun-bleached stretch of doughy sand, turquoise water, tall palms and marine creatures. The magical combination of all these natural treasures makes Mobor Beach truly a wonderland.
Whether take a free stroll on the cushy sand bed of Mobor Beach, lounge on the beach bed & soak into the balmy sun or delve into the riveting beach water fun activities, everything will ensure the visitors a memorable Mobor Beach exploration.
Highlights of Mobor Beach –
Underwater fishing and Oyster Catching are some exceptional water activities that one can enjoy at Mobor Beach.
The surreal lilies in the nearby ponds and Sal River are major attractions among Mobor Beach visitors.
Visitors pick a calm spot for birdwatching as well near the river area.
Holiday Inn & The Leela are two most hyped resort properties near Mobor Beach for a luxury stay.
Mobor Beach is a few steps away from prominent Cavelossim Beach, you can extend your beach time by visiting here as well.
What is the best time to plan a visit to Mobor Beach?
Though the beach embraces visitors throughout the year, the ideal time to traverse through its beauty is from November to February. The surroundings of Mobor Beach reach their peak blooming state due to pleasant weather. Mild temperature (26-30°C) allows beach lovers to extend their sun exposure time till noon.
Sudden heavy downpours and scorching heat will not trouble you if you pick these months for a refreshing seaside beach vacation at Mobor Beach, South Goa. Water adventure, cruise tours and shacks make the beach even more bustling in comparison to other months.
How to reach Mobor Beach easily from the airport and capital city?
Most visitors access the beach locations straight from the airport or Panjim city.
The distance between Goa International Airport and Mobor Beach is 38 kilometers. For reaching the beach area cab services are available at the airport. It takes nearly an hour to cover the distance between both destinations. You can also take rented bike rides if heavy luggage is not troubling you.
The capital city of Goa, Panaji is 48.6 kilometers distant from Mobor Beach. You can opt for any transportation medium to access the beach location. The clear routes between these two locations take 1 hour to cover the distance. Train services from Vasco da Gama station and Margao Railway station will also leave you at the close locations to Mobor Beach. At these close locations, you can take any transportation services to reach Mobor Beach.
1. What are the prime locations nearby Mobor Beach for sightseeing?
Mobor Beach's surroundings are dotted with some brilliant architectural jewels. After spending a good time in the beach area, you can include the below-listed intriguing spots in your itinerary.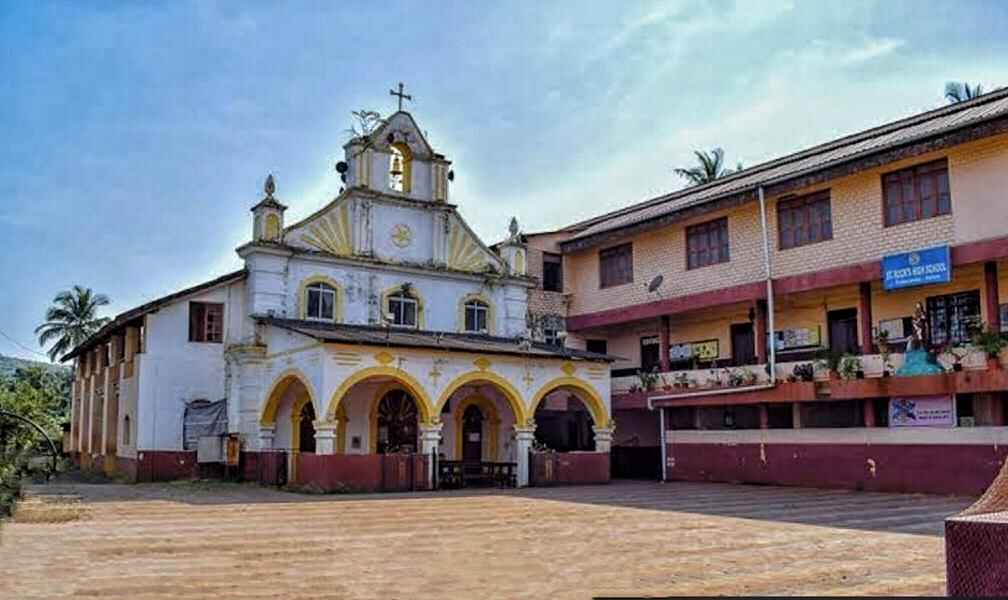 Cutbona Chapel –
This ancient sacred place boasts rich historical & cultural values. Visitors come here to pray in peace and admire the calm surroundings of this prominent Church. Cutbona Chapel is also popular with another name "Jesus Nazareth Chapel". You can find this location in Velim, Goa and nearly 10 kilometers distant from Mobor Beach.
Cutbona Fishing Jetty–
This place is considered one of the busiest fishing harbors of Goa. Here you can try your hands at catching fresh fish with the help of local fishermen. However, you can not buy fish from this buzzing fishing dock in Goa. Taking a fish tour at Cutbona Jetty will also be a great option. The place is 10 kilometers away from Mobor Beach.
Betul Fort–
Being one of the most elegant forts of South Goa, this ancient edifice flaunts a rich blend of historical values and natural treasures. Standing gloriously since 1679, this fort speaks volumes about the massive contribution of Shivaji Maharaj but later Portuguese occupied it. You can witness the magical sunrise and sunset from the fort premises as well. The distance from Mobor Beach is 13.4 kilometers.
Shri Devki Krishna Temple–
Depicting the pious love between a mother (Devki) and child (Krishna), this ancient Hindu temple infuses ample calmness and positivity into the devotees. It is believed that due to the fear of the Portuguese, the standing idol of Devki and Krishna between her legs was built in the inner sanctum of the temple. Malni Purnima festival in January or February month is celebrated here with great fanfare. The distance from Mobor Beach is 17 kilometers.
St. Roque Church –
Just 9.3 kilometers from Mobor Beach, you can find the marvelous architecture of St. Roque Church in Tollencanto, Velim. Inside this beautiful church, you will find a symbolically designed altar made up of stained glass windows. The open space outside the church offers you some peaceful spots for meditation. It was first built in 1883 as a Roque Chapel but the reconstruction in 1955 turned it into a parish church.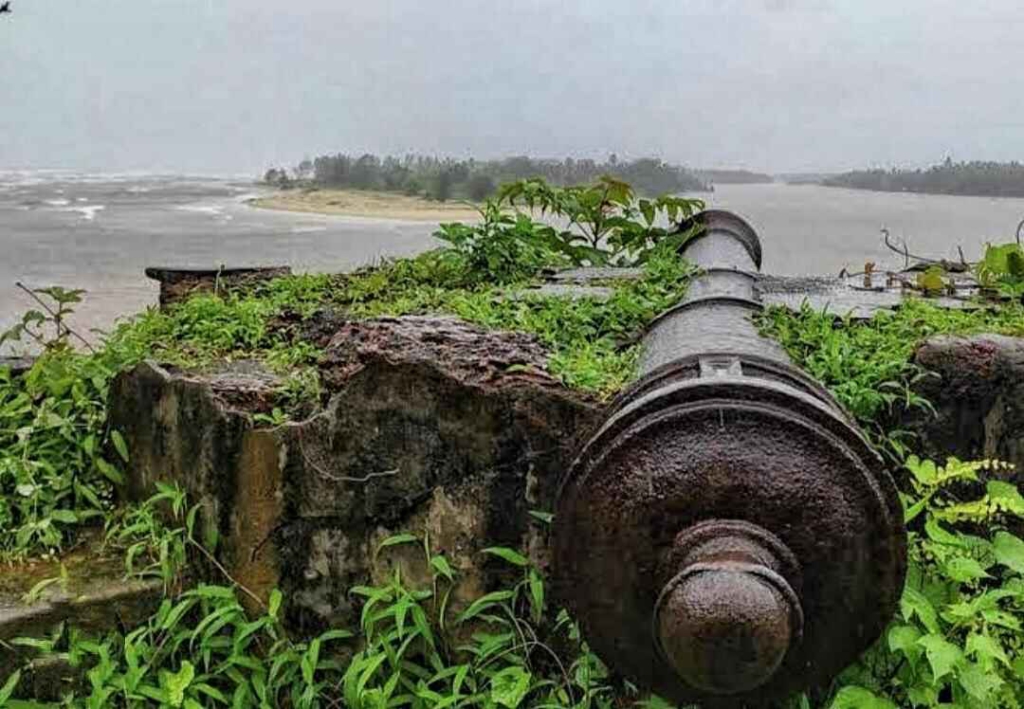 The visitors love to extend their exploration by accessing the adjacent beaches like Cavelossim Beach, Agonda Beach, Cola Beach and Palolem Beach etc. Some beautiful small villages also fall in the proximity of Mobor Beach. You can visit there to learn about the Goan culture. Ayurvedic massage centers and spa facilities are also available near Mobor Beach to offer you a real experience of beach vacation.
2. What are the best adrenaline booster water sports on Mobor Beach?
Mobor Beach is an idyllic beach location if your heart is poncing to add some thrilling memories to your vacation. The presence of the Sal River close to the beach area enhances the number of water sports options for adventure enthusiasts. Prince of Sal Water sports is quite popular among visitors at Mobor Beach.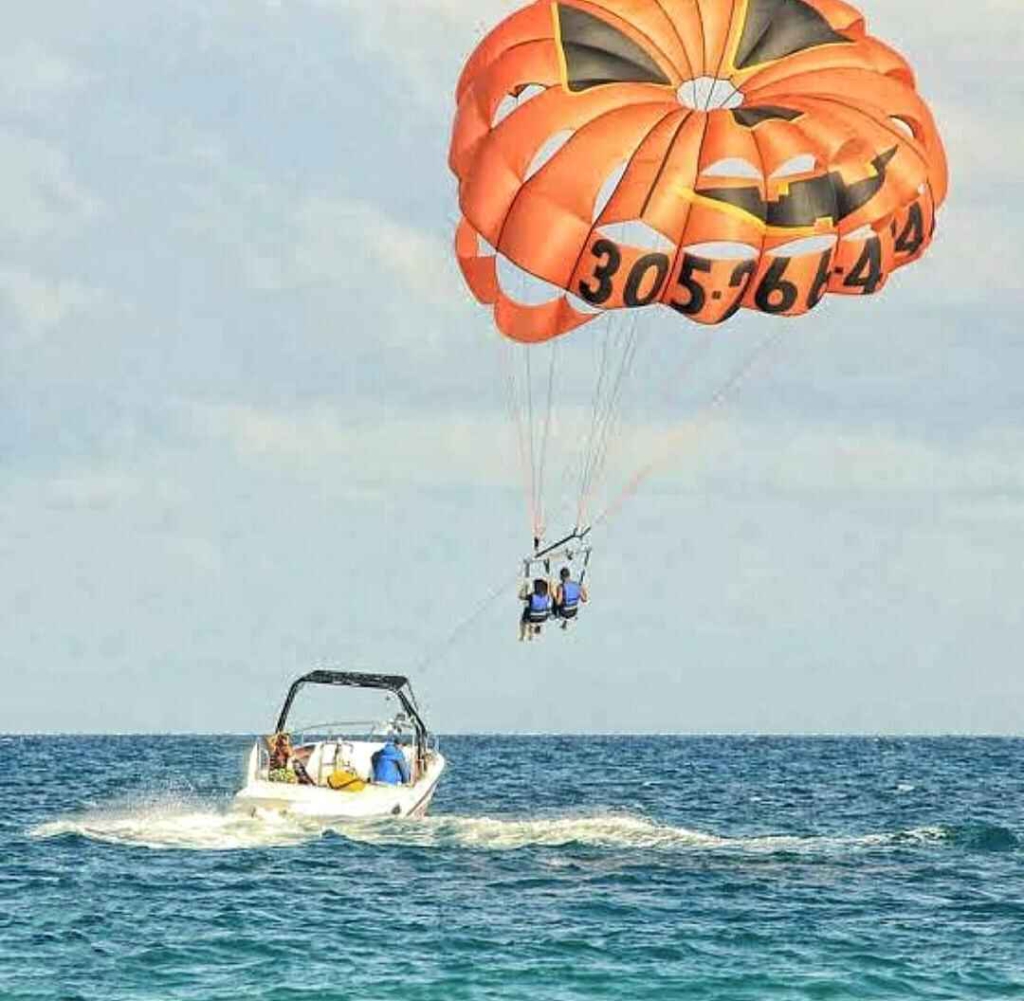 Ringo Rides –
On these inflated ring-shaped boats, you can enjoy some most fun moments of your beach vacation. The twists, whirls, bumps and splashes of water will inject too much fun into your ride experience. These Ringo boats are towed to speed boats and you can try it with another partner as well. Ringo Ride is considered one of the best water sports options for beginners and kids.
Parasailing–
The majestic view of the azure Arabian Sea and gleaming beach sand from a good height will give you an incredible experience. Those who do not think much before stepping on the boat of dare must try parasailing at Mobor Beach. Flying high in the sky harnessed with a parachute and speedy sailing enhances the adrenaline levels of riders.
Jet Skiing –
Skiing on the insane waves of the Arabian Sea is the most thrilling water ride option. All you need to wear a life jacket, listen to the guidelines and jump on the motor boat to meet with mad waves. Beginners can ask experienced riders to accompany them during the skiing ride.
Banana Boat Ride–
Another simple water ride option available on Mobor Beach is the Banana Boat ride. On the inflated banana-shaped boat, 6-7 people can simultaneously enjoy the ride. The only challenge you will face on the banana ride is holding your sitting position as the sudden bumps will compel you to fall into the water.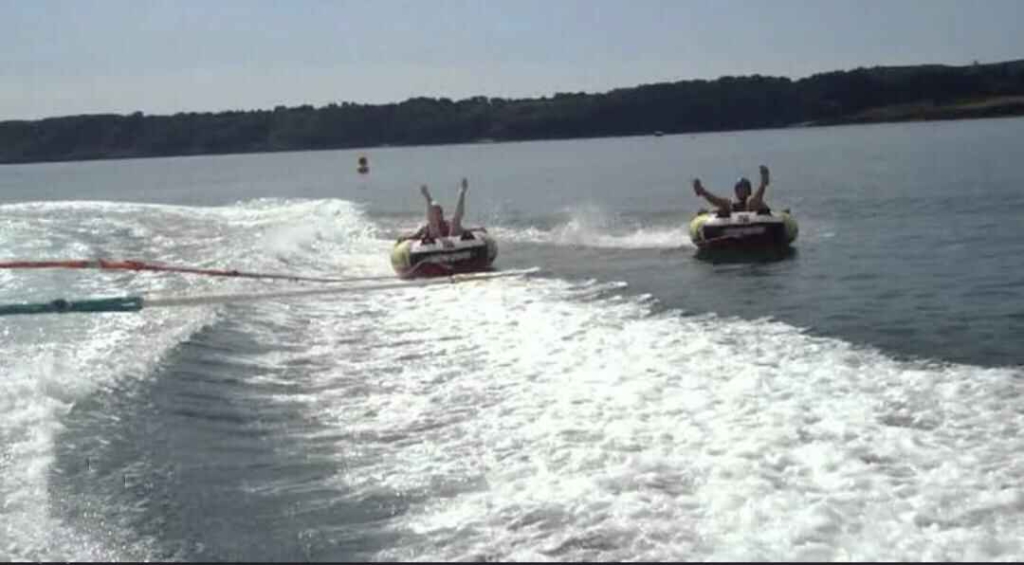 The exceptional underwater fishing tour and oyster catching on Mobor Beach fascinate the visitors as well. You can learn the skills from the local fishermen present on the beach. Apart from these options, you can try kayaking, flyboarding and diving on the beach. The well-trained and certified operators will guide you throughout the ride.
3. The local markets near Mobor Beach for shopping –
Though the number of flea markets near Mobor Beach is very few, the supermarket stores, roadside stalls and shops owned by local village vendors will coerce you to plan a day for shopping.
Let's know where you can spend your money.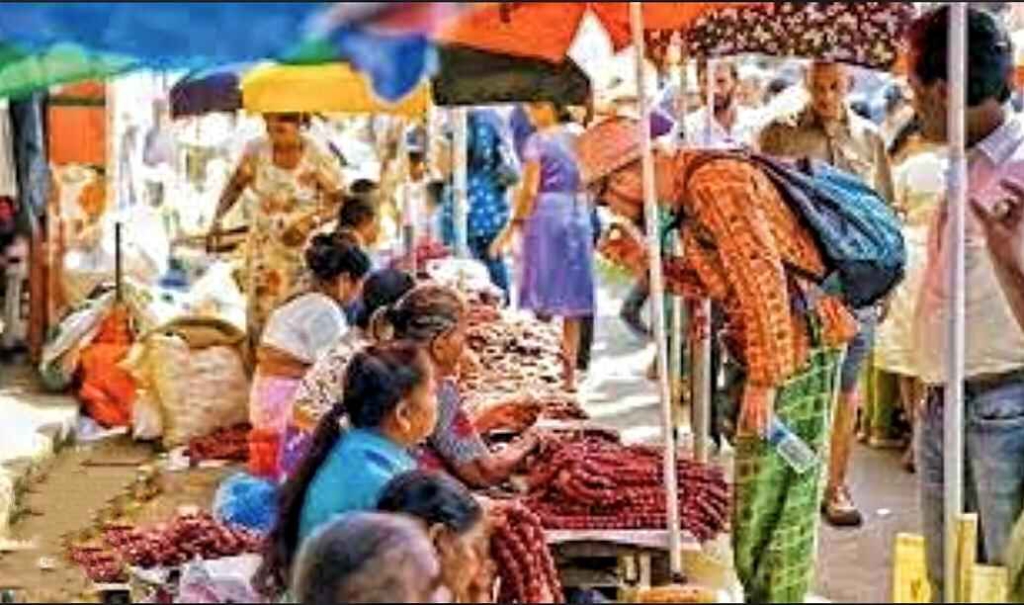 Fish markets of Velim & Assolna–
Exploring the fish markets of Goa and clutching the new facts about fish & other seafood is an exceptional experience. You can try the Velim fish market but it is owned by very few women sellers. Only 4-5 varieties of fish are available here. But a few more distance away from Velim, you can find a huge hub of fish and seafood items in Assolna. Both markets are nearly 7-8 kilometers away from Mobor Beach.
Muxer Fish & Vegetable Market –
Located at 11 km distance, this market sells all daily needs stuff like fresh vegetables, fruits and fish. To buy the good quality items buyers and visitors come here in the early morning. The place where this particular market is located is called Ambelim, Goa.
Bryson Supermarket & Wine Shop, D'mello's Supermarket and Indian Tea Court are some other locations where you can find the needed items at moderate prices.
4. Take a blissful experience of happening nightlife near Mobor Beach –
A profusion of fancy party locations in the close circle of Mobor Beach tempts party lovers to spend a whole night there. You can indulge in the dim-lit ambiance, peppy songs, live events, tantalizing aroma of food and sip some classy beers and drinks till the wee hours of the next day. At some clubs, several casino games are also available to add more fun to your night out plan in Goa.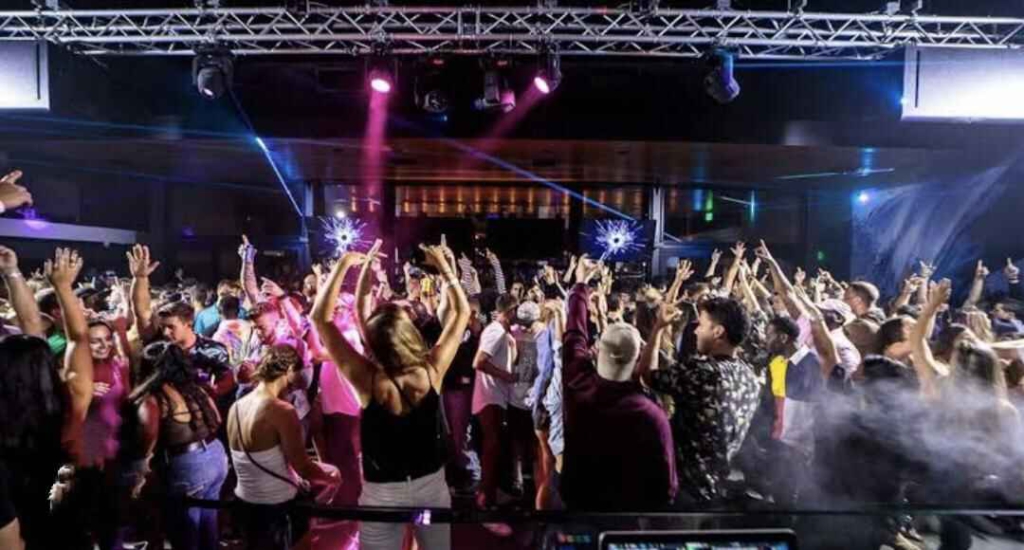 The Leela Goa–
One of the most elegant party places near Mobor Beach is The Leela. Frequently organized themed parties and live events draw the hordes of party freaks. Amazing ambiance, a range of international cuisines and a great collection of drinks & beers on the menu give a complete pack-up to your memorable Goan nightlife.
Betty's Place–
The wooden structured ambiance of this place adds a rustic charm to the visitors' experience. Along with placing your order from the wide range of delicacies, you can ask them to play your favorite music. The seafront views straight from your sitting area offer you a plethora of pleasant memories.
Saajan Bar & Restaurant –
This cozy place offers a lot to the guests. From entertainment to food to ambiance, here you can call for anything to make your evening indelible. Every Monday at 7:30 pm the live music events are also organized. Authentic Goan recipes, courteous staff, great taste in music and the pleasing ambiance of Saajan Bar & Restaurant leave no chance to impress the guests.
Beach Grill –
Being owned by the elegant property Holiday Inn, this place is the perfect choice for planning an evening date or family dinner. The soft music played in the background enhances the worth of this luxury beachside restaurant. Live music programs are also hosted here. You can relish your food with drinks right on the Mobor Beach area on a beach table or beach bed.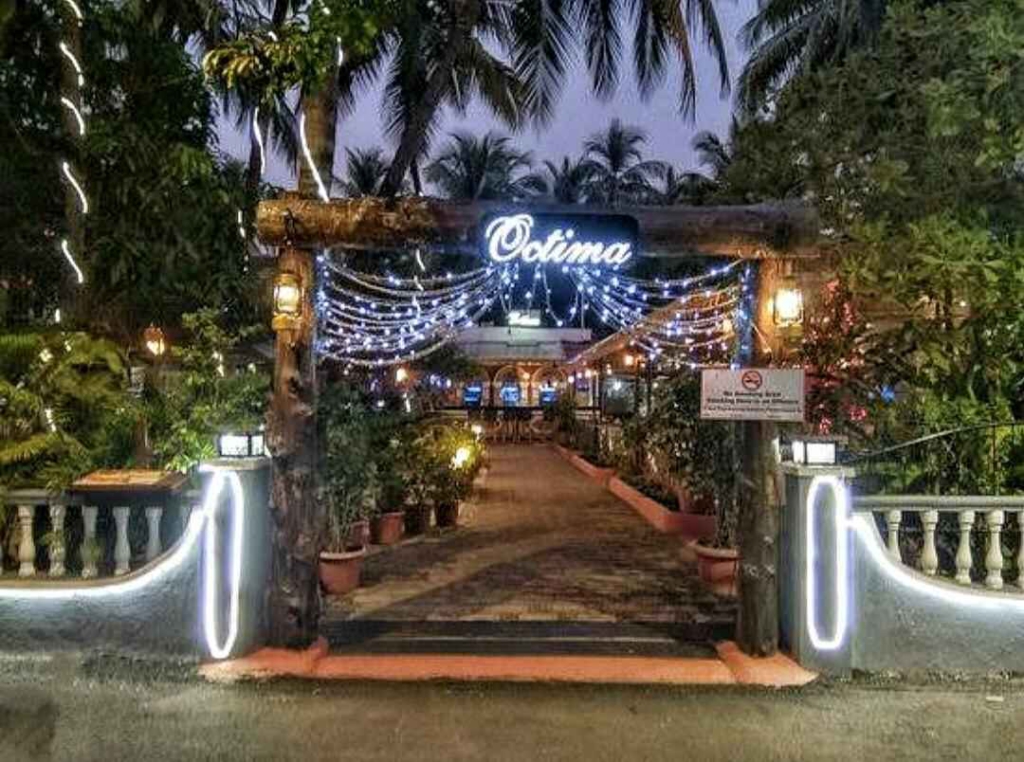 Visitors can include the pubs, beach party locations and nightclubs of the Cavelossim area as well. Win Win Leisure, Robin's Ark, Optima Bar, restaurant & cafe, Fenicia Lounge, Lovejoy Bar and Reggae Heaven are some other decent locations you can access to add a spark of Goan Nightlife to your vacation mode.
5. Explore the lovely shacks of Mobor Beach to experience a hippie culture –
Goan Shacks are recognized for their rustic wooden setup, doughy sand on the floor and amazing seafood varieties. You can lounge on the beach beds offered by shacks and get a good dose of your favorite beer. Minor Beach falls no short of several prominent beach shacks.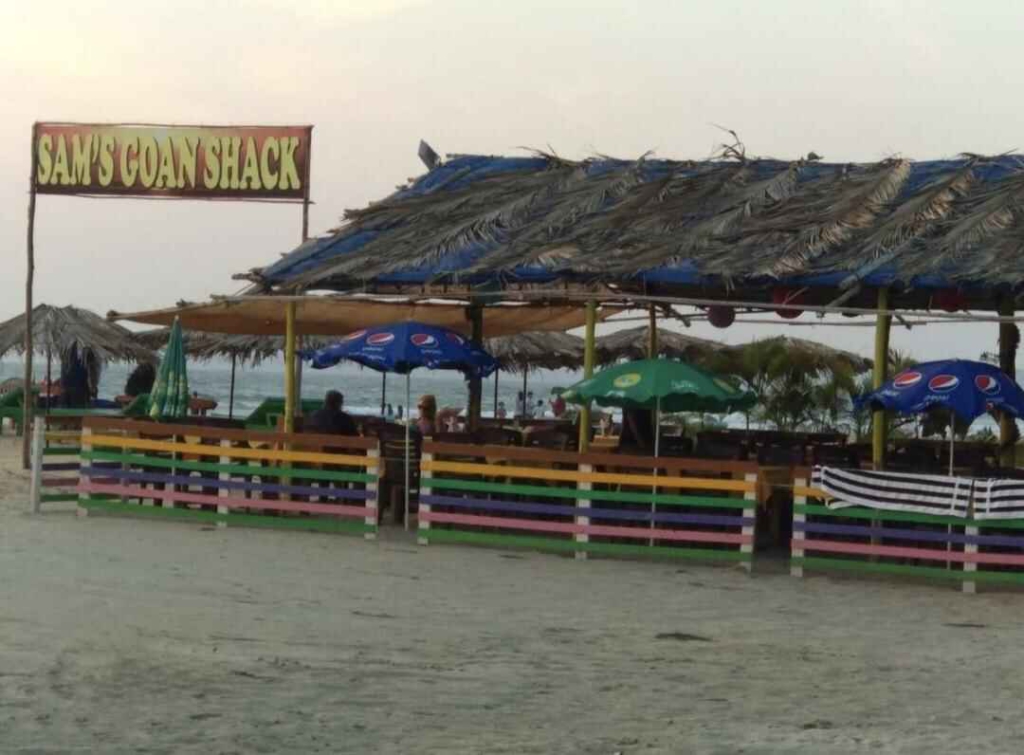 Sam's Beach Shack–
Want to enjoy the sea views while an early morning breakfast or dinner near Mobor Beach? This place will offer you a warm welcome along with desired services. From Seafood items to authentic North Indian delicacies, you can cater to your appetite with whatever you want. It is 240 meters far from Mobor Beach. Do not get confused with the Sam's Beach Shack located in Calangute.
Mike's Oasis Beach Shack –
Another classy beach shack located on Mobor Beach is Mike's Oasis. Apart from their top-notch regular services, they exceed the expectations of guests by making special arrangements for them. The customized drinks and great range of appetizers are other prime attractions of Mike's Oasis other than a surreal outdoor sitting and ambiance.
Vermon's Beach Shack–
The shack is popular among locals as well as visitors for the authentic Goan food and the congenial services offered by the staff workers. 240 meters away from Mobor Beach, this shack can meet your expectations in all aspects – Food, Drinks, Ambiance and Relaxation.
The Fisherman's Wharf–
The finely designed setup and ambiance of this shack will win your heart at first glimpse. Innovatively presented excellent cuisines in front of the guests compels them to plan more visits here. Imagine having a seat by the view of Sal River and enjoying the cocktail combos back-to-back, you can live these moments at Fisherman's Wharf. It is 850 meters distant from the Mobor Beach area.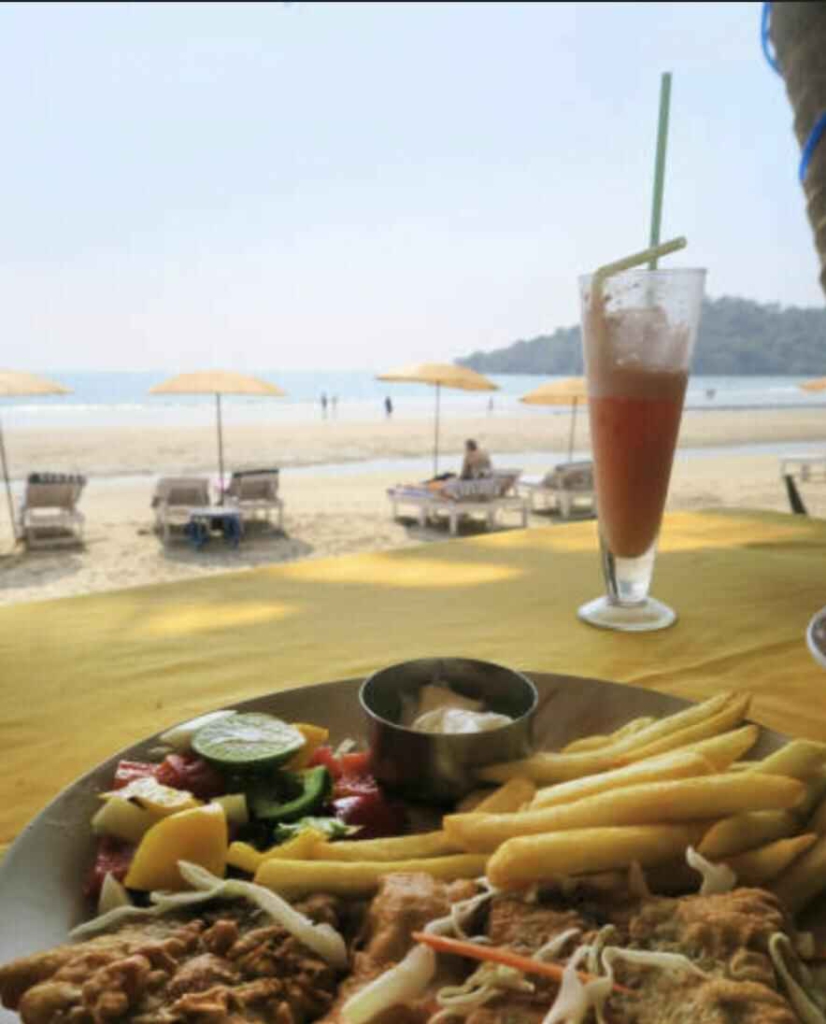 6. Which accommodation will be best for a relaxing stay near Mobor Beach?
After strolling on the beaches for hours, roaming freely on the bustling lanes of nearby markets and dancing till you get exhausted, you will need a property for a comfortable stay to recharge yourself for the next day.
Here are the best and top-rated accommodations near Mobor Beach.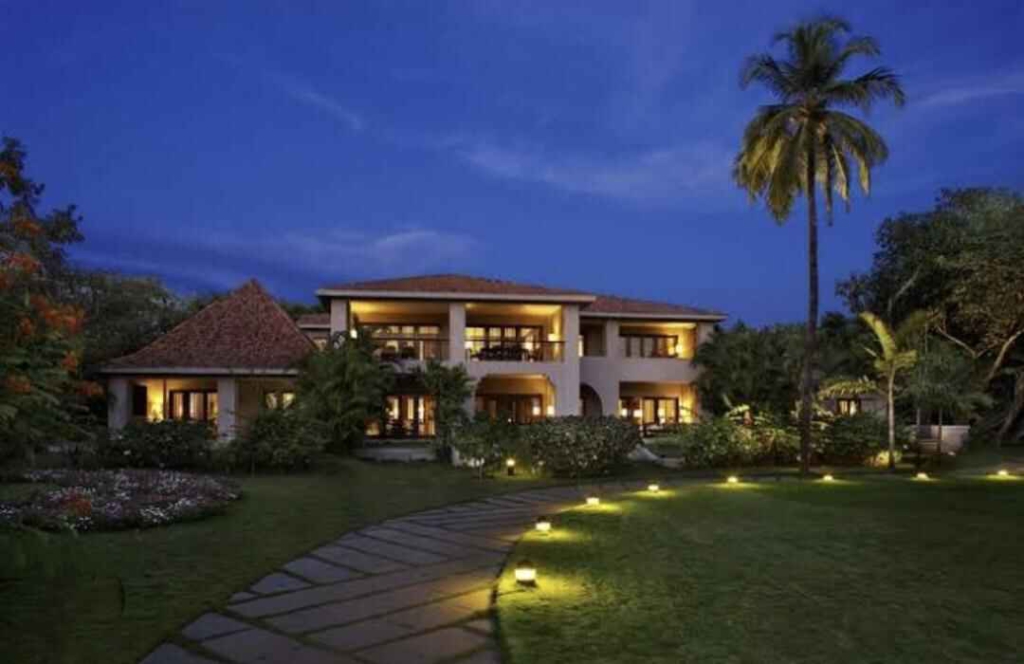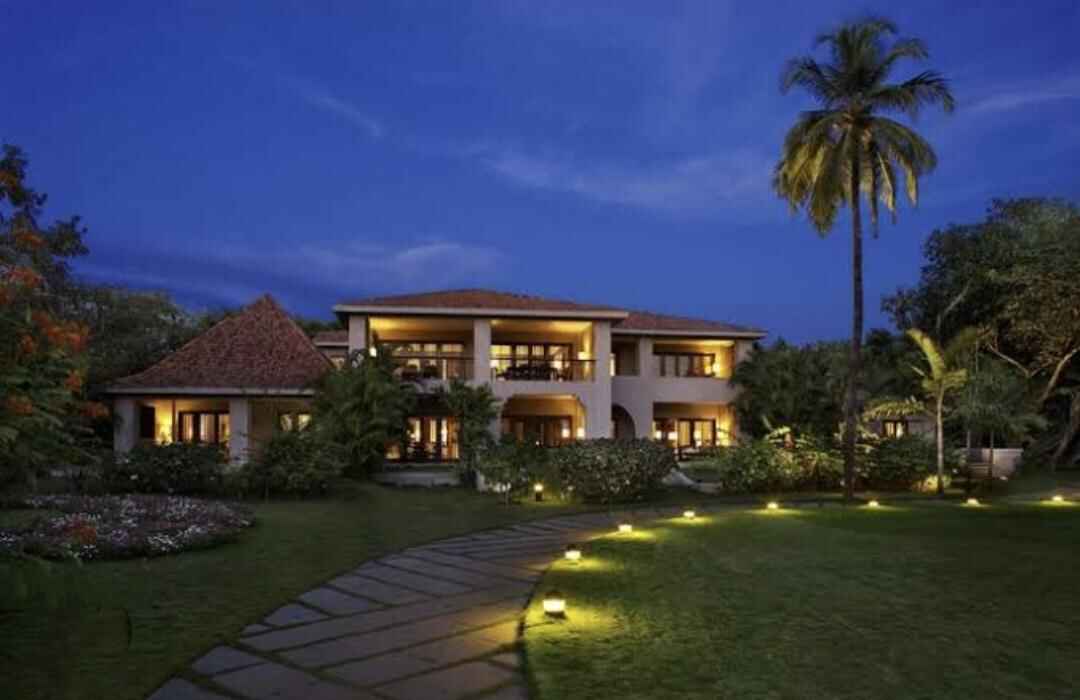 Holiday Inn–
This elegant resort property is another name for luxury and great comfort. If you have made up your mind for a lavish stay during your beach holiday, pick this place without any doubt. Well-maintained rooms, advanced amenities, beach access, surreal views from rooms, breakfast services, wifi services, pool and parking etc make this place the best accommodation. It is located at walking distance from the beach area of Mobor.
The Leela Goa–
Another resort property near Mobor Beach that is a riverfront as well as a beachfront stay location is The Leela Goa. Pool table, lounge seating, club area, decent breakfast, picturesque view from the window and balcony etc amplifies the worth of this place up to manifolds. It is located 4.6 km far from Mobor Beach.
Palmgrove Residency–
Looking for a budget-friendly property for a comfortable stay near Mobor Beach, visit here and take advantage of tempting deals. In-house restaurant, bar, Spacious rooms and prompt services of staff workers impact the visitors the most. It is 3.7 km away from the Mobor Beach location.
You can visit these properties as well if you are finding it difficult to get a room to stay during peak seasons.
Dona Sa Maria
Lord's Plaza
Varca Palms Beach resort
Sal Riviera
The Byke Old Anchor
Veeniola Holiday Home
The Cape Goa
Radisson Blue
Sao Domingos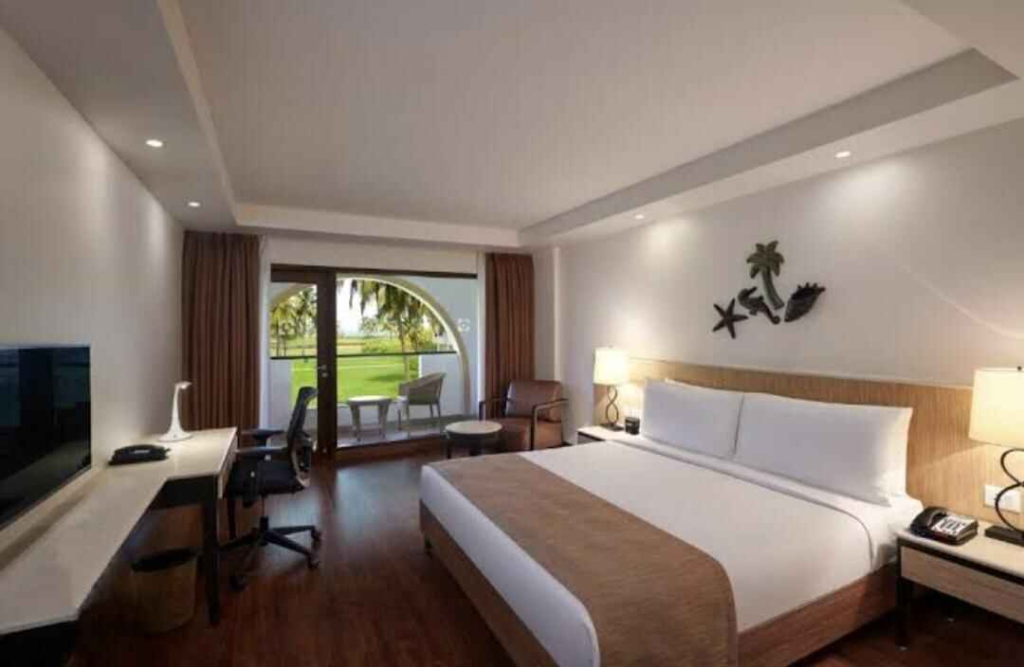 Tips for travelers to experience a hassle-free vacation on Mobor Beach –
Always follow the guidelines given by lifeguards while enjoying water sports. Do not forget to take or wear your life jacket right before going for water activities.
Do not fall prey to any touring agency and save your money from them.
Consuming too much alcohol can cause major problems for you. Hence do it at the right place instead of a beach area.
Frequently Asked Questions (FAQs) –
Q – Which are the best months to visit Mobor Beach?
A –  From November to March.
Q – Where is Mobor Beach in Goa?
A – Mobor Beach is located in South Goa, a few minutes away from the Cavelossim beach of Goa.
Q – How far is Mobor Beach from Palolem?
A – 36 kilometers which takes 1 hour to cover the distance.
Q – Are ATM facilities available near Mobor Beach?
A – Yes, on the main road area you can find many ones.
Also check: goa quotes in hindi