Chapora Fort, Goa – Timing, Images, reviews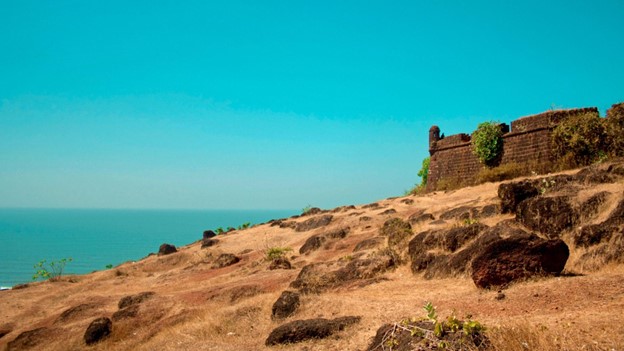 Location: North Goa, Goa
Chapora fort Entry Fee: There is no entry fee required to enter the Chapora Fort. However, parking is available at INR 40 for approximately 3 hours.
Chapora fort Duration: 1 to 2 hours
Chapora fort Opening Time: 8:00 am
Chapora fort Closing Time: 5:00 pm
Chapora fort Ticket: There are no tickets required to visit the Fort.
Introduction
Chapora Fort, also known as "Dil Chahta Hai Fort", is a historical gem that has captured the imagination of travelers and made it into reality. The fort is perched atop a hillock overlooking the Arabian Sea. It is a living testament to Goa's captivating blend of history and natural beauty.
The fort where it stands offers panoramic views, making it a favorite haunt for photographers, sunset seekers, and Bollywood enthusiasts who remember the hit movie 'Dil Chahta Hai'.
The architecture of the Chapora Fort gives a cinematic site with the strategic placement of the watchtowers, cannons, and bastions. It exudes an old-world charm with its weathered walls and ancient steps, transporting you into a land of past beauty.
The best part of the fort is that people don't have to pay a single penny to visit the fort. The best time to experience the fort is sunset; when the sun dips below the horizon, the entire area bathes with a warm golden glow, creating a scene of parallel beauty. On the fort walls, you can relax and enjoy picnic time with your family and friends.
You can hire local guides at the entrance for those who want to delve deeper into the fort's history. They share fascinating stories about the past and the battles fought here. These guides add meaning to your visit, making it an educational and enticing tour.
History of Chapora Fort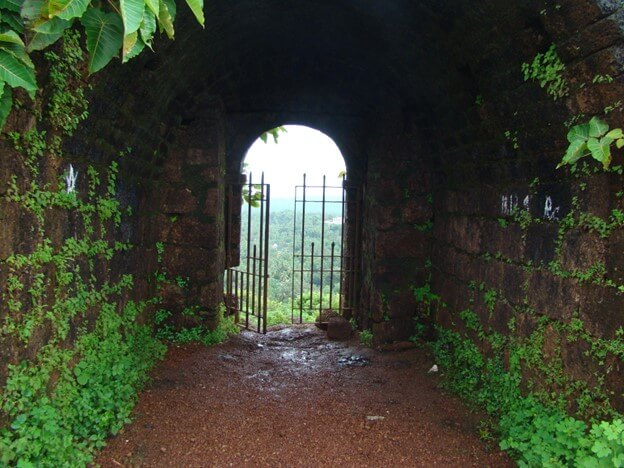 Initially constructed in 1617 by the Portuguese, it was a strategic military post during their colonial rule. This coastal location offered an advantage for overseeing shipping activities, safeguarding against invasions, and controlling the surrounding territory.
Over time, Chapora Fort became a pawn in the power struggle between colonial forces and regional powers. In 1684, the Marathas captured the fort from the Portuguese, only to lose it back to them in 1717. The fort exchanged hands a few more times before finally falling under British control in the 19th century, during which its strategic significance diminished.
The fort's architecture reflects its military past. It features robust stone walls, bastions, and watchtowers designed to withstand attack. Behind its military role, the fort has witnessed the passage of time and the changes in Goan society. Today, the fort welcomes tourists worldwide, inviting them to explore its historic ruins and soak in the breathtaking views.
Bollywood Connection of Chapora Fort:
Did you know that a scene of a famous movie "Dil Chahta Hai" was shot here, where three friends were sitting there on the fence of the fort and enjoying their company. The fort is where they have a pivotal conversation about their lives and aspirations, strengthening their friendship.
This connection of Bollywood in Chapora made a huge impact and deeply rooted the mind of the viewers. For viewers, the picturesque backdrop of Chapora Fort in the film can evoke a sense of nostalgia for their own friendships and adventures. It may also ignite a desire for travel and exploration, particularly to Goa, among those who haven't been there.
Why is it known as "Dil Chahta Hai Fort"?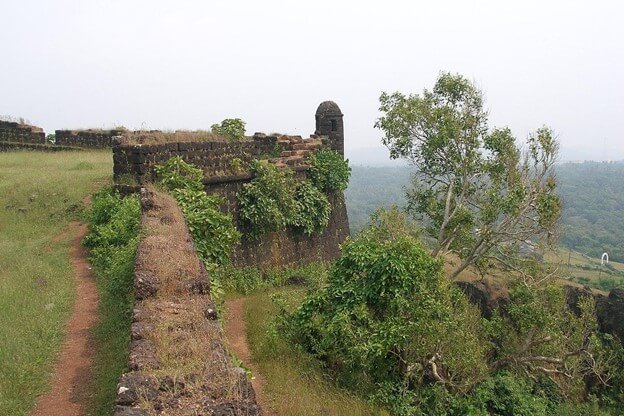 Chapora Fort in Goa gained widespread recognition and popularity thanks to its prominent role in the iconic Bollywood movie "Dil Chahta Hai," released in 2001. It played a fantastic role in the film as it was featured in a scene that got stuck in the memory of Bollywood enthusiasts.
In one scene of the movie, it has been showcased that the three friends are sitting there and enjoying each other's company. The fort's commanding position provided a stunning backdrop for the emotional and reflective conversation between the characters.
In recognition of its role in "Dil Chahta Hai," Chapora Fort became more than just a historical site; it became a cultural landmark that continues to enchant visitors with its blend of cinematic glory and natural splendor. It's a place where film fans can connect with their favorite characters while enjoying the timeless beauty of Goa's coastline.
Places to visit near Chapora Fort:
Fort Aguada (17 kilometers): An ancient coastal fortress known for its stunning sea views and a historic lighthouse. It was once protected against seafaring invaders and is now a popular tourist spot offering history and scenic beauty.
Basilica of Bom Jesus (26 kilometers): The Basilica of Bom Jesus is a UNESCO World Heritage site renowned for its 400-year-old architecture and the preserved body of Saint Francis Xavier. It's a sacred place of worship and a glimpse into Goa's rich Christian heritage.
Reis Magos Fort (20 kilometers): It is a charming old fort with vibrant colors. It offers a glimpse into Goa's colonial past, housing a cultural center and museum alongside panoramic views of the river and coastline.
Mangueshi Temple (35 kilometers): Mangueshi Temple is a revered Hindu shrine known for its stunning Dravidian architecture. It's dedicated to Lord Shiva and is a spiritual haven for devotees and a cultural gem for visitors.
Salim Ali Bird Sanctuary (40 kilometers): The Salim Ali Bird Sanctuary is a serene haven for birdwatchers. It's home to a diverse range of bird species and offers boat rides through mangrove forests for a close encounter with nature.
Dudhsagar Waterfalls (80 kilometers): Dudhsagar Waterfalls is a natural wonder with breathtaking cascades and accessible by trekking or jeep rides, providing a thrilling adventure amidst lush landscapes.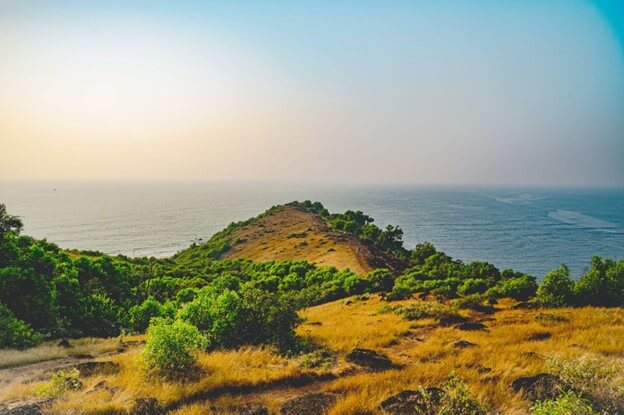 Beaches to explore near Chapora Fort:
Vagator Beach (1.5 kilometers): It is a beautiful Goan beach known for its golden sands and vibrant atmosphere. It's a popular spot for sunbathing and water sports, offering breathtaking views of the Arabian Sea. read more
Anjuna Beach (4 kilometers): Located a bit farther away, Anjuna Beach is famous for its lively nightlife, beach parties, and flea market. It's a haven for backpackers and offers a bohemian vibe with opportunities for shopping, dancing, and enjoying the coastal scene. read more
Ozran Beach (2 kilometers): Ozran Beach, also known as Little Vagator, is a quieter and more secluded beach near Vagator. It's perfect for those seeking a tranquil escape, with fewer crowds, pristine sands, and a serene ambiance. read more
Ashwem Beach (18 kilometers): Ashwem Beach is a peaceful and less-commercialized beach further north in Goa. Its calm waters are cherished, making it great for swimming and relaxation. This beach is perfect for a serene getaway. read more
Morjim Beach (14 kilometers): Morjim Beach, known as the "Turtle Beach," is famous for its nesting Olive Ridley sea turtles. It's a serene and less crowded spot with a laid-back atmosphere, making it a favorite among nature lovers. read more
Arambol Beach  (22 kilometers): Arambol Beach is a bohemian paradise with a relaxed vibe. It's known for its hippie culture, live music, and drum circles. It's an excellent choice for those seeking an alternative and artistic atmosphere by the sea. read more
Flea markets near Chapora Fort:
Anjuna Flea Market (3 kilometers): This market is famous for colorful stalls selling everything from clothes to crafts, making it a great place to shop for souvenirs and delicious food.
Mapusa Market (11 kilometers): Mapusa Market is known for fresh produce, spices, and traditional Goan items. It's a great place to immerse in authentic Goan flavors.
Calangute Market (8 kilometers): Calangute Market is a popular shopping destination. Many items are here, including clothing, jewelry, and handicrafts. It's a fun place to shop and experience the vibrant Goan atmosphere.
Arpora Night Market (5 kilometers): It comes alive in the evenings with stalls selling eclectic goods, live music, and delectable food. It's an excellent place to enjoy the nightlife and shop for unique items.
Mackie's Night Bazaar (6 kilometers): Another exciting night market in Goa offers shopping, entertainment, and dining options. You can find everything from clothing to live performances here, making it an excellent place for a lively evening out.
Things to do at Chapora Fort:
Enjoy Stunning Views: As you ascend the hill, take in the breathtaking panoramic views of the Arabian Sea, nearby beaches like Vagator Beach, and the lush Goan coastline
Relive "Dil Chahta Hai": If you're a fan of Bollywood, relive the iconic moments from the movie "Dil Chahta Hai."
Bird Watching: Chapora Fort's hilltop location also allows birdwatching. Keep an eye out for the diverse birdlife in the area.
Sunset Photography: For photography enthusiasts, the fort's elevated position offers fantastic opportunities to capture the stunning colors of a Goan sunset.
Picnic and Relax: Many visitors bring snacks or picnic on the fort's walls. The sea breeze, lush greenery, and historical ambiance make it an ideal spot to relax and enjoy a meal
Best time to visit Chapora Fort:
November to February offers the best combination of pleasant weather and comfortable conditions for exploring Chapora Fort. However, if you're a fan of lush greenery and don't mind the occasional rain, the monsoon season can provide a different kind of charm and a more tranquil atmosphere.
Winter (November to February): Many consider winter the best time to visit Chapora Fort.
Summer (March to May): Summer in Goa, including Chapora Fort, can be quite hot and humid.
Monsoon (June to September): The monsoon season brings heavy rainfall and high humidity to Goa.
How to reach Chapora Fort?
Chapora Fort is located in the North Goa region of Goa. To reach Chapora Fort from Panaji, you can follow these directions:
By Road: Start from Panaji and head Northwest on NH66 towards Mapusa. Continue on NH66 towards Anjuna. From Anjuna, follow the directions towards Chapora Fort. The total distance from Panjim (Panaji) to Chapora is approximately 20 to 25 kilometers, which will take 45 minutes.
By Public Transportation: You can also take a hired bus or taxi to get you to Chapora Fort.
Images of Chapora Fort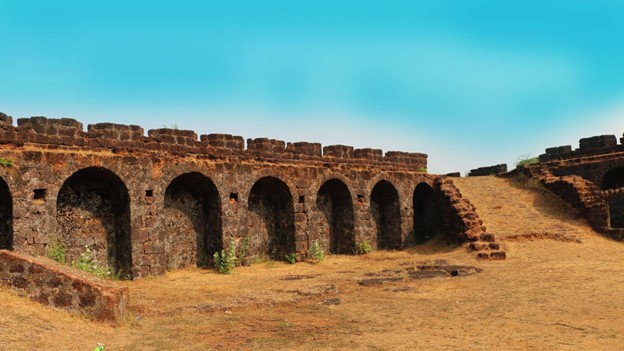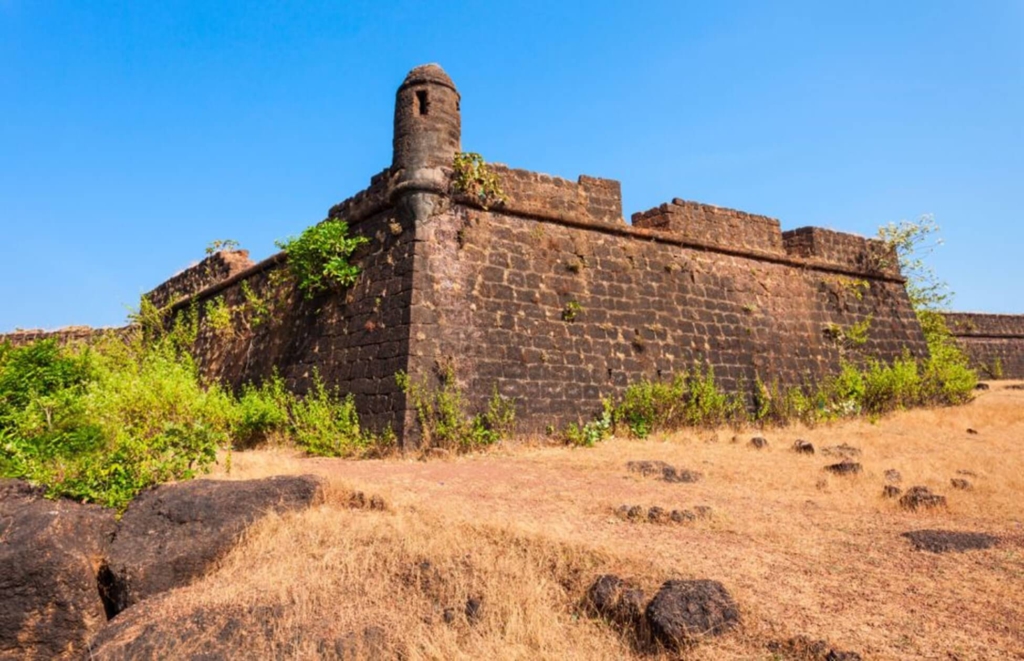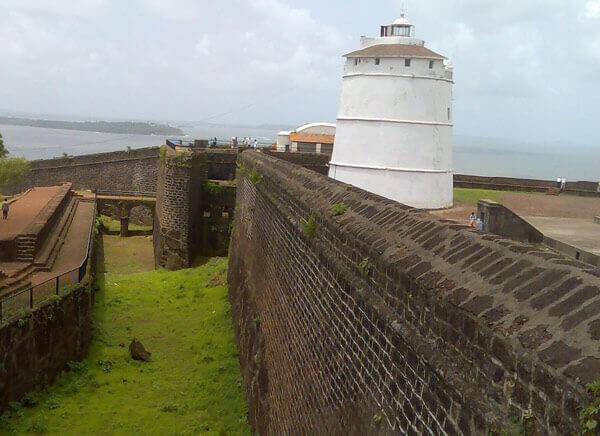 Chapora Fort Reviews
Chapora Fort is a hidden gem! The trek to the top is worth every step. The views of Vagator Beach and the sea are breathtaking, especially at sunset.
The fort's history adds depth to the experience, and you can almost feel its past. It's peaceful up here, away from the tourist crowds. Ideal for photographers and those seeking tranquility.
Plus, Bollywood fans, don't miss the "Dil Chahta Hai" connection. Overall, a must-visit spot in Goa for its beauty, history, and that indescribable sense of calm
Frequently Asked Questions:
1. Why is Chapora Fort famous?
Chapora Fort in Goa is famous for its picturesque location overlooking the Arabian Sea and the Vagator Beach. It's also known for its appearance in the Bollywood movie "Dil Chahta Hai."
2. How old is Chapora Fort?
Chapora Fort has a history dating back to the 17th century. It was initially built by the Portuguese in 1617.
3. Is there an entry fee to visit Chapora Fort?
No, there's no entry fee to visit Chapora Fort.
4. Is food allowed to be brought at Chapora Fort?
Yes, you can bring food to Chapora Fort.
5. Is it recommended to hire a guide while exploring Chapora Fort?
Well, it's not necessary, but hiring a local can enhance your experience by providing historical insights and exciting stories about Chapora Fort.
6. In which part of Goa is Chapora Fort located?
Chapora Fort is located in the North Goa region in Goa.
7. How to reach Chapora Fort from Panjim?
The best option to reach Chapora Fort is to hire a taxi or a scooter which will hardly take you 45 mins to 1 hour.
check this also – goa status for instagram