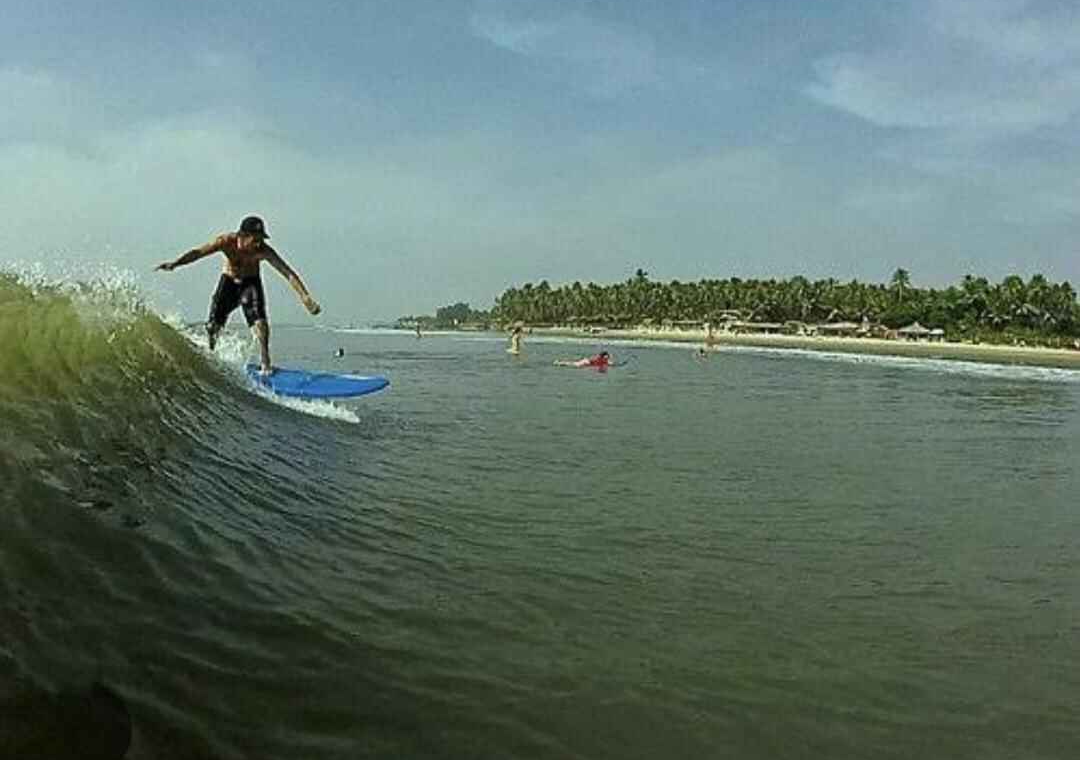 A beach land comprising assorted surprises for the visitors is recognized as another name "Little Russia" in Goa. The delightful green surroundings and widely prevailed tranquility of Morjim Beach pull the hoards of locals, Indian visitors and foreigners across the globe.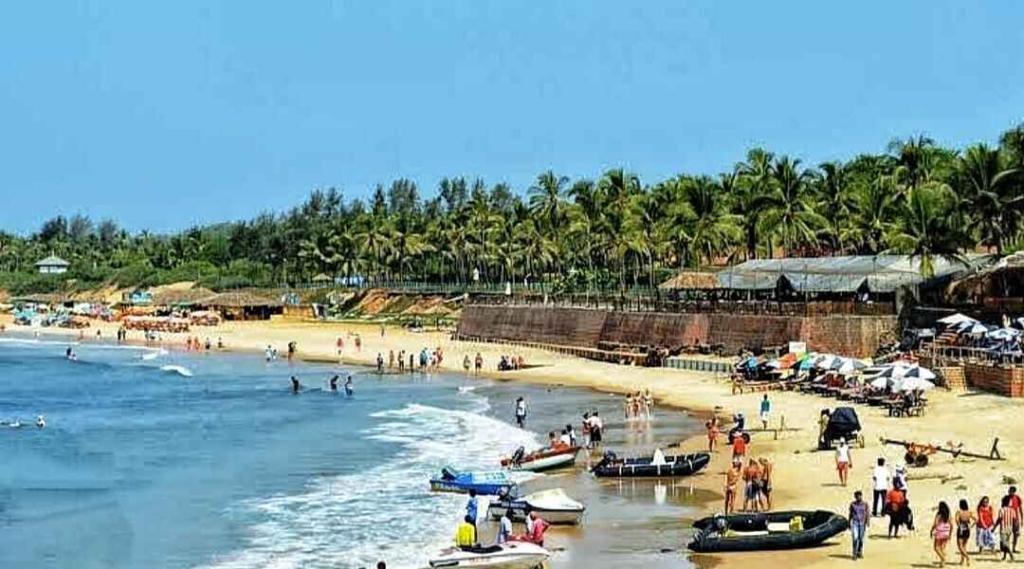 A few exceptional traits of this North Goan beach, Morjim make it way more lucrative. Being a natural habitat & breeding location of Olive Ridley Sea Turtles, home to several Russian-owned cafes & shacks and a prominent Dolphin spotting place, Morjim Beach is a priceless jewel tucked on the land of Goa.
Morjim Beach of Goa is also explored by fun & food lovers due to the presence of a wide array of classic restaurant and party platforms. Whether you are planning a private romantic vacation, a family trip or an expedition with friends, Morjim Beach is an absolute paradise for all kinds of holidays.
Highlights of Morjim Beach –
Do not miss witnessing the tiny creatures "Olive Ridley Turtles" crawling on the sand. But disturbing them and offering food is completely prohibited on the beach.
The colorful trinket shops or stalls set up on the beach by Russians are worth visiting for buying some souvenirs.
The variety of adventurous water rides at Morjim Beach is just unavoidable for fun freaks. Try your hands at the best & most thrilling ones.
Proximity to Chapora River offers the best sites for birdwatching and backwater kayaking.
Do not miss the Jazz Night on Saturday nights hosted by The Rice Mill cafe near Morjim Beach.
What is the best time to visit Morjim Beach?
Pleasant weather is one of the sole contributors to unforgettable beach vacations at splendid locations like Morjim Beach. Well, from November to February, you can find Morjim Beach in its full blooming state. The maximum temperature touches 30°C on the scale barely.
Along with the favorable temperature trait, visitors find the shacks, water sports and food joints in a full-swing mode. This peak winter duration will leave no stone unturned in amazing beach visitors in any aspect of the fun-packed vacation.
On the flip the summers will trouble you with scorching heat and monsoon season will wipe out your exciting plans with heavy & unpredictable rain showers.
How to reach Morjim in a short span?
The two most prominent locations from where visitors access Morjim Beach are the capital of Goa, Panjim & Goa International Airport.
The distance between Panjim and Morjim Beach is approximately 27 kilometers. All possible transportation is available at Panjim to offer a comfortable & quick travel to Morjim. You can catch local trains at Vasco Da Gama or Madgaon Railway station. Hiring a rented cab or taxi will also be an easy way to reach the beach location if you are carrying ample luggage with you.
Goa International Airport is 52 kilometers distant from Morjim Beach. Local bus services are taken by the visitors frequently but hiring a rented cab or taxi will be the best option to save your time. It makes traveling more comfortable if you can not deal with the rush of bus services.
1. What not to miss around Morjim Beach after filling your hearts with beach exploration?
Densely surrounded by scenic beach locations, historical places, religious spots and yoga & spa centers, Morjim Beach offers you a lot to traverse through. You can include them in your itinerary accordingly and grab some best moments by being there.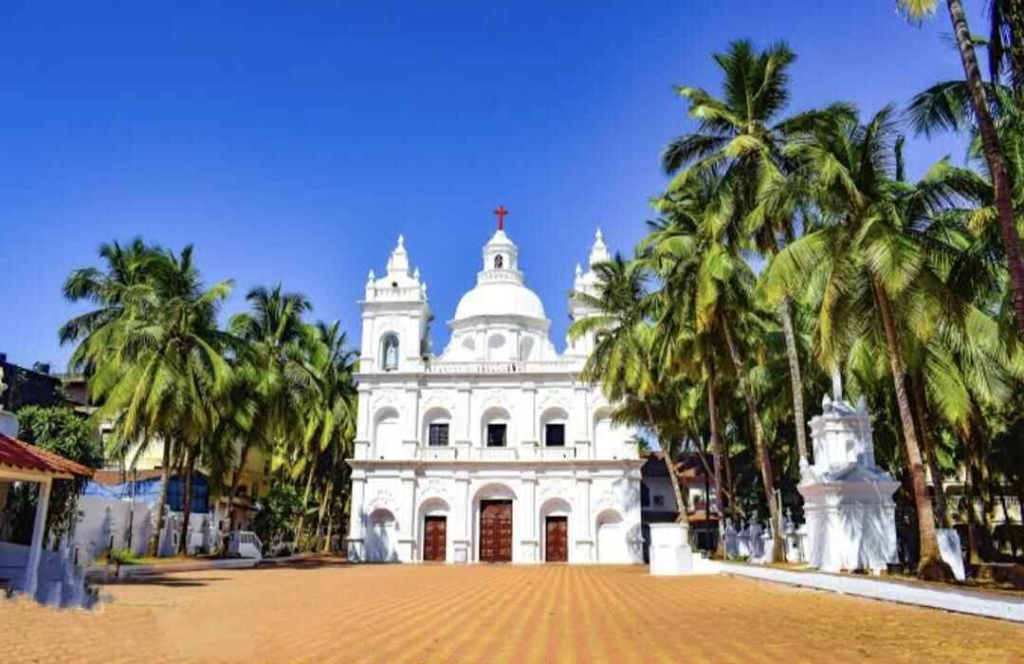 St. Alex Church–
It is truly a beautiful edifice located close to Morjim Beach where the bulk of visitors come to praise its Indian Architecture. The surroundings of the Church are examples of fine artistry. Its architecture belongs to the 16th century and catches the attention of all history buffs & devotees. The distance from Morjim Beach is nearly 20 kilometers. You can take part in the mass gatherings that occur at different times on weekdays and Sundays.
Chapora Fort–
Visitors hold a lot of compelling reasons to visit this place in their hearts. Being the shooting location of the film "Dil Chahta Hai", Indulgence in Wars, the perfect location to see the beauty of Chapora River and birdwatching, Chapora Fort stands at the top of the excursion list of Morjim Beach goers. The ancient fort hides some amazing facts about history. The distance from Morjim Beach is 13 kilometers.
Ashiyana Goa–
No doubt this is an oasis of tranquillity and luxury. Being a Yoga retreat center, this location tempts the solitude seekers heavily. Lush green surroundings, great meditation sessions, top-notch amenities for relaxation and drooling food etc are accessible just under one roof. Located 5 kilometers away from Morjim Beach, Ashiyana gives a vibe of "Heaven on Earth" to the visitors.
Fort Aguda –
Another historic gem located near Morjim Beach is Fort Aguda. Though the distance between both locations is good enough (24 kilometers) that takes nearly an hour to reach, the sea-facing fort will magnetize you after reaching. It gloriously flaunts the Portuguese era in front of visitors and charms them with a tall lighthouse located in the fort.
Banyan Tree Yoga –
It is an eco-resort property that provides the best morning sessions of Yoga. You can book a slot here for complete relaxation and delve into the raw nature vibe of the surroundings. The distance between Morjim Beach and Banyan Tree Yoga is just 5.4 kilometers.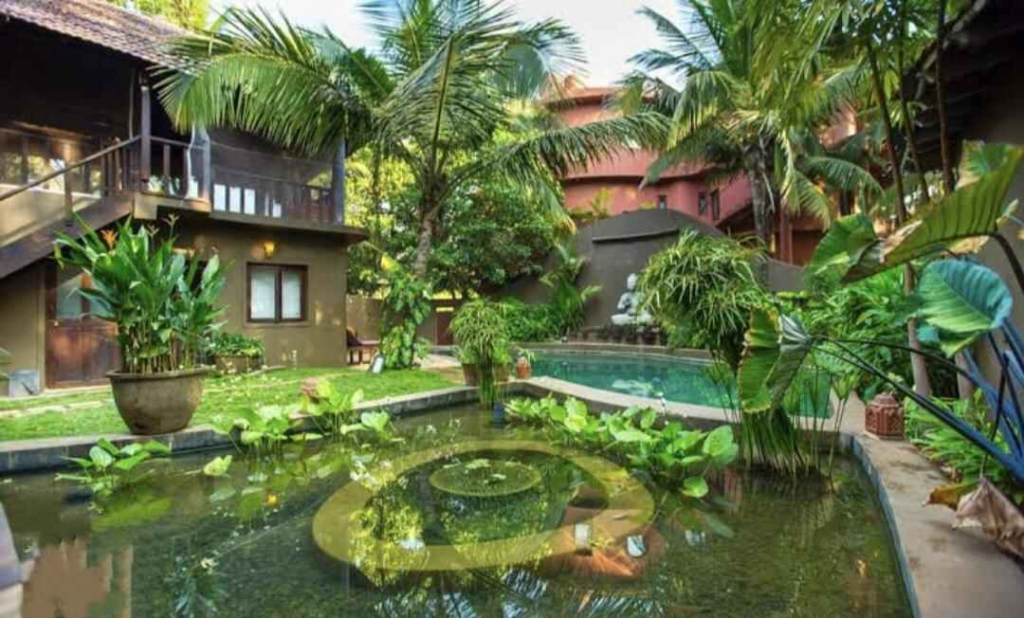 The most amazing advantage for Morjim Beach visitors is that they can hop from one beach to another during their entire vacation. Ashwem Beach, Mandrem Beach and Vagator Beach etc are some closest beaches you can visit while extending your beach time.
2. What are the highly adventurous water sports options at Morjim Beach?
The path of plunging into the unparalleled fun of a Beach Vacation passes through the thrill-packed water rides. At Morjim Beach you are going to experience a blend of some simplest and some risky rides. Take a look at what's on the fun platter for you!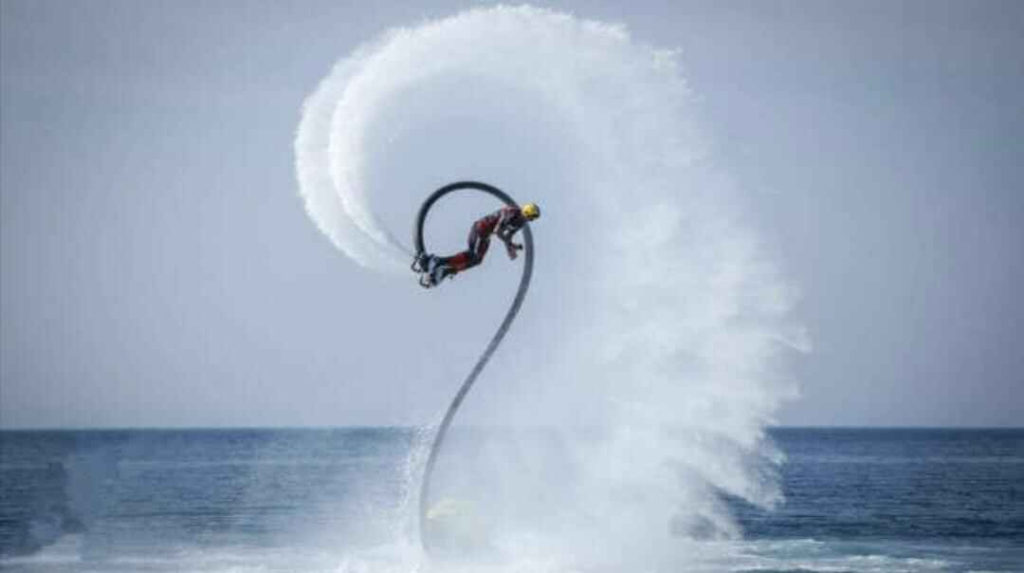 Surfing–
The height of waves enhances the pleasure of perfect surfing. You can find favorable conditions for surfing at Morjim Beach. Usually, the 3-5 feet high waves sometimes go up to 15 feet from September to January. You just need to listen to the guidelines of trained surfers and jump into the water with your surfboard.
Flyboarding–
This is the most exciting water sport that entices both the experienced and beginners. Being in the air and above the sea surface through the hydroflighting device will give you some most thrilling experiences. You can get the videos and photographs of your flyboarding as well after the ride.
Speed Boating –
A thrill ride on the blue waters of Morjim Beach can offer you glimpses of several monuments located along the shoreline. All you need to hire a private boat and fix the timing of how long you want to enjoy this adventurous water ride. The beginners can ask for company from trained riders.
Jet Skiing–
Considered one of the most challenging water sports, Jet Skiing is only for experienced ones. However, beginners can take the training before enjoying Jet Skiing at Morjim Beach. The great speed, heavy splashes of water and swift breeze will charge your mind and soul.
Parasailing–
There is no better way to witness the beaming beauty of Morjim Beach than Parasailing. In this recreational kite activity, you will be harnessed with a parachute and towed with a speed boat. No doubt parasailing gives you a perfect blend of sailing on the sea surface and flying high in the sky.
Banana rides and bumper rides–
After a rising you of the scores of difficult and risky water rides, it is time to please the weak-spirited ones. In the banana boat, you can enjoy the ride with 4-5 other people while on the bumper ride, maximum of 4 riders is allowed. Both boats are dragged with a speed boat and you need to clutch your position tightly on the boat. Otherwise, enjoy falling in the water and hopping on it again.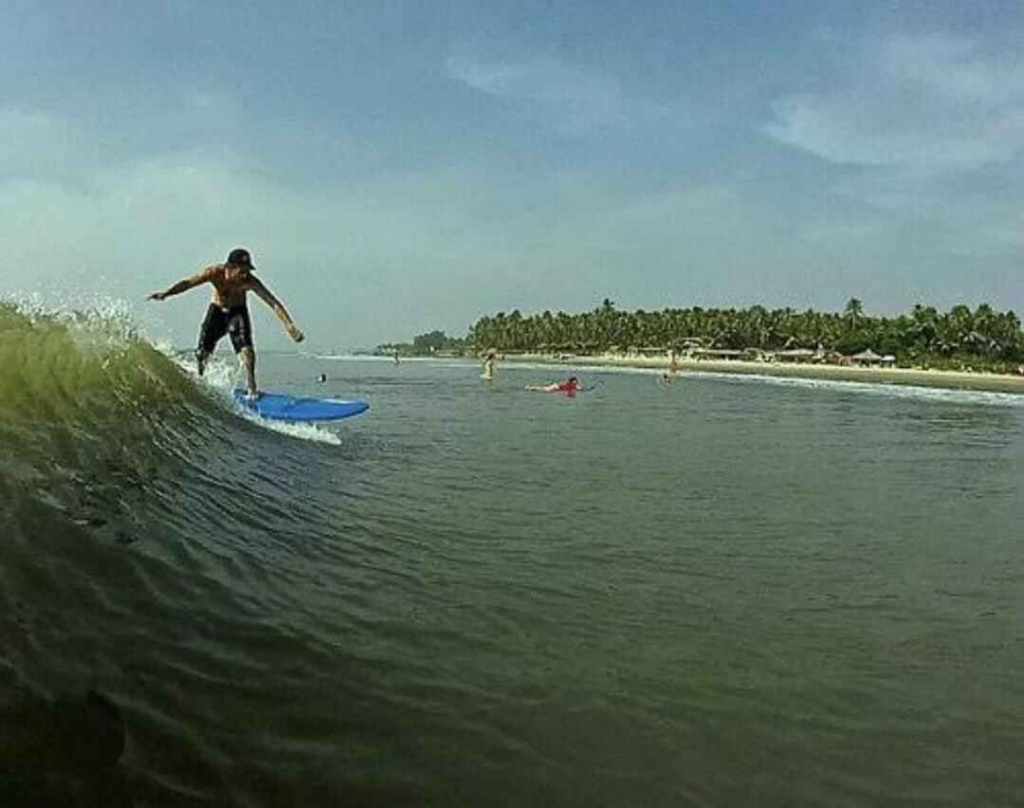 3. What are the prominent market options near Morjim Beach?
From the beach area to the close distant locations, the surroundings of Morjim Beach are full of small stalls and giant supermarket stores. Here is the right guide regarding the famous market near Morjim and the stuff you can buy there.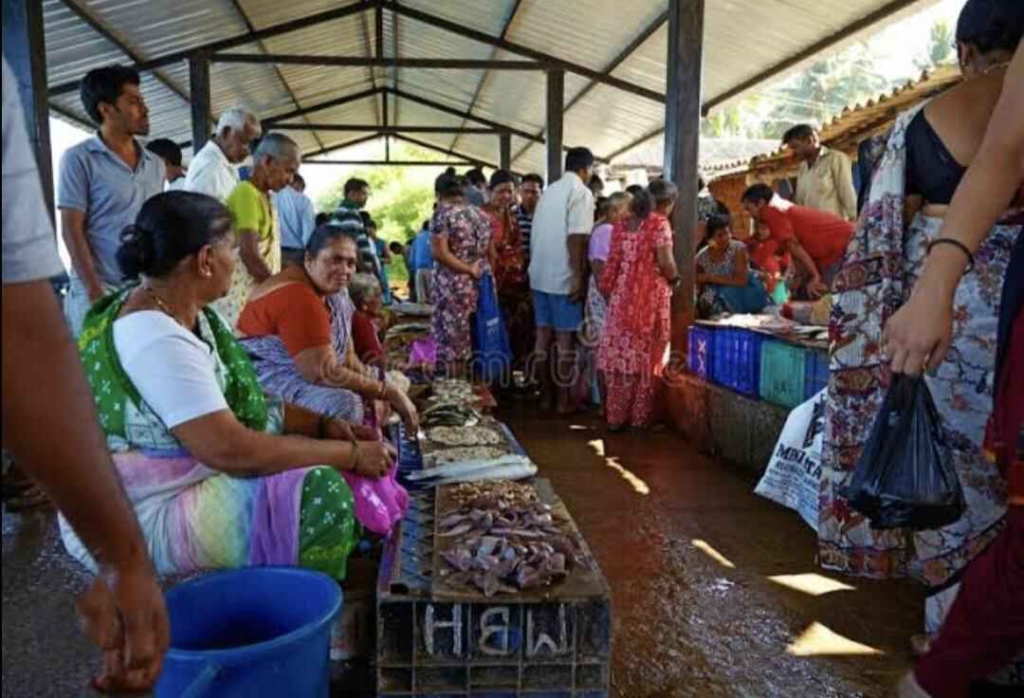 Siolim Fish Market–
Located 5.7 kilometers from Morjim Beach, this massive fish market is in Kudal, Siolim. From small to big ones, each variety of fish is available here in the market. You can buy Mackerel, Seer, kingfish, Sea shells and Prawns at reasonable rates from Siolim Fish Market. The cutting and cleaning of fish and other seafood items is available here. On the left side, you can visit the chickenshops as well.
Cottage Supermarket–
Just 2.6 kilometers away from Morjim Beach, this place remains open 24*7. You can find everything that is required in everyday life. The well-stocked feature of this supermarket also impacts the visitors the most.
Apart from these places, you must hit the local stalls present in the beach area. Mostly owned by foreigners or Russians, they sell some amazing souvenirs at pocket-friendly rates.
4. Why it is unacceptable to miss the sparking nightlife of Morjim Beach?
One of the gripping factors behind visiting Morjim Beach areas at night is the array of vibrant & luxurious party locations and nightclubs. Along with insane loud & peppy music, food, dance, drinks and lighting you are going to get the advantages of lavish amenities like a spa, pool bar and live events.
Take a look at the preeminent party places around Morjim Beach.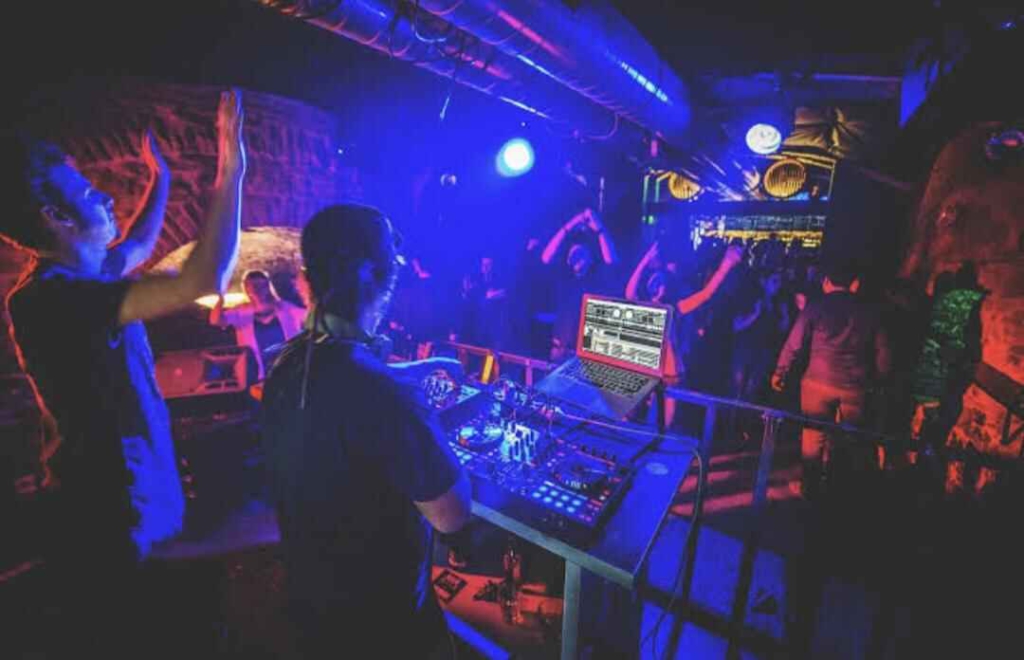 Ciel Goa–
This place is 2.6 kilometers distant from Morjim Beach and recognized among fun freaks as a great combination of nightclub & pub. Picture perfect ambiance, diverse delectable cuisines, classy drinks and prompt services of workers amaze the guests of this nightclub.
Bora Bora –
Want to spend a night in Goa at a dim-lit location with some great music? Bora Bora Life would be the best option for you. This late-night joint located just 850 meters from Morjim is known for the best Sheesha in Goa. Finger-licking food options, drinks, light music, live events, perfect lighting and great hospitality by Bora Bora make it worth exploring. This place is frequently visited by Russians.
New ReFresh Club –
Undobetedly it must be named as Party Paradise of Goa. Highly influenced by the Nikki Beach Club of Miami, the ambiance of New Refresh Club will fill you with awestruck vibes. The rooftop dance floor, hillside location, electrifying music by top-rated DJs of Goa and brilliant setting of disco floor & lights are some prime features of New Refresh Club. The place is 3.2 kilometers far from Morjim Beach.
Trip Cafe–
2.7 km away from Morjim Beach, you can access this beautiful sea-facing cafe location. Apart from being a perfect place for night plans, you can dedicate your mornings here as well. At night, the shining sand in the colorful lights of Trip Cafe and the sound of sea waves blended with the light music create the perfect ambiance.
Boom Shack Lounge–
Another sea-facing night party location that elevates the fun mood of visitors is Boom Shack Lounge. Whether you want to dance to the peppy music beats, chill and enjoy your drink or satiate the tickling taste buds with Goan & international cuisines, Boom Shack Lounge will cater to each demand your heart is calling for. The location from Morjim Beach is 2.8 km apart.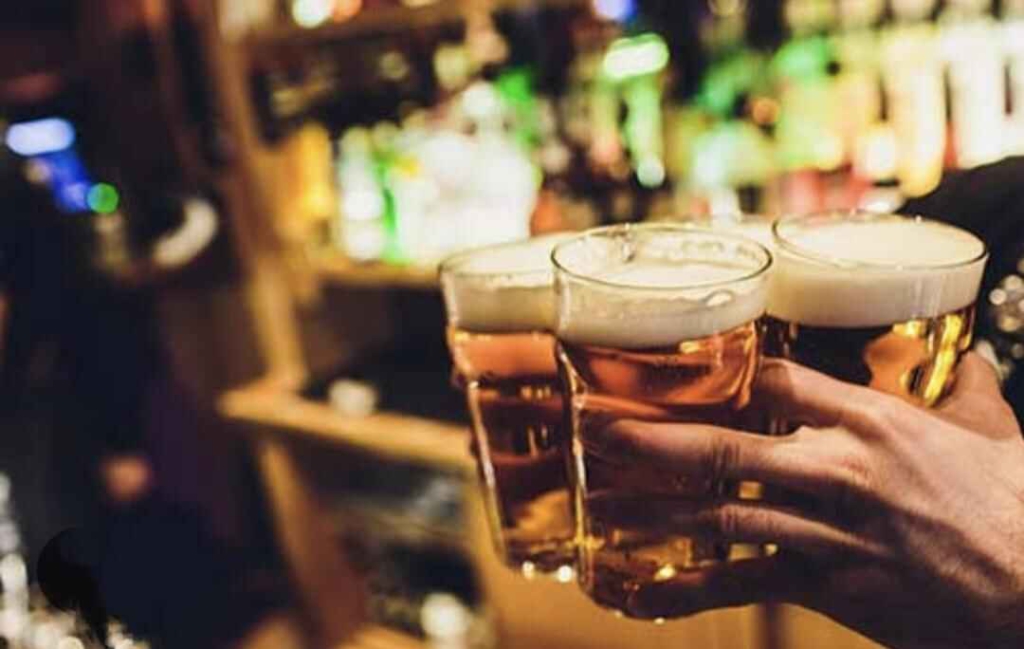 5. Which shacks are the hub of pleasures near Morjim Beach?
It will be considered a sin if you ditch traditional shacks located at Morjim Beach while making your itinerary. Unlike the shacks of other Goan beaches, the shacks of Morjim Beach proffer a comfortable stay along with the best seafood, drinks and a spellbinding view of the beachfront.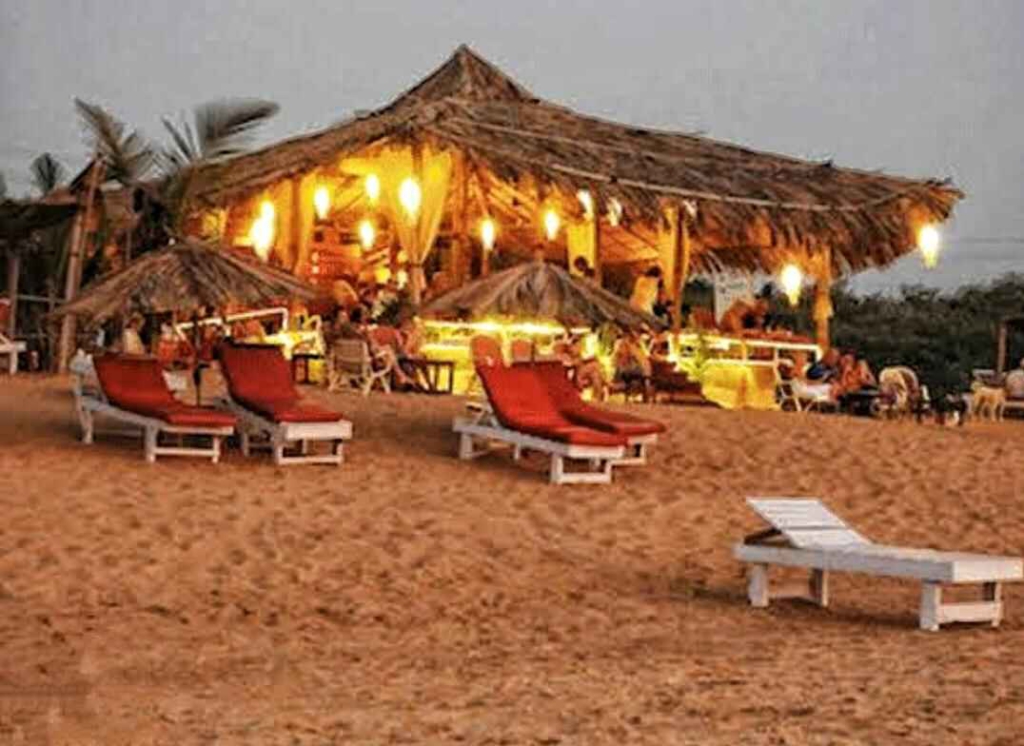 Golden Eye Shack–
The wooden English-style setup of this family and couple-friendly shack mesmerized the visitors. If you are looking for a shack to chill and enjoy some authentic Goan Cuisens, Golden Eye Shack deserves a chance. For staying, the AC huts will be the best option for couples and families. It is 1.9 km away from Morjim Beach.
S2 Beach Shack and Cottages–
The classic service features of S2 Shack will surely leave an indelible imprint on the minds of guests. A superb sitting area right in front of the beach gives you a chance to relish the food while capturing sunset views. The cottage's rooms are on the beach area. You can sense the whispers of the breeze while staying in your luxury rooms. S2 shack is 2.4 km distant from Morjim Beach.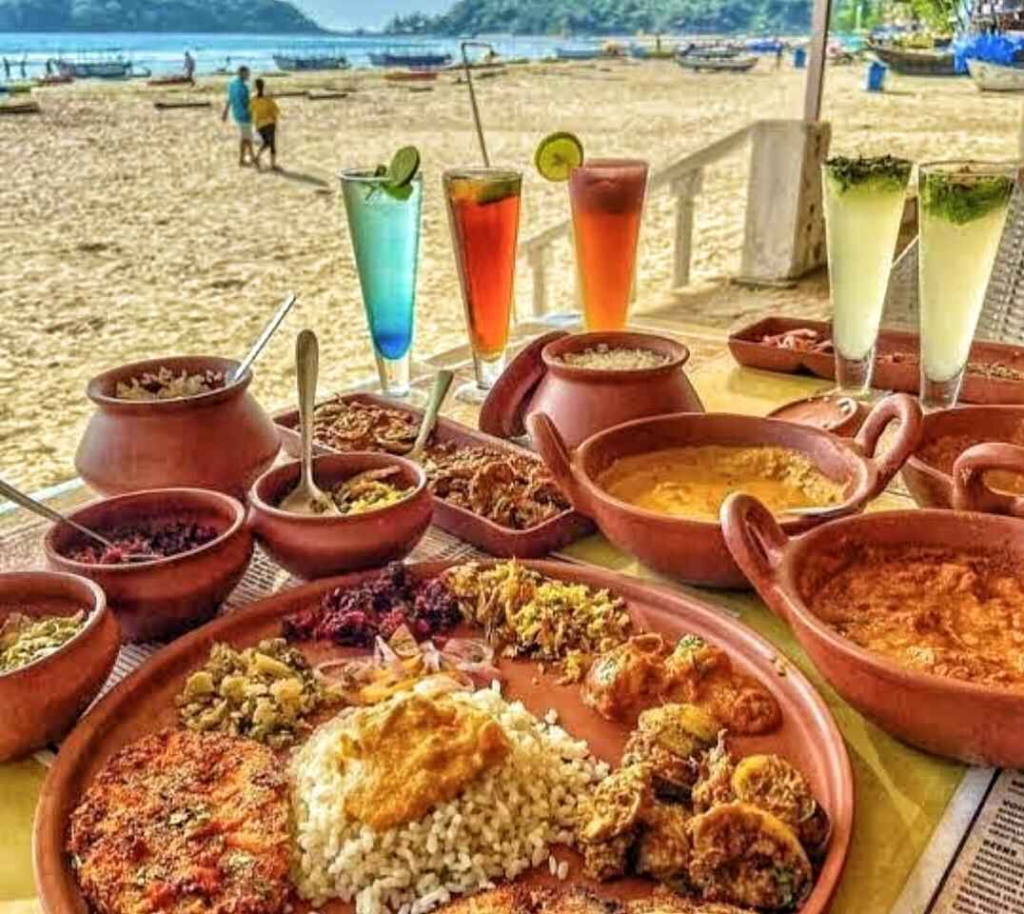 A few other shacks that are highly recommended by the locals or frequent visitors of Morjim are -:
Sublime Beach Shack
Lucky Star Beach Shack
Boom Shack Lounge
6. Where to plan a fine dining moment near Morjim Beach?
Exploring a surreal beach location like Morjim feels bland without including the eateries located near it. From authentic Goan food to International cuisines, everything is at hand in these below-listed food joints.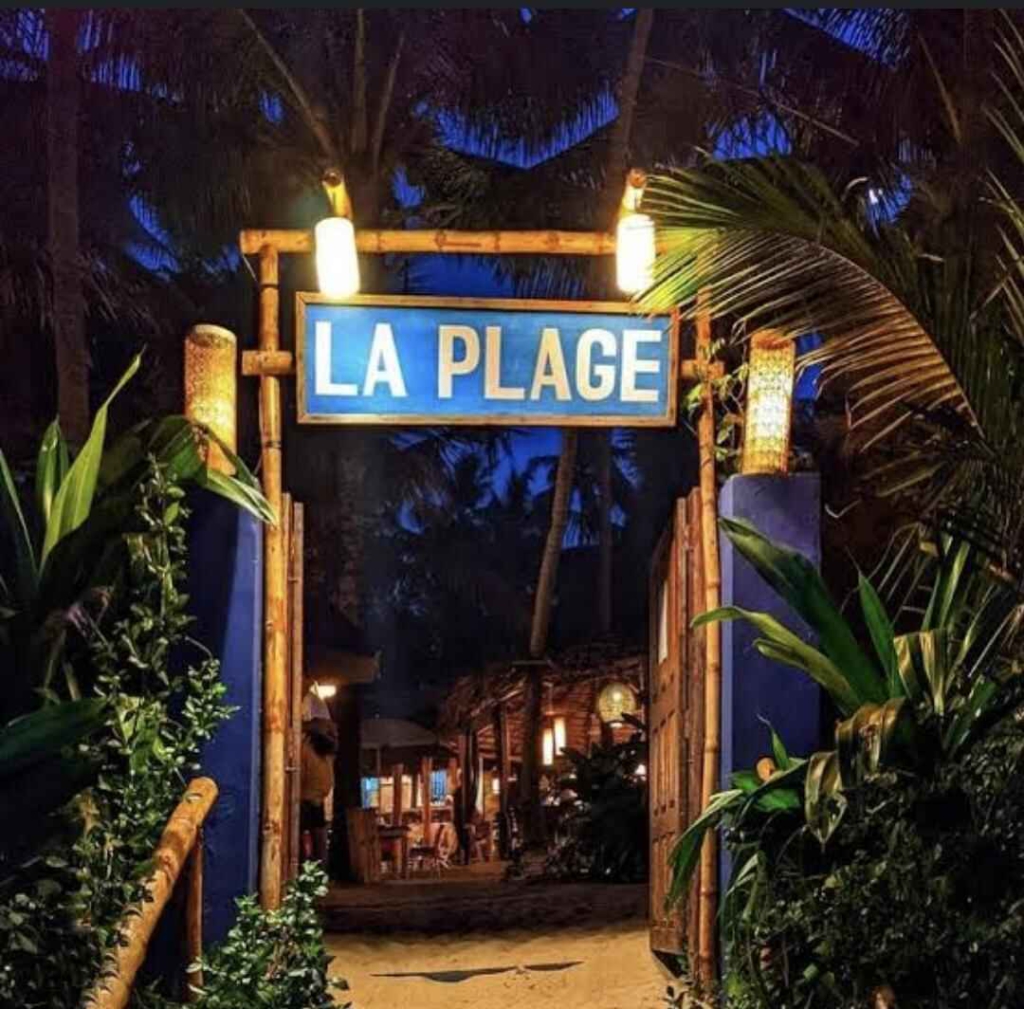 La Plage –
This fancy restaurant is located in Ashwem, Goa and is known for some signature delicacies created here. The charming ambiance loaded with the historic architecture styles, allows you to click some perfect pictures of yours. The food options range from seafood to European to French. It is nearly 3 km far from Morjim Beach.
Divine Gypsies–
Quite close to the Morjim Beach area, this pretentious food outlet is hyped for its great beach-facing ambiance, amazing food, drinks and pocket-friendly rates. You just need to cover 900 meters to access this location from Morjim Beach.
Other options you can try for catering to your appetite are -:
Seahorse Restaurant
Glavfish
Rainbow restaurant & bar
Hakuna Matata
Marbella Beach restaurant
7. Where to find perfect accommodation near Morjim Beach for a cozy stay?
There is no dearth of utmost luxurious yet budget-friendly stay locations in the proximity of Morjim Beach. You can pick the most convenient one accordingly.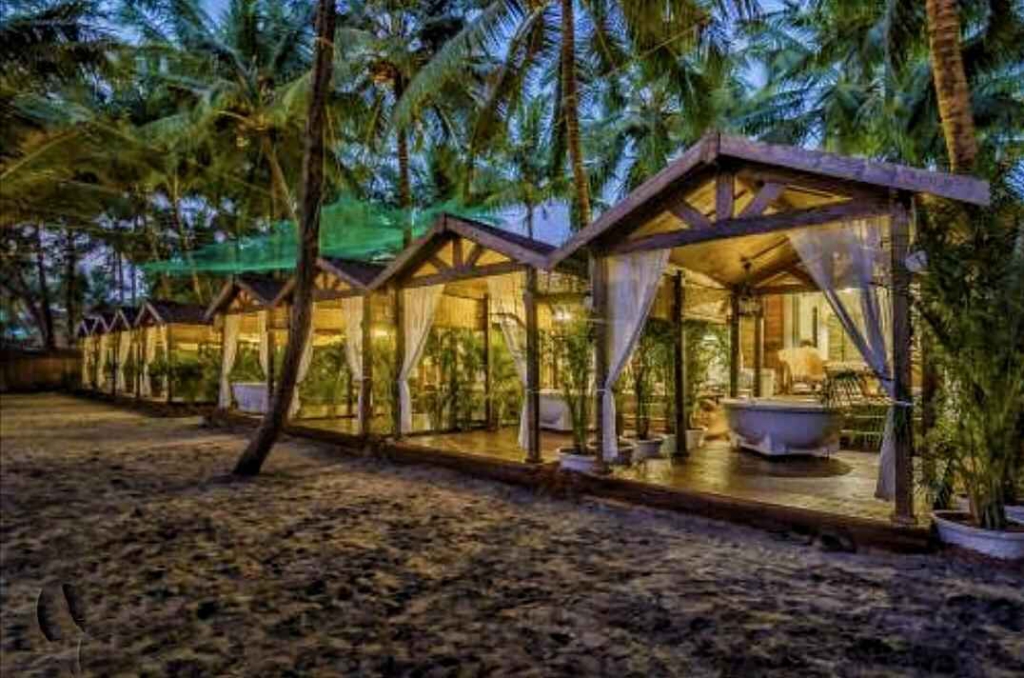 Larisa Beach Resort –
If you are planning a honeymoon or a private vacation with your partner, Larisa Beach Resort will exceed your expectations. In-house bar restaurant, direct access to the beach, tempting food and courteous staff members etc make your vacation worth memorable.
Marbella Beach Resort –
Located 2.8 km distant from the Morjim beach area, it promises you the best stay through fine services. Spacious rooms, luxury facilities, quick room services and beach views make it a perfect staycation.
Morjim Hermitage –
Located right on the beach (550meters) this finest stay property can be your best vacation place. Being very close to the beach, it feels like guests are enjoying the private beach time. Hot water, TV screen, wifi, spacious rooms and food facilities are some prime features of Morjim Hermitage.
If you are facing difficulties in finding a suitable room at the above-listed stay properties in peak seasons, go for these options.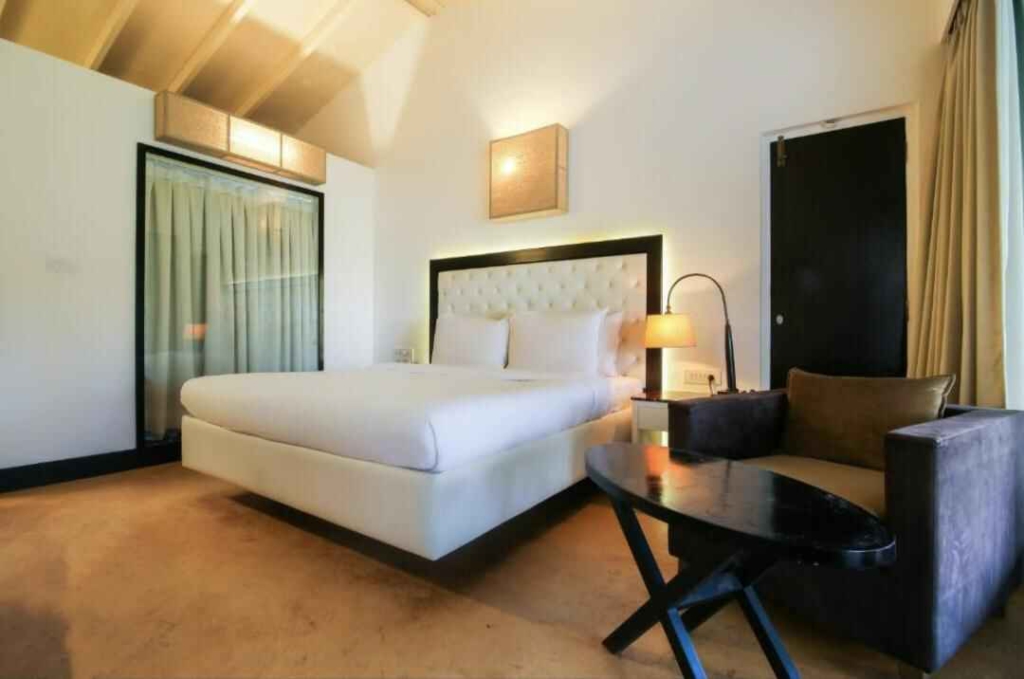 La Valencia Beach Resort
Whitewood resort & spa
La Cabana beach & spa
Rock water resort
Raj Mahal Morjim Beach resort
Tips to make your Morjim Vacation memorable for a lifetime –
Don't keep your valuables like cash & cards in your pockets while exploring the beach.
Do not forget to apply sun protection cream before going out for sun exposure.
Do not forget to try the local food of Goa.
Keep all necessary beach stuff like light cotton clothes, flip-flops, hats, water bottles and light snacks etc.
Take great care of your children if planning a family trip to Morjim Beach.
Frequently Asked Questions (FAQs) –
Q – Morjim Beach is in which part of Goa?
A – It is located in the Prernam district of North Goa.
Q – What is Morjim Beach famous for?
A – Olive Ridley Turtles, Nightclubs, Luxury restaurants and Chapora River cruise tours.
Q – How far is Morjim Beach from Calangute Beach?
Q – How to reach Morjim Beach?
A – Train, bus, rented bike, car, cab and taxi services are available.
Q – What is the best time to visit Morjim Beach?
A – Between November and February. 
Also Check: goa quotes for instagram