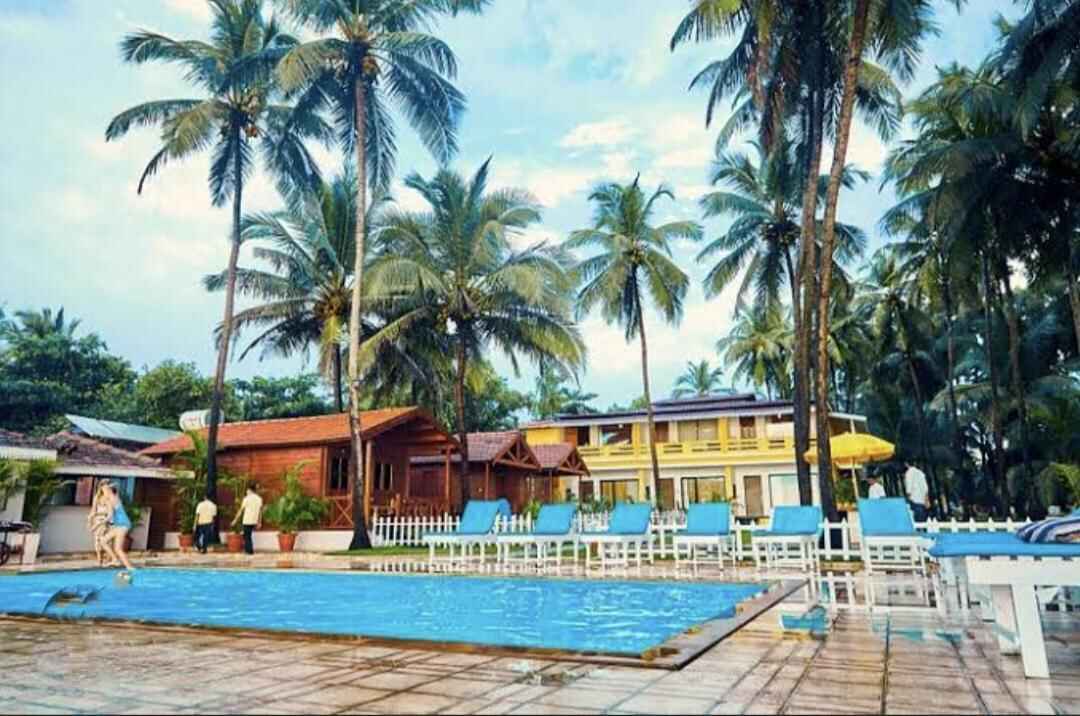 When tourists talk about the unspoiled beauties of Goa or precisely North Goa, Ashwem Beach does not fall behind. From witnessing the mesmerizing sunrise and sunset on this pristine beach to calmly reclining on the banks of Chapora River, there is a lot hidden in the deep pockets of Ashwem Beach's natural treasures.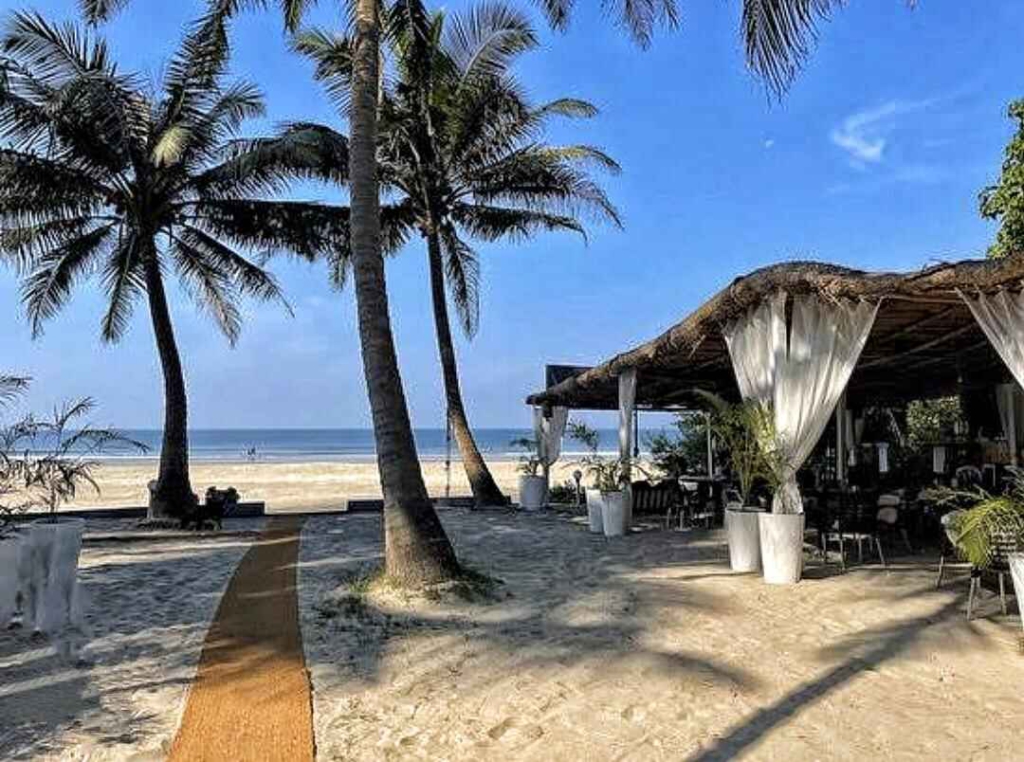 On the flip, a dark tint of thrill and adventure enables the Ashwem Beachgoers to feel a strong adrenaline rush. The pearl-white sand present on Ashwem Beach is finely complemented by the roaring or calm waves of the Arabian Sea. Believe us, you can not restrain yourself from immersing in the awestruck beauty of this North Goan beach land.
Before making your Goa beach vacation itinerary, you must grab all the small and big information. To cut down the complexities of separately searching info about Ashwem Beach, we have rounded up a list including all essential aspects.
Take a visionary tour of Aswem Beach before backpacking!
1. Treasures of Ashwem Beach in the form of visiting locations
The vicinity of Ashwem Beach is full of diverse visiting locations. Whether you are a history buff or a nature admirer, the Ashwem Beach area offers you an extended array of surreal spots.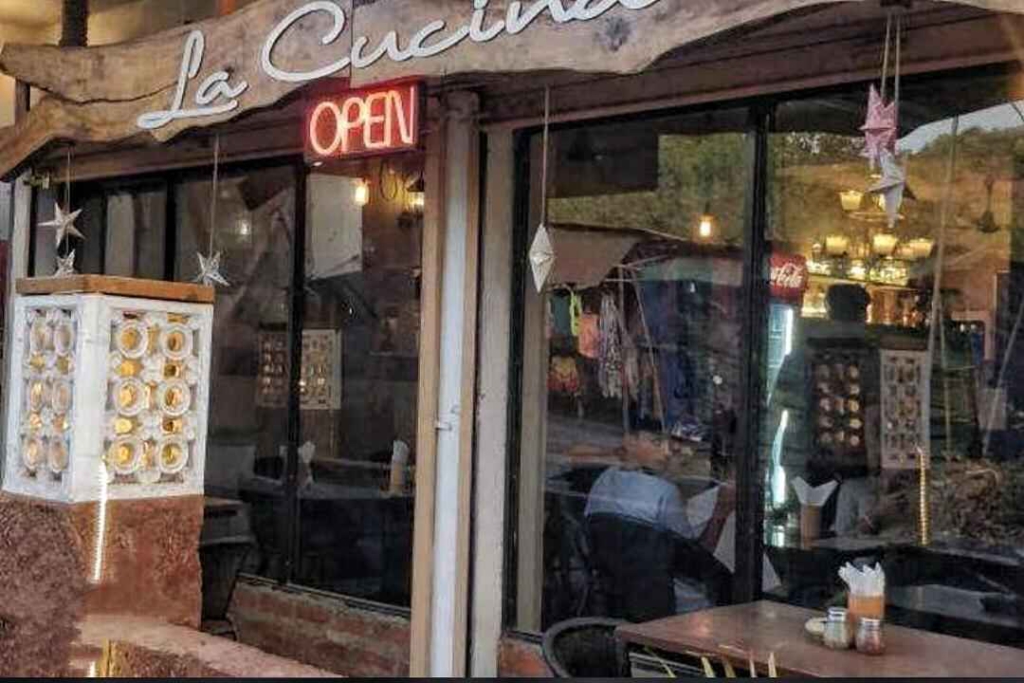 Have a quick view of the surrounding beauties of Ashwem Beach.
Ashiyana – This is a yoga retreat center located at a distance of 3.2 kilometers from Ashwem Beach. This place is ideal for those visitors who want to make the most of a beach vacation by soothing and meditating their minds. Doing various Yogasans and enjoying the nutritious yet drooling food items will proffer you a distinct experience.
Chapora Fort – Want to explore an ancient beauty after relaxing on the beach, Chapora Fort is a never skip option. Surrounded by the tall swaying lush green trees on the one side and surreal beach water on the other side, this immortal architecture is standing gracefully. After covering a distance of 14.2 kilometers, you can witness this glorious historical fort.
Arambol Mountain – Climbing this tall mountain and deep diving into its surreal beauty hits the visitors differently. You can plan a family or friends picnic here and witness the captivating sunrise and sunset. This lush green Arambol Mountain is just 7 kilometers far from Ashwem Beach. Visiting here will treat your mind and soul with peace and a refreshing vibe.
Morjai Temple – A slight touch of divinity can entirely transform your Goa Vacation. Including Morjai Temple in your trip plan will make you aware of the rich heritage of India and Kaavi Art Decor. Morjai Temple is located in the Prenum district of Goa and one can easily reach here by traveling 3.4 kilometers.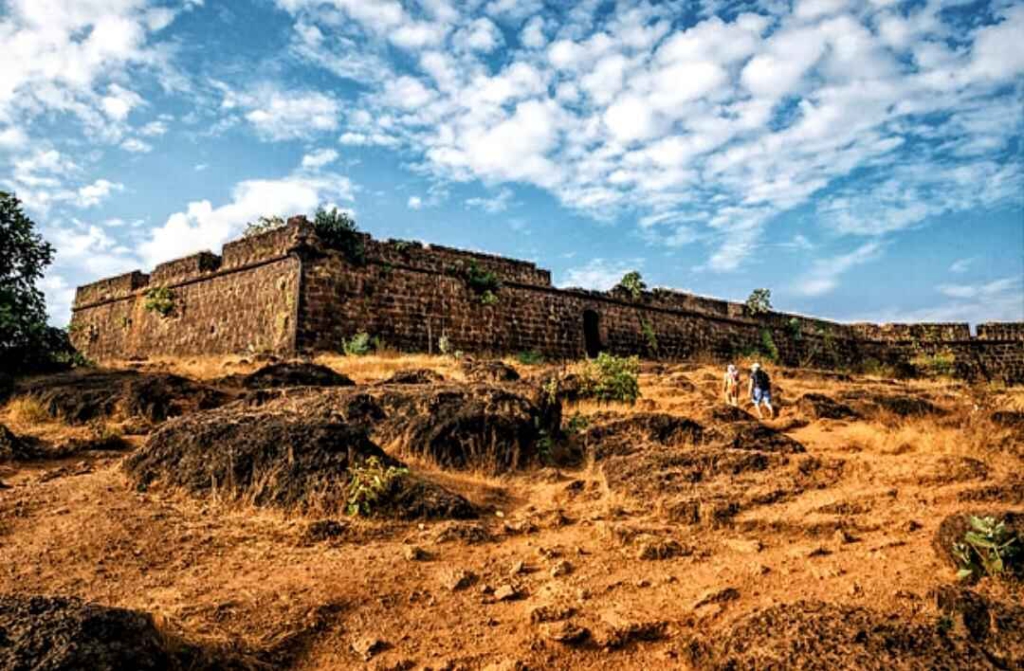 These prominent visiting spots located near Ashwem Beach are imbibed with great positive energy and beguiling features. Apart from these spots, you can include surfing schools, spa centers and watersports centers in your beach vacation plan.
2. Ultimate venues to enjoy the nightlife of Ashwem Beach –
A fine blend of relaxing on the soft sand during daytime and grooving like insane on the peppy beats during night draws the visitors towards this beach in bulk. You will find different sparkling nightclubs at Ashwem Beach that serve great fun on their platter.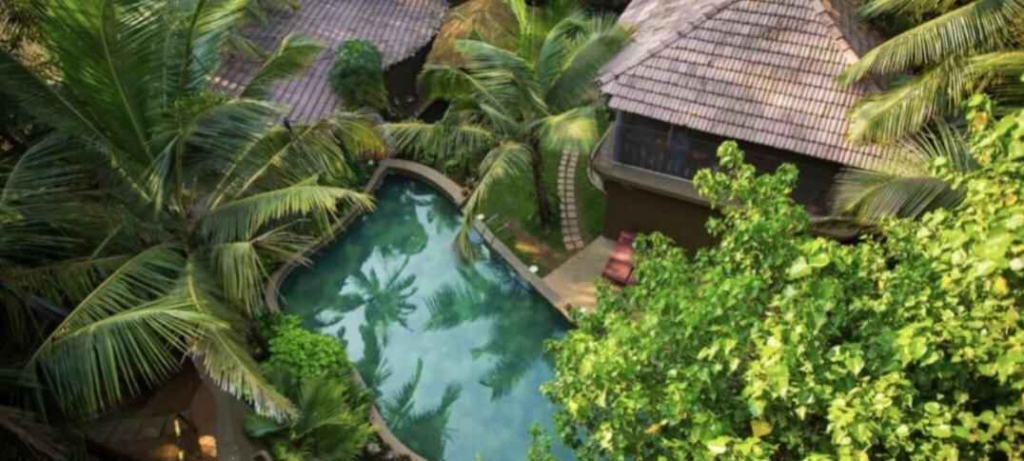 Here are the most populous nightclubs located on the land of Ashwem Beach.
Koleso 24/7 lounge and bar – Being here in the evening or at night is bliss for party lovers. The place not only proffers the mouth-watering delicacies and drinks but the music, vibe and ambiance of Koleso is also heartwarming. You can pick either area for sitting inside or under the open sky to add fun to your eve. The loud and peppy music of this bar & lounge location enhances the fun level for people.
Paradise Beach Shack – This place is full of diverse traits such as a lively party location, comfortable accommodations for visitors and a specific restaurant for food lovers. These all attributes exactly make a perfect match with its name "paradise". Due to being close to several beach locations and located in the Ashwem beach area, you will see the place full of visitors every time.
La Cucina –  Highly inclined towards having Italian delicacies and refreshing drinks with your travel partners in Goa? La Cucina is beyond perfect for you. The organizers of La Cucina create a charming vibe by decently setting the ambiance and playing groovy music at night. Among the various luring food items, the pizza, dessert and drinks win the heart of food lovers at La Cucina.
Golden Eye Beach Shack – This night place near Ashwem Beach is ideal for those visitors who want to relish their food and drinks in the lap of a serene environment. The soothing sound of the sea waves amplifies the pleasure of spending an Eve with your loved ones.
Amber Rush – A plethora of seafood, Mexican, Indian, Italian and Chinese delicacies are available here to tempt the visitors. You can hold your drink in one hand and sway slowly to the engaging beats of peppy songs. Amber Rush offers a fine blend of food & fun to its guests.
Sporting Heroes Club – A quick round of alcohol, food, and pool tempts the party animals towards this club. The wide floor for dancing enables you to immerse in the fun thoroughly. The sporty vibe of the bar also impacts the people massively. While sitting in the perfect ambiance of Sporting Heroes Club you will sense the drooling aroma of pizza baking.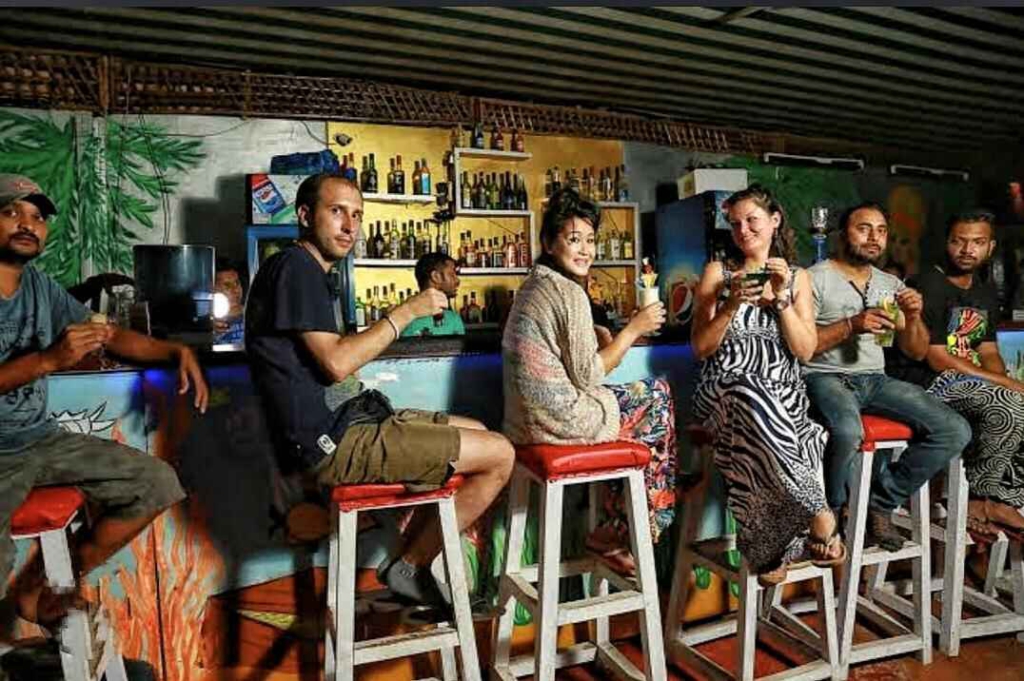 3. Enjoy sports and rides in the Ashwem Beach area –
When it comes to the choice of adventure junkies, Ashwem Beach provides several water sports activity options. These water sports or water rides infuse a thrilling feel in adventure lovers. From the simplest water ride to the most exciting one, beachgoers are free to pick their choice.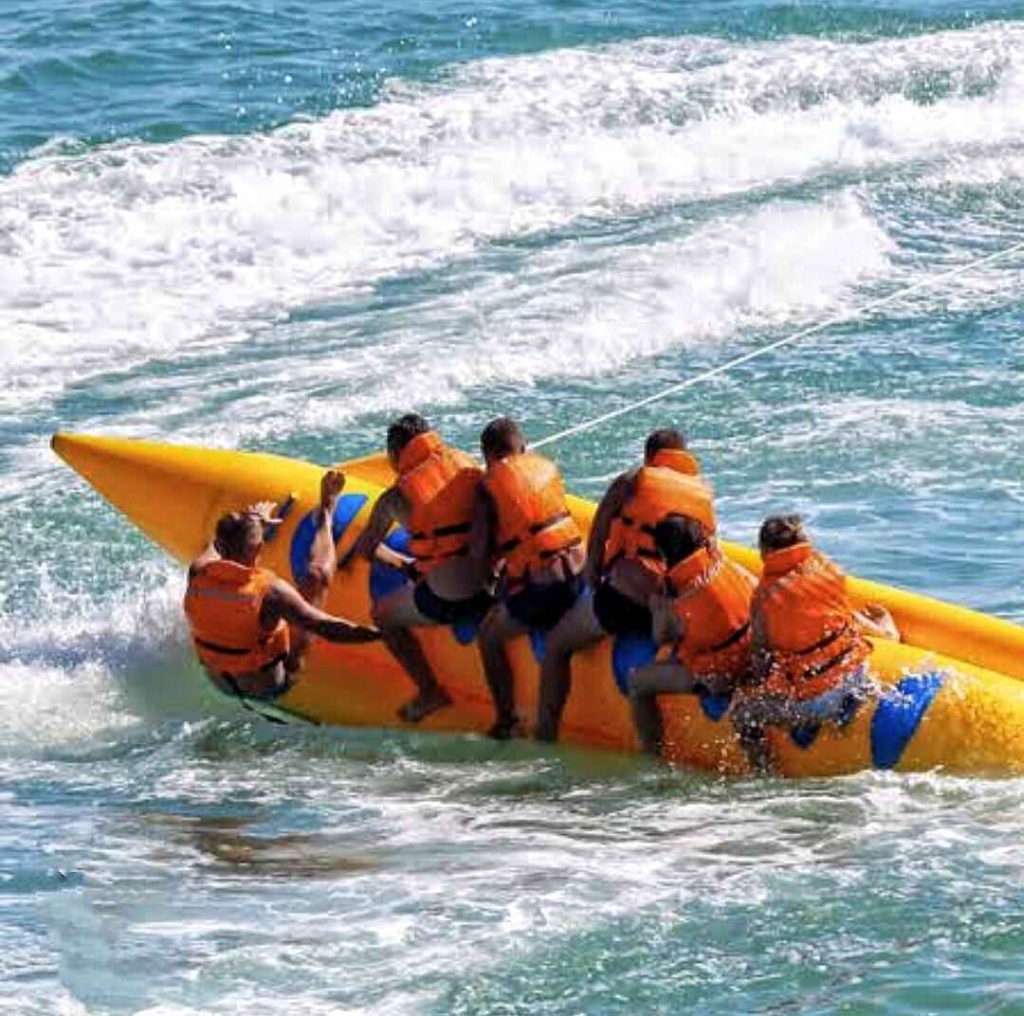 The below-listed options will give you a quick view of the adventurous vibe at Ashwem Beach.
Jet skiing – Speed is the synonym for a thrill at a beach location. This water sport is also for faint-hearted people as you will find a trained person accompanying you during the activity. You will find reliable water sports teams near Ashwem Beach that provide safe equipment and guidelines for jet skiing.
Surfing – The smooth waves and convenient environment of this south Goan location, Ashwem Beach makes surfing activity more exciting. The visitors find the credible support and guidelines of well-trained surfers near Ashwem Beach.
Windsurfing or Kitesurfing – This unique thrilling water activity is favored by scores of visitors at Ashwem Beach. From October to April, the pleasant waves and mild breeze at the beach area compel people to try their hands at this exciting activity.
Paragliding – Imagine having the view of serene lush greenery and silent water currents from a good height, the thought has surely given you a chilling feel. Well, this thought becomes a real experience when visitors choose paragliding at Ashwem Beach. From September to the first week of June, paragliding feels like sailing in heaven.
Parasailing – Sailing swiftly on the water surface of the sea is one of the most favorable activities of Ashwem Beachgoers. In this water sport, you will be towed behind a speedy vehicle and the canopy will start flying in the sky. After getting enough speed, be ready to have a scenic view of Ashwem Beach from a good height over the sea surface.
Bumper Ride – Sitting on an inflated rubber board and sensing a thrill-filled activity, is something that you will enjoy the most. As the water of the Arabian Sea goes up and down, your bumper ride will become too exciting to feel. The naive ones need not feel scared as the bumper ride includes more than one person.
Kayaking – Another fun activity in which the person glides on the water's surface with the help of a Kayak. Whether you are a pro or a beginner, this simple paddling water activity adds fun to your beach activity.
The list of water sports and thrilling yet simple rides is so long. Both solo or group rides are available in the list of water sports companies present at Ashwem Beach. Apart from the above-given options, you can try Flyboarding, Bananaride and Hot Ballon activities as well. These rides become more pleasurable in the winter season as the environment starts endorsing the fun factor.
4. Buy some memories from markets near Ashwem Beach –
Akin to the other visiting and adventure options, the beachgoers get a plethora of choices when it comes to markets near Ashwem Beach. A wide variety of stuff is available in these markets at reasonable prices.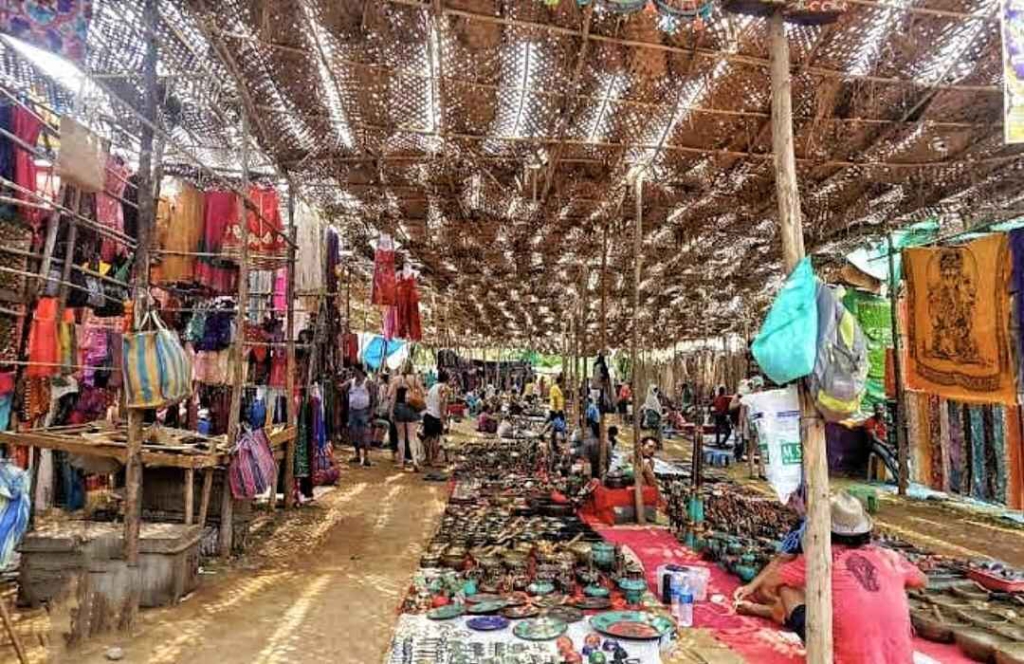 Saturday Night Market – The limited Goan souvenirs like clothes, jewelry, spices and bags are found in this marketplace. You can roam here freely and pick the desired things while visiting this Saturday Night Market near Ashwem Beach. The authentic Goan vibe presented in these souvenirs will win your heart surely.
Mapusa Market – This marketplace is recognized for specific grocery stuff. You can visit here on Friday. Along with grocery items, the metal artifacts and religious trinkets also catch the attention of local visitors and foreigners.
Britto's Mini Super Market – If you are looking for an in-store shop or marketplace near Ashwem Beach, Britto's Mini Super Market is ideal for such visits. Here you will find nearly all kinds of edible items and currency exchange facilities.
Calangute Market Square – This marketplace located in Calangute town is widely known for selling unique items. The boho clothes, handmade show pieces, leather goods and utensils draw visitors in massive flux towards this famous marketplace near Ashwem Beach.
Calisto Supermarket – Full of all the grocery items like cereals, flour, spices, snacks, non-alcoholic drinks and fruits, this supermarket is a favorite spot of local people. Well, the visitors can have a refreshing vibe after going here.
Cottage Supermarket – From the daily use materials to the expensive drinks, you will find everything here. Those who are staying in the Ashwem Beach area must go explore Cottage Supermarket. It is one of the nearest supermarkets to Ashwem Beach.
5. Pick a comfortable & luxury accommodation near Ashwem Beach
A beach vacation is not only limited to exploring the market, new locations and reveling in adventurous activities. But it will be incomplete without staying at a lavish resort/hotel/ guest house property or a catchy beach shack.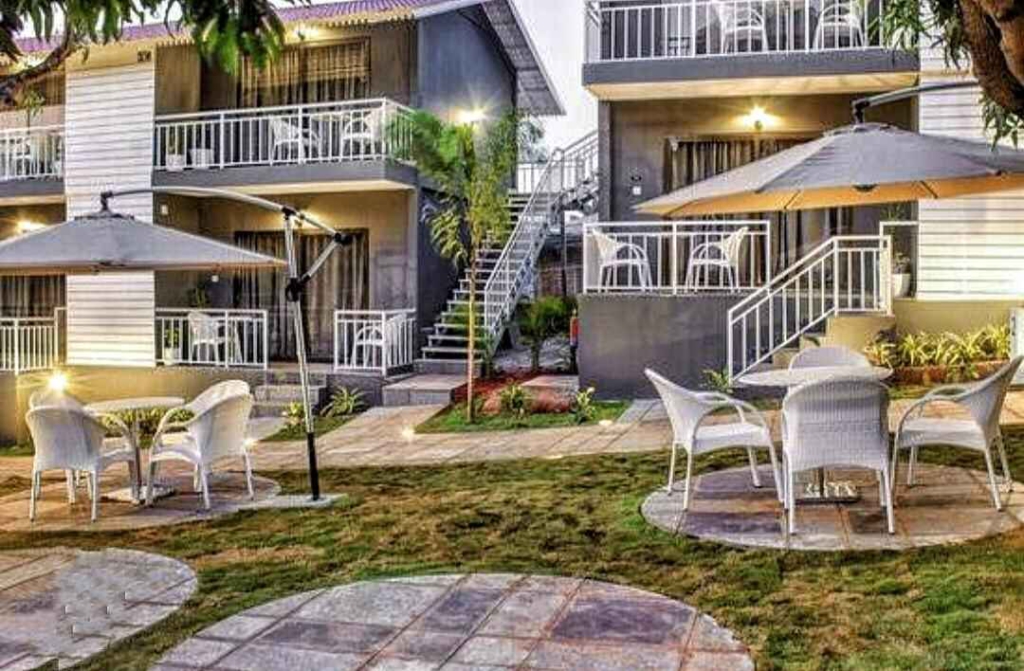 The vicinity of Ashwem Beach does not fall short of alternatives regarding an ideal stay. Have a look at the prominent resorts near Ashwem Beach.
Oceans 7 Ashwem – If you have planned your entire vacation at Ashwem Beach, this resort is just beyond perfect for you. Capsulated with lush greenery and ocean views, this place is frequently picked by visitors. Qualitative hospitality and amenities available at Ocean 7 Ashwem tempts visitors to book this place for accommodation.
Mamagoa Resort – This 4-star rated property located near Ashwem Beach exceeds the expectations of visitors. Rented vehicles, enough parking area, well-furnished rooms, wifi services, timely meals & breakfast and all fundamental amenities make this place favorable for guests. In off seasons this property lends very tempting deals to the visitors.
La Cabana Beach & Spa – Those who fascinates by the swaying tall palm trees and dense greenery of hills, must choose La Cabana Beach & Spa as their stay property. Affording this lavish property is easy for visitors as the budget-friendly packages will smoothly fit into your plan.
Rococo Ashwem Beach Resort – If your pet is also accompanying you during the beach visit, staying here will be beneficial. The friendly behavior of staff members, spacious rooms and luxurious facilities make the guests feel comfortable at this resort.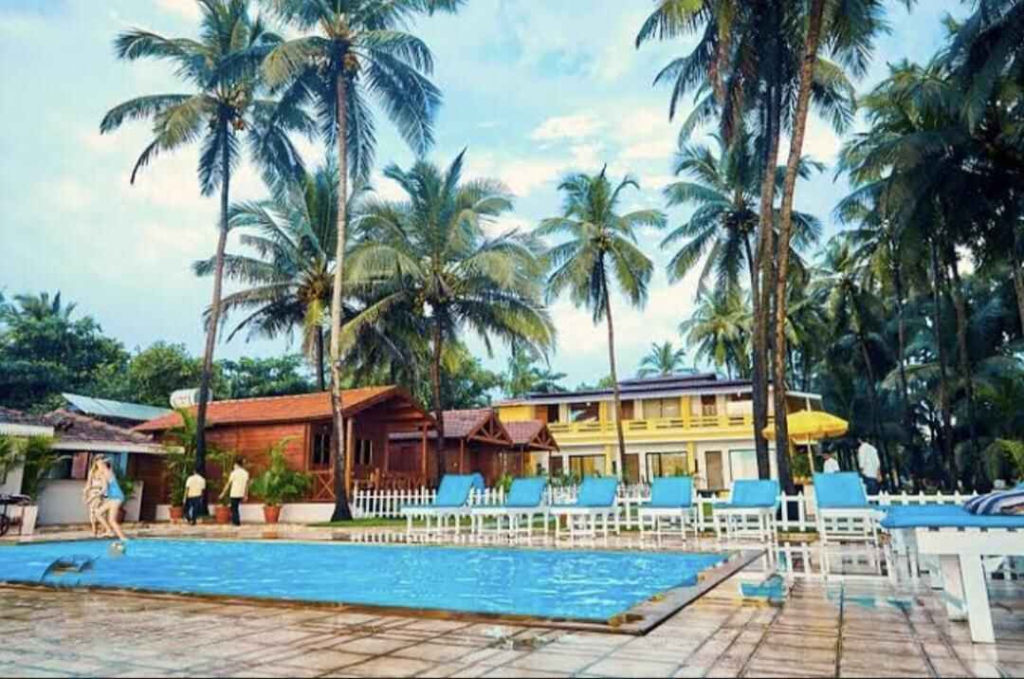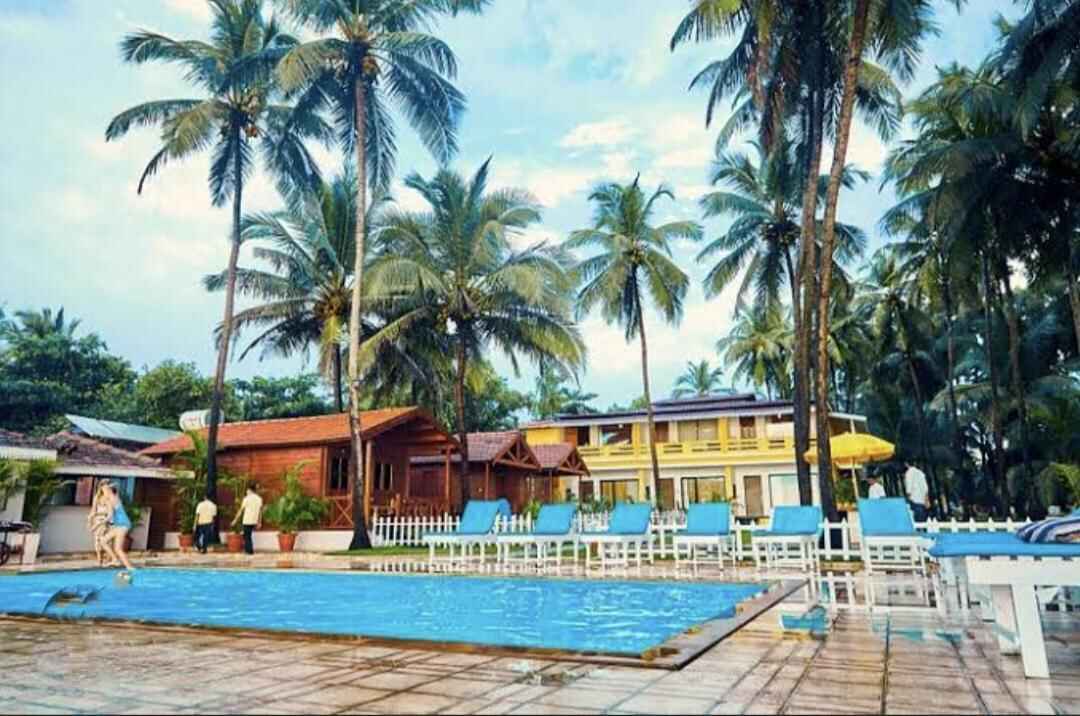 Aurum Resorts, Lamore Beach Resort, Morii by the Sea, Ashvem Beach Resort, Marbella Beach Resort and Silver Waves Hotels and Resort etc are also situated near Ashwem Beach.
The shiny sand and stretched shore of Ashwem Beach are embellished with colorful beach shacks. The solo and hippy travelers usually stay at these shacks.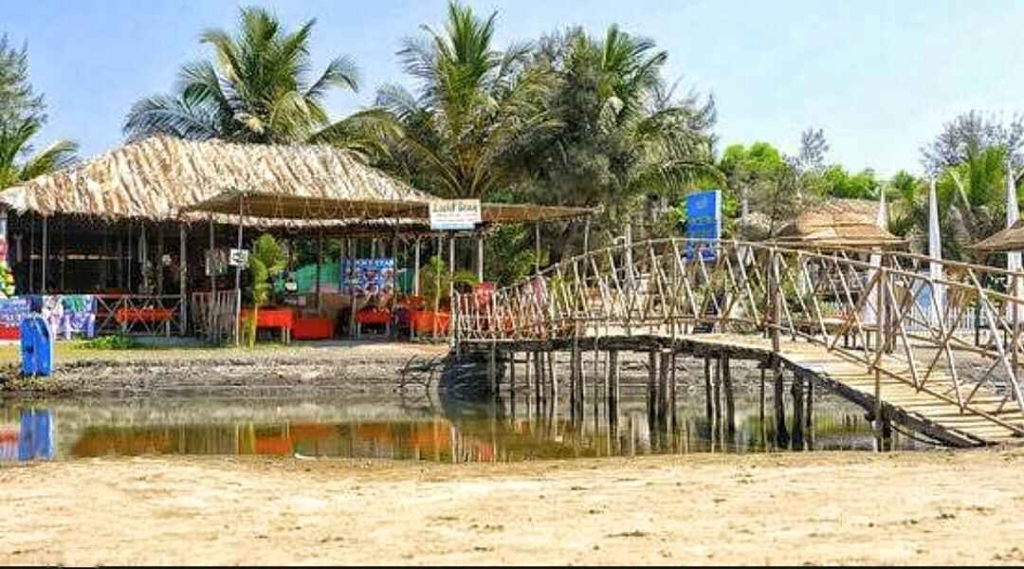 A quick view of the prominent beach shacks of Ashwem Beach.
Lucky Star beach shack
Paradise beach shack
La Plage
S2 Beach Shack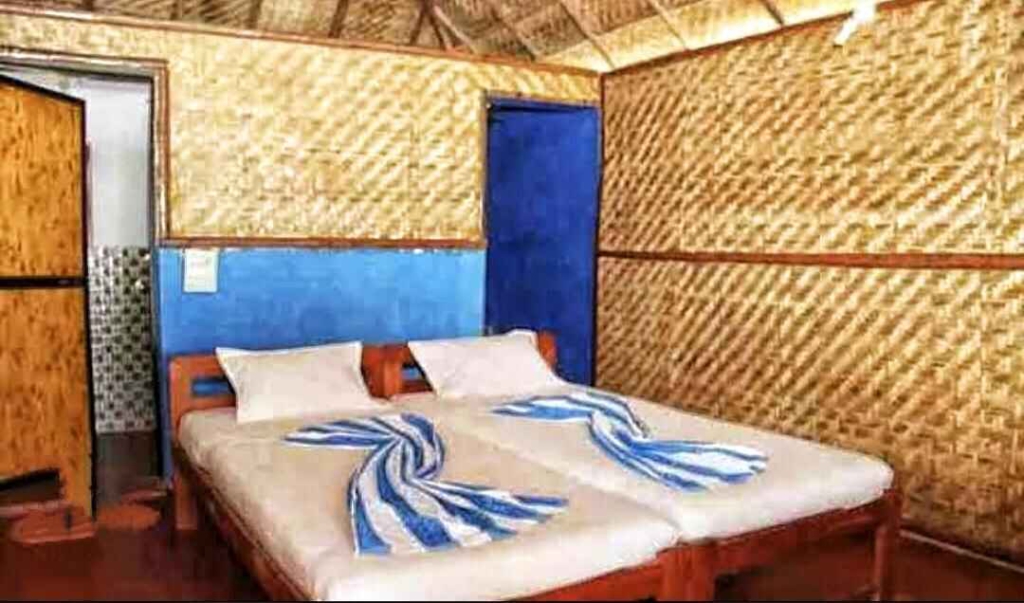 If you are dicey about the facilities of these beach shacks, shrug off all your worries as these stay locations give tough competition to the lavish resorts and standard guest houses.
6. Points and things to keep in mind while planning your Ashwem Beach vacation
A beach vacation demands keeping several things in mind such as -:
Don't forget to keep sunscreen, sunglasses, hats, slippers, a beach towel, an umbrella, prescribed medicines and a first aid kit in your bags while packing.
Book the stay place before reaching the beach location, as last time booking can cause a rush and spoil your trip due to unavailability of rooms.
Do not go near the prohibited places of Ashwem Beach as the depth of water and high tides cause life risks.
If you are new to any water sport and riding activity, ask a trained person to accompany you throughout the adventurous activities.
Check the right season and month before planning your beach vacation as the bad weather can spoil your entire vacation.
Frequently asked questions ( FAQ) –
Q – How to reach Ashwem Beach by air?
A – Reaching Ashwem Beach through the air is quite easy due to its proximity to Goa Airport. It is located 55.5 kilometers far from the Goa Airport. After reaching the Goa Airport, you can easily hire a cab/taxi/bus service for reaching the Ashwem Beach location.
Q – How to reach Ashwem Beach by bus/car or a taxi?
A – The easily and frequently accessible road transportation enables visitors to reach Ashwem Beach smoothly. Nearly all the locations of Goa are connected with Ashwem Beach through bus, car or taxi services. Reaching here from Mumbai and Pune via road is also convenient as the private car and bus services provide this facility.
Q – What is the best time to plan a vacation on Ashwem Beach?
A – Being an all-time favorite place of foreign and local visitors, Ashwem Beach welcomes guests throughout the year. However, the best time to visit this surreal beach beauty starts in November and ends in February. The mild temperature enables nature to bloom fully and offers a picturesque beauty to gaze at for hours.
Q –  How far Ashwem Beach is located from the capital of Goa, Panaji?
A – This pristine Ashwem Beach is located at a distance of 30 kilometers from Panaji. It takes nearly 1 hour to reach this beach location through the bus service. The cost of bus transportation from Panaji to Ashwem Beach lies between 30-40 rupees.
Q – When you should avoid visiting Ashwem Beach?
A – The monsoon months can spoil your beach vacation as it brings heavy rainfall and thunderstorms to beach areas.
Also check: bye bye goa quotes