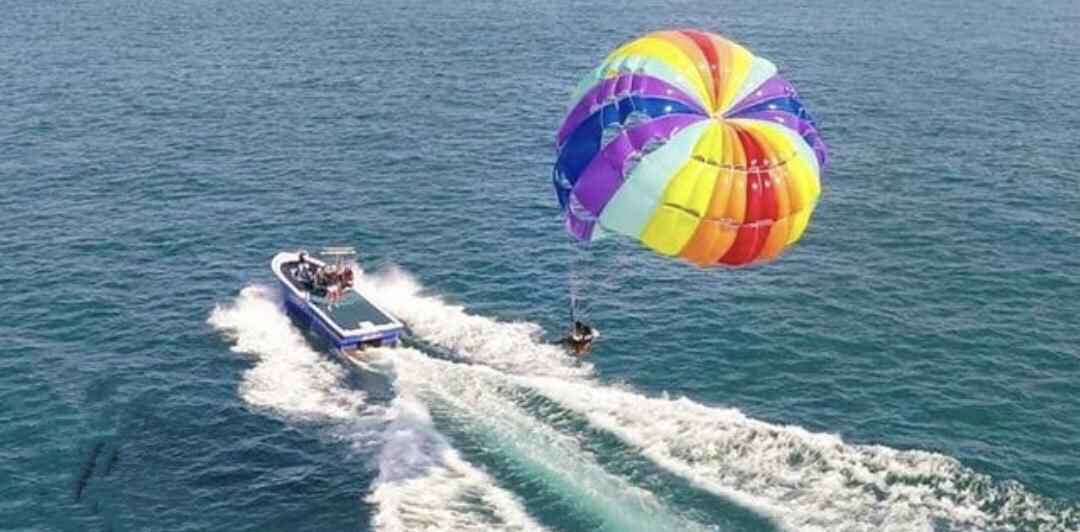 Segregated into two parts Little Vagator and Big Vagator, this beach holds a wholesome vibe for beach bums. Prominently recognized for its mesmeric red cliffs, Vagator Beach is no less than a carton having a plethora of surprises. Whether one is moved by scenic beach beauty or wants to indulge in the fun of overnight parties, Vagator catches the attention of each kind of explorer.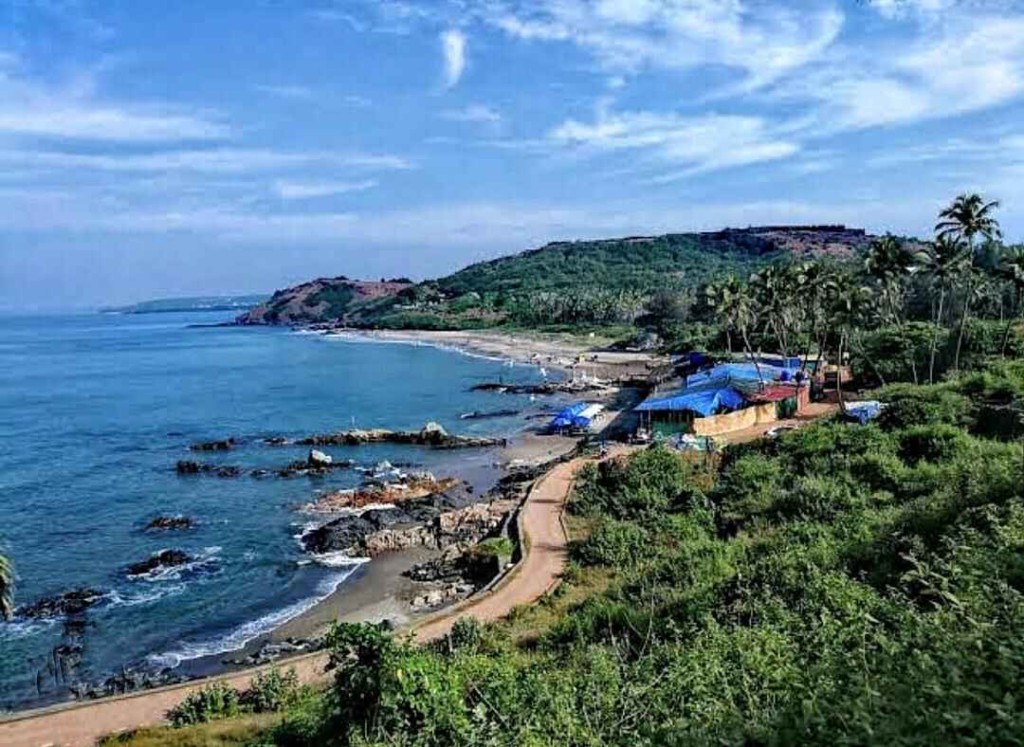 The hub of midnight trance parties, proximity to prestigious Portuguese forts, white sand with rich palm plantation, views of steep laterite hills, thrilling water sports and shacks serving mouth-watering food items etc, you can not be refrained from planning a week-long vacation at Vagator Beach.
Vagator Beach falls in the Bardez Taluka and is the northmost beach of this region. Little Vagator is recognized as Ozran Beach. If you love exploring the crowded beaches of Goa, the panoramic landscapes of Vagator Beach are eager to embrace you with all enthusiasm.
Highlights of Vagator Beach –
Despite being jammed with the massive flux of local & foreign visitors, Vagator is rated as one of the cleanest beaches in Goa.
The surroundings of Vagator Beach are densely packed with Vagator hills & Sahyadri Ranges.
A part of Vagator Beach is commonly recognized as Disco Valley. Visitors come here in bulk to attend the most happening trance and rave parties.
Every Wednesday, a flea market near the beach area facilitates the visitors with catchy trinkets, junk jewelry and other handmade stuff. On Saturdays, Germans host a flea market on Vagator Beach.
In the north of Vagator Beach, you can find a splendid waterfall.
The spectacular views of Chapora Fort from Vagator Beach steal all the limelight.
The red cliffs, white sand and fringes of tall palms create an ideal frame for photography fanatics.
What is the best time to visit Vagator Beach?
Vagator Beach turns out a slice of paradise in the peak winter (November to March) season. The mercury takes a dip up to 16-17°C and offers pleasant weather to traverse through the entire Vagator Beach.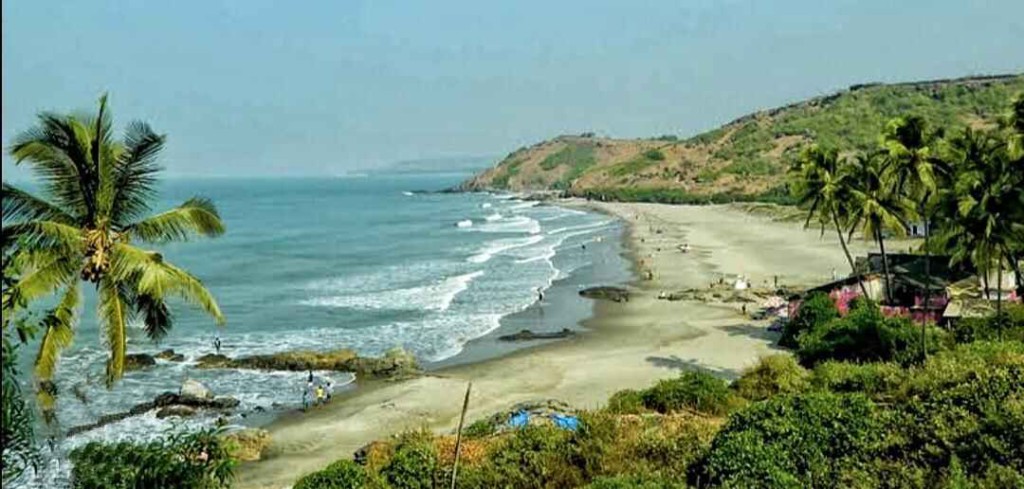 The blooming nature, fully operational shacks, water sports and food joints, parties and festivals make Vagator Beach a treasure for visitors.
For spending some unforgettable moments at Vagator, plan your beach visits during sunrise and sunset. Trust us, you haven't seen such scenic beauty of the sinking sun into the vast Arabian Sea.
How to reach Vagator Beach?
Vagator Beach is just 20 kilometers apart from the capital city of Goa, Panjim. A lot of tourists access this beach location from Panjim. Nearly half an hour is sufficient to cover this distance. You can take the bus, car, taxi, bike and cab services from Panjim to reach Vagator Beach easily.
Goa International Airport or Dabolim Airport is 46 kilometers distant from Vagator Beach. Through a taxi or cab service, one can reach the destination in 1 hour and 40 minutes.
Thivim and Pernem railway stations can leave you quite close to Vagator Beach. Hence, if you are traveling by train, choose these stations for stepping down the train.
1. What not to miss around Vagator Beach while making your sightseeing plans?
After spending a whole day on the beach, plan for sightseeing around Vagator Beach. Whether you are an admirer of fascinating monuments telling stories of history, a nature enthusiast or a spirituality-seeking soul, the vicinity of Vagator Beach is full of exploring choices.
Take a look at the major attractions near this pristine beach location.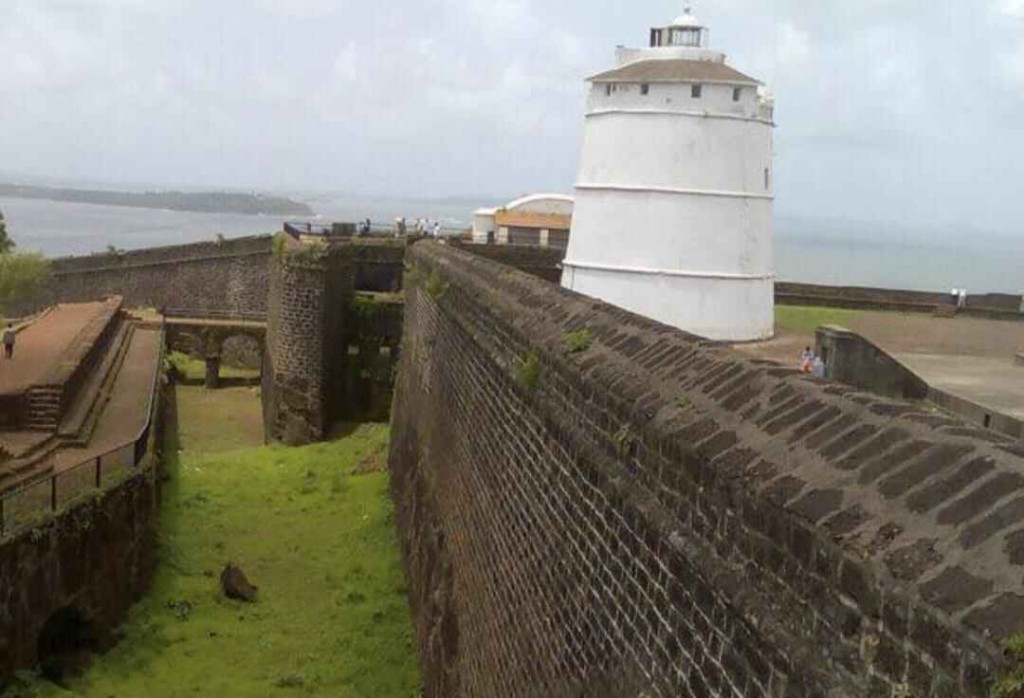 Chapora Fort –
The steep slopes of prominent Chapora Fort are visible from the shoreline of Vagator Beach. From the majestic top of Chapora Fort, you can witness breathtaking glimpses of the exquisite Arabian Sea and Chapora River. Once the pride of the Portuguese, this fort is now just the ruins of secret tunnels, barracks and cylindrical towers etc. However, it prevails its distinct charm among history buffs. It is 1.3 km away from Vagator Beach. You can visit here between 9:30 am and 5:30 pm.
Shiva's Face –
Located 2.6 km away from Vagator Beach, this marvelous carving of Shiva's face on a giant rock stuns the visitors. It is believed that a Russian visitor drew this face. Gradually the face turns into a plain surface due to the constant striking of waves on it. This Rock Sculpture can be a great inspiration for art lovers and spiritual seekers.
Sunset Point –
To experience one of the best sunsets in Goa, add Sunset Point(Anjuna) to your bucket list or itinerary. Crescent-shaped beach, rocky shores, the noise of crashing waves, partially cloudy sky and giant red sphere of the Sun, can you blink your eyes even for once? Surely not. This majestic location is just 3.2 kilometers distant from Vagator Beach. Don't forget to keep your cameras while heading to this scenic sunset spot.
St. Anthony Church, Vagator –
Among the locals, this spiritual abode is recognized as Vagator Church. This chapel is devoted to St. Anthony and is famous as one of the most visited tourist locations in Vagator. Stunning white architecture and peaceful surroundings full of greenery allow you to spend some quiet moments here. It is 1.3 kilometers from the Vagator Beach area.
Away Spa –
To treat yourself best during the beach vacation days, including this fabulous spa center in your plans is mandatory. Professional therapists, classy ambiance, top-notch level hospitality and great deals on couple massage or spa treatments level up the worth of Away Spa. It is 1.1 km away from Vagator Beach.
St. Alex Church –
Amidst the rush and noise of your sightseeing locations, this peace-spreading sacred location will rejuvenate your mind and soul. Impressively standing tall among the swaying palms, the shiny white architecture of St. Alex Church wins the hearts of visitors. You need to travel 10 km away from Vagator Beach to take a glance at this stunning chapel.
Vagator Beach is quite close to Ozran, Morjim and Anjuna Beach. You can visit these pristine beauties by extending your beach exploration.
2. How can a Vagator Beach visitor revel in the fun of the beach water world?
When it comes to Water Sports and Ride activities in Goa, Vagator Beach outshines the other beaches. Plenty of choices, professional operators and ideal sea level make it a heaven for adventure freaks.
Let's embark on a virtual voyage of the Arabian Sea through these amazing water rides.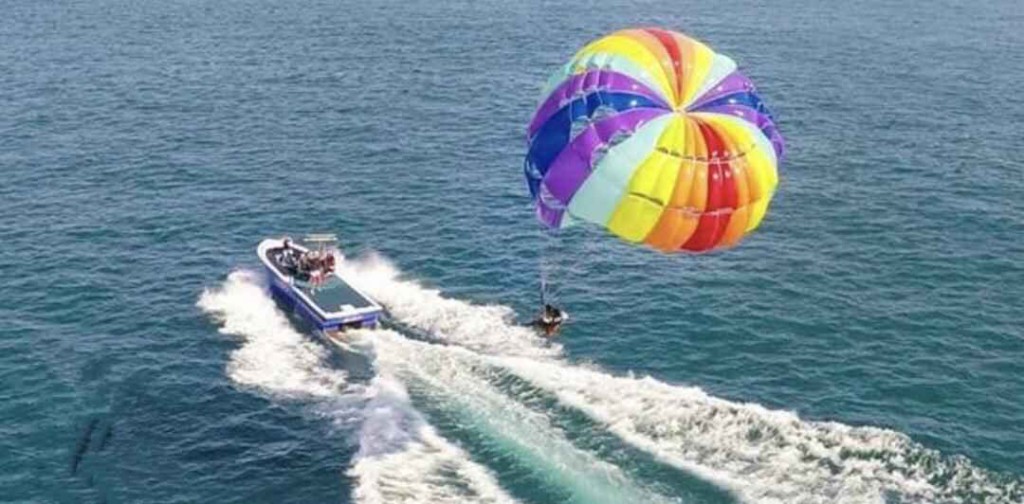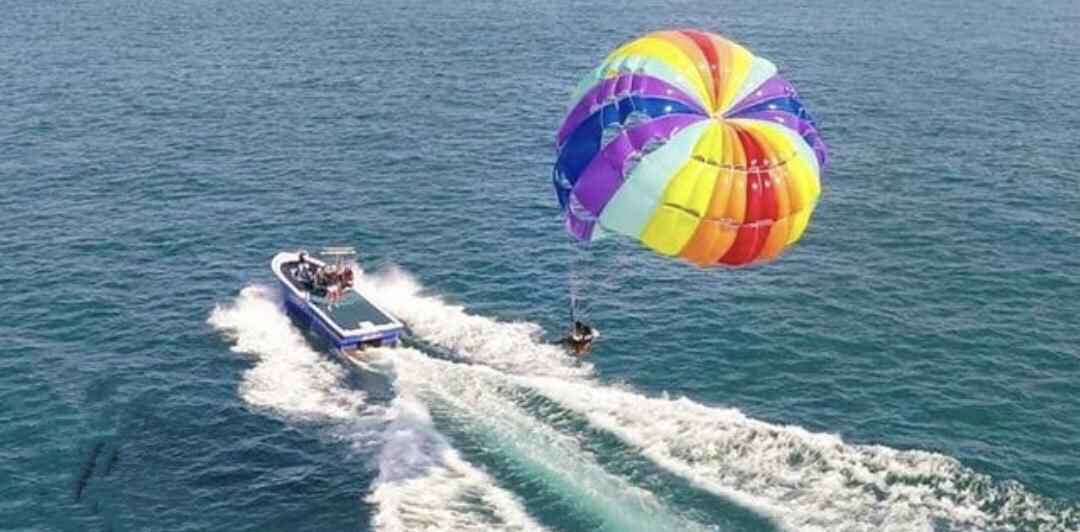 Speed Boating –
Most of the water fun enthusiasts go for speed boating as it gives a realization of peak adrenaline rush. The beginners can take the help of experienced riders while sailing on the sea surface through a speed boat. The combination of sudden splashes, swift breeze and thrilling speed of the boat adds an unforgettable experience to visitors' memories.
Jet Skiing –
Another adventurous activity one can enjoy at Vagator Beach is skiing. To get the best experience, one should learn balance first. Several water sports operators offer quick training to naive riders. After learning the tricks of balancing, you are all set to race with the insane sea waves. Nearly 500-600 rs per head are charged by operators for one jet ski ride.
Parasailing –
Capturing the bird eye view of Vagator Beach including other nearby attractions is possible through parasailing. Those who have no fear of heights and water must go with this riveting beach activity. Sailing at a certain height right above the blue surface injects ample adventure in the fun seekers. The cost of Parasailing at Vagator Beach is 1000 rs per head.
Dolphin sightseeing –
Vagator Beach is home to one of the most beautiful marine creatures – Dolphins. Imagine sitting on a boat or cruise and watching them in playful moods as leaping, galloping or diving etc. These boatmen will cover a long span of Vagator Beach's shoreline to offer you several moments of capturing dolphins.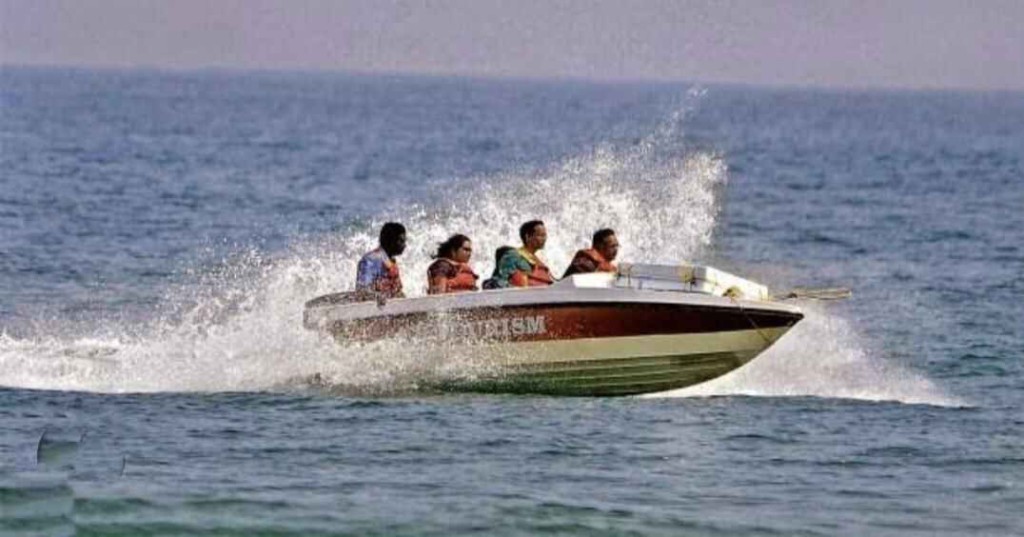 The faint-hearted visitors can enjoy simple banana boat rides, bumper rides, boating and fishing etc on Vagator Beach.
3. Which remarkable markets fall in the close vicinity of Vagator Beach?
Without a doubt, Vagator Beach is nestled amid those markets of Goa which holds a significant name across the globe. From giant malls to catchy flea markets, the surroundings of Vagator Beach lack nowhere to fulfill the shopping desires of visitors.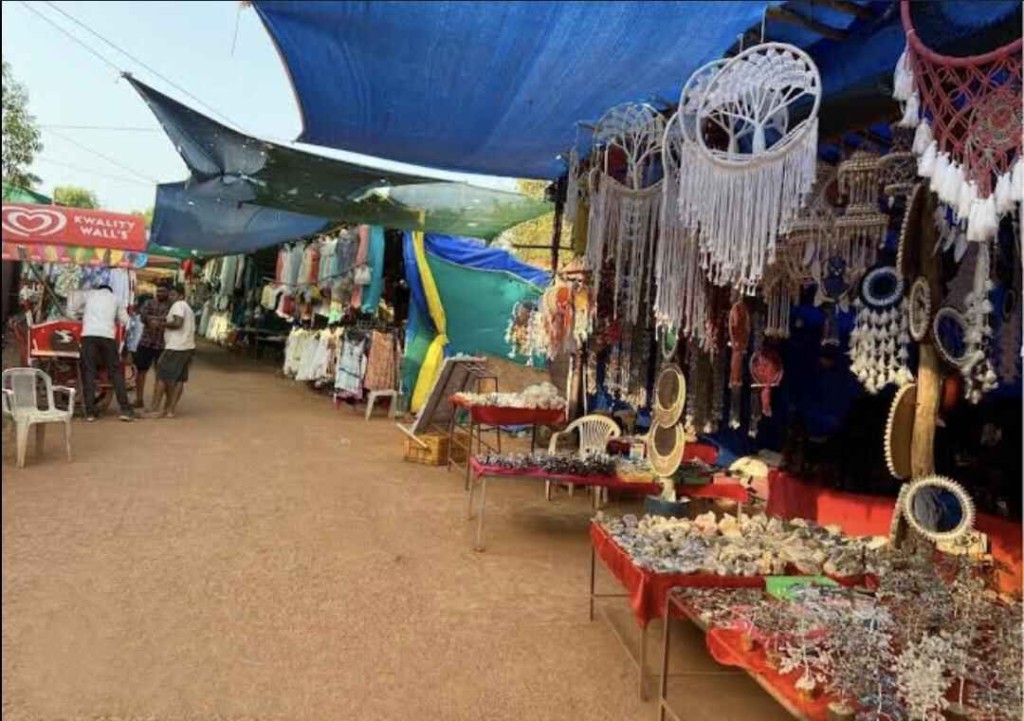 Chapora Fort Flea Market –
Just 1.1 kilometers far from Vagator Beach, this location is a hub of gifting items and unique souvenirs. Clothes, dream catchers, handmade stuff, wooden items, trinkets and bohemian jewelry etc. The only quality you must hold while shopping at Chapora Flea Market is knowing the bargaining tactics.
Anjuna Flea Market –
It's a treasure trove for the shopaholics. Scores of stalls full of colors and light dazzle the eyes of visitors in the night. You can find some exceptional stuff here such as clothes, shoes, decor, trinkets, jewelry and metal artifacts etc. After shopping your heart out, you can relish the local food items filled with spicy flavors in the market. In the peak season, this flea market runs till midnight and attracts a heavy influx of locals and foreigners. Its distance from Vagator Beach is 3.8 km.
Saturday Night Market –
Every Saturday the locals and some foreigners set up their striking stalls to lure the visitors. Handmade items, spices, carpets and other Goan special objects are available in this market. It is located 6.5 km distant from the Vagator Beach area.
Besides these flea markets, you can find local regular markets to buy fresh produce like veggies, fruits, fish, meat, seafood etc and stores & malls for purchasing grocery items, fancy clothes etc.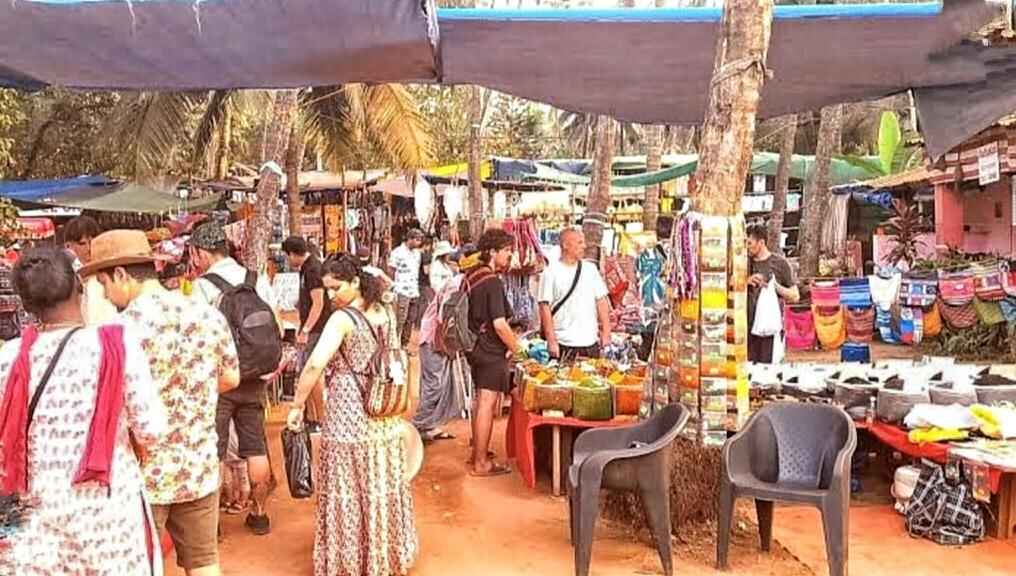 4. What are the best choices to indulge in the riveting nightlife of Goa near Vagator Beach?
Vagator is widely known for its glam nightlife among party animals of Goa. The buzzing bars, live events, engaging music, catchy lights, mad crowd and a heavy touch of food & drinks make Vagator a paradise for partying overnight.
Take a look at frequently visited nightclubs or party hubs near Vagator Beach.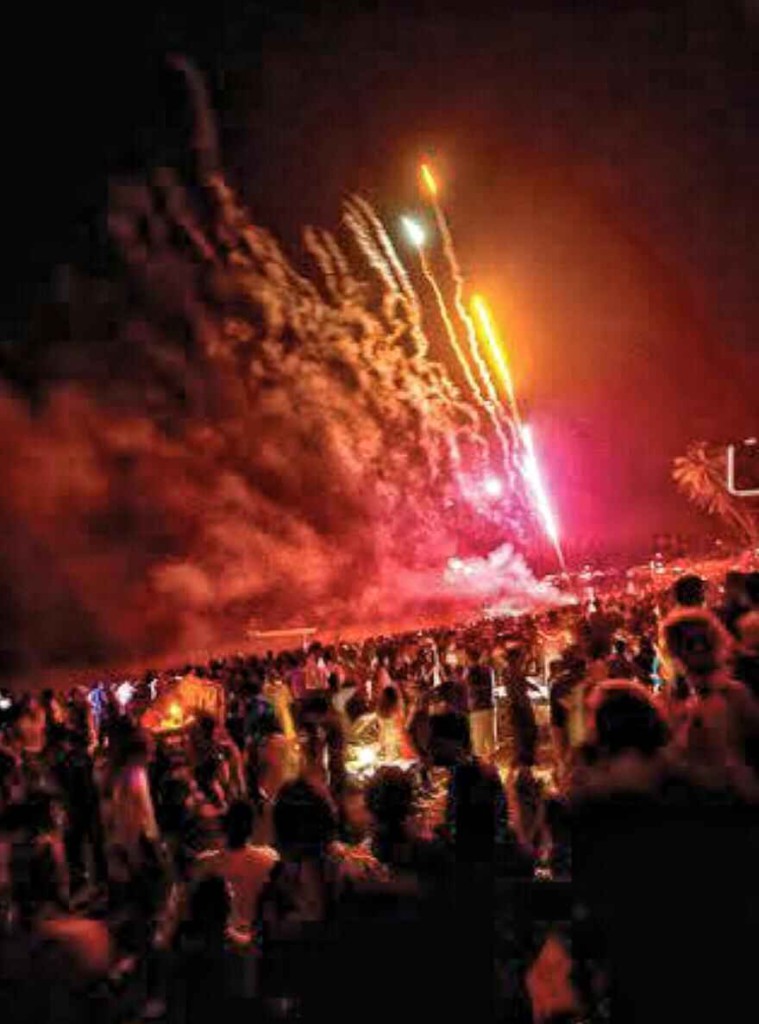 9 Bar Goa –
This open place for dance lovers is just 2.1 kilometers away from Vagator Beach. The electronic music played here charges everyone with great enthusiasm. You can order your favorite food items and make a great combo with some amazing cocktails or beers.
Mango Tree Bar & Restaurant –
A trip to Vagator is incomplete without visiting this captivating night place. If you are planning for a small date with your partner or friends hangout, Mango Tree Bar is an idyllic location for it. The tantalizing aroma of freshly baked pizzas tickles the taste buds of visitors. To make your evening or night more evocable, pleasant and peppy songs are played here. It is 700 meters distant from Vagator Beach.
Cafe La Musica –
Want to groove on great music right in front of the beach location? Plan a visit here with your entire group. Local DJs play great music here. Amazing food and drinks are all also available at reasonable rates at Cafe La Musica. Its distance from Vagator Beach is 550 meters.
Club Santorini –
Those who are willing to spend the whole night sitting in a great ambiance, relishing a variety of delicacies and enjoying classy drinks, must include Club Santorini in their nightlife schedule. Amazing crowds grooving madly on the electrifying music played by professional DJs spice up the evenings and nights of visitors to a great extent. The distance between Vagator Beach and Club Santorini is 1.2 kilometers.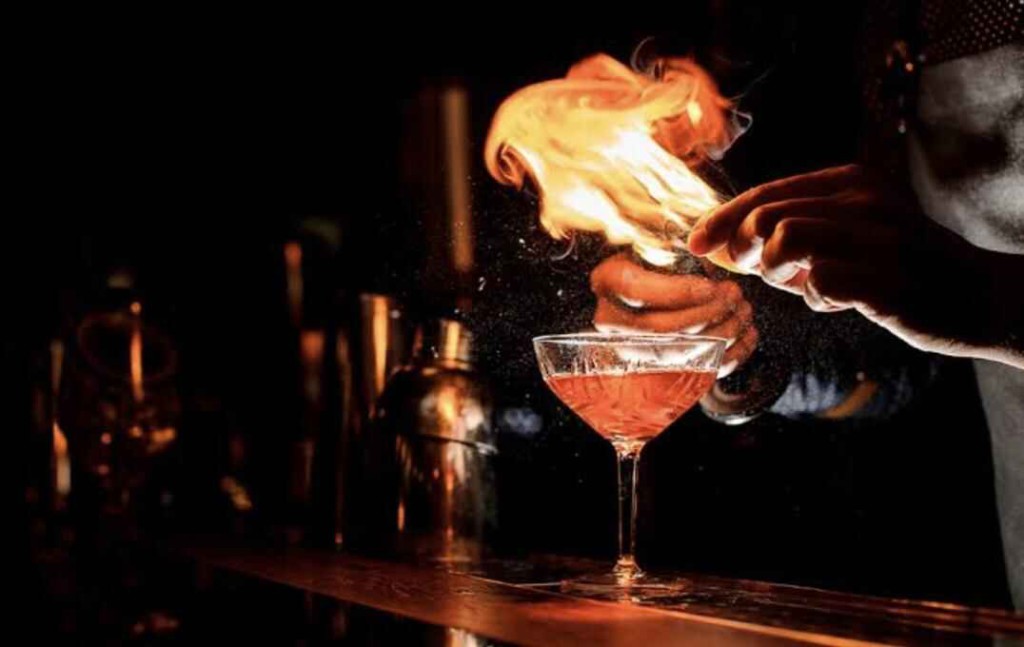 You can check other options as well to plan an indelible nightlife experience near Vagator Beach. Bubble Brunch Club, Katzensuppe, Amnesia Bar & Kitchen, Club Twilight and Darlings Bar are some most picked locations of the Vagator area for diving into the night fun vibes of Goa.
5. Where to plan a fine dining moment during your Vagator Beach vacation?
Knowing a location through its local delicacies is a trending idea among travelers especially when it comes to world-class Goan food items. Apart from food & drinks, the ambiance & views offered by the sitting setup by these fancy restaurants will catch your sight in a jiffy.
Let's take a look at the most suitable one.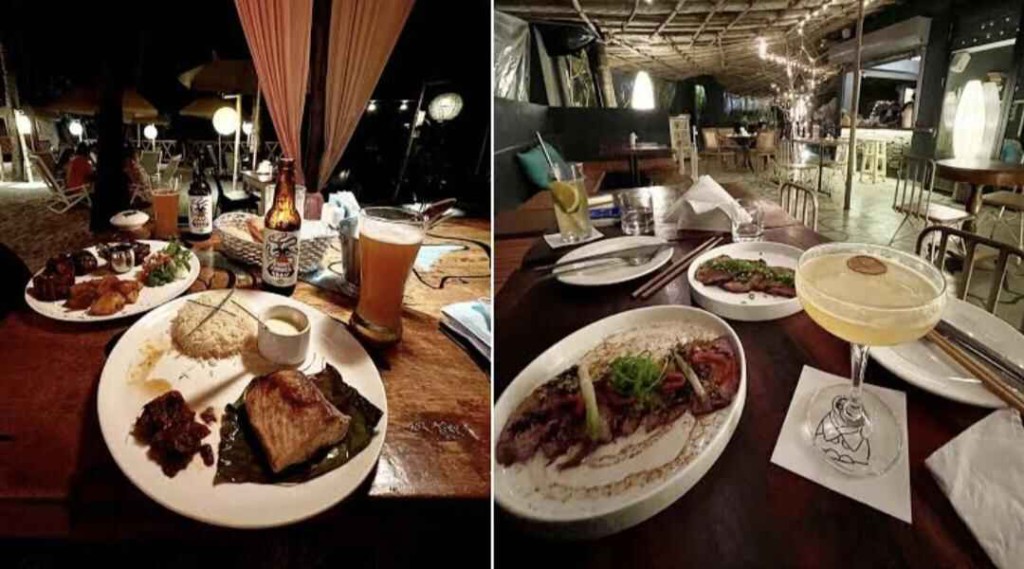 Fusion Vagator –
It might become your absolute favorite restaurant near Vagator Beach. The extended variety of Veg, Nonveg, seafood items and cocktails lures food lovers. On the flip, the brilliantly set nature theme ambiance of Fusion steals the limelight for picture fanatics. For solo visitors, a favorite book is also provided to spend a great time here. Its distance from Vagator Beach is 2.1 kilometers.
Antares Restaurant & Beach Club –
Looking for a fancy restaurant with mesmerizing beach views near Vagator? Antares is the right place to go. Here you can savor the decent Australian delicacies as well as the authentic Goan seafood recipes. Its distance from Vagator Beach is 2.3 kilometers.
Ida Boutique Bar & Restaurant –
Sumptuous food, nice presentation, rustic wooden sitting setup and budget-friendly prices are some key features of Ida Boutique located 1.4 km away from Vagator Beach. Masala Prawns, Chicken Fillets and Veg sliders are highly recommended delicacies served here. This amazing eatery is perfectly managed by a family.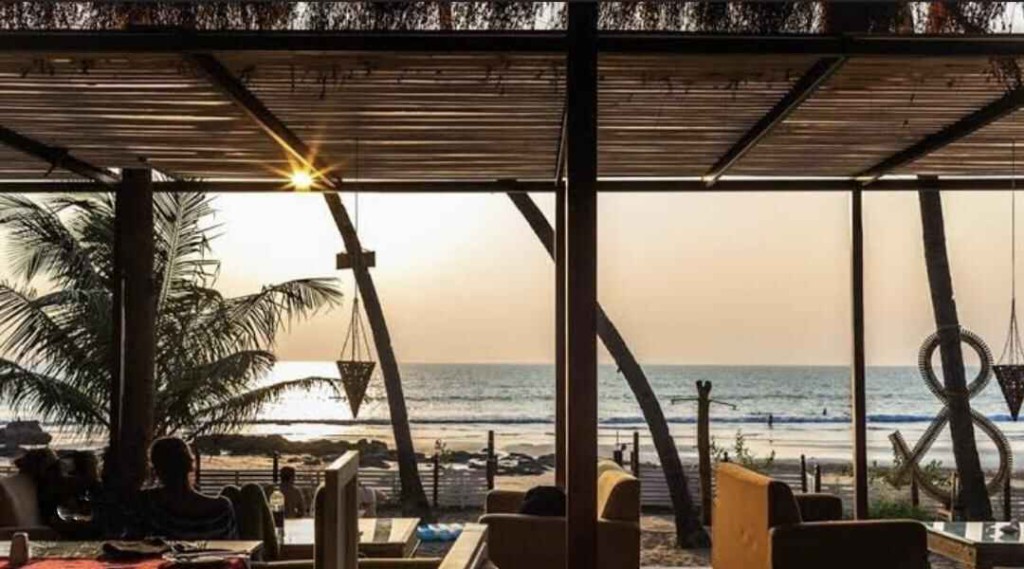 Other choices you can make regarding the exploration of food joints near Vagator Beach are –
Bistro Vagator
Spice Traders
Fishtail Bar & restaurant
Boom Shanker Restaurant
Olive Bar & Kitchen
6. Why visit a shack to relax & chill in the widely prevailed beach vibes across Vagator Beach?
Dotted with a variety of shacks, Vagator Beach is ideal for enjoying sunbathing while lounging on its soft sand bed. Here are the famous snacks located close to Vagator Beach.
Lucky Beach Shack –
2.3 km away from Vagator Beach, this popular shack near the beach location is known for fresh and lip-smacking food services. The great range of alcohol pleases the boozers a lot. To spend an unbothered afternoon, pick a sunbed at a nice beach location and order your favorite beer.
Curlies Beach Shack –
It's a must-visit shack location near Anjuna. Great food choices, amazing sea face sitting and prompt services of workers impress the guests. You can visit here for early morning breakfast or late night dinner with family and friends.
Cafe Lilliput –
Nearly 5 km distant from Vagator Beach, Cafe Lilliput is located in a scenic beach area. Being one of the oldest shacks of Goa, it serves the guests with European and Goan delicacies. Visitors enjoy the tranquil mornings and afternoons here while the events conducted by professional DJs during the night turn the shack into a beach party location.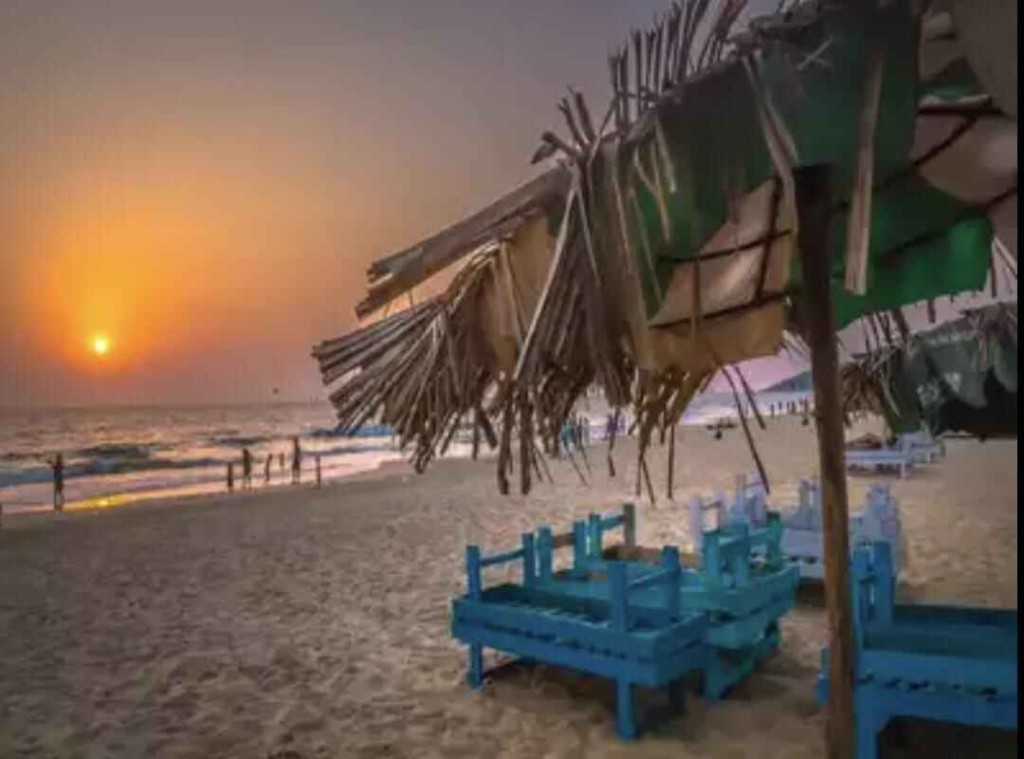 A few more options you can explore in the context of beach shacks are –
Sam's Beach Restaurant
Boom Shack
Shining Star Beach Shack
Nehal Beach Shack and Restaurant
Kiyan Beach Shack
7. Where to plan your luxury & comfortable stay near Vagator Beach?
From decent shacks to luxury hotels & resorts to comfortable house stays, Vagator Beach offers you ample opportunities regarding accommodation during the holiday.
Let's know about the most hyped stay properties near Vagator Beach.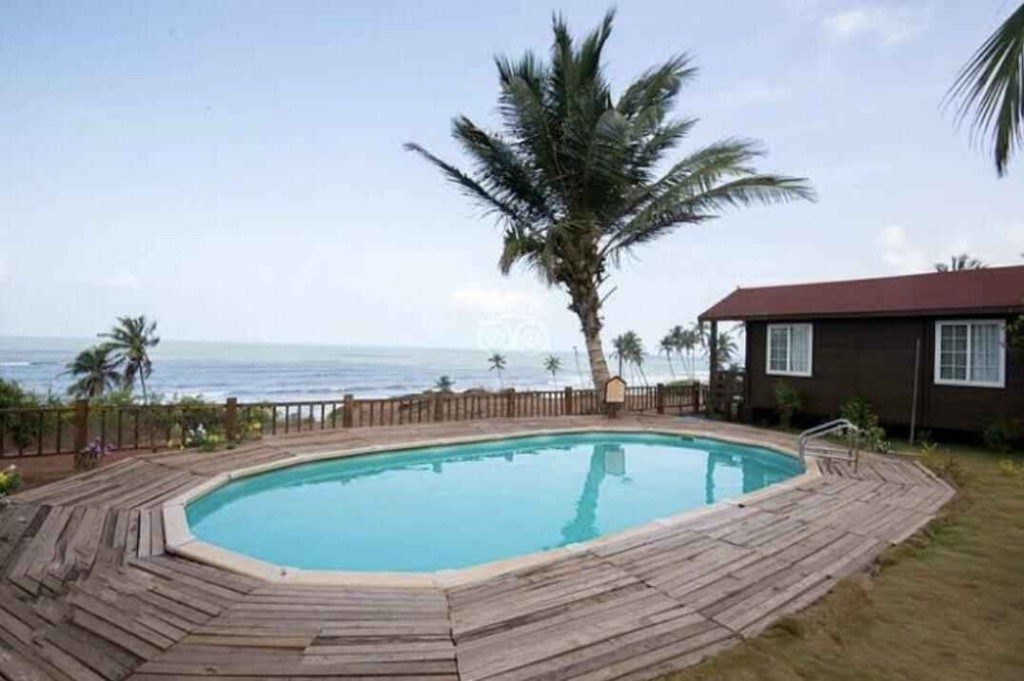 Urja Resort –
Merely 1 km away from Vagator Beach, this lavish stay property remains all set to enrich your beach holiday experience. In-house bar, restaurant, swimming pool and top-notch room & housekeeping services amplify the standard of the property up to manifolds. It is quite close to the beach location & market area as well.
Jungle By Sturmfrei –
Due to being very close to Vagator Beach, Ozran Beach and Chapora Fort, a bulk of tourists pick this Jungle-themed hotel for their stay. The bar, garden, restaurant, lounge and balcony attract the guests the most. It is 750 meters far from Vagator Beach.
The Port By Lagom –
This 3-star hotel is ideal for those travelers who are looking for a comfortable stay at budget-friendly prices. 1.4 km distant from Vagator Beach, this property offers you private parking, bar, lounge, pool and restaurant facility etc.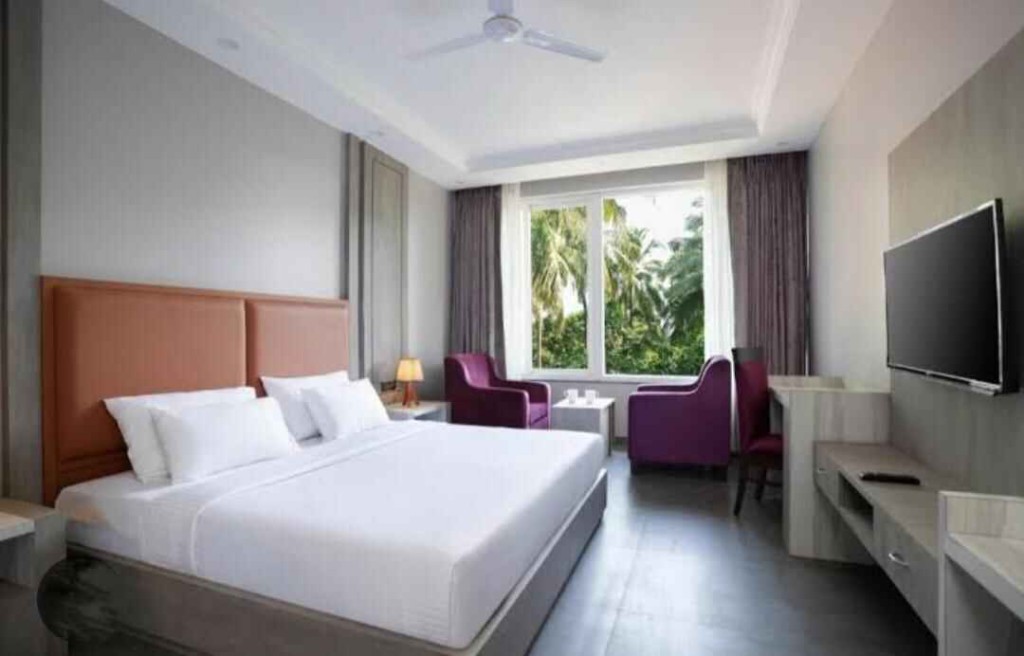 Other options you can asses while choosing an accommodation are –
Dreams Hostel
My Beach Holiday
The Garden Leone Resort
Bloo Resort
Portuguese Villa
Palm Grove
La Gulls Court
The Orange House
Alcove Resort
Leoney Resort
The Goan Clove
Cochichos Resort
Jolly Jolly Lester
Tips for travelers to enhance their Vagator Beach holiday fun -:
Do not consume alcohol and drugs on the beach area. It can risk your as well as others' lives.
Make sure your kids follow the guidelines and take safety measures while enjoying close to the shoreline.
Keep a record of your belongings and cash while packing the stuff for a beach holiday. Do match the number and amount while checking out.
Take a small amount of hard cash while exploring the beach. Small vendors do not accept online payment modes.
Book your accommodation before arrival, especially in peak seasons.
Frequently Asked Questions (FAQs) –
Q – Where is Vagator Beach Located? 
A – Bardez Taluka, South Goa 
Q – Why is Vagator Beach famous? 
A – Clean beach, flea markets, nightlife and luxury stays near the beach.
Q – Is Vagator Beach couple friendly? 
A – Yes, you can find several secluded spots to spend private time with your partner. 
Q – What is the best time to visit Vagator Beach? 
A – Winters are ideal for visiting here. You can plan a trip between November – March. 
Q – Are washrooms available on Vagator Beach? 
A – Yes, you can find many clean ones. 
Also Check : bye bye goa quotes