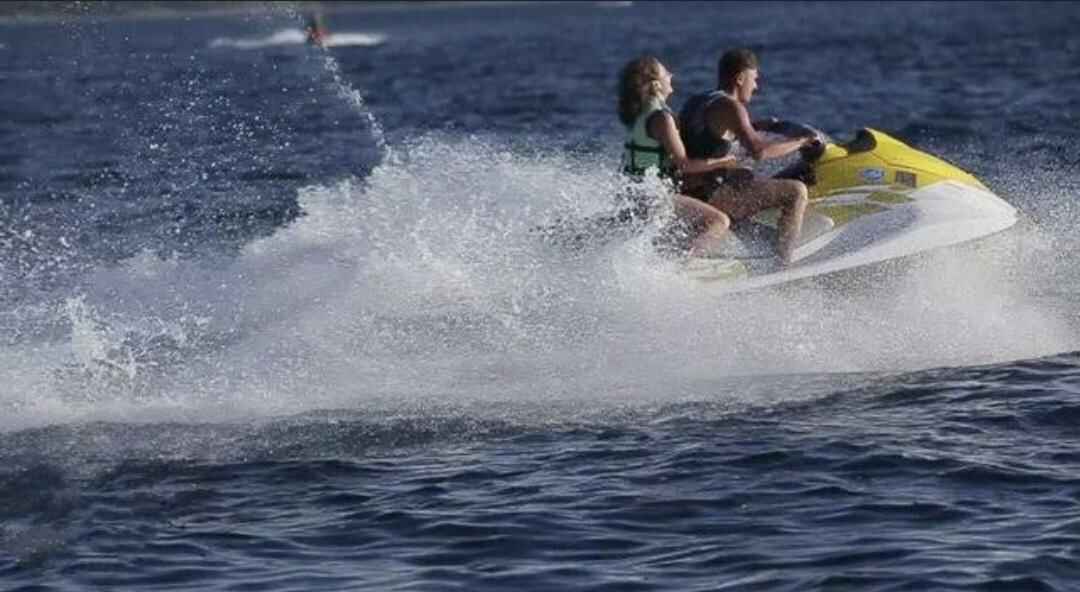 Feeling worn out due to the bustling city life and hectic schedule? It's high time to plan a relaxing beach vacation and ease off the responsibilities for a few days.
When it comes to the beaches, the name Goa strikes first in mind. Precisely, for spending hours in nature's lap calmly, Ozran Beach is an idyllic beach location.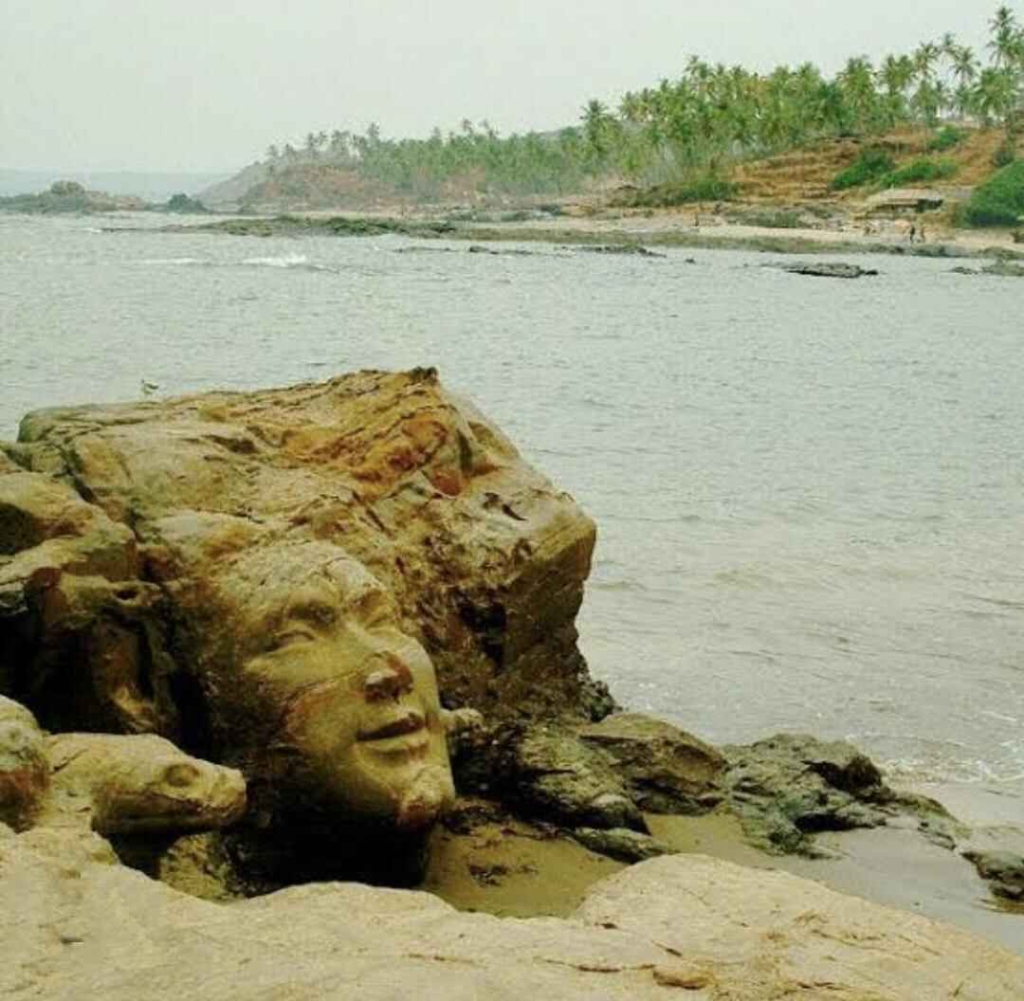 The picturesque shoreline flanked by swaying tall palms, a rocky landscape, stunning views of the Arabian Sea, and pristine sunsets at Ozran Beach will drag you far from the hustle and bustle of regular life and send you back rejuvenated with blissful memories.
Ozran Beach is the extension of Vagator Beach and lures foreigners in bulk. Vagator Beach is packed with only fun freaks while on the flip, the serenity and seclusion seekers head towards Ozran Beach. Its hippie culture is prominent across the globe.
Highlights Of Ozran Beach –
The hippie culture of Goa kickstarted in the 1960s at Ozran Beach.
Do not miss witnessing the beautiful carving of Shiva on a rock by a Russian visitor.
Ozran Beach's great combination of white sand, black rocks and beautiful sunsets is worth watching.
Foreigners visit here, especially for swimming, sunbathing and lounging under the dense shades of tall palms.
Viewing the seawater entering the giant rocks and plunging out of them like an erupting volcano will be soul-soothing for you.
What is the best time to explore the unmatchable beauty of Ozran Beach?
Though the charm of Ozran Beach remains intact throughout the year, winters are the best to witness it in full blooming condition. The temperature during October – February lies between 21°C – 30°C which is ideal for strolling on the beach, sightseeing in the proximity to the beach and diving into the adventure of water sports & swimming.
The winter season is considered the peak holiday time in Goa. Hence hosting of different fests, live music events and entertainment shows becomes quite frequent. You will find shacks, restaurants, flea markets, water operators and accommodations fully operational during these winter months.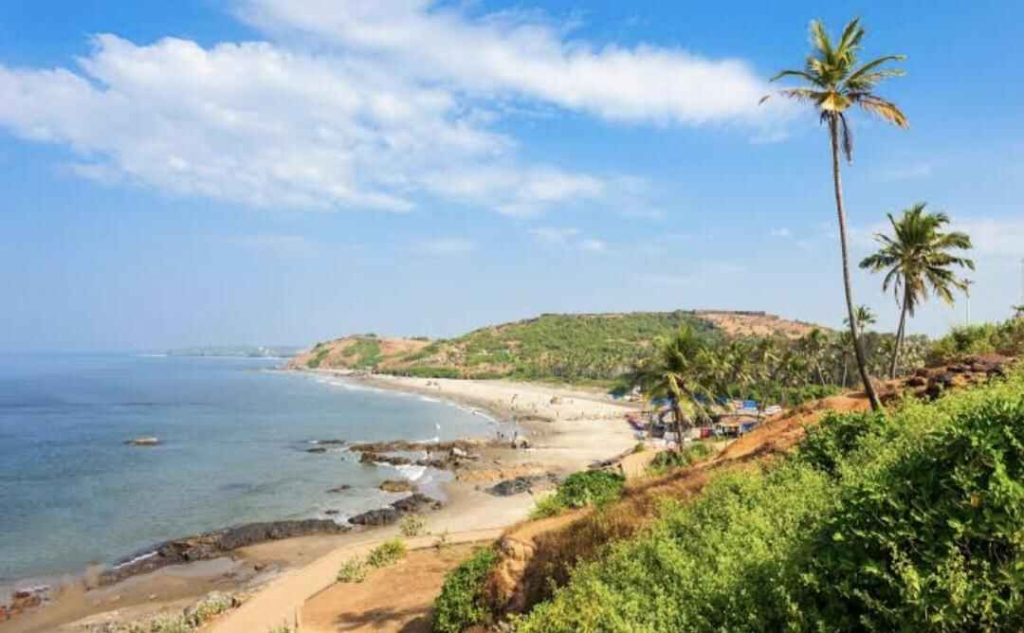 How to reach Ozran Beach easily from the major locations of Goa?
The capital of Goa, Panaji is 21 kilometers away from this secluded North Goan beauty, Ozran Beach. Taking bus services from Panjim to Mapusa village and then walking to Ozran Beach can be a convenient option for solo travelers. You can take self-driven car services and taxi services as well if you are carrying heavy luggage and kids with you.
The Goa International Airport is 43.8 kilometers away from Ozran Beach. Taxi, Car, Cab and Auto-rickshaw services are smoothly accessible from the airport for directly leaving you at Ozran Beach. You can take the airport bus shuttle services also which leaves the passengers at the nearest bus stop to your destination.
Pernem (22.4km), Thivim (19.5km) and Karmali railway stations (30.7km) are the closest railway stations to Ozran Beach. If you are taking a train route, approach these stations for convenience.
1. What you should not miss visiting around Ozran Beach for a memorable Goa exploration?
Ozran Beach's vicinity does not fall short of sites that are heavily loaded with historical values, nature's charm and spiritual significance. Take a look at the choices a visitor can include in the itinerary.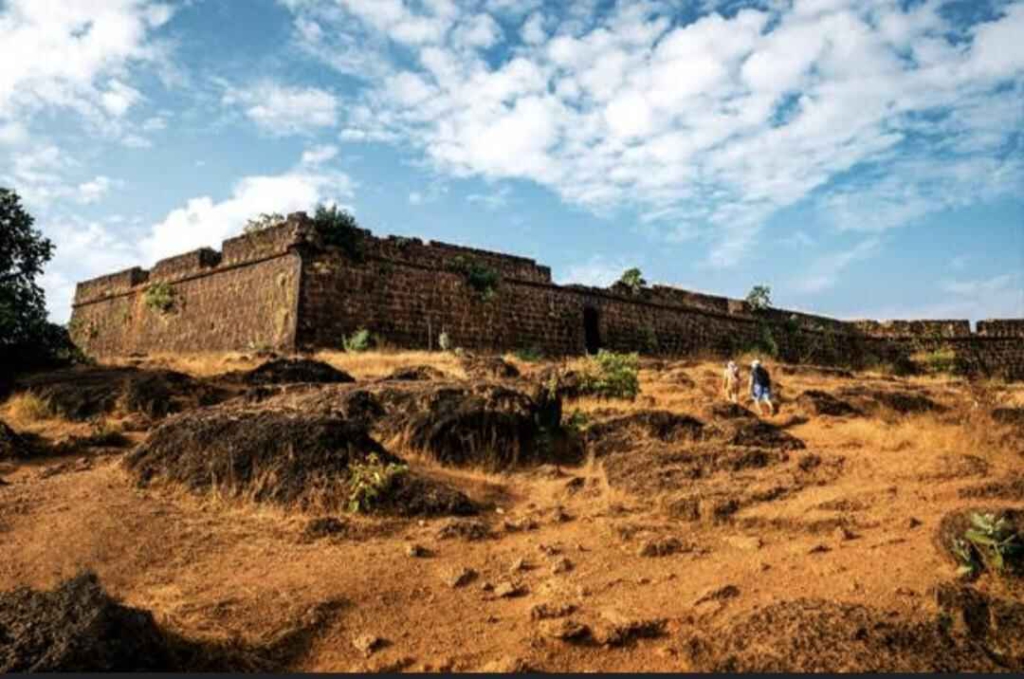 Chapora Fort –
Just 2.3 kilometers distant from Ozran Beach, this historical ruin is located on the bank of Chapora River. Encapsulated with inclined giant walls and a vast sea surface, the fort tells about the Portuguese and Maratha military points. Those who have a keen interest in fathoming ancient stories must involve Chapora Fort in their sightseeing plans.
Shiva's Face on Rock –
It is one of the major attractions at Ozran Beach among visitors. Locals and regular visitors say that this beautiful carving of Shiva's face was etched on a giant rock by a Russian visitor. The high tides of the Arabian Sea at Ozran Beach splash this beauty and make it more glorious. The distance between Shiva's Face and Ozran Beach is 600 meters only.
Rio Luxury Spa & Wellness –
Want to indulge in relaxation through therapies, spas and massages near Ozran Beach? Make a quick visit to this lavish place and book a slot. The scenic ambiance loaded with natural beauty, private and public pool facilities and great hospitality by professionals at Rio Luxury Spa & Wellness will give you a true beach vacation vibe. It is 7.2 kilometers away from Ozran Beach.
Ozran Cliff –
This one is the perfect location to plan a picnic if you are planning a beach vacation at Ozran Beach. After climbing this small cliff you will be mesmerized by the top views of Goa's shoreline. You can carry some snacks, water and other essentials for enjoying a picnic at Ozran Cliff. Its distance from Ozran Beach is 220 meters. Small cafes are also available here to please the guests with food and beverages.
Mae De Deus Church –
To seek the positivity and divine blessings of the almighty, you can visit this sacred church located 10 kilometers away from Ozran Beach. Nestled in the center of North Goa, this marvelous structure encompasses Goa's rich cultural heritage. Its unique Neo-Gothic architecture, pastel color facade and great ambiance full of solace and divinity etc offer you a chance to dive into the cultural tapestry of Goa.
Ozran Beach is adjacent to several other pristine beachlands. If you want to make your vacation just beach-centric, hop on Vagator Beach then Chapora Beach and extend it as long as you wish. On these beaches, visitors find a lot of options to explore and enjoy.
2. What are the exciting water sports available at Ozran Beach to pump up your adrenaline?
Being in Goa and skipping the trill-packed water rides and sports is no less than a sin for fun freaks. Ozran Beach's solace ambiance does not provide too many options to explore the turquoise water of the Arabian Sea, however, you can try your hands at simple yet enthralling fun water rides.
Let's take a quick look at what is available at Ozran Beach to inject the dose of adventure into you.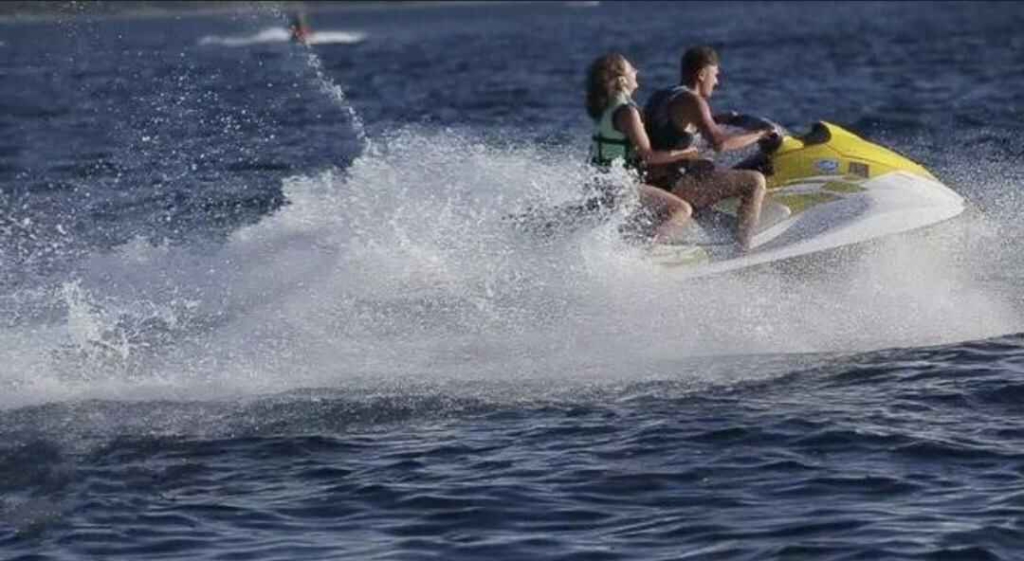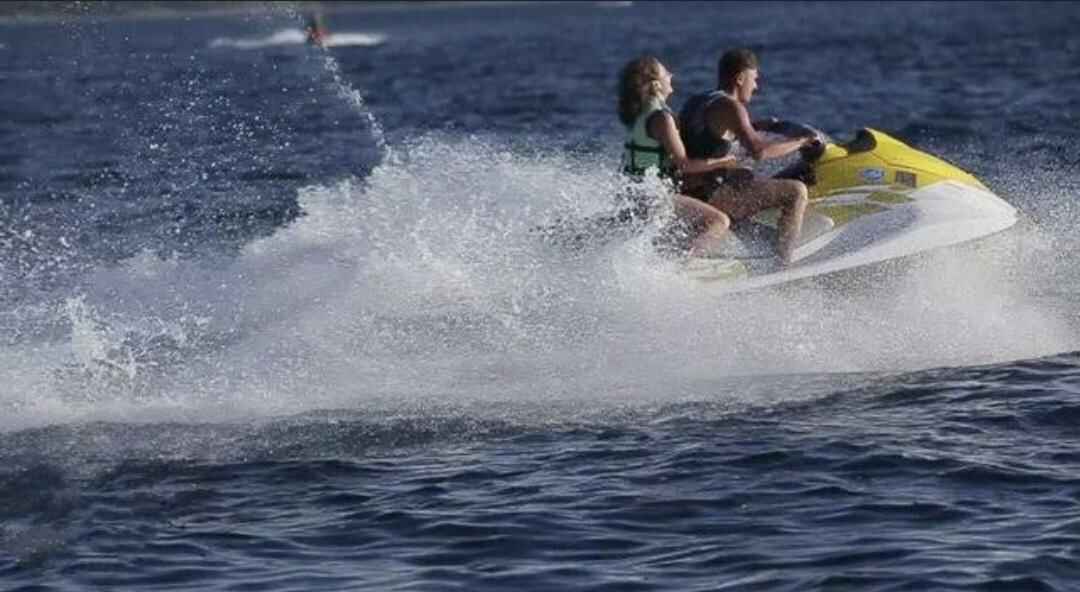 Water Scooter –
Riding a water scooter at a max of 35 Kmph will boost your adrenaline rush up to its peak. The experienced ones can go for a solo scooter ride while the beginners can ask the professionals to ride it on their behalf. Riding the water scooter does not require any specific training. You just need to listen to the instructions mindfully before embarking on your little adventure voyage.
Bumpy Banana Rides –
Tucked with the rear part of a motorboat an inflated banana-shaped boat offers you some unforgettable water adventure memories. 5-6 people sit in a sequence on this boat and then enjoy the thrill of being dragged on the sea surface at speed. Experiencing the water splashes, falling in the water and again climbing on the boat etc will be great fun.
Swimming –
The most basic water activity – swimming provides utmost relaxation and bursts your stress at Ozran Beach. If you do not want to indulge in the water fun by taking risks, go for a safe swim with the help of lifeguards available at the Ozran shoreline.
Fishing –
Another source of seeking solace and patience available at Ozran Beach is the fishing option. You can learn this skill from the locals doing their job there. Another way to enjoy it is to take a boat full of snacks, drinks and tools for frying. Catch a fish and prepare your fish fry instantly for savoring.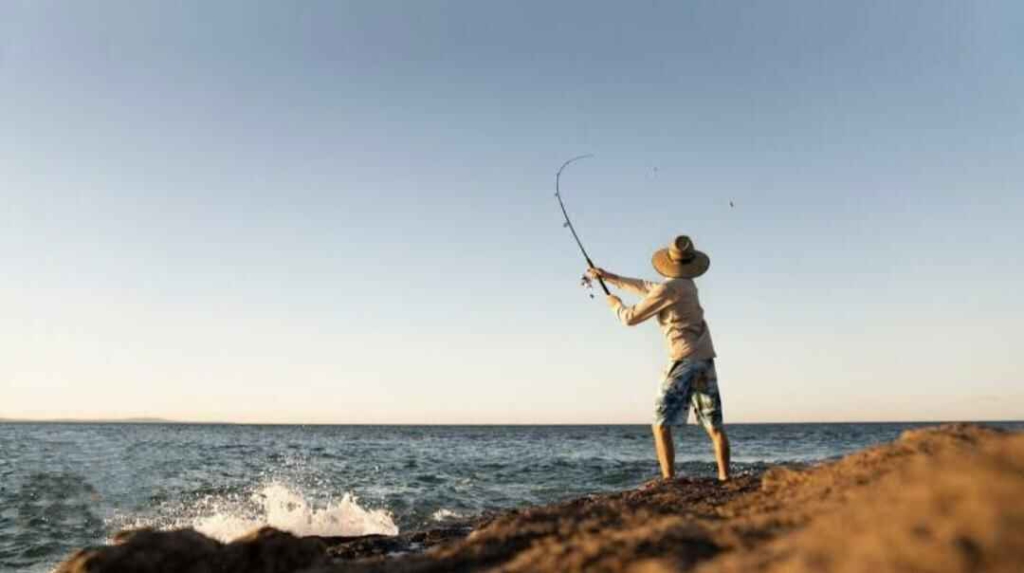 These water activities are nowhere less adventurous than the thrilling rides. You must experience them to add more peace and relaxation to the Ozran beach vacation.
3. Which locations are ideal to shop your heart out near Ozran Beach?
The marketplaces around Ozran Beach are piled up with souvenirs you want to bring back home and repleted with bustling stalls offering too much to explore.
Let's know which are the best and closest markets where you can weave a unique memory of shopping.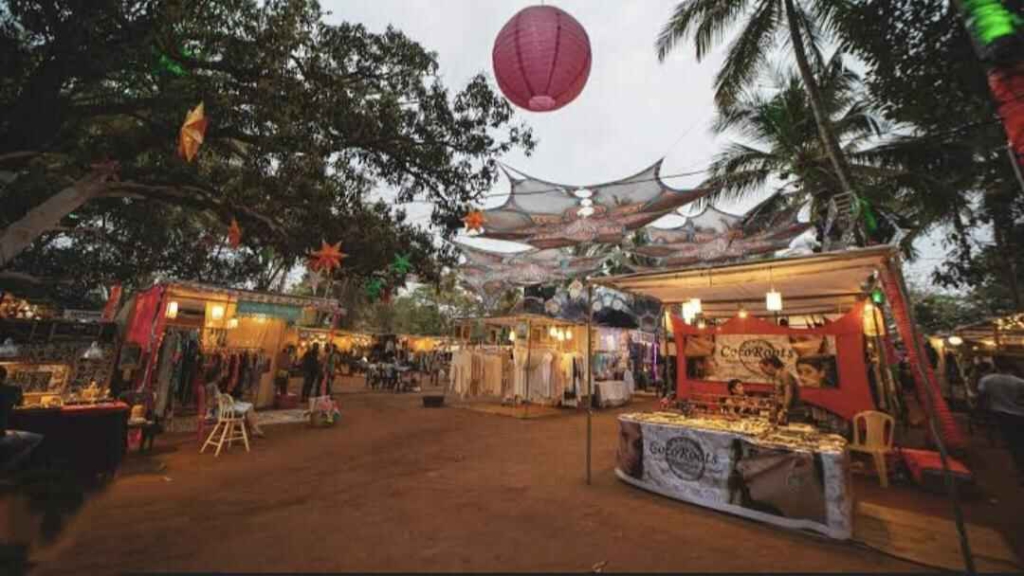 Hilltop Market –
If you are willing to plan a Friday eve for shopping near Ozran Beach, this flea market will meet all your requirements. Located at just 800 meters distance, this vibrant is densely packed with stalls selling jewelry, paintings, handicrafts, clothes, bags, shoes, accessories, bracelets and decorative items etc. The market is hosted by local vendors each Friday from 5 pm to midnight. You can relish the local Goan food at stalls set along the market lanes. The great music work done by the local stalls at this market greets the visitors right after they step into the market area.
Anjuna Flea Market –
One of the most prominent flea markets in Goa – Anjuna Flea Market is just 3.2 kilometers away from Ozran Beach. It is hosted every Wednesday from October to April month. While roaming in the market area, you can sort the best options among clothes, trinkets, jewelry, decoration items, bags, bedsheets, handicrafts and other items at reasonable prices. If you are good at bargaining, don't miss to flaunt your skill. During the peak seasons, this iconic flea market remains packed with visitors till early morning.
Saturday Night Market –
The colorful stall providing a variety of products at Saturday Night Market near Ozran Beach is a prime attraction among tourists as well as local visitors. Located at a distance of nearly 6 kilometers, this vibrant marketplace is capable of luring visitors with traditional handmade items, clothes, accessories, food items and beverages etc. The electrifying music for showcasing your dance moves publicly enhances the pleasure of shopping at Saturday Night Market.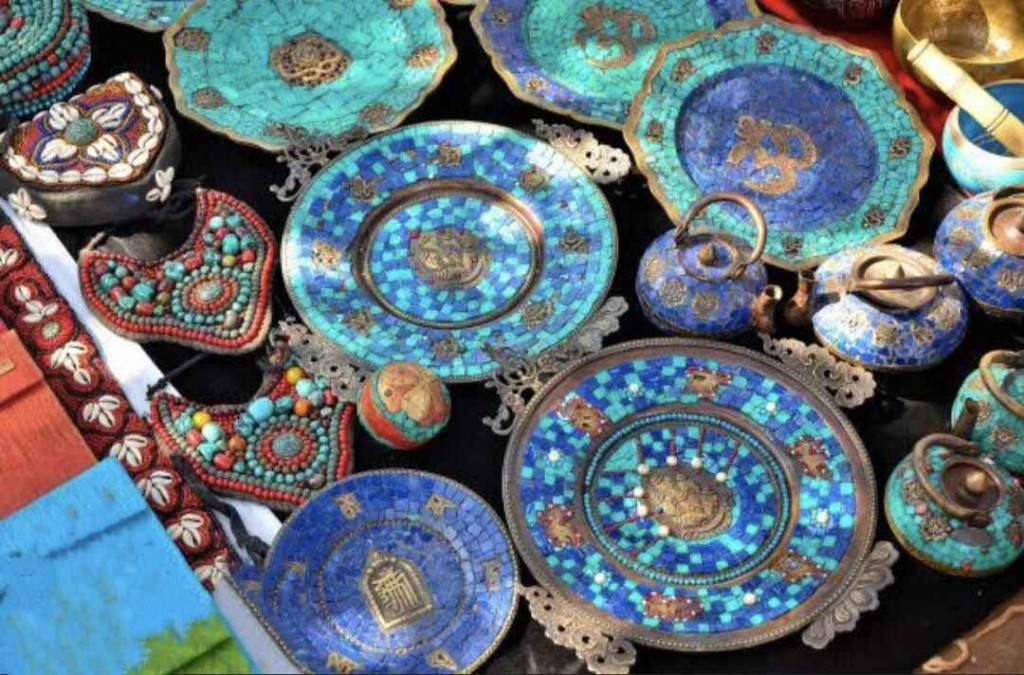 4. Where to hit the floors to witness the thriving nightlife of Goa near Ozran Beach?
Craving for some night delight while staying around Ozran Beach? The below-listed nightclubs, pubs and restaurants will fulfill your desires. Live music, stunning ambiance, catchy setup with lighting, classy drinks along with a range of local and international delicacies etc are some sole elements to spice up your late evenings and nights.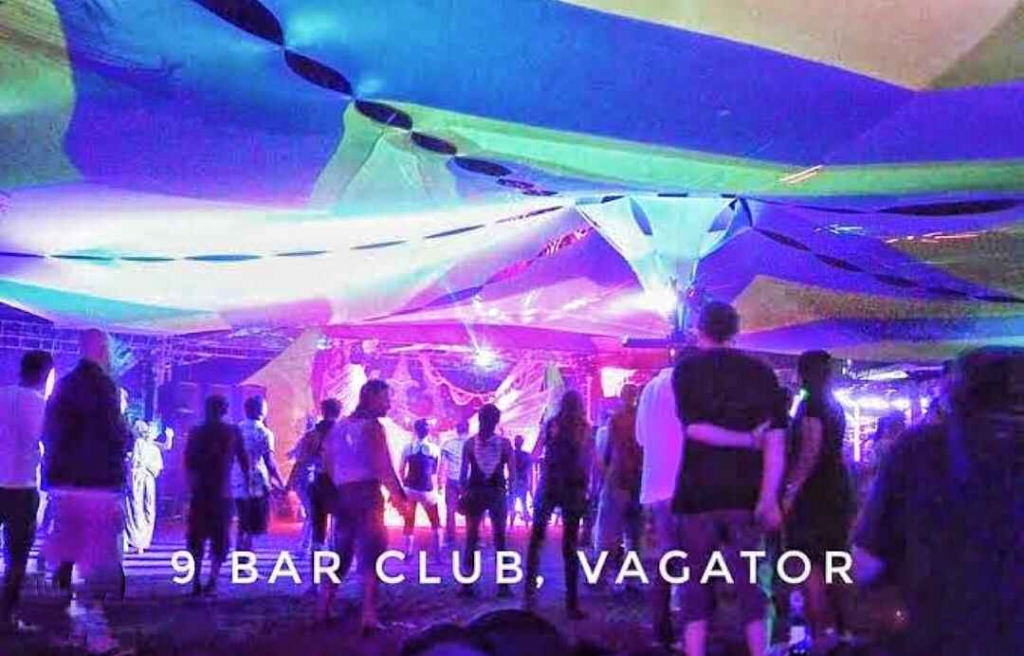 9 Bar –
Seeking a decent club for grooving on the peppy beats played by great artists and popular DJs near the beach? 9 Bar is a place for you. It offers you a dance floor to enjoy overnight. Visitors can order their favorite ones from a wide array of cocktails and food items. Though an entry fee is essential at 9Bar, it is worth paying to witness the lively ambiance full of Goan party vibes. Its distance from Ozran Beach is 350 meters only.
Antares Beach Club –
This place falls in the category of prominent luxury party locations. To please the VIP families and guests with the best entertaining acts, classical drinks and tantalizing food, this beach club goes the extra mile. It is located 210 meters away from Ozran Beach.
Disco Valley / Yen In Goa –
If you want to enjoy grooving to rhythms of acoustic or electric music and sipping a drink while watching the stunning sunset near Ozran Beach, this semi-open semi-close club is all set to embrace you. It is 2.4 km distant from the beach area. The ambiance of the club is designed in Moscow style where one can capture some best aesthetic photos.
Mexicola –
A place that greets its guests with Mexican delights near Ozran Beach is widely known as Mexicola or Mezcal. You can enjoy the classic fusion of Mexican and American flavors with a variety of beers at Mexicola. A chilled atmosphere and electrifying music enhance the fun and pleasure of spending the night with your loved ones. It is 2.4 kilometers distant from Ozran Beach.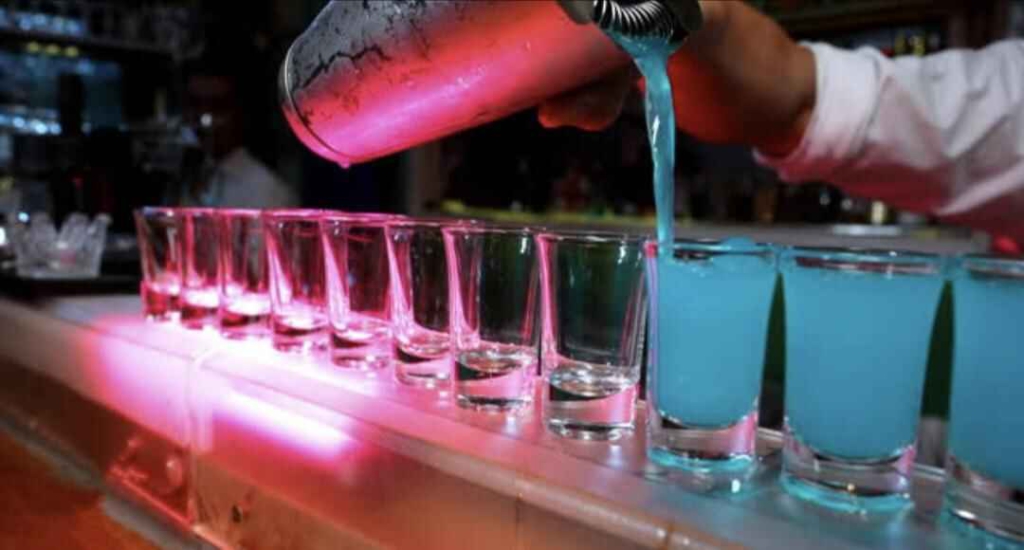 5. What are the best shacks around Ozran Beach to experience a funky hippie vibe and relish seafood?
Shacks of Goa hits the visitors differently with their unique cultural charm and Ozran Beach is no exception in it. Take a look at the popular shacks near the beach area.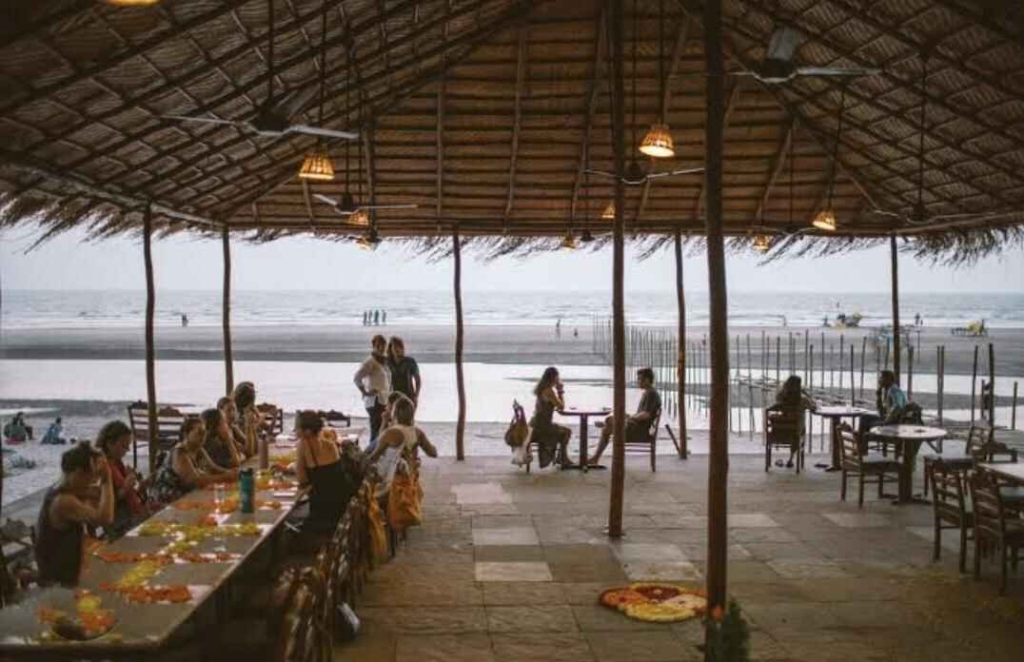 Fusion Vagator –
An absolute chilling spot near Ozran Beach (just 130 meters away) serves the beachgoers the best food, live acoustic genre music, scenic ambiance and plenty of beer, cocktail and mocktail options. Whether you visit here in the morning to experience a relaxed vibe or at night to indulge in fun, food and music, Fusion comes out as the best in all ways. Fish fry and Vindaloo are the prime recommendations of this shack.
Our Shack –
If you want to witness and capture the best sunset of Goa with the bulk crowd, this beach shack on the small Vagator is an idyllic place for it. The great combination of nature, seafood, chilled beer and light music at Our Shack can sketch out one of the best evenings of your entire vacation. The distance between Ozran Beach and this shack is just 500 meters.
Nehal Beach Shack –
The scenic setup of Nehal Beach Shack wins the hearts of visitors, especially during the sunset. Apart from the engaging ambiance, their authentic way of preparing fish curry, crab, prawns and other seafood items drags visitors toward them. The distance between this shack and Ozran Beach is 180 meters only.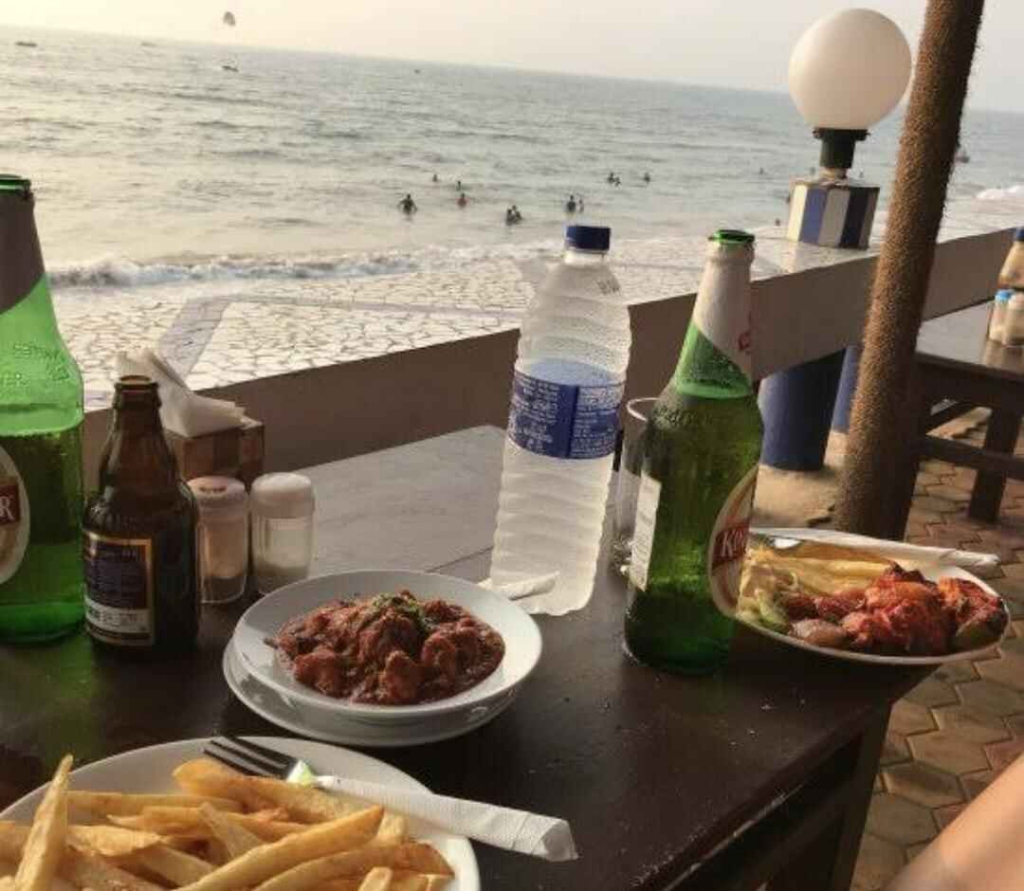 6. Where can you plan fine dining and savor the Goan delicacies near Ozran Beach?
To satiate the tickling taste buds after shopping, sightseeing and beach relaxing, you will look for the best restaurants and cafes around Ozran Beach.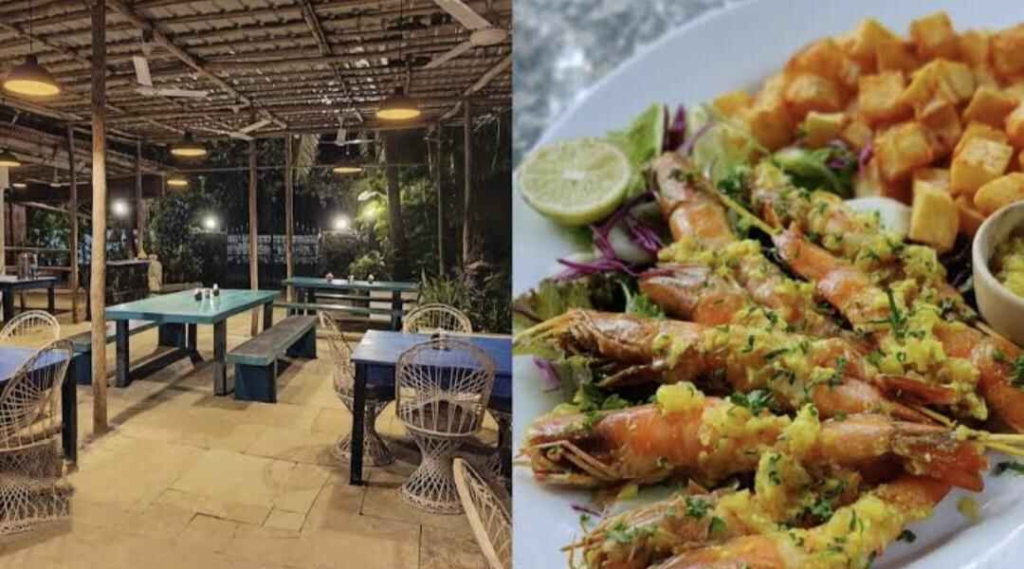 L'Azur –
Here you can enjoy the great food and hospitality with your friends and family. You can try several signature delicacies that originated here. The French, Thai and European dishes with a variety of drinks please the guests heavily. It is located 550 meters away from Ozran Beach and you just need 800-2500 rs to satisfy your appetite.
Thalassa –
If you are willing to plan a pretty lunch or dinner date with your partner, this place is designed for you. The beachfront small cafe enhances the pleasure of trying new delicacies here with some unique cocktails. Its distance from Ozran Beach is 4.3 kilometers. You will not find any dish overpriced at this incredible location.
Bluebird –
To relish the authentic Goan food items you can visit Bluebird. Fish rava fry, fish thali, and other Goan curry make a spicy explosion in the mouths of food lovers. You can find it 500 meters away from Ozran Beach and for two people 1200-2000 rupees are enough.
7. What are the best accommodation properties near Ozran Beach to offer you a comfortable stay?
After exploring a lot and strolling across the stretched shoreline of Ozran Beach, your exhausted body will seek an ideal stay property.
Whether you have planned for an economical stay or a luxurious one, the vicinity of Ozran Beach provides you with favorable options.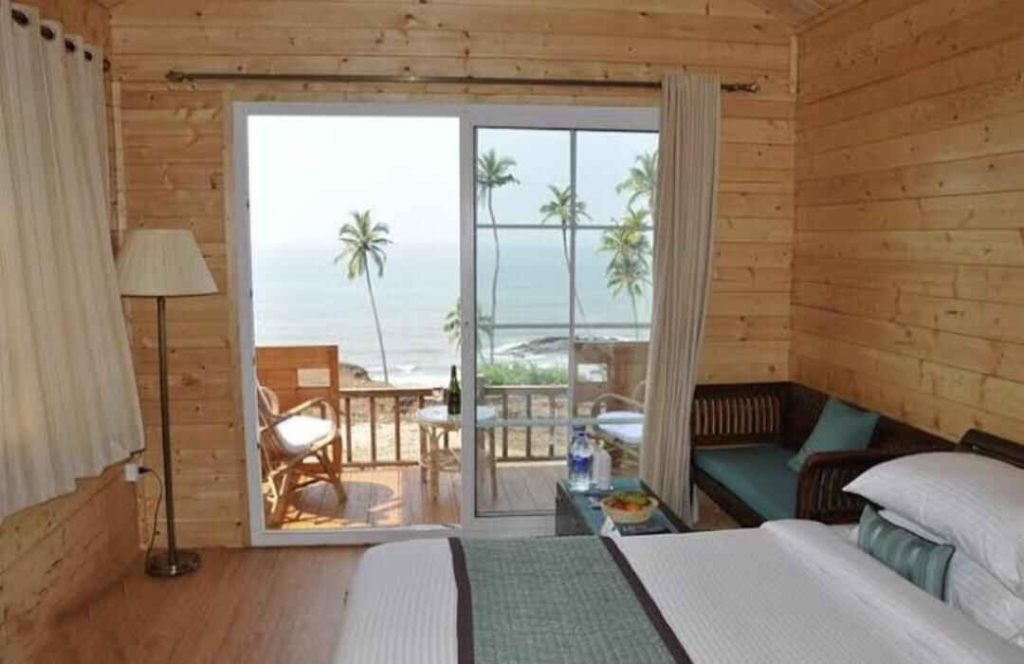 Ozran Height's Beach Resort –
Just 150 meters away from your beach location, you can experience the blissful luxury and comfort along with the best sea-facing views. You can take lavish advantages such as 24×7 room and desk services, garden area, pool, parking and free Wi-Fi connectivity etc.
Casa Vagator –
The expanded comfort and luxury in the premises of this well-maintained and decorated property make the stay of guests more pleasurable. The combination of South Asian and modern decor styles enhances the catchy look of this stay location up to tons. Prices of staying here for one night is 9000 rupees. You can find this excellent accommodation 400 meters apart from Ozran Beach.
Alcove Hotel & Resort –
This property has services for all kinds of visitors. You can take the luxury private suites here as well. Located just 300 meters away from the beach area, this place is preferred by scores of beachgoers. A private pool and complimentary breakfast are print attractions of this stay location.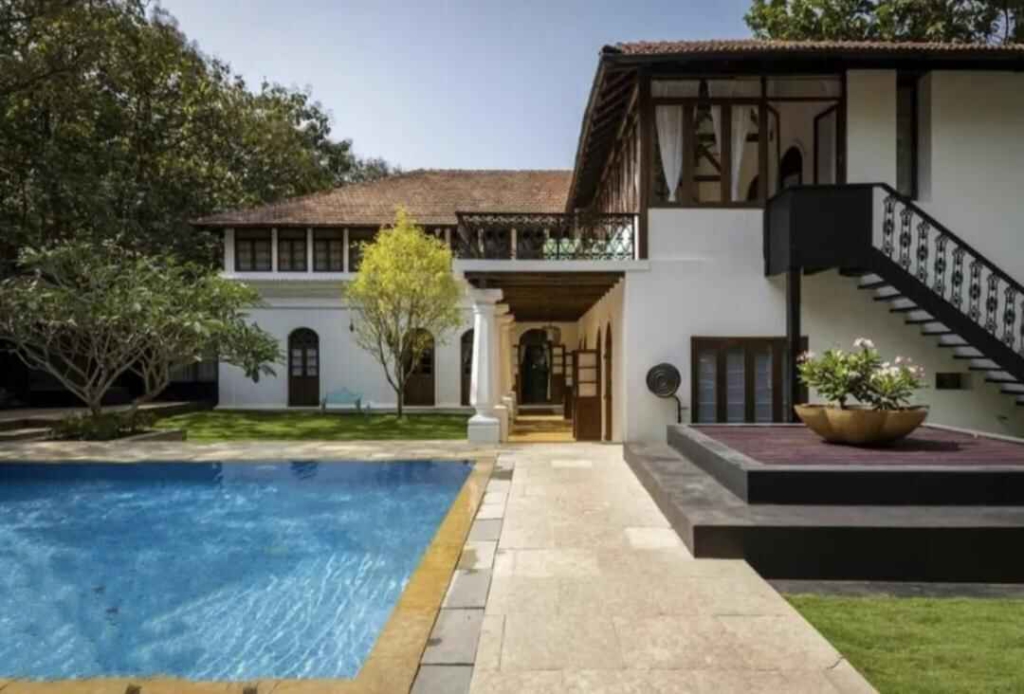 You will also find these options suitable for a memorable stay near Ozran Beach in a budget-friendly expenditure.
Antares Beach Resort
The Postcard Moira
La Gull's court
Boon's Ark
Fairfield by Marriot Goa Anjuna
Tips for travelers to make their vacation worth evoking -:
You must ensure the safety of kids and old citizens from marine animals, high tides and restricted areas.
If you are relying only on ATMs for cash, it can cause problems in finding one near the beach. Keep a small amount of cash with yourself.
Don't forget to keep the beach essentials like sun protection, light clothes, hats, flip flops and water bottles etc.
Frequently Asked Questions (FAQs)-
Q – Does Ozran Beach come on the list of nude beaches?
A – Yes, many foreigners go there without clothes. It is not mandatory to visit here nude. In some areas photography and videography are prohibited due to privacy reasons.
Q – What is the best time to visit Ozran Beach?
A – In winter, from October to April you can visit here.
Q – How far is it from Panaji?
Q – Is swimming safe at Ozran Beach?
A – Yes, but you must perform swimming where lifeguards are present.
Q – Why Ozran Beach is famous?
A – It is famous for the Shiva face carved on a rock.
Also Check: goa quotes for instagram