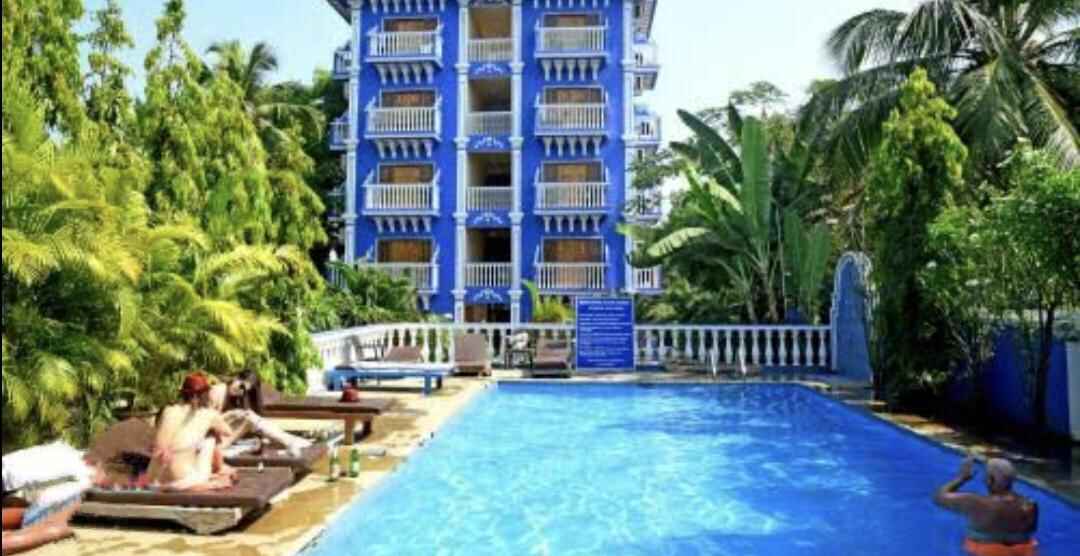 Quite familiar among beach admirers across the world, Calangute is truly the pride of North Goa. The huge flux of visitors at Calangute Beach validates its scintillating charm. Densely packed with surreal nature elements, adventure, food joints, clubs and shacks, Calangute Beach is one of the busiest and most commercial beaches in the beautiful land of Goa.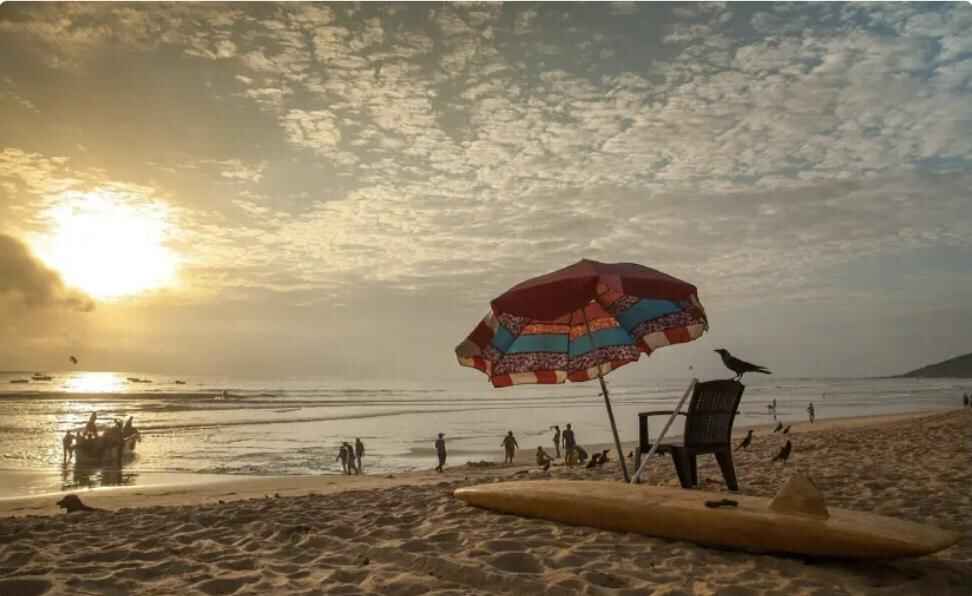 Whether it is a crazy dance on the soft sand of the beach or lazing under the shade of palm & coconut fringes, there is something unique at Calangute Beach that you can not find anywhere else.
Since the 80s the hippies have been visiting this pristine beach beauty and exploring here a lot. You must also draw up your Calangute Beach holiday plan if there is a blooming desire to ditch the bustling city life for a few days.
Here we have wrapped all the information in the below-listed points to make your Calangute beach visit more pleasurable and memorable.
1. Places that are perfect retreats near Calangute Beach –
It is widely recognized as a paradise for nature and fun lovers but that is not everything about Calangute Beach. Encapsulation of some ancient architecture, churches, art galleries and other beaches enhances the worth of this serene beach land up to tons.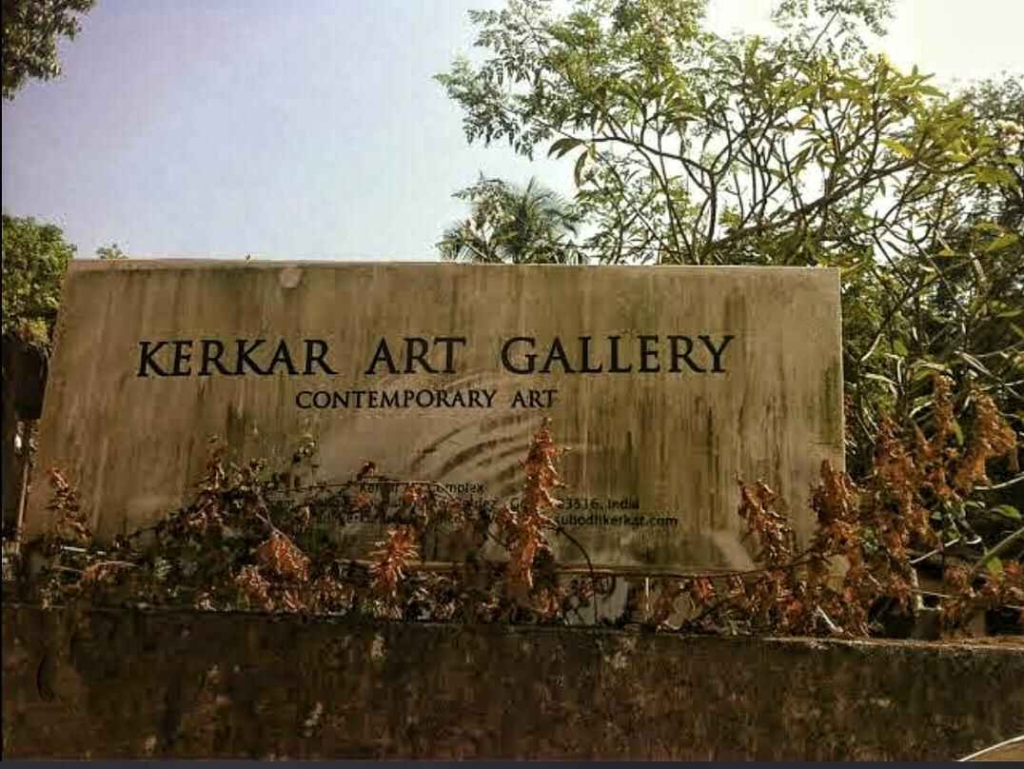 Aguda Fort – Standing high in the mid of the sea, this decades-old architectural beauty tells the enchanting tales of the Portuguese era. This well-preserved fort is located at a 6.9-kilometer distance from Calangute Beach. The jail and lighthouse present inside Aguda Fort fascinate history buffs a lot.
Our Lady of Piety – Another jewel tucked on the Calangute Beach is the ancient church of Our Lady of Piety. The location of the church makes it more popular among tourists. Situated on the top of a hill, this church gives a mesmerizing view of Calangute Beach. You can easily reach here by taxi or bike ride services as it is just 5 kilometers away from the beach area.
Kerkar Art Complex – Holding all the artistic treasures of renowned artist Subodh Kerkar, this enticing place is idyllic for art admirers. Mesmerizing paintings and sculptures designed by Subodh Kerkar compel the visitors to gaze at them for hours.
Benz Celebrity Wax Museum – The wax structure of several national and international celebrities and 9D cinema fascinates the visitors. It is the best place for both kids and adults. Kids will love the bumper car area the most. You can visit here between 10 am to 10 pm. It is located just 2.9 kilometers away from Calangute Beach.
Kankonkar Kaju House – To enjoy the authentic Goan drink Feni, made up of Kaju, Kankonkar Kaju House is an idyllic option. Due to its proximity to Calangute Beach, this place receives visitors in bulk. Here they know about the diverse range of wines and Kaju processing. You can shop for the wines too. You just need to cover a 2.5-kilometer distance from the Calangute Beach area.
St. Alex Church – Though the distance between Calangute Beach and St. Alex Church is slightly more (51.4km), it is worth spending time to reach here. People who are highly inclined toward religious tranquility must visit St. Alex Church. The dome-shaped structure of this Church lures the people the most. Spending some quiet moments here will surely inject a soothing vibe into you.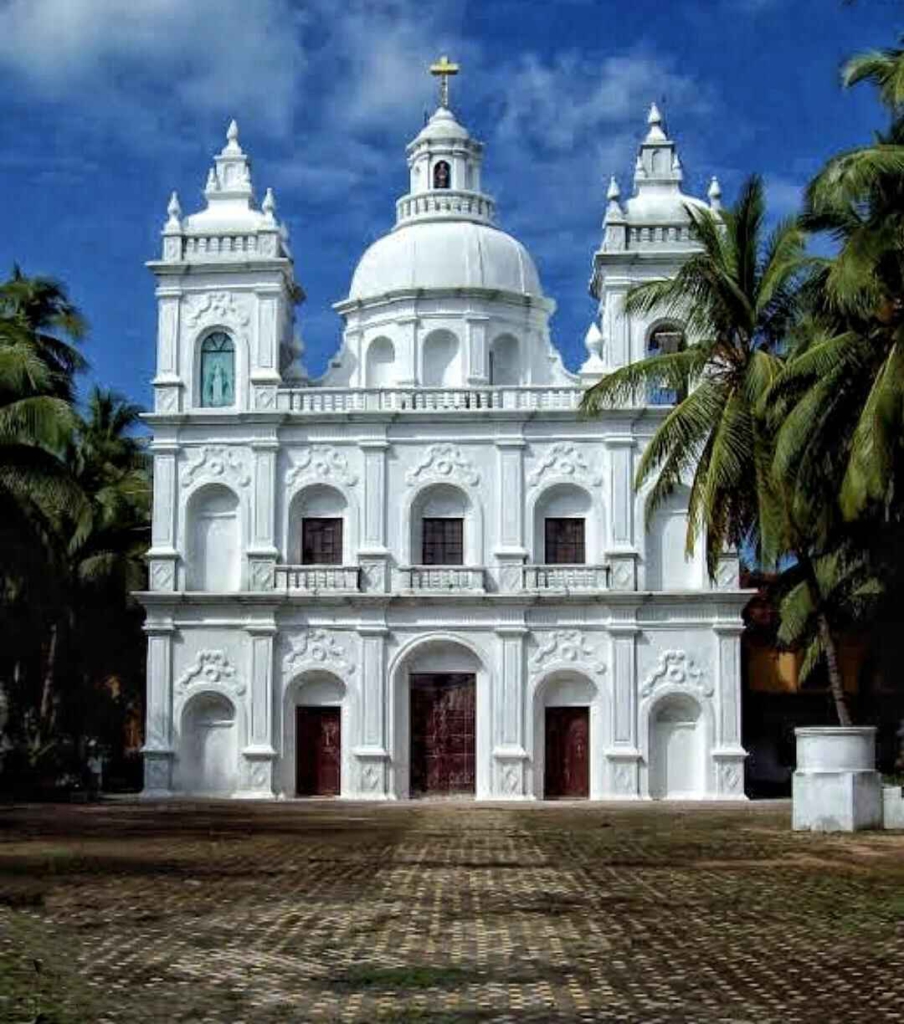 2. Ultimate water sports available near Calangute Beach –
The adrenaline-rushing water sports activities near Calangute Beach amplify the fun of your beach holiday. The well-trained teams of operators ensure the safety of the people.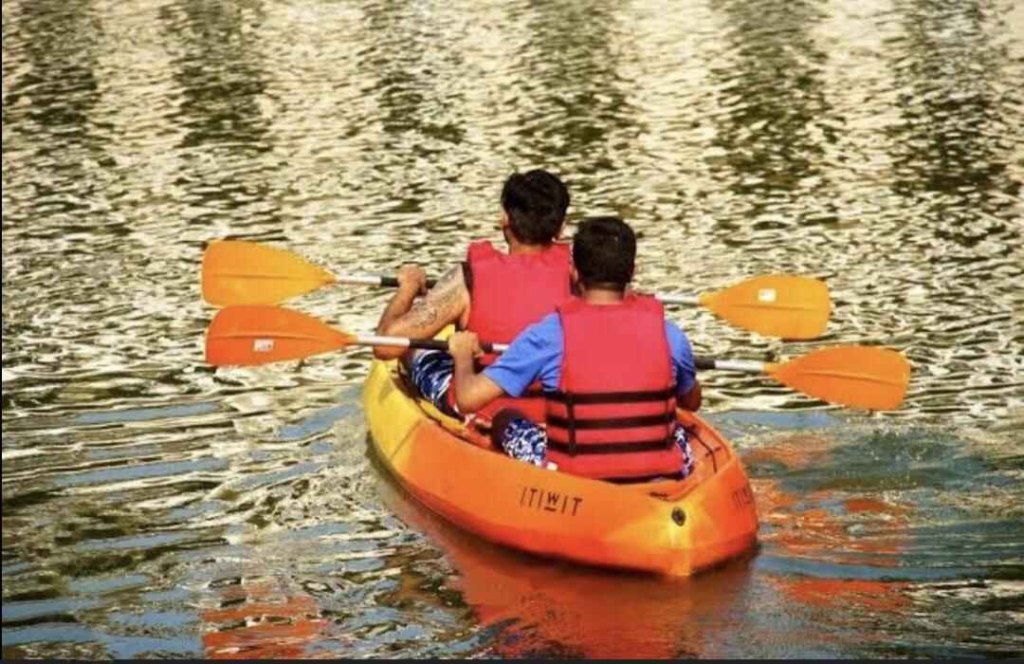 Banana Boat Ride – The novice enjoys this simple banana boat ride the most. The group of 6 people can revel in the joy simultaneously. The trainer provides all the necessary guidelines to the person that intensify the fun of a banana boat ride.
Kayaking – It is perfect for exploring the mangrove forests, spotting birds and diving into the surreal beauty of nature. This ride is available from Calangute Beach to Mandovi River and other water bodies located in nearby areas. To explore the real treasures of nature, you can embark on the kayak and paddle it slowly while passing through water bodies.
Snorkeling – Witnessing the colorful marine life through snorkeling at Calangute Beach is a true delight. People take a glimpse of coral reefs, exotic fish and other marine elements from quite a close distance. The trainers or water sports operators offer the equipment for snorkeling on rent. The underwater world of Grande Island will leave you in an awestruck state while experiencing snorkeling.
Scuba Diving – This water ride option is open for both kinds of people the naive and the experienced ones. While enjoying the marine life at Calangute Beach, you can grab a certificate as well. The trained operators provide introductory sessions and professional diving tours to the tourists.
Parasailing – Witnessing the shoreline of Calangute Beach from a good height hits the tourists differently. Flying high in the sky while being harnessed with a parachute and dragged by a speed boat, this thought only can give your adrenaline-pumping pleasure.
Jet Ski Ride – Want to experience the chilling wind and water sprinkles on your face while gliding on the sea surface? Jet Skiing is idyllic for you. This fun water ride suits well to an adult or younger one as a trained rider will give you company throughout the Jet Skiing ride.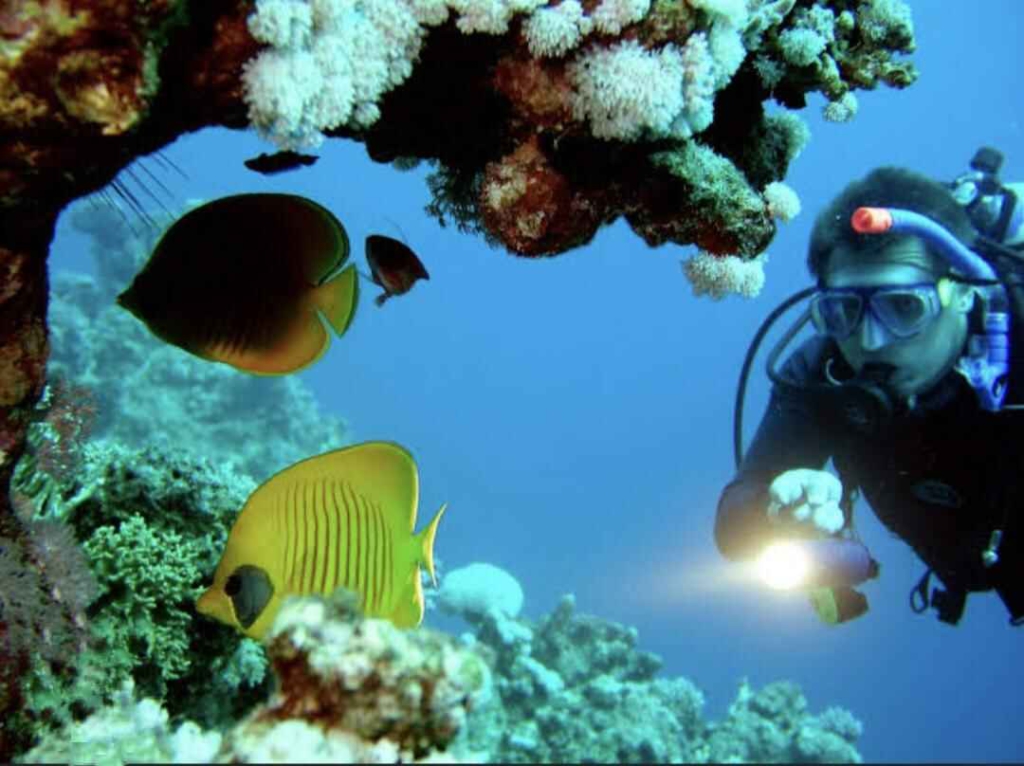 3. Best Shopping places near Calangute Beach –
Calangute Beach does not only satiate the blooming desires of adventure, fun & food lovers. But it also becomes a paradise for shopaholics.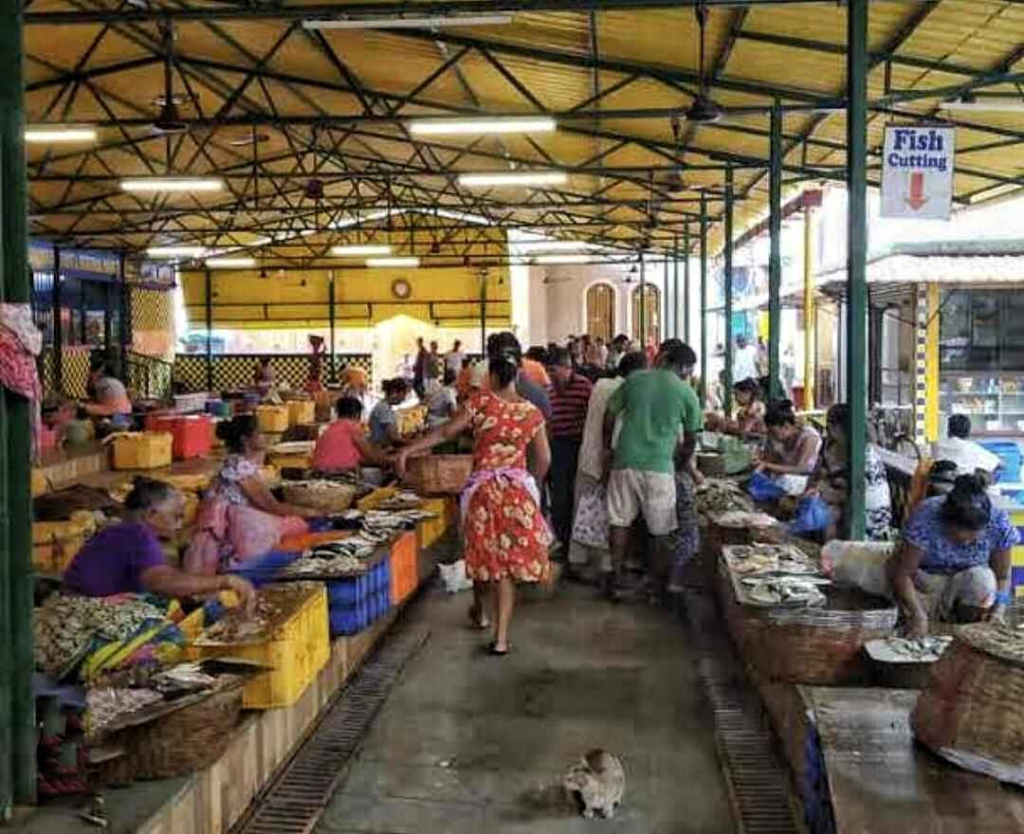 The Fishmarket – Every beachgoer wants to experience the purchasing of seafood items for once. The fish market near Calangute Beach is one of the biggest fish markets in Goa. You will find here an extended variety of fish, prawns, mackerel and crabs etc. You just need 5-7 minutes for covering the bare minimum 1-kilometer distance between the beach and the market. It is also popular among people as Calangute Naikawadi fish market.
Saturday Bazar – This market is hosted by local vendors every Saturday. The visitors obtain here countless stuff related to daily needs. Apart from daily need materials, the visitors love to explore the heritage and culture of Goa.
Tibetan Market – As the name signifies, this place offers you all Tibetan lifestyle-associated stuff. Whether it is singing bowl, incense sticks, blankets, statues or prayer flags, the quality and uniqueness will tempt you enormously. It is just 1.5 kilometers away from Calangute Beach. You need nearly 10 ten minutes to reach here.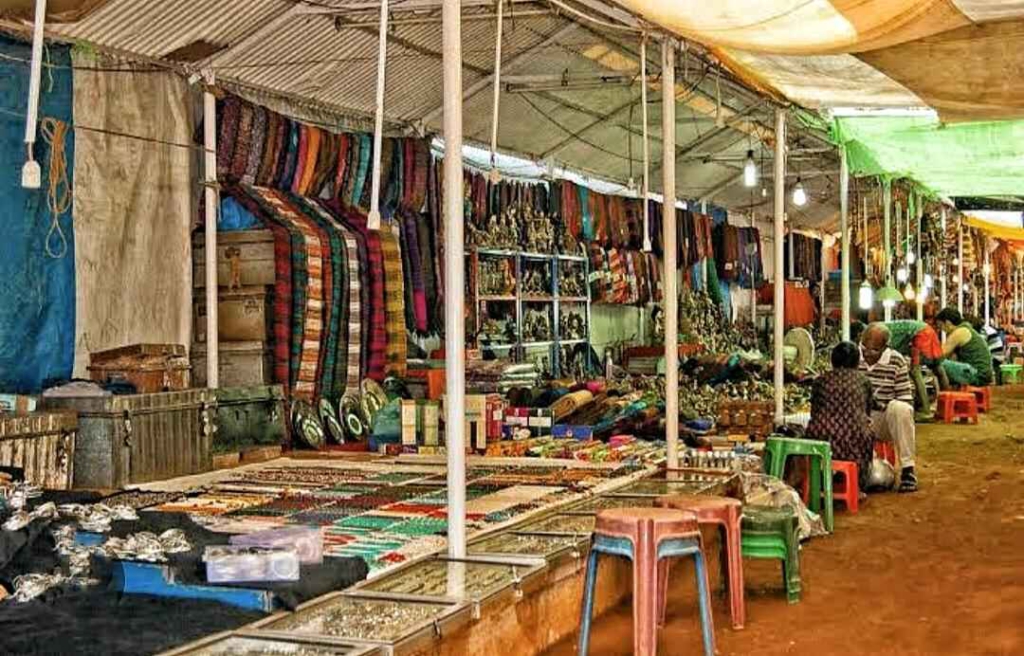 You can plan your visit here any day but weekends will be perfect for exploring these shopping spots.
4. The most happening nightlife at Calangute Beach –
To revel in the pleasure of beach areas, the vivid nightclubs, pubs and casinos are the best options available at Calangute Beach. Fun lovers hit these places frequently with their gangs. On the weekends, you will find clubs packed with heavy crowds.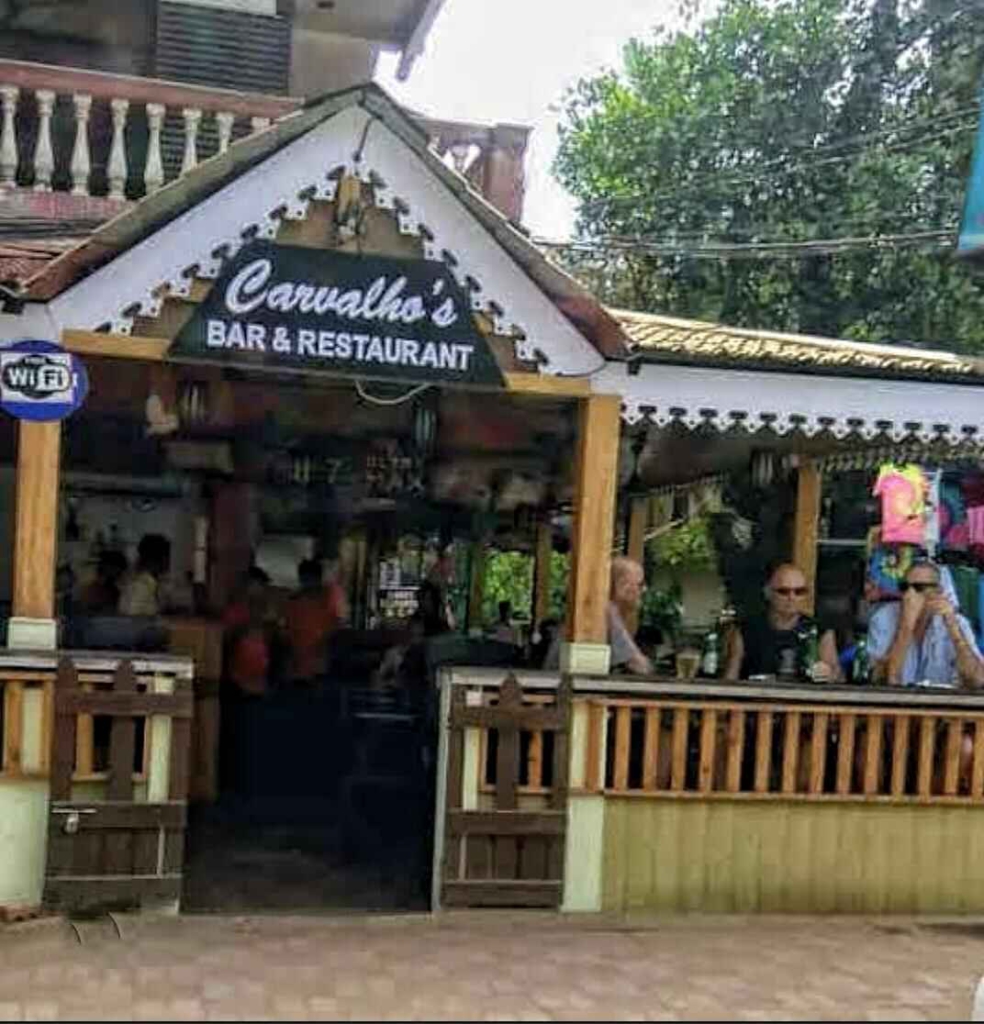 Delsey Bar – This club hosts its guests with great hospitality overnight. Not only do the delectable cuisines and classy drinks drag the visitors towards Delsey Bar but the close location near Calangute Beach and music events also make an indelible impact on the visitors. It is located on Calangute – Anjuna Road.
Carvalho's – Here you will find an extended range of cuisines like Chinese, Continental and authentic Goan delicacies that are complimented with refreshing drinks. It is located near the Old Petrol Pump in the Calangute beach area. Just 600 rupees are enough to cater to your taste buds with mouth-drooling food and alcohol.
The Red Lion Pub – This place is full of a hippie culture vibe. Overnight music , the tantalizing aroma of food and drinks that turn you tipsy are some prime attractions of The Red Lion Pub. The place also offers facilities of rooms for staying here with comfort. Great hospitality offered by the staff workers will leave no stone unturned in pleasing the guests.
Spice It – Akin to the name of the place, you can spice up the evening or the whole night with great facilities of bar, open sitting, extended buffet, music and separate smoking area. Approximately 1800 rupees are enough to enjoy fully at Spice It for two people.
Tio Tilly's Bar & Kitchen – Located just near the Calangute Beach area, this place is an integral part of the happening nightlife of Goa. People love boozing here with the company of sumptuous food, live entertainment and sports screening etc. Proximity to the beach area provides several scenic views of sea waves and soft sand.
Sportsman's Bar – A unique place well-designed for hippie vibe lovers and those who are craving international cuisines. The ambiance of this place is also quite engaging for the visitors.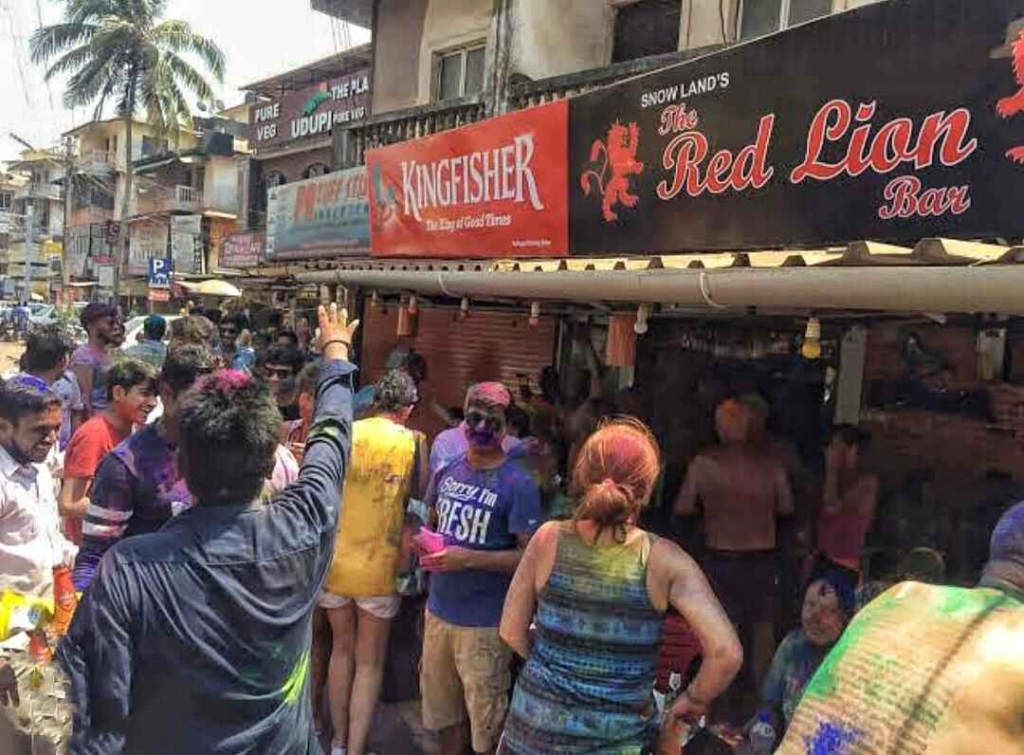 Apart from these places, you can access several other options located near Calangute Beach for injecting the pleasure of Goan nightlife. Cantare, Hipster, IVY, Moon Pub, Clove, Tonic Hard Rock Hotel and Souza Lobo etc are prime locations that serve the Goan Nightlife culture brilliantly.
5. The best Beach Shacks near Calangute Beach –
Shacks fall under the major attraction criteria of Goan Beach areas. Their wooden setup, sand floor, music, food, drinks and events lure the visitors the most. You can visit here during the day or dive into the pleasure of peppy beats at late night. The below-given best shacks of Calangute Beach are the ultimate spot for fun & food.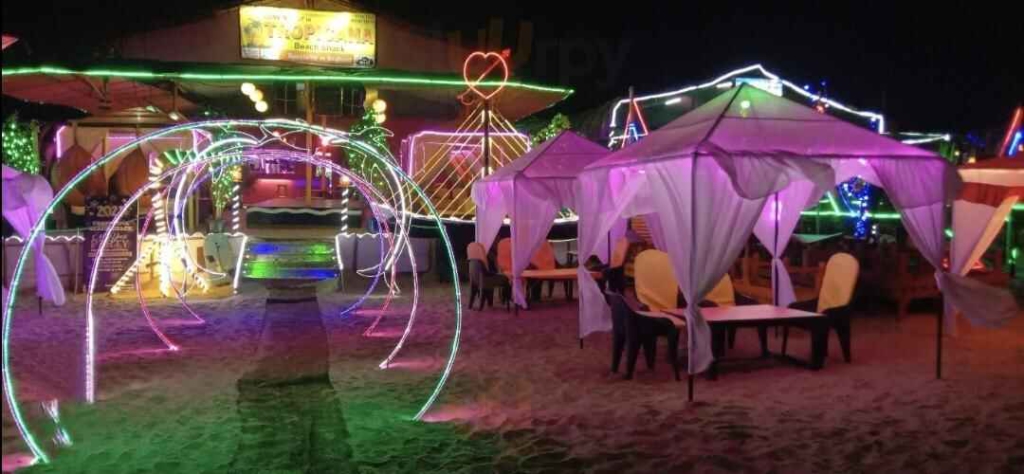 Rudy's Golden Mermaid – People love relishing simple yet awesome food here under the starry night and near the seashore. Both Indian especially North Indian and continental food delicacies along with drinks are served here to the guests. The clean and well-maintained ambiance of this Beach Shack creates a soothing vibe for the visitors during day time.
Tropicana Beach Shack – Imagine having a drink with your close ones or solo under the blue sky with candlelight, the slowly moving breeze, and sensing the sound of sea waves. You can all experience it at Tropicana Beach Shack. The quality food and drinks available at rational prices make the place perfect to plan an evening here. It is located opposite the Empire Beach resort in Calangute, Goa.
Chelsea Beach Shack – Another shack ideal for the candlelight dinner in front of the beach view is Chelsea Beach Shack. The shack serves its guests from 8 am to 11 pm with the best quality food and drink options. If you are craving north Indian food in Goa, hit Chelsea Beach shack for once surely.
Souza Lobo – This beach shack is quite popular among visitors for its location which enables you to enjoy the surreal sunset views. The pocket-friendly dishes and drinks spice up the evenings or daytime of the visitors. Along with it, the courteous staff, great ambiance and prompt services enhance the worth of this shack among beachgoers.
Pine Tree Beach Shack – Located right on the beach area, this place draws guests in bulk. It is the perfect place for those visitors who want to spend some time in solitude far from the hustle and bustle of crowded areas. Enjoying fresh juices and an English breakfast near a beach makes you feel like sitting in a natural paradise.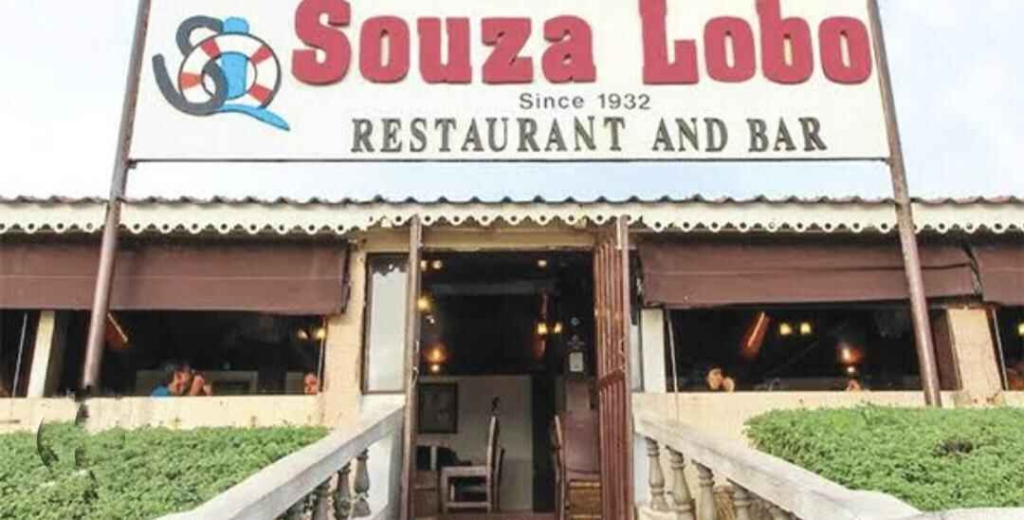 You can also explore a range of other beach shacks located near the Calangute Beach area. These places will add a spark to your Calangute Beach holiday.
6. Pick a comfortable place to stay near Calangute Beach –
Finding an ideal accommodation area or villas near calangute beach where you have drawn up your entire vacation, is slightly tough for naive visitors. Hence here we have compiled a list including staycations that offer comfort & luxury to the guests.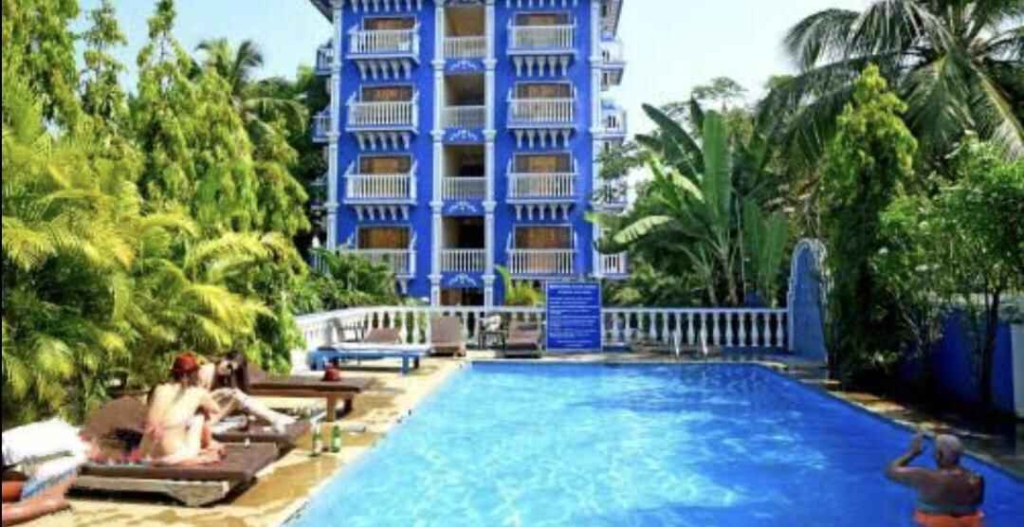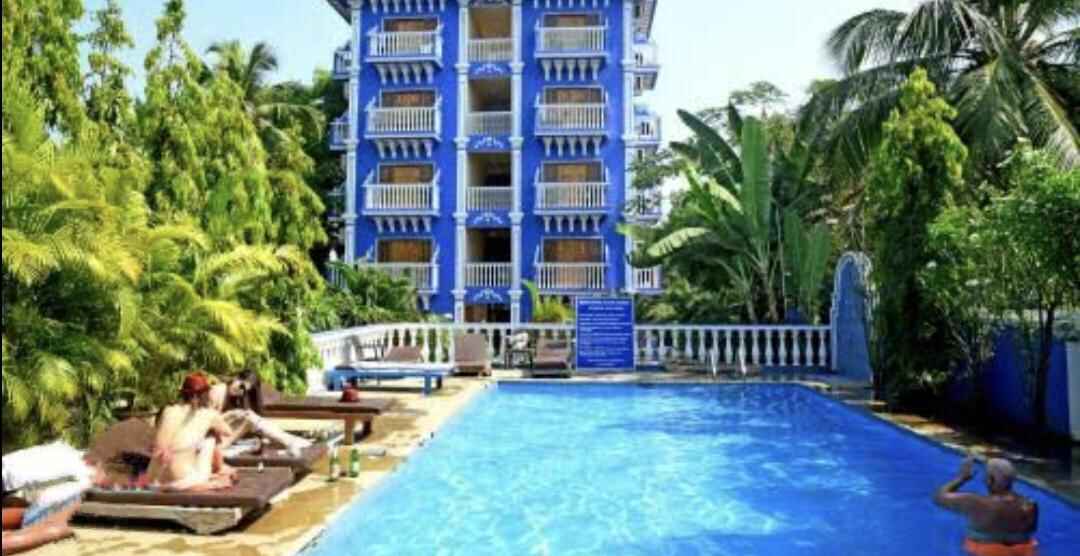 Resort Village Royale – The nature admirers will love to stay here as the resort is densely packed with tall palm trees. Having a total of 160 rooms, this resort serves all basic to advance amenities in spacious rooms. It is quite close to Calangute Beach. You can access the property by covering a short walking distance.
Chalston Beach Resort – At this place, you can pick between the rooms in the resort and cottages for your comfortable stay. Enjoying the greenery and beach view straight from your stay window will level up the charm of a beautiful beach vacation. The place includes 60 rooms which are well-maintained and furnished.
Mayflower Beach Resort – The architecture and specific facilities of this resort impacts the visitors the most. Built-in the ancient Portuguese pattern, this resort falls in the close circumference of all the prime Calangute attractions. Well-equipped spacious rooms, inside restaurant facility, open bar and water sports services by Mayflower beach resort tempt the visitors heavily.
The Park Calangute – This accommodation boasts nearly 30 suits that are available through 24×7 hotel desk service. The top-notch quality comfort and luxury of The Park make this place worth staying. It is located on the beach area where you can relish the diverse range of national as well as international food items.
La Calypso – The sunset and seaside views the visitors enjoy here the most. This 3-starred hotel is located quite close to the beach area. The courteous nature of skilled staff members greets the guests warmly.
Peninsula Beach Resort – This resort catches the attention of visitors through its location and architecture. The hillside cottage view and sea view from the rooms of the resort enhance the pleasure of your holidays. You will find the rooms here equipped with all fundamental to advanced amenities.
Citrus Goa – Having 85 spacious rooms with all luxury features, this resort is frequently picked by visitors for a comfortable stay. You just need to cover 0.5 kilometers distance from Calangute Beach.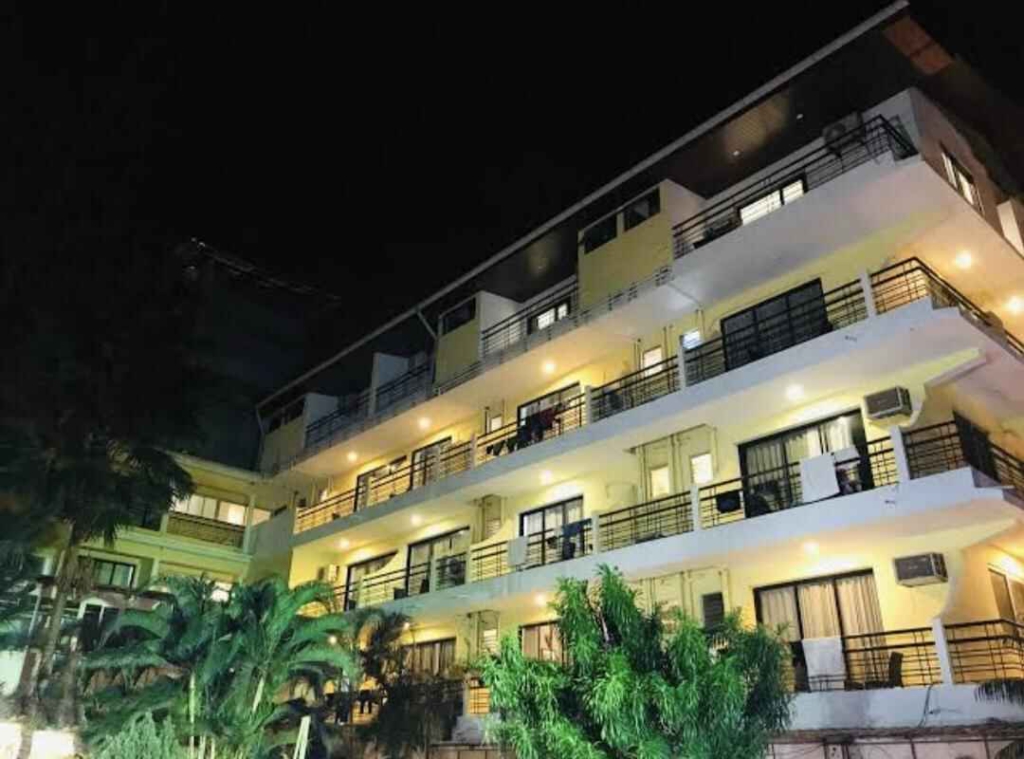 In the peak visiting area, you can find these popular locations packed with visitors. Hence trying these options can benefit you as well.
Sharnam Green Resort Goa
Alor Holiday resort
Resort Terra Paraiso
Villa Goesa Beach Resort
Neelam The Grand
Lazy Lagoon Sarovar portico suits
Colonia Santa Maria
Ocean Palms Goa
Tips to keep in mind while planning Calangute Beach Holiday –
To make your all fun-filled activities near Calangute Beach hassle-free, you need to keep the below-listed points in your mind.
The heavily packed or crowded Calangute Beach does not provide a secluded place to spend some quiet moments. Hence you should not include such moments in your plan.
Keep extra clothes, hats, sunscreen and other necessary stuff as you are going to spend a good time in the beach area.
Do not become friends with strangers who are willing to accompany you forcefully.
Wandering alone on the beach area can be risky, especially for women. Try to visit shacks or nearby areas in groups.
Frequently Asked Questions (FAQs) –
Q – What is the best time to visit Calangute Beach?
A –  From late October to February, the weather makes this location pleasantly perfect for visiting.
Q – How far is Baga Beach from Calangute Beach?
A – Only a short distance of 50 meters lies between both beaches. You can cover it within 10 minutes drive duration.
Q – Is there any fee for entering Calangute Beach?
A – No, you need not pay any fee.
also check: famous quotes on goa