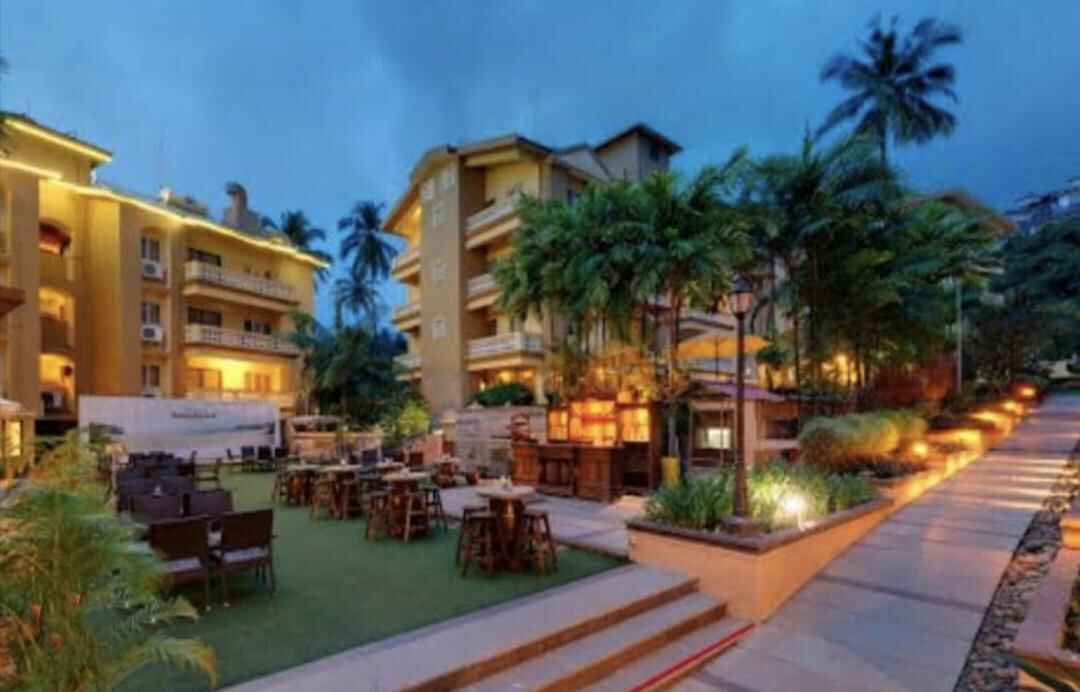 Right after stepping onto the idyllic beach location, Odxel, the visitors sense a gust of rejuvenating breeze. Being a heavenly abode to dazzling nature, serene ambiance and soothing shoreline, Odxel Beach infuses life in the exhausted visitors instantly.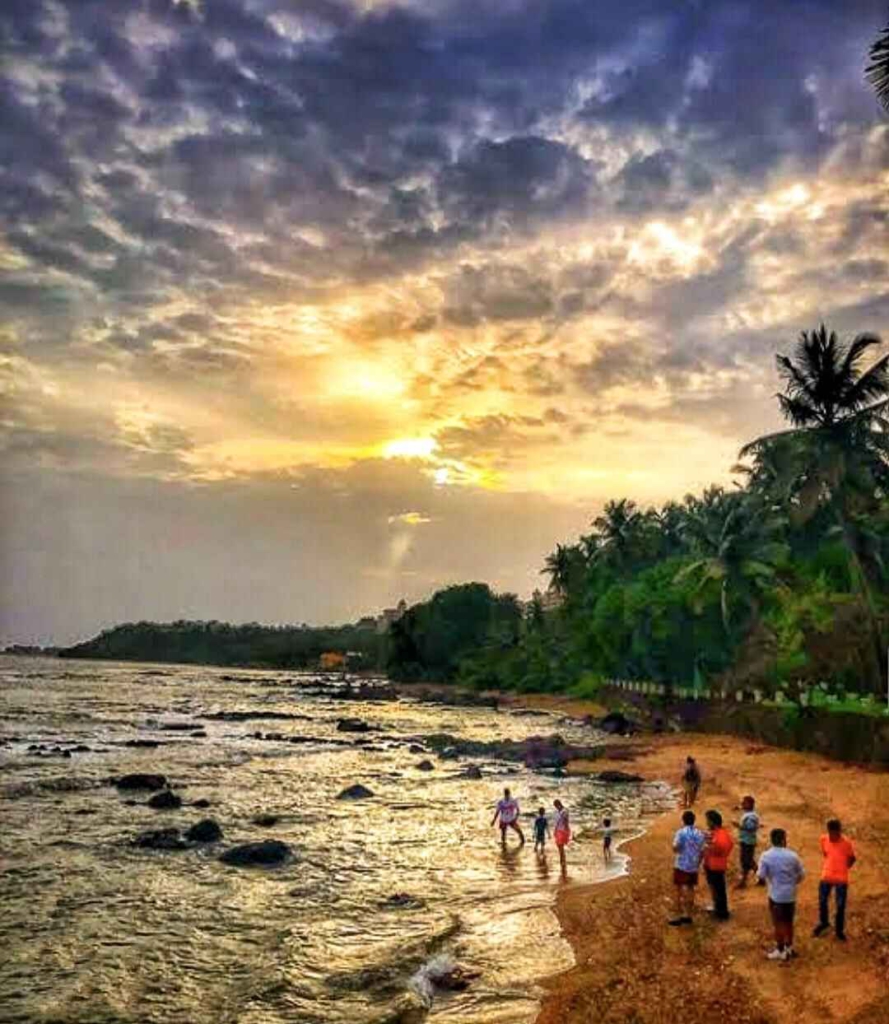 Whether you are willing to lounge on the sand bed and bask for long, play with the water splashes, collect the seashells while strolling on the stretched shoreline or add a dose of adventure through water sports, Odxel offers you a big canvas to paint a plethora of memories on it.
Truly an unpriced treasure of North Goa, Odxel Beach falls in the middle of Dona Paula and Bambolim. Its location makes it flooded with visitors from the nook and corner of the world.
Let's know more about Odxel Beach.
Highlights of Odxel Beach –
Do not miss exploring the churches and chapels situated right next to Odxel Beach. Their architecture will impact you heavily.
Being a less crowded and unspoiled beauty of North Goa, Odxel can be perfect for relaxation.
The beautiful sunrise and sunset views at Odxel Beach will leave an indelible imprint on your beach vacation memory.
What is the best time to visit Odxel Beach?
To witness this treasure of North Goa in a full blooming state, knowing the best time for its exploration is a must. From October to April the average temperature hovers around 20-24 °C during the day while 18-20°C at night. Such a favorable atmosphere enables the beach enthusiasts to roam freely on and around the beach area.
Adventurous sports operators, beach shacks, live music events, flea markets and food joints come in full swing during these months. The least chances of heavy and sudden downpours, mild waves of the Arabian Sea and balmy sunlight etc contribute to making your vacation more pleasant.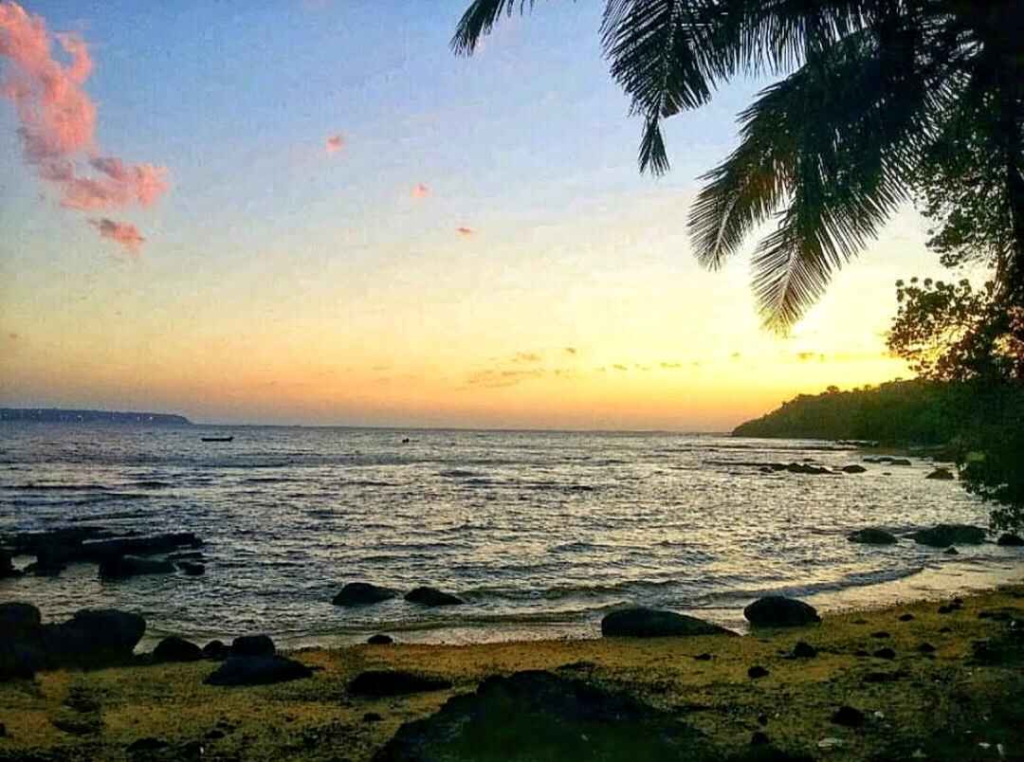 How to reach Odxel Beach from prominent locations of Goa?
Odxel Beach is quite close to the capital city of Goa, Panaji. You can cover the 6.1 kilometers distance between both locations in just 25-30 minutes. Visitors can access any kind of transportation means such as rented bikes, taxis, cabs or car services etc.
If you want to access Odxel Beach from Goa International Airport, you can find a taxi, car or cab services. The distance between the airport and Odxel Beach is nearly 28.7 kilometers. It takes 50 minutes to 1 hour to cover the distance.
A few other stations that fall in the close circumference of Odxel Beach are Chandar Railway Station (15.2 kilometers) and Verna Railway Station (21.5 kilometers). These stations connect the major cities of India with Goa. If you have no plans for splurging on the travel mediums, pick these convenient routes to reach Odxel Beach for a pleasant vacation.
Unlike other beaches of Goa, at Odxel Beach there are no waterways facilities like ships, ferries and boats etc.
1. What are the best nearby locations to traverse through around the Odxel Beach area?
When it comes to the options for exploring the major attractions near the beach area, Odxel Beach never falls short of spots worthy of sightseeing. From history buffs to nature lovers, there is something for everyone to please.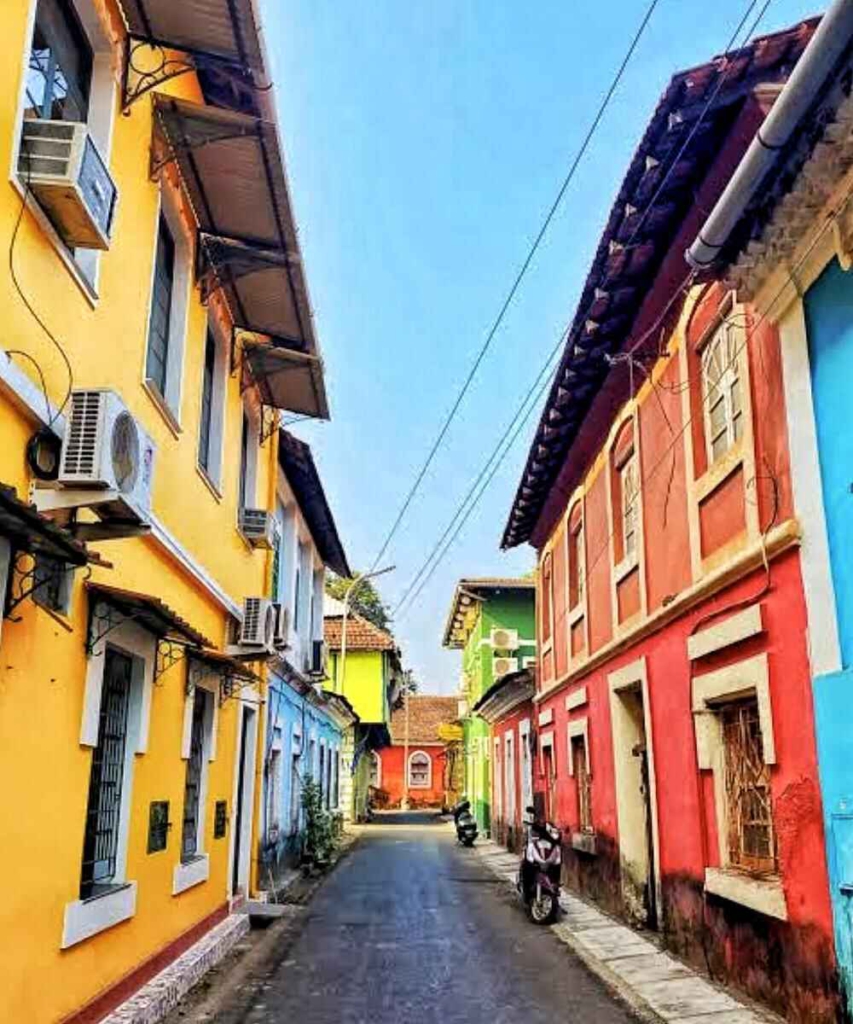 Fontainhas –
Want to add colors to your Goa vacation memories? You must include Fontainhas in your itinerary. Solely influenced by Portuguese architecture the colorful buildings, narrow path and St. Sebastian chapel attract the tourists in bulk toward Fontainhas. It is just 6 kilometers distant from Odxel Beach. If you have interest and proficiency in photography, do not miss this spot to capture in your camera as well as in your memories.
Dona Paula View Point –
The panoramic scene of nature from this viewpoint will compel you to hold your gaze for a few moments. Visitors come here to witness and capture the mesmerizing sunrise and sunset moments. Along with praising the surreal looks of nature, you can enjoy boating and jet skiing as well. The distance of this picture-perfect location from Odxel Beach is just 3.8 kilometers.
Basilica of Bom Jesus –
This sacred and most prominent place of Goa is 18 kilometers away from Odxel Beach. You must include it in your sightseeing list to know a Unesco World Heritage sight closely. This spellbinding heritage architecture holds the mortal remains of St. Francis Xavier. It was built in 1594 in an exemplary Baroque structure. Hence it is a great place for religious believers, history buffs and architecture enthusiasts.
Immaculate Conception Church –
Holding its position among the most popular and oldest churches of Goa, Immaculate Conception Church is a hub of foreign and local tourists. The snowy white architecture, zig zag stairs and the second largest bell in Goa, the Augustinian Bell are some prime attractions of this holy place. Its distance from Odxel Beach is 6.4 kilometers. Locals call it "Great Big Wedding Cake" & "Crown of Panaji".
Deltin Royale Casino –
In the hunt for historical, religious and natural spots around Odxel Beach, you can find a luxury casino for entertaining yourself like never before. Live music from renowned bands, dancers, plenty of liquor choices at Sky Bar, delicious food and a range of casino games will make you indulge in unparalleled fun. It is located at 9.2 kilometers distance from Odxel Beach.
Aguda Fort –
It will feel incomplete if you miss visiting the royal forts of Goa singing its past glory with grace. The nearest fort from Odxel Beach is Aguda Fort (25 kilometers). It is well preserved 17th-century jewel where visitors come to see the hidden storages and a lighthouse located in the middle of the sea water. The majestic views of the long stretched shoreline from the verge of the giant Aguda Fort will blow your mind.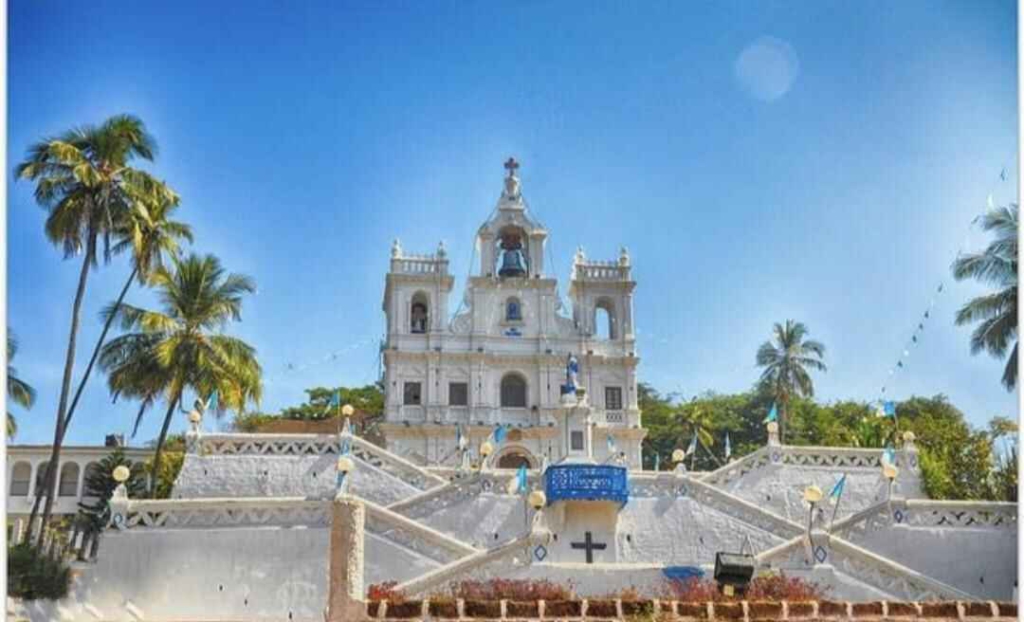 Besides these historical, religious and nature's paradise, Odxel Beach is surrounded by several other beach locations. Miramar Beach and Dona Paula Beach are closest to Odxel Beach. If you are planning your family vacation with kids, include the Goa Science Center in your plan.
2. How to add thrill to your Odxel Beach vacation through the exciting water sports?
Experiencing the adrenaline rush during beach vacations in Goa through water rides is mandatory. The fun freaks & experienced go for the risky options while the naive or beginners pick simple yet interesting rides.
Let's know what you will choose for yourself from the adventure platter of Odxel Beach.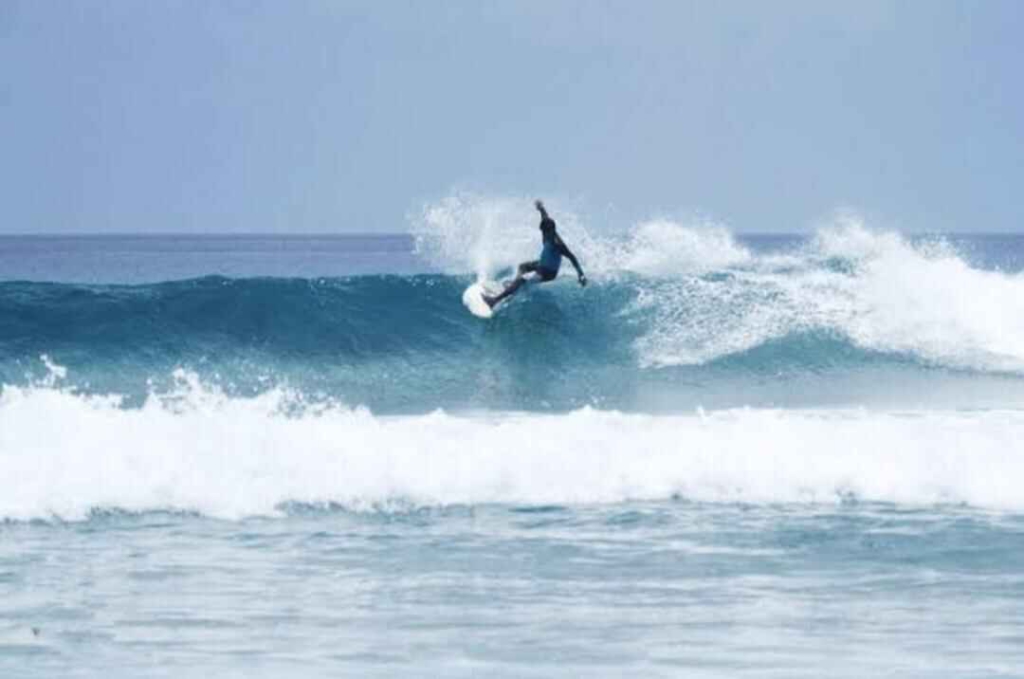 Jet Skiing –
The explorers whose hearts are filled with thrill choose Jet Skiing in their very first round. The beginners can also learn the tactic of balancing the tool and sail speedily on the vast sea surface. The strong wind and water splashes enhance the fun & charm of Jetskiing at Odxel Beach.
Surfing –
Another water sport that demands perfect balancing is Surfing which you can try at Odxel Beach. The beginners can take proper training before jumping into the seawater with their surfboards. Along with surfing, you can also try your hands at windsurfing at Odxel Beach.
Kayaking –
One of the simplest water rides you can enjoy solo or with one partner is riding a kayak in the calm water of the Arabian Sea. While paddling your kayak smoothly you can witness the scenic beach views, clear sky and captivating sunset.
Bumper Ride & Banana Ride –
Both of these water rides are enjoyed on inflated boats that flow with the speed of the water. These are considered comparatively safe for beginners as 5-6 persons enjoy it all together. Falling in the water and again riding on the boats add true fun moments to these bumpy and speedy rides.
Parasailing –
Nothing else can offer the best view of Odxel Beach and nearby locations than a parasailing ride. Imagine being tucked with a canopy and flying right above the sea surface at a good speed, the thought must have given you butterflies. Parasailing is one of the most demanded water rides available at Odxel Beach.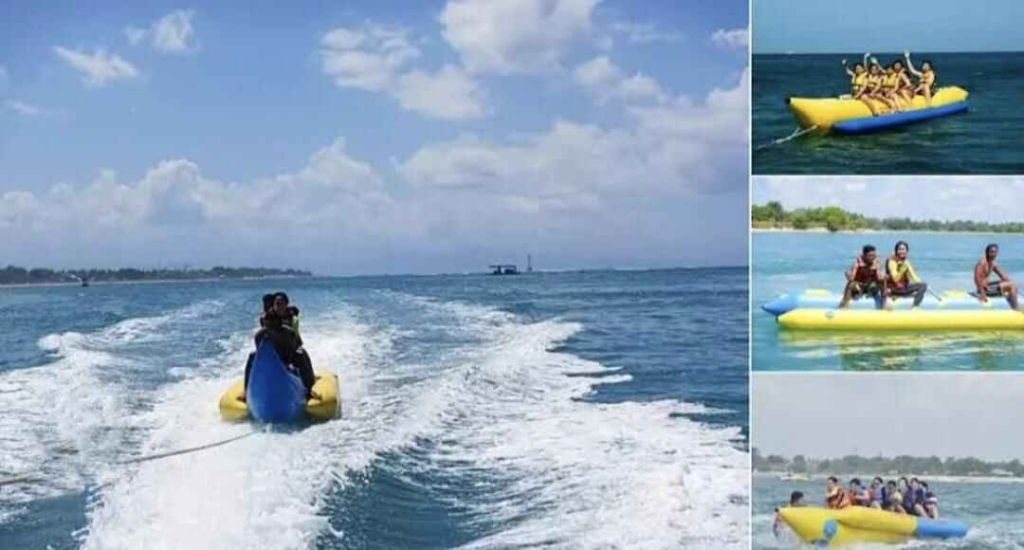 3. Where to go for a shopping spree near Odxel Beach?
Finding the desirable pieces of stuff near Odxel Beach at affordable prices is no big deal due to the presence of a plethora of shops, stalls and markets etc.
Let's know what are the prominent shopping spots near Odxel Beach.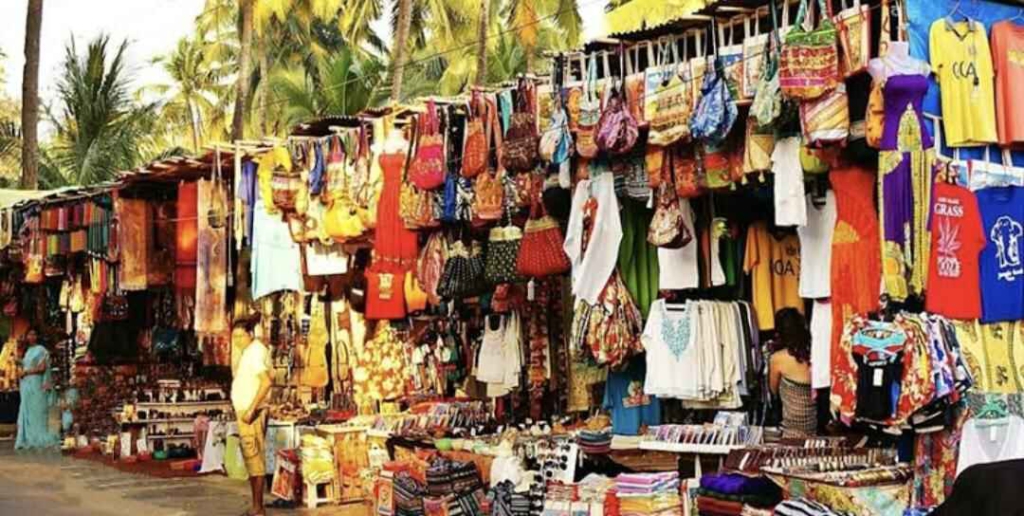 Teleigao Market St. Paul Goa –
This famous marketplace is close to Miramar Beach as well. Visitors come here to find the things needed in daily life like fresh fruits, vegetables, fish, seafood items and other grocery things etc. Along with these, you can find funky jewelry, unique souvenirs and clothes. For the best exploration and buying fresh items, you must come here between 8:30 am to 10:30 am. It is 2.7 kilometers distant from Odxel Beach.
Goa Market –
It is 8.6 kilometers away from Odxel beach. The bustling lanes of Goa Markets are heavily occupied with the stalls of local vendors selling a variety of things. From clothes, jewelry, spices, wines, cashews, nuts, handicrafts, vegetables, fruits, fish, meat, seafood and shoe wear to eateries, the visitors find everything they require. The cleanliness of this local Goa market is one of the reasons to attract locals as well as tourists.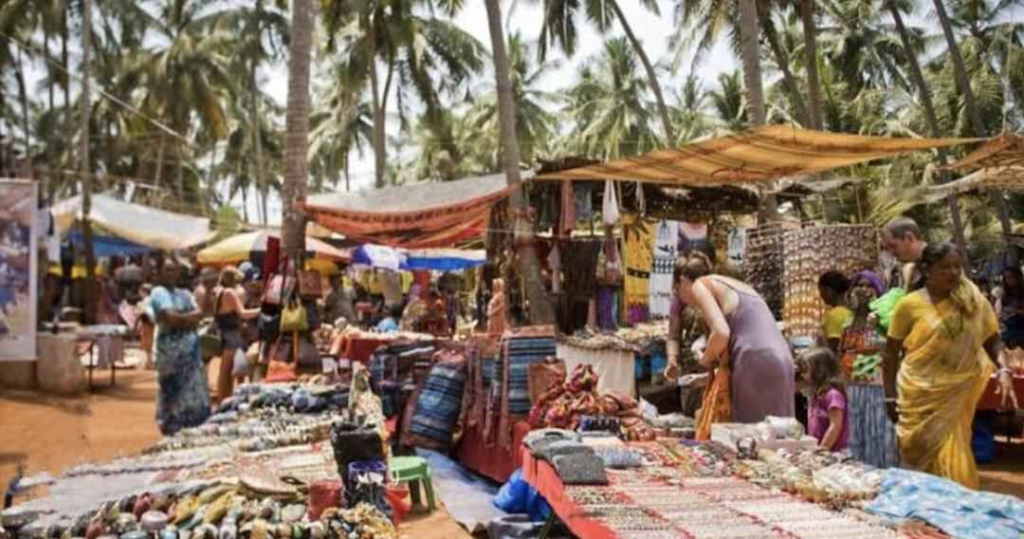 4. Which are the best places to enjoy the lively nightlife of Goa near Odxel Beach?
The vicinity of Odxel Beach is loaded with nightclubs, pubs and restaurants. Here you can enjoy live music events, groove on the peppy beats played by popular DJs, booze till morning, satiate the taste buds with Goan and Multi-cuisine delicacies and capture some beautiful pictures in the fancy ambiance of these party places.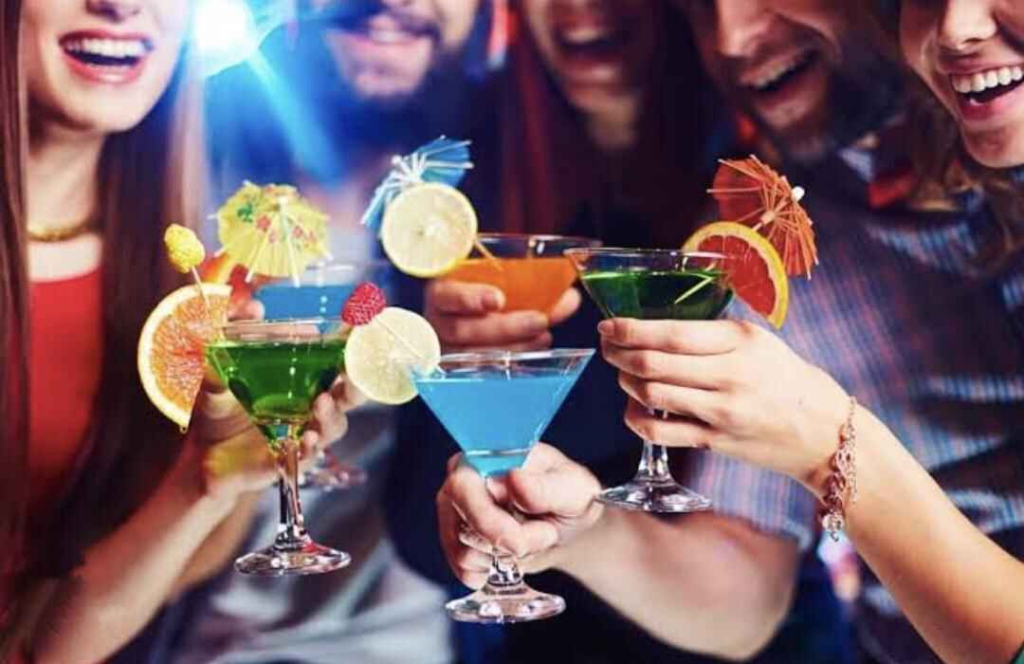 Taverna Lobby Bar –
This small yet interesting bar in Panaji is just 2.7 kilometers away from Odxel Beach. Here you can enjoy the veg and nonveg food delicacies with a great combination of liquor and beer options. The visitors can enjoy the sea views also by choosing their outside sitting location. You can take advantage of 2 drinks at the cost of 1 in the happy hours here.
Latino Poolside Bar –
If you are looking for a luxury place to have a great sunset and nighttime, Latino Bar will be idyllic for you. The perfect combination of live entertainment, a range of cocktails, views of the poolside area and tantalizing delicacies at Latino Bar tempts the guests and fun freaks the most. It is 2.8 kilometers distant from Odxel Beach.
Lounge Terminal –
Fantastic ambiance, big screen, separate smoking area, tempting menu including the liquor varieties and food items at reasonable rates, catchy lighting setup and engaging music etc, what else do you want to relax and unwind during a night out near Odxel Beach? It is 4.8 kilometers distant from the beach area.
Salud Bar –
This night party location is known for its heart-winning ambiance, sitting setup, lighting and diverse kinds of music such as trance, Bollywood and English numbers. Relishing the lip-smacking food, sipping your drink and slowly grooving to the energetic beats will be noted in your beautiful Goa beach vacation memories. It is 2.6 kilometers away from Odxel Beach.
Raj Bar and Restaurant –
This place is known for its signature delicacies. You can not vanish the memory of sitting in a spectacular ambiance and savoring one of the best Goan Thalis at Raj Bar & Restaurant. The king fish fry and Bombil are highly recommended dishes at this place. You can enjoy the views encompassing dense greenery around the bar area while enjoying the food and drinks. It is just 90 meters far from Odxel Beach.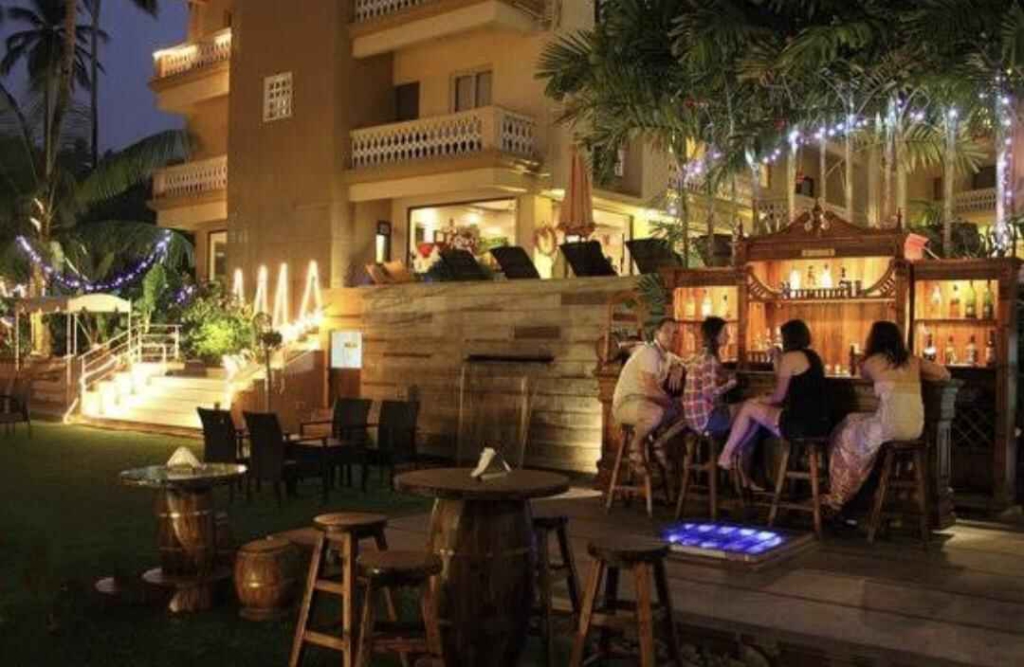 5. What are the most popular beach snacks near Odxel Beach to enjoy the beach vibe?
Shacks in Goa hit differently to everyone who is seeking a place to relax and unwind along with beach fun activities. Though the number of shacks located quite close to Odxel Beach is less in number, you will find one of the best shacks in North Goa near it.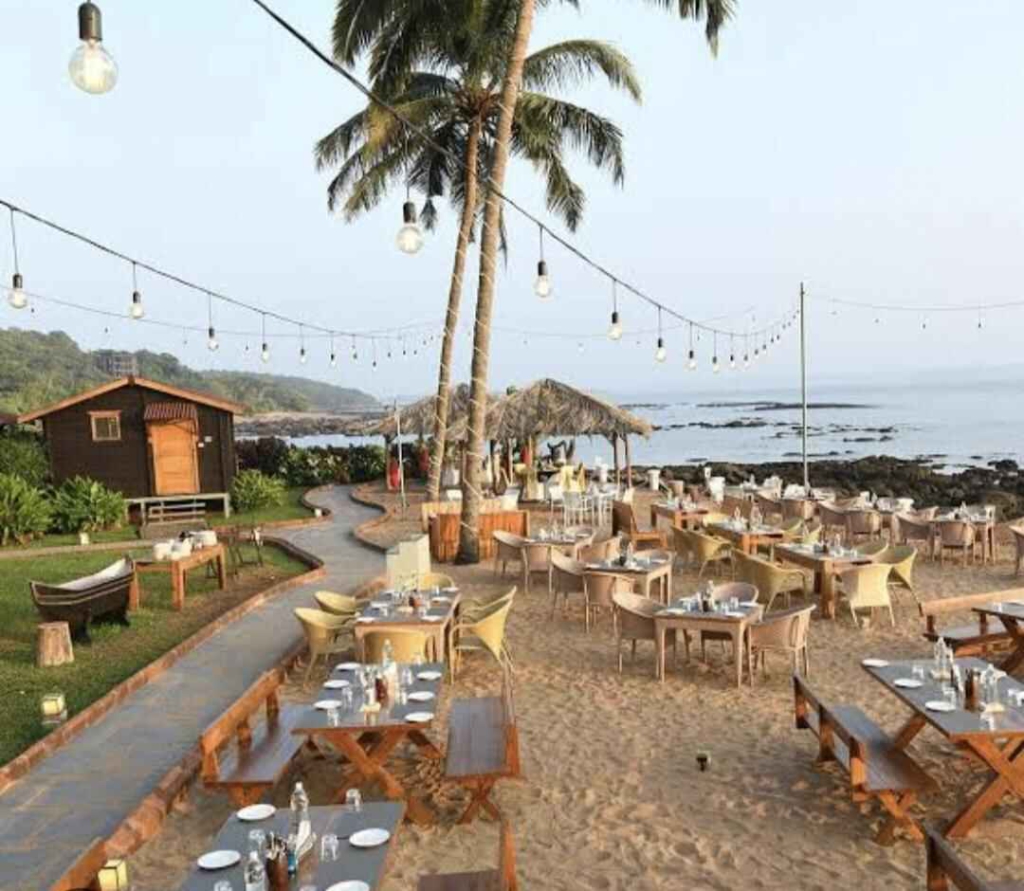 Bay 15 –
Along with providing the stay facilities, this lavish beach shack is widely known for its classy setup, lip-smacking food & drinks, options for entertainment and scenic surroundings etc. You can lounge on the beach beds during the day in a tranquil ambiance and delve into the party, fun, dance, music and food during vibrant nights of Bay 15. It is 100 meters away from Odxel Beach.
Caitans Shack –
Your cravings for finger-licking seafood items can be best satiated at Caitans Shack. Along with it, you can enjoy the splendid sunset views here, beach vibes and relaxed sitting at a catchy setup. You can access this small yet significant beach shack at 6 kilometers away from the Odxel Beach area. Due to being less crowded, couples can enjoy here in an ideal way.
6. What are the finest eateries located near Odxel Beach?
Are you planning for a breakfast, lunch or dinner date during your beach vacation? Finding the best restaurant and including it in your itinerary is mandatory.
Take a look at the best options available around Odxel Beach for a memorable day out or dinner plan.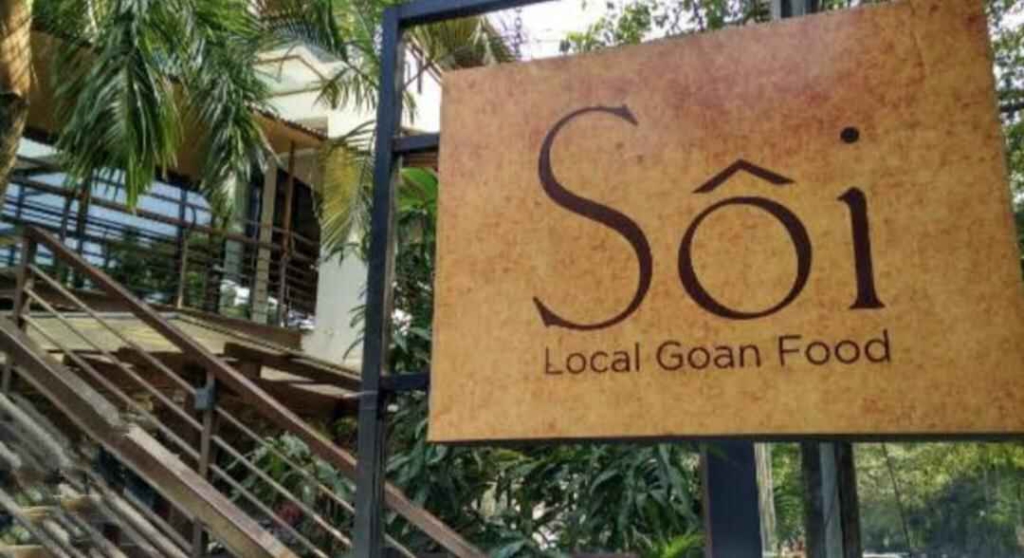 Soi Dauna Paula –
The unique ambiance of this classic restaurant is truly heartwarming. Live Goan music performances make it a paradise for fun lovers. Several food options for veg, non veg and drinks offer you a chance to tickle the taste buds. It is just 1.3 km distant from Odxel Beach. You will surely find it the best place to hang out with friends, family members or your beloved partner.
Sea Pearl Multi Cuisine –
Here you can plan your breakfast, lunch, brunch and dinner with your loved ones. The varieties provided by the staff include authentic Goan delicacies and multi-cuisine options as well. The distance from Odxel Beach is 2.8 kilometers. The tranquil ambiance and prompt services of the staff make the place more special.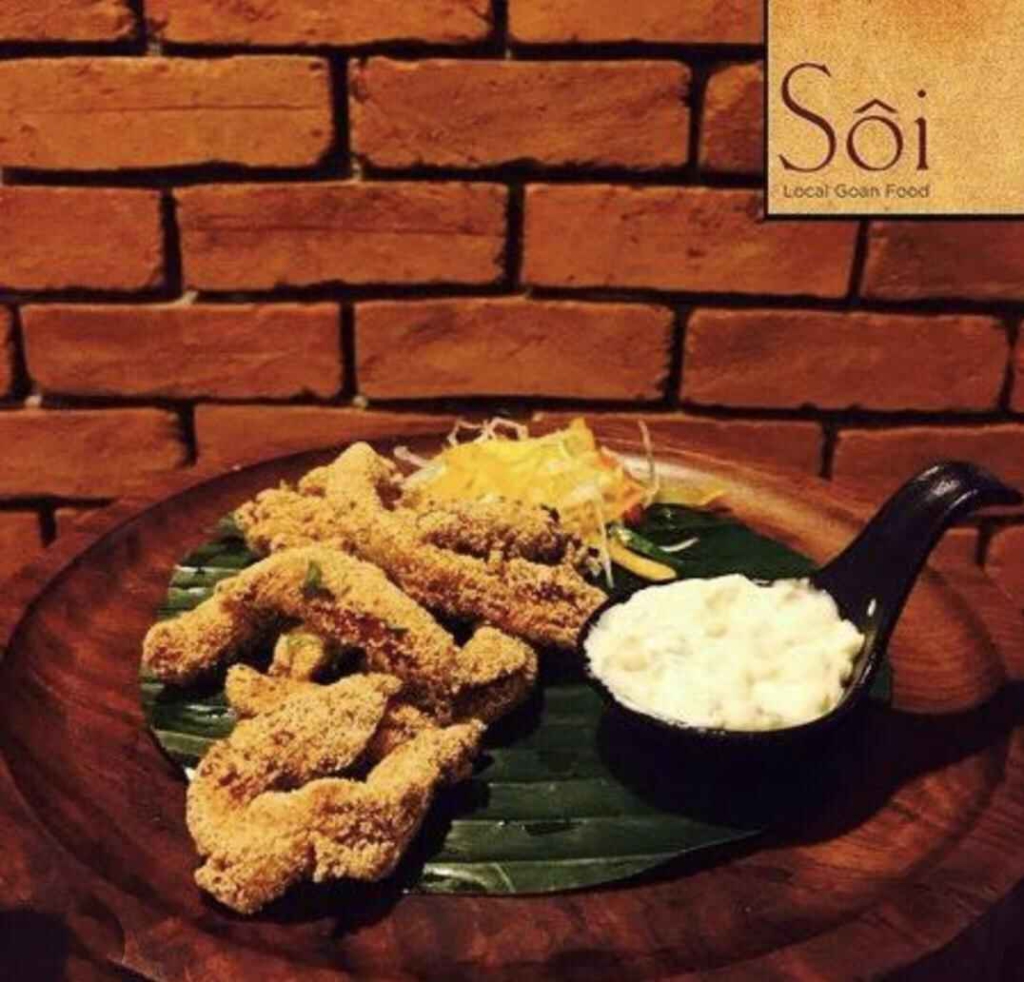 You can try Chulha, Barbeque, Soft Rock cafe, Karan's multi-cuisine restaurant, Top View restaurant, Sea Pebble restaurant and bar, The Goan Room and Laranja etc for a fine dining moment in North Goa.
7. What are the ideal options for your economical or luxurious stay during Odxel Beach vacation?
Whether you are looking for a luxury stay place or a hotel that fits well in your budget, the vicinity of Odxel Beach is full of plenty of options. Staying at these locations comfortably will add one more indelible memory to your beach vacation.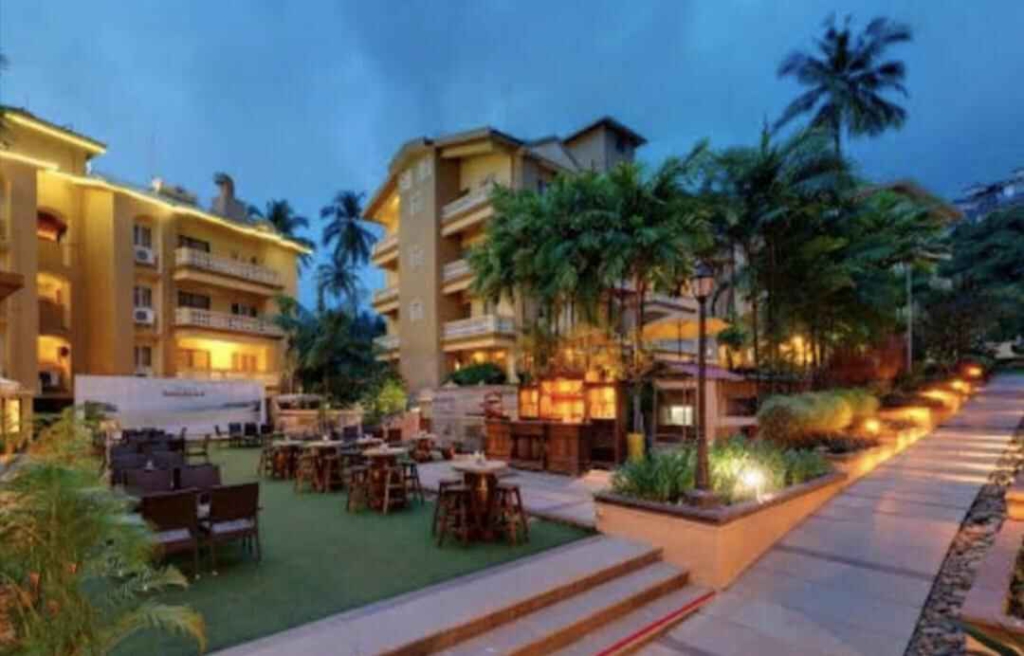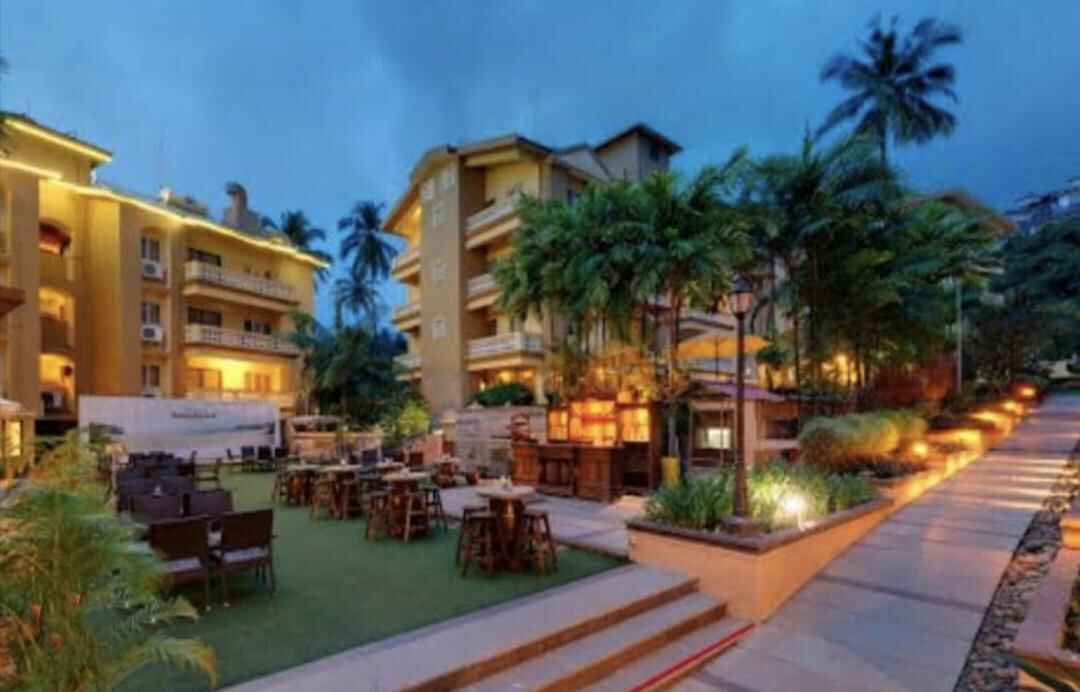 Sandalwood Hotel and Retreat –
Located at a 2.8-kilometer distance, this stay place is preferably selected by the families. Spacious rooms with luxurious facilities, a spa, a pool area, a parking facility and multiple restaurants lure the guests the most.
SinQ Edge –
Undoubtedly this place is a synonym of luxury and comfort in true senses. Apart from big, impeccably clean rooms equipped with advanced amenities, the rooftop lounge impacts the visitors heavily. Located at a good distance from the rush of city life it offers you the pleasure of calm and soothing vacation vibes. The distance between Odxel Beach and SinQ Edge Hotel is 1.2 kilometers.
Bella Villa luxury stay Goa –
Being one of the most affordable yet lavish stay properties, Bella Villa is the top choice of the North Goa visitors. Besides the smooth availability of all the fundamental facilities, the cordial behavior of staff and their prompt services make the place worth staying. Its distance from Odxel Beach is 1.3 kilometers.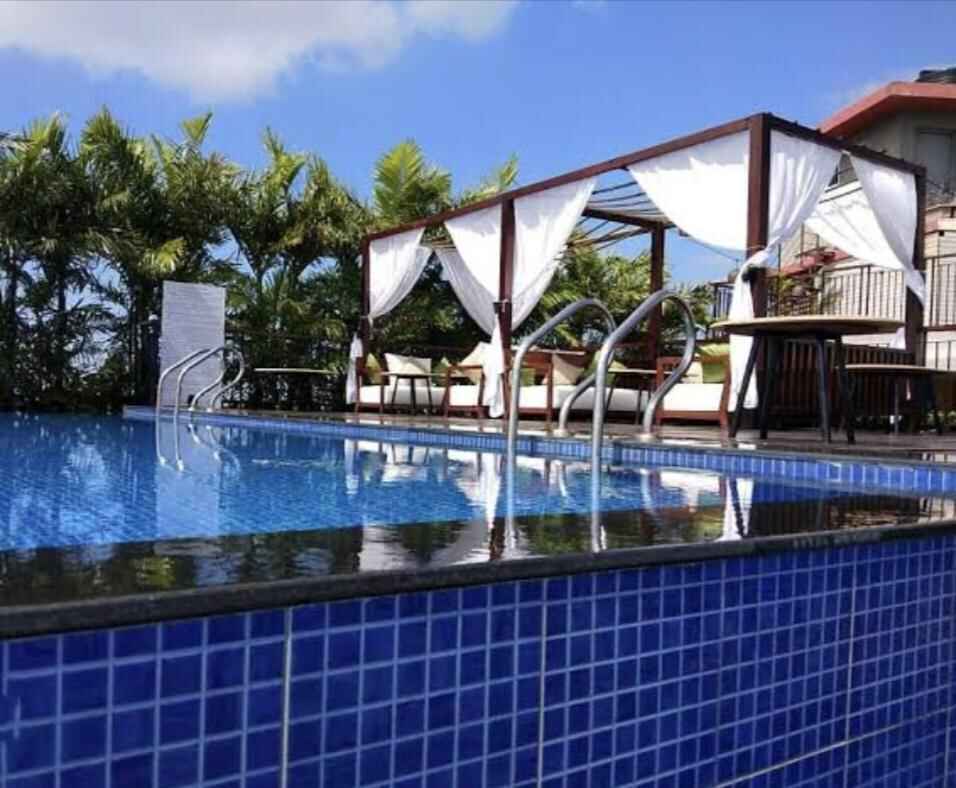 In the peak seasons, you might find these top places fully occupied. In that case, you can try the below-listed properties for a comfortable stay.
Taj resort and convention center
Bay 15
O Pescador an Indy resort
Green Valley Beach Resort
Rendezvous beach resort
Travel Tips for the Odxel Beach Visitors -:
Keep all essentials to make your beach vacation smooth like sunglasses, cotton clothes, sunscreen and hats etc.
If you are planning a vacation in the peak or festive season, book the accommodation before your arrival.
Make sure you and your kids perform water sports under the guidance of experts.
Keep your kids distant from the sea area as high tides can harm them.
Frequently Asked Questions (FAQs) –
Q – What is the best time to visit Odxel Beach?
A – From October to April, you can visit Odxel Beach.
Q – Where is Odxel Beach located?
A – It is located between Dona Paula and Bambolim Beach.
Q – Which beaches are close to Odxel Beach?
A – Miramar Beach and Dona Paula Beach are closest to Odxel Beach.
Q – How far is Odxel Beach from Panaji?
Q – Is swimming safe at Odxel Beach?
A – Yes, but only experienced ones should go for swimming at Odxel Beach.
Also Check: bye bye goa quotes