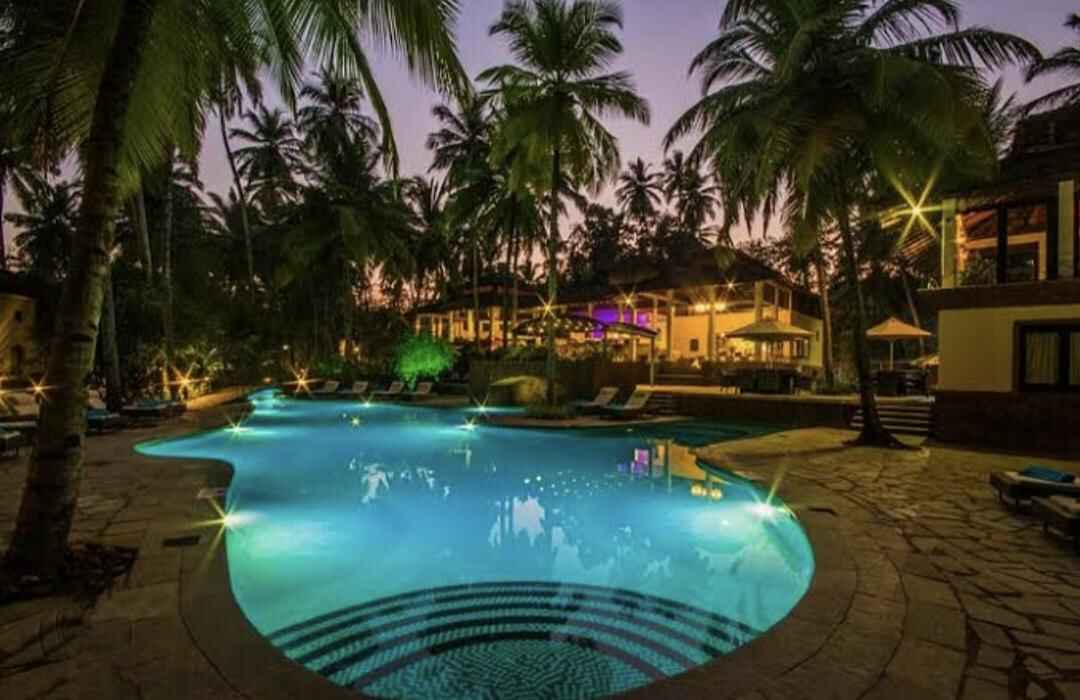 Hansa Beach is one of the cleanest South Goan beaches. Though the beach covers a small area, its surreal beauty leaves an indelible imprint on the visitors. Due to being close to the Naval area and frequently visited by Navy units, the shoreline of Hansa Beach stay tidy throughout the day.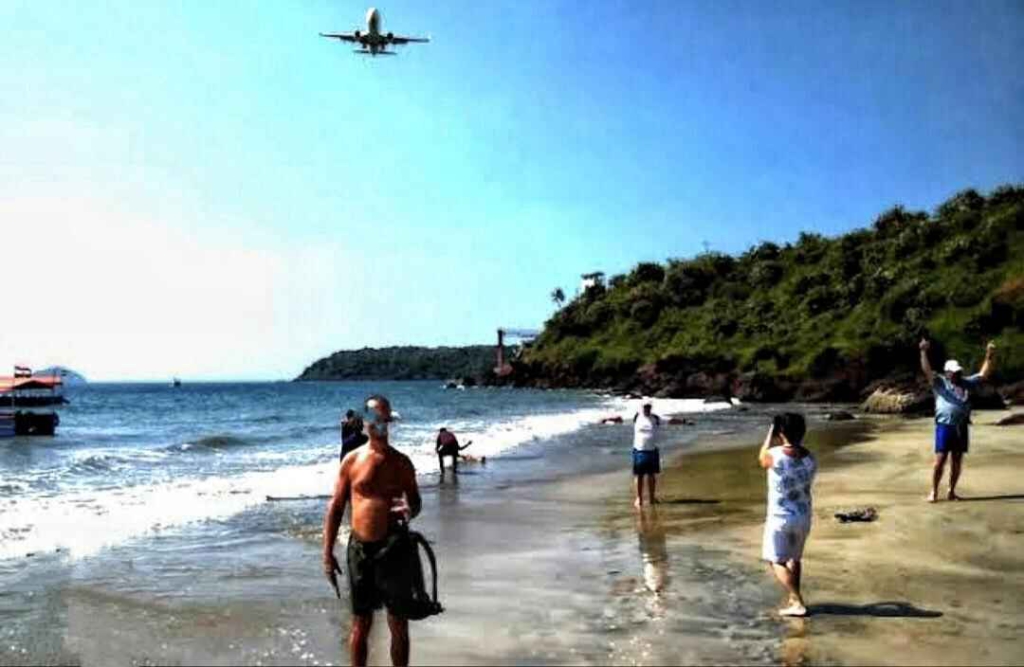 A major part of Hansa Beach falls under the authority of the Indian Naval Command and only the families of Navy personnel can visit there. However, a small portion of Hansa Beach always hails the local public and tourists to spend an amazing vacation here.
The beach is also popular among visitors for its clean water. A safe swimming session in the turquoise water and gentle waves of Hansa Beach must be an inclusion in your itinerary.
Highlights of Hansa Beach
Witness the naval patrolling on the clean Hansa Beach.
Visit the nearest Bogmalo village for knowing the culture and people of Goa.
Capture the hopping dolphins in the crystal clear water of Hansa Beach.
Don't miss including the rocky part of Hansa Beach in your catchy photographs.
The mesmerizing sunsets at Hansa Beach are unskippable.
How to reach Hansa Beach?
Hansa Beach is located in South Goa and is close to several prominent locations in Goa. Its distance from Panjim Kadamba Bus Stand is 29 kilometers. You can take bus transportation services and access Hansa Beach in nearly 40-50 minutes.
Visitors can also take the short route of 6.8 kilometers from Vasco Da Gama railway station to reach Hansa Beach. It will take only 15 minutes to cover the distance between the beach area and the railway station. Car, bike, taxi and cab services are easily available here for local transportation. You can also hire rented vehicles for visiting this beach.
What is the best time to plan a vacation at Hansa Beach?
This stunning gateway of unparalleled beauty blooms like a paradise from October to May month. The weather conditions become quite favorable for beach lovers during this time. During this time, visitors come here to watch migratory birds. The sky becomes the palate of diverse vibrant colors like orange and pink. You can pick a spot to sit on the beach and spend hours gazing at the surreal beauty of nature.
A perfect beach vacation comprises several aspects such as fun, adventure, party, food and sightseeing etc. Due to being occupied by Naval Unit, Hansa Beach offers very few options for adventure and fun. However, the nearby locations fulfill this shortage. Take a look at options through which you can make your Hansa Beach vacation worth memorable.
1. How to delve into an ideal vacation vibe by exploring the nearby locations of Hansa Beach?
Hansa Beach is surrounded by several ancient forts and adjacent to many pristine beach lands. Some prominent temples, churches, natural places and casinos are also located close to Hansa Beach. You can include nearby towns and villages as well in your itinerary for a distinct experience.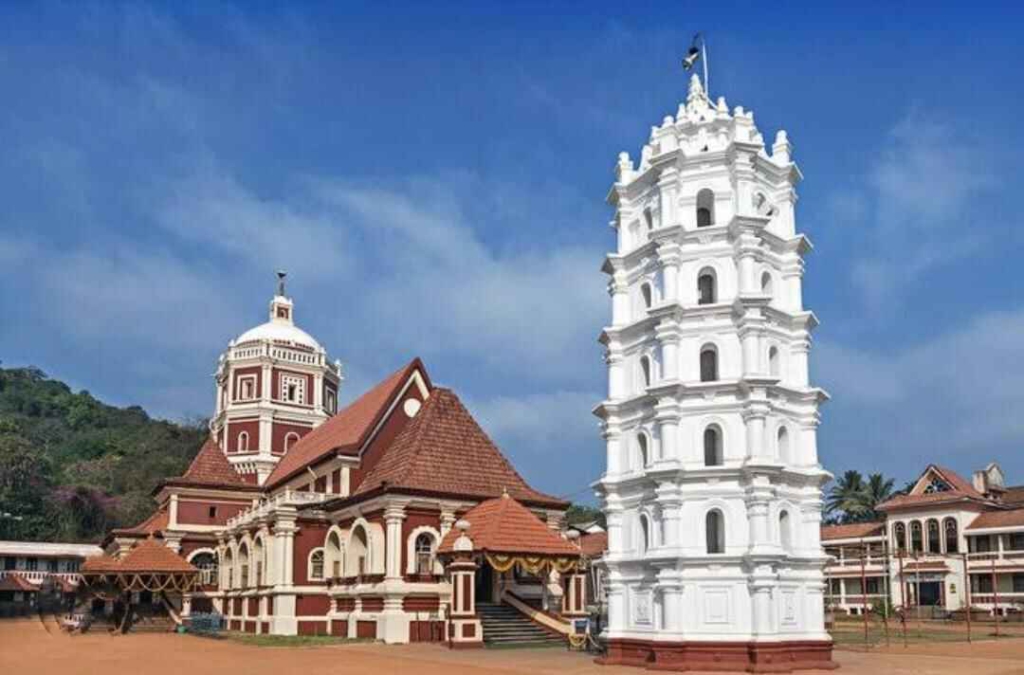 Shri Shanta Durga Temple
Considered one of the biggest temples of Goa, Shantadurga Temple is visited by hundreds of devotees. It is believed that goddess Shantadurga blesses each one with an abundance of peace and prosperous life. Devotees also address her as "Santeri". It is 7.18 kilometers far from your holiday location Hansa Beach and can be accessed within 25-30 minutes.
St. Francis Church
Depicting the marvelous architecture of the Portuguese era, this church draws the attention of catholic devotees as well as history buffs in large numbers. Apart from holding an architectural splendor, the relics of St. Francis Xavier are also present here as a treasure. It is 9.2 kilometers far from Hansa Beach.
Indian Naval Aviation Museum
This one is a must-visit location near Hansa Beach. The Museum gracefully depicts the evolution of Naval units in the wellness of the nation, India. The building is divided into two major parts, an outside exhibition and an indoor gallery. Visitors love to witness the history of the Indian Navy through fighter jets and ammunition and also enjoy the frequently organized exhibitions here. You can reach the place just by covering walking distance. The ticket prices for adults are 100 rs while kids need to pay 50 rupees as an entry fee.
Splashdown Water Park
All the fun and adventure are available here at this one-stop destination. The waterpark is prominent for its fun frolic water and dry ride options. You can spend a great time with family and friends. Kids can also pick the least risky yet engaging rides and water activities for themselves. It is nearly 44 kilometers away from Hansa Beach. A duration of 1 hour will be required to access this fun paradise.
Chapora Fort
Due to being a secluded location, Hansa Beach falls far from several visiting locations and Chapora Fort is one of them. It is 49 km apart from the beach area but the views during the journey and after reaching the fort will blow your mind. Also known as "Town Of Shah" this historical jewel speaks volumes about the rich past of Goa. The bird-eye view from the ruins of the fort is worth capturing through your lenses as well as in your memories.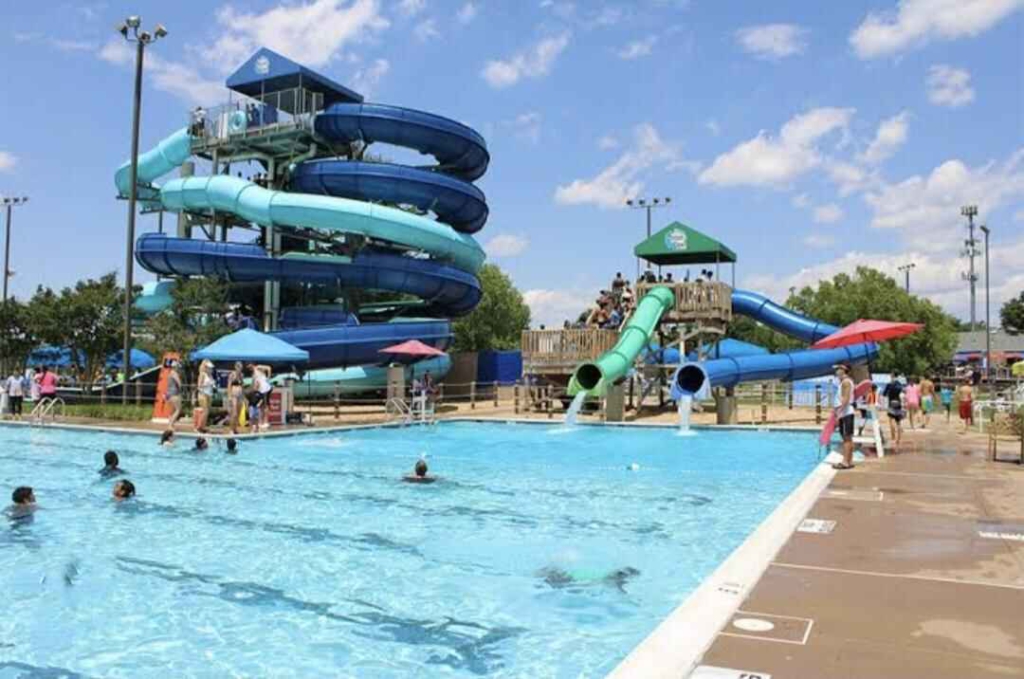 Hoping from Hansa Beach to other beach lands like Hollant Beach, Bogmalo Beach, Calangute and Anjuna can also be a part of your holiday.
2. What are the options for water enthusiasts at Hansa Beach?
Visitors find very few choices at Hansa Beach when it comes to thrill-filled water activities or rides. However, the simple water rides on the calm water surface will offer you some pleasant and indelible moments to live.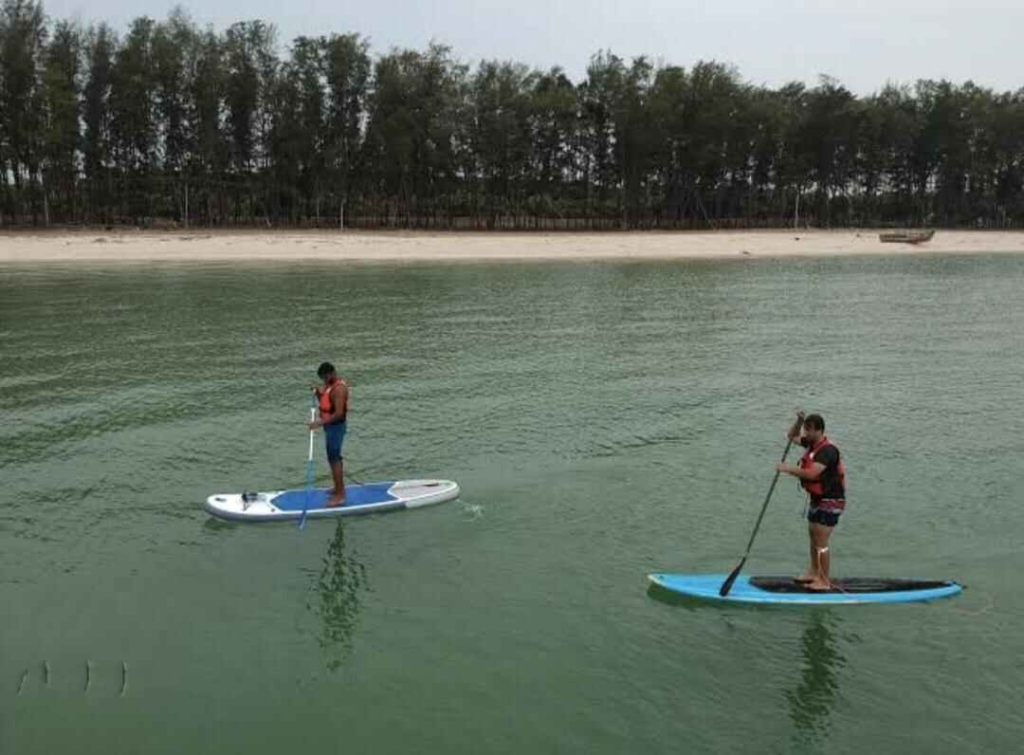 Stand-up paddling
An extremely satisfying adventurous activity available at Hansa Beach is Stand Up paddling. You will gradually learn to stand straight on your paddle board after falling several times in the water. It will be great fun to balance on the paddleboard. You need not worry as the operators provide life jackets before going into the mid-water area.
Kayaking
Simply sitting on a kayak and smoothly moving it forward through paddles will be a wonderful experience for you. If you want to make your riding duration more pleasurable, choose the evening times for kayaking and witness the sinking sun into seawater.
Banana Boat Ride –
This fun ride is perfect for children and faint-hearted people. Very similar to a banana shape, these boats give sudden bumps to the riders when it comes into contact with speedy water waves. A group of 6 people enjoy a banana ride all together.
Jet Skiing –
On the adventure platter of Hansa Beach, jet skiing holds a significant position, especially for adventure freaks. If you know how to balance well on speedy movable equipment, do not skip this thrilling water ride option. If you are naive, ask a trained rider to accompany you during the skiing. It offers you the opportunity of zooming into the sea waves at a notable speed.
Besides these thrilling water sports, visitors show a great inclination towards Dolphin Watching sessions. The clean water of Hansa Beach is home to this mesmeric marine creature and witnessing them leaping or diving into water is a pure delight.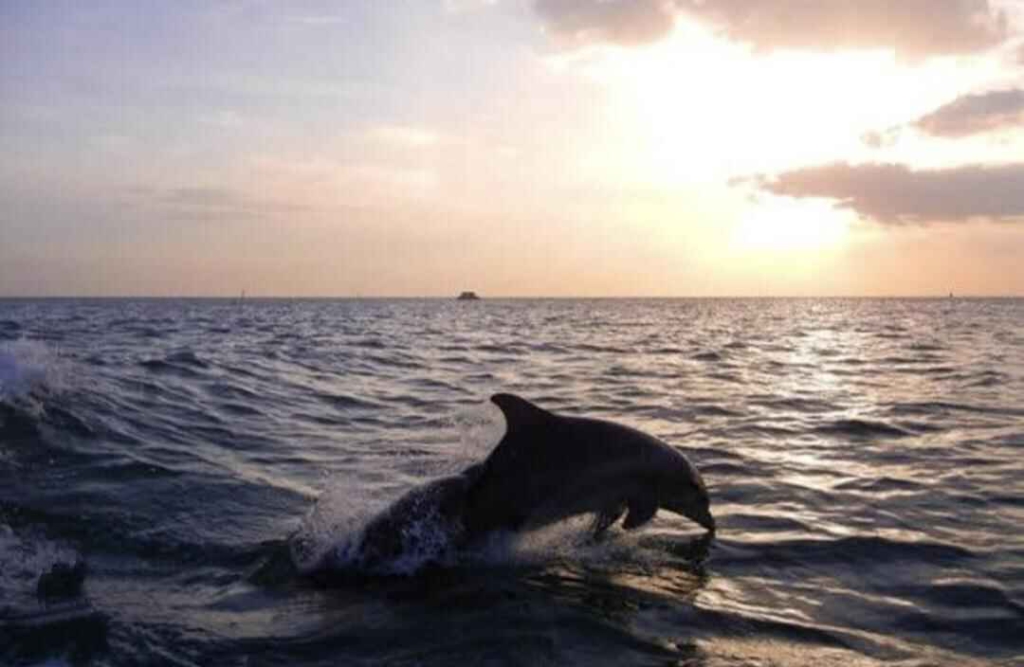 The water sports service providers available at Hansa Beach are highly skilled and certified for these adventure services. You can make your experience even more pleasurable by following the given guidelines and utilizing the safety tools.
3. Where to go for unleashing your shopaholic near the Hansa Beach area?
Visitors find Hansa Beach encapsulated by scores of colorful stalls selling all desirable objects which they want to carry with them as a treasurable memory. Fresh fruits, vegetables, seafood, grocery and other decent souvenirs are also present here at pocket-friendly rates.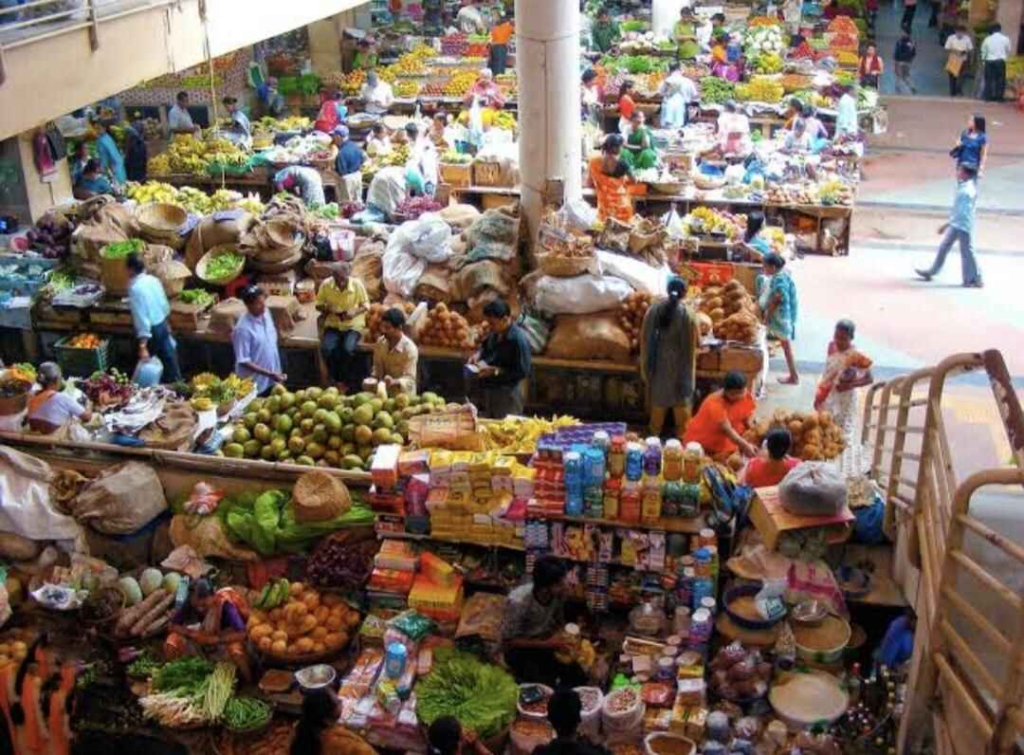 Vasco Municipal Market–
The crowded and narrow lanes of this bustling market are full of shopping stalls. Clothes, footwear, decorative items, daily need items, groceries, poultry, seafood, fresh fruits, vegetables and metal items etc. Several food stalls are also here to cater to your appetite. The market area is just 5.7 kilometers far from Hansa Beach and it takes only 15 minutes to reach here.
Fish Market of Vasco –
This is one of the biggest hubs of Goan fishermen. You can simply park your vehicle near the market and explore the whole market for buying a variety of seafood and fish at reasonable rates. The stalls are well organized here and visitors praise the business of the area. But for a good deal, you need to hone your bargaining skills. The distance of Vasco fish market is 5.8 kilometers from Hansa Beach.
Vasco Fruit Market –
The tantalizing aroma of seasonal fruits will revive you entirely right after placing your steps in the market area. Along with the local fruits and vegetables, you can buy imported items as well. The quality of edibles will be top notch but the prices will vary according to the season. This place is 6.3 kilometers distant from the Hansa Beach area.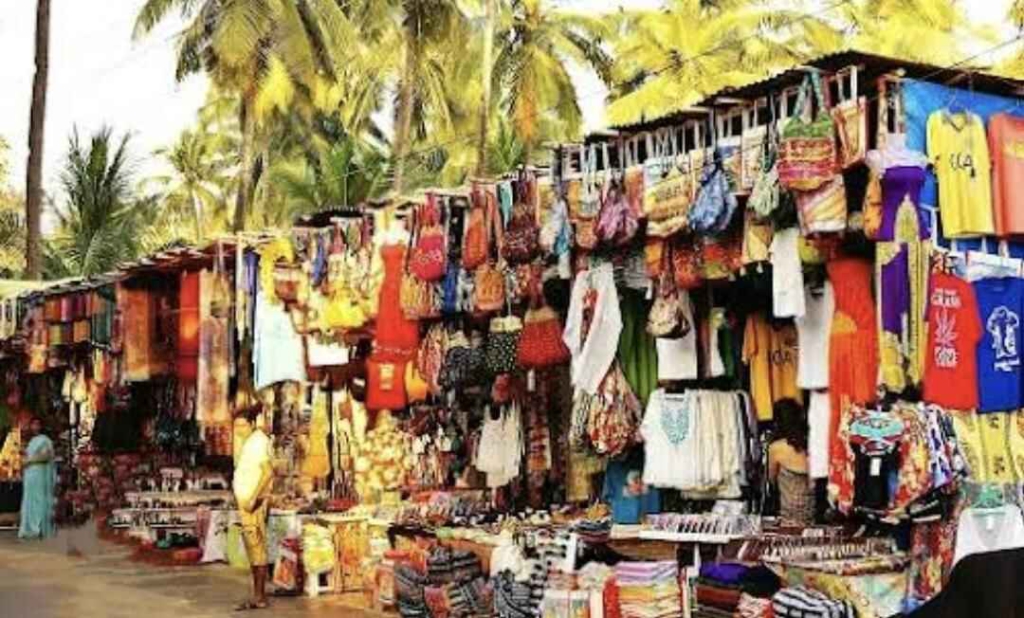 Exploring these markets will give you an opportunity of knowing the locals, authentic Goan food, local language, culture and other traditions of Goa closely.
4. What are the options to plunge into the nightlife near Hansa Beach?
The visitors who keep themselves in the category of wild party animals must hit the floors of the below-listed bars, restaurants, pubs and nightclubs adjacent to Hansa Beach.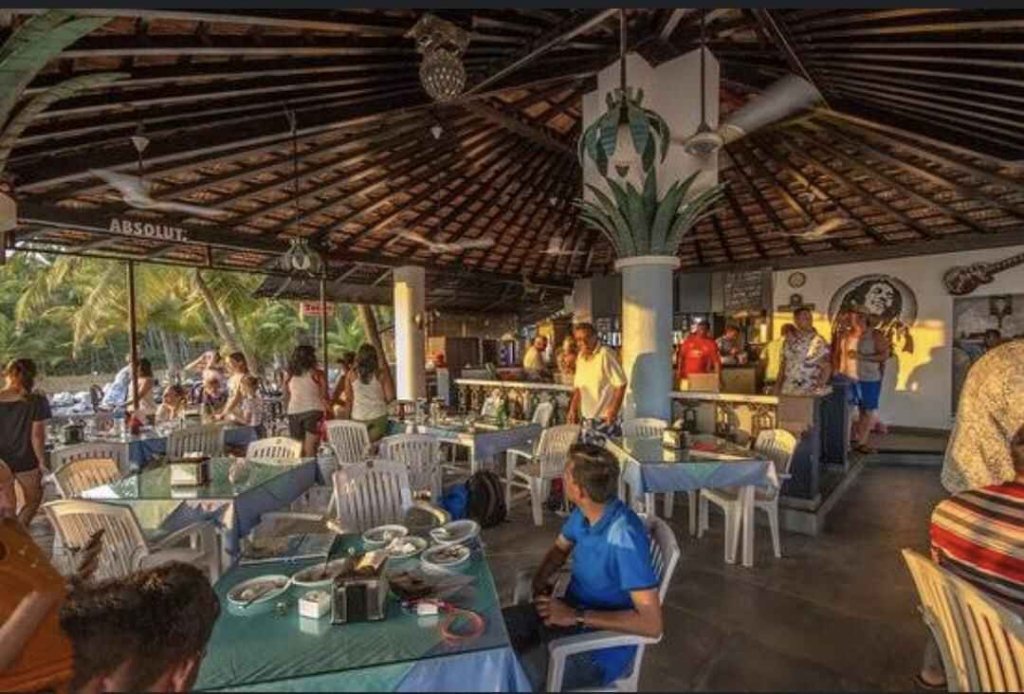 Joet's Bar & Restaurant–
Due to being located on the beach the fun lovers visits here frequently in notable numbers. The pleasant weather adds more spark to your party, fun, food and dining pleasures. Perfect lighting, great ambiance, catchy setup for outside sitting and variety of food with complimentary drinks tempts the visitors heavily. You can access this place in 10-15 minutes as it is located 4.4 kilometers away from the Hansa Beach area.
Disco Bar
– 5.5 kilometers away from Hansa Beach, Disco Bar is a small party location with an impactful drink range, food options and music. You can find here the local popular drink "Urak" and an extended range of food options like beef Xacuti, beef tongue, lepo masala, pork chili and beef steak etc. For two people your budget should lie between 400-600 rupees.
John's Seagull–
This place is located in Bogmalo Beach (4.1 km) away from Hansa Beach and is widely known for live music performances. Apart from that, the lovely ambiance, diverse cuisines (Goan, Chinese, North Indian and Multicuisines), soups and drinks compel the people to spend a great time here. You can also choose an outside sitting during the evenings or nights for an even more pleasant beach experience.
Good Times bar –
This small place is a whole package of fun and food for visitors. Due to being a compact-sized bar and food outlet, you can send here good 30-40 minutes. Refreshing drinks are complimentary with the food while the alcohol is chargeable. The distance from Hansa Beach is 6.8 kilometers away.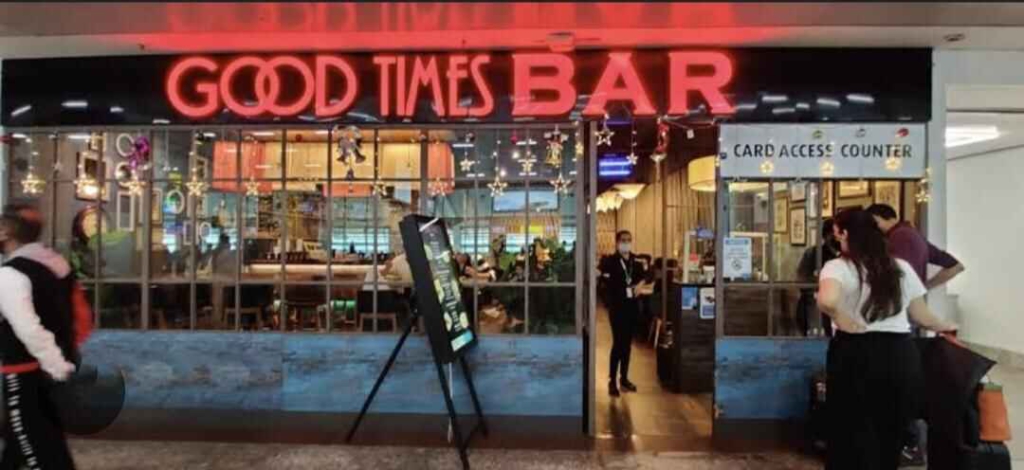 5. The limited yet pleasing beach shacks located near Hansa Beach –
Very few beach shacks are present in nearby areas like Mormugao, Vasco Da Gama and Bogmalo. But these places win the heart of shack visitors through the praiseworthy hospitality, beach location, seafood options, music and live event organizations etc.
Take a look at the prominent beach shacks present near Hansa Beach.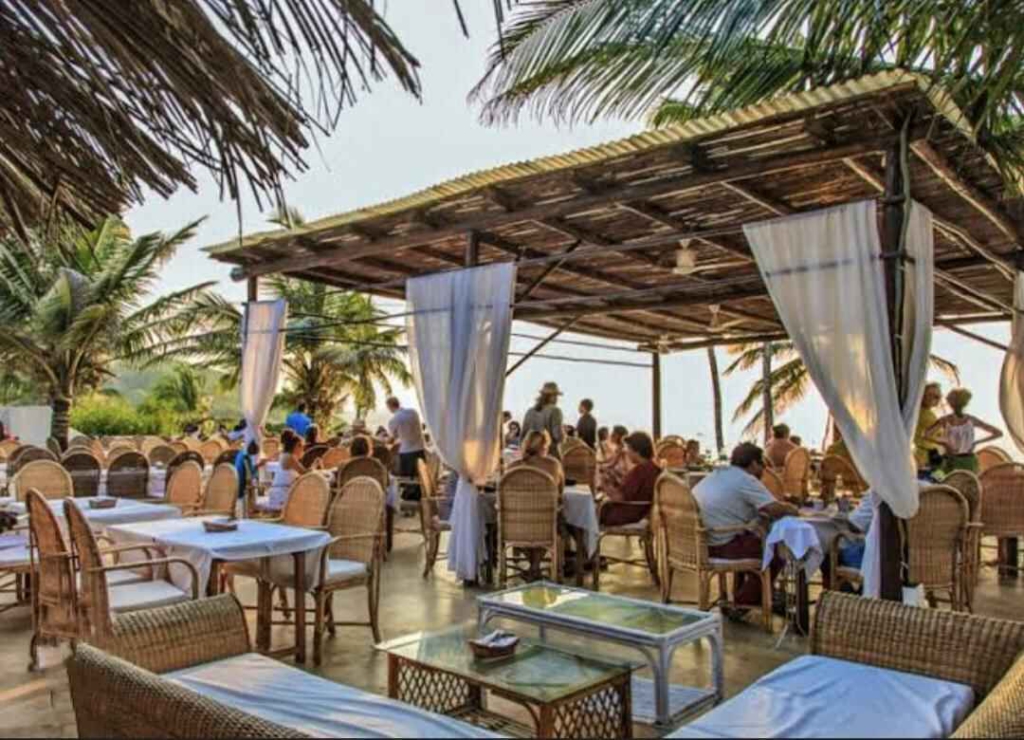 Anna Beach Shack
This phenomenal place offers everything that a shack lover demands. Sitting inside an amazing property, looking at the playful sea waves and relishing the best seafood or other delicacies along with sipping your favorite drink, this thought must have tickled your taste buds. Anna Beach shack is only 5 kilometers distant from Hansa Beach. You can access the place within 15 to 20 minutes.
Summer Sandy Beach Shack
The shack is nestled on the pristine beach area of Vasco and provides a fine blend of relaxation, adventure, fun, food, music and drinks etc. You can choose some thrilling water sports rides here and then treat yourself to a great combination of food & drink. It is 5.1 kilometers far from Hansa Beach which is accessible in 15-20 minutes.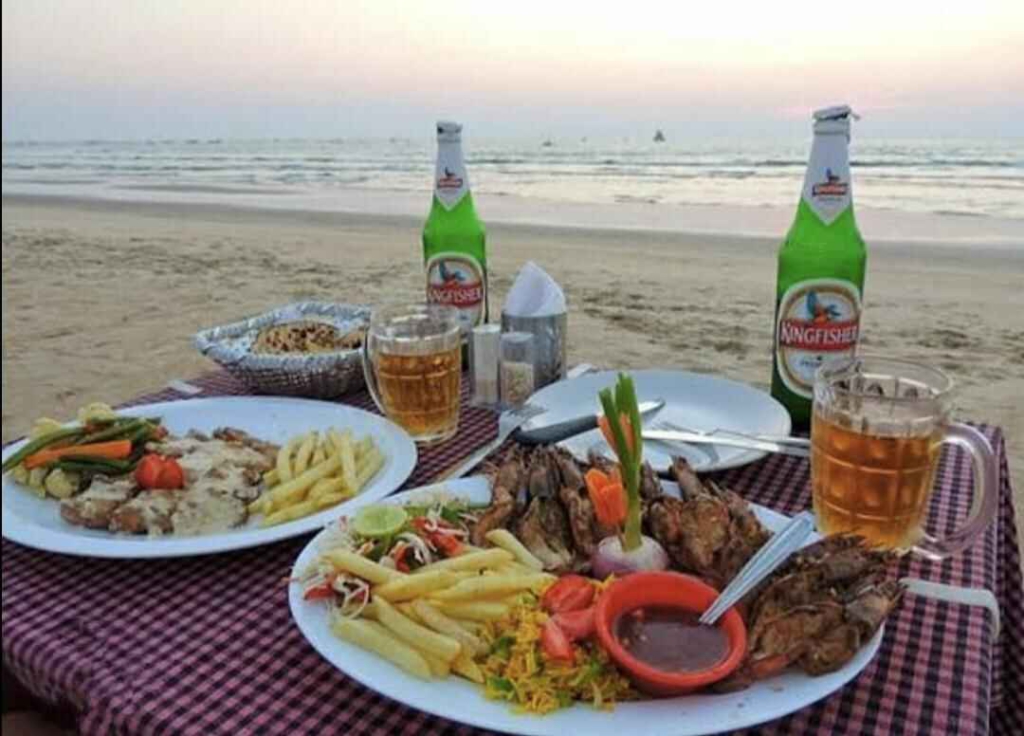 6. What are the best accommodations near Hansa Beach for a cozy stay?
A memorable beach vacation consists of an integral part, the stay property near the destination location of the holiday. Whether you are willing to spend a lavish stay or seek places for economical accommodation or villas nearby Hansa Beach locations offer you a plethora of choices.
Have a look at what will fit perfectly in your itinerary.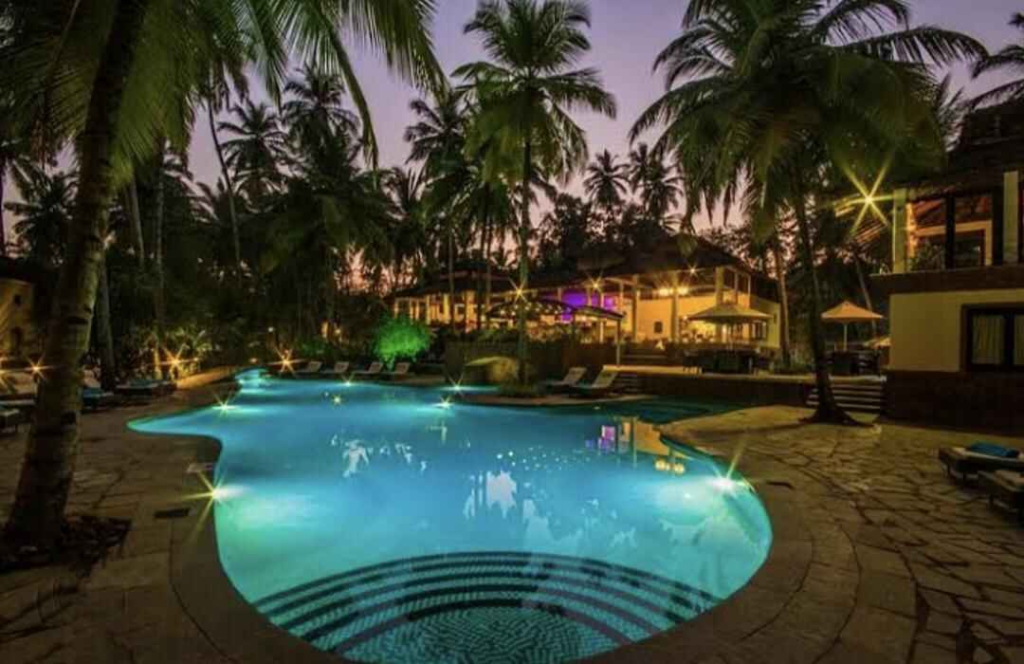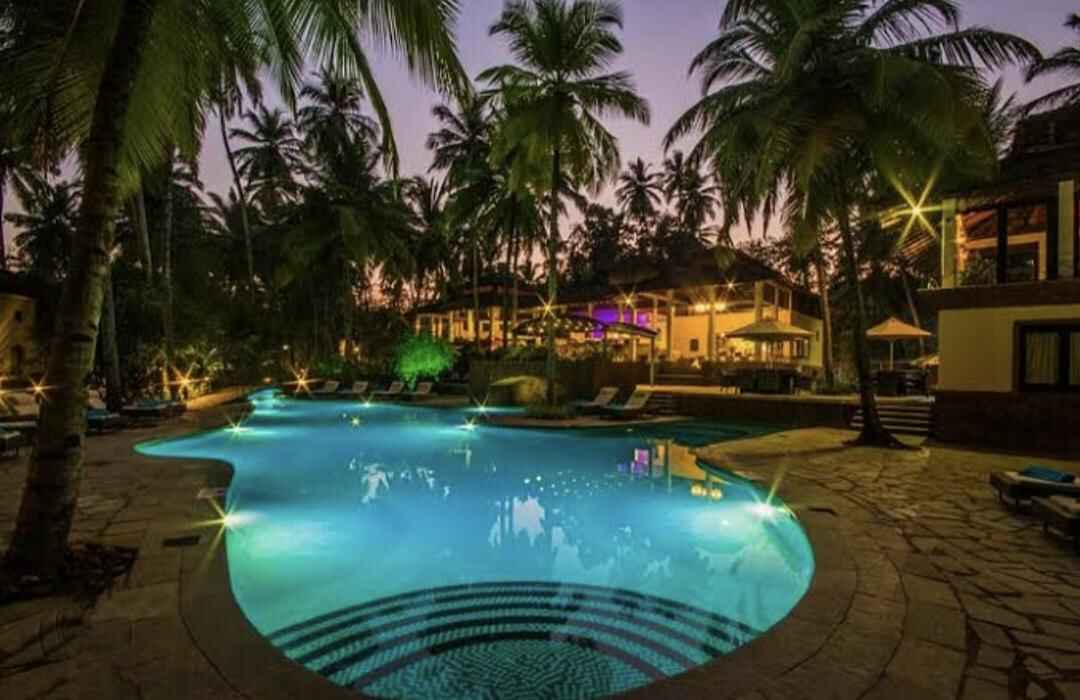 Coconut creek resort
The property is located near the beach on a former coconut plantation area. The elegant rooms are equipped with all amenities such as wifi facilities, a minibar, ac, tables and fans etc. Other luxury services available here are a gaming area, pool, free parking, timely breakfast and yoga & spa facilities. 24-hour front desk services and easy accessibility to the beach area enhance the worth of this stay property.
Sea View Resort
This resort is very close to the Naval Aviation Museum. The amenities available here are free wifi, spacious ac rooms, a parking facility, laundry services and balcony sitting etc. Distance from Hansa Beach is just 3.3 kilometers and visitors can access the property within a walking period.
Sarita Guest House
This seafront accommodation place is quite popular among Hansa Beach visitors as its distance from the beach is just 4 kilometers. Free parking, free wifi, great food options at the restaurant, sea-facing rooms with fully air-conditioned facilities and prompt service deliveries by the cordial staff members of Sarita Guest House make your stay worth memorable.
Besides these very prominent places, other classy hotels fall in the close circumference of Hansa Beach. If you have planned an expensive beach vacation go for the below listed options.
Fenicia Riverside Resort
ITC grand
Holiday Inn Resort Goa
Mariaariose " melody of the sea"
Taj Exotica
Castle House
Tips for travelers to make your Hansa Beach holiday pleasurable –
As it is explained above, Hansa Beach belongs to the authority of the Naval Unit, you must avoid littering and making it untidy else strict actions will be taken.
Do not consume alcohol before diving into the seawater for swimming or a water ride.
Do not miss keeping cotton clothes, sunscreen, hat and flip-flops to enjoy the beach vibe up to its maximum extent.
Frequently Asked Questions (FAQs)
 Q –  What are mediums to reach Hansa Beach easily available?
A – Bus, Cab, bike, ferry and rented transportation facilities.
Q – What is the distance between Panjim and Hansa Beach?
A – The capital of Goa is 31 kilometers away from Hansa Beach.
Q – Is it safe to visit Hansa Beach?
A – Yes, it is safe for visiting and swimming.
Q – What Are The Best Months To Visit At Hansa Beach?
Also check: goa travel quotes