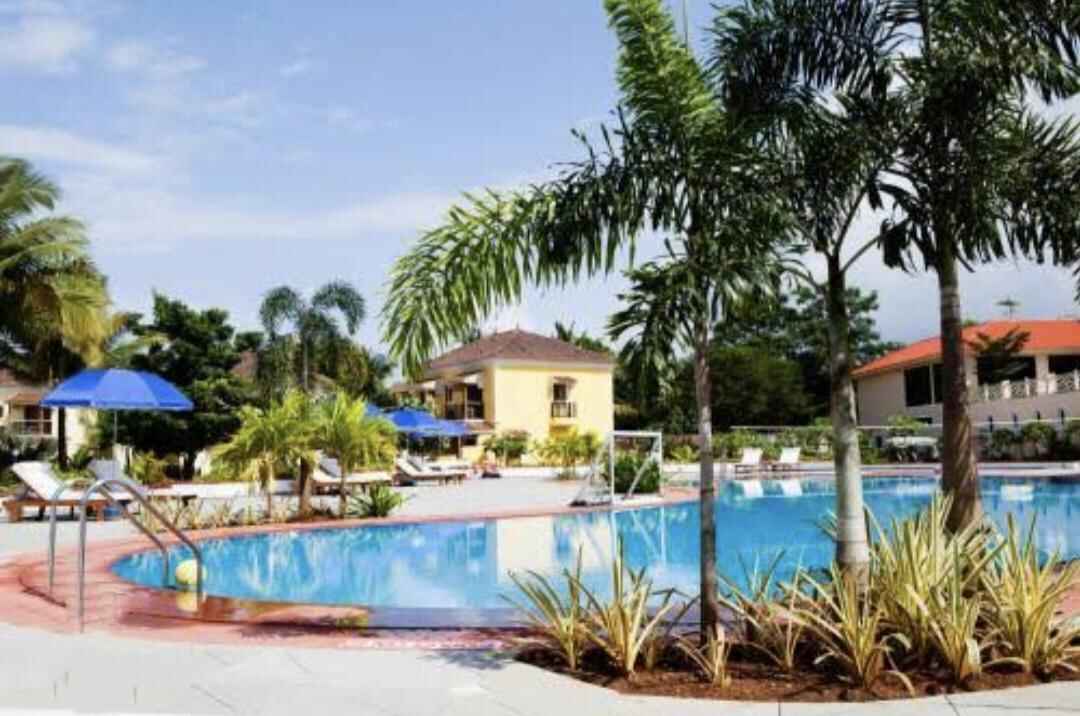 Undeniably nature has encapsulated Cavelossim Beach in the most spellbinding way. This mysterious beach town is enclosed by the arresting beauty of the Arabian Sea and Sal River. The black rocks, white sand and tidy shoreline of Cavelossim Beach make it ideal for strolling, a long walk, sightseeing and spending some quiet moments while sitting in the lap of nature.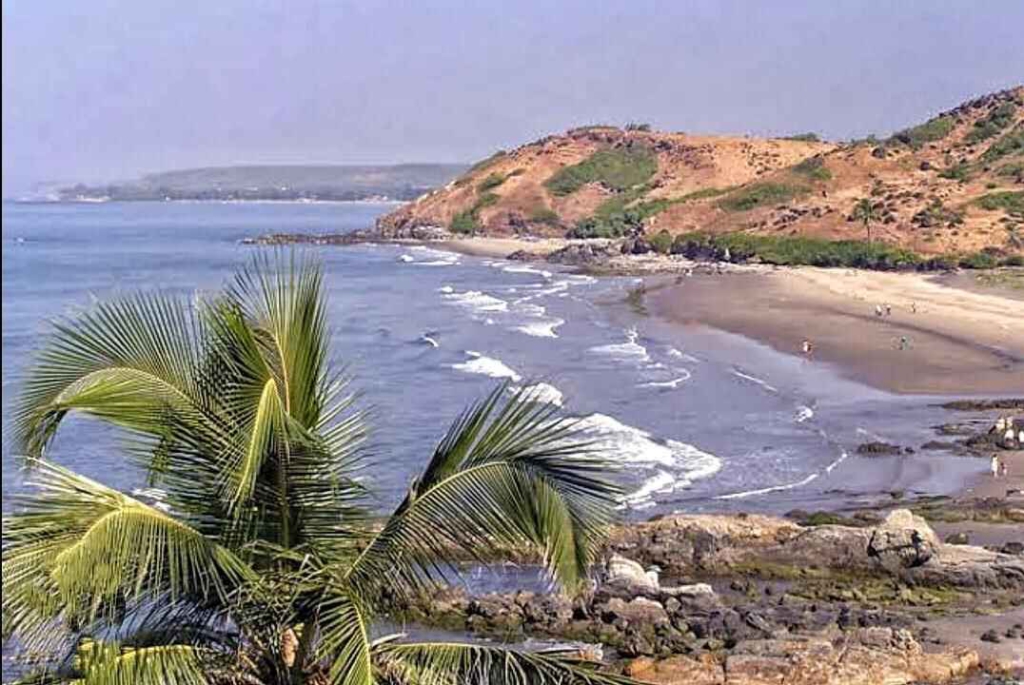 Cavelossim Beach does not fall short of any element that adds pleasure to a beach location holiday. Adventure through thrilling water sports, dining at shacks & restaurants, uncanny fun vibe of nightlife at clubs & pubs and going on a shopping spree etc, every option is open here for the visitors.
Due to being located in south Goa, Cavelossim Beach has proximity to several Churches. You can go there for seeking tranquility and positivity in abundance.
Here is a complete guide for beach lovers who are willing to plan a holiday at Cavelossim Beach.
1. What are the nearby visiting locations of Cavelossim Beach?
The splendid beauty of close-by locations of Cavelossim Beach compels each beachgoer to include them in their itinerary.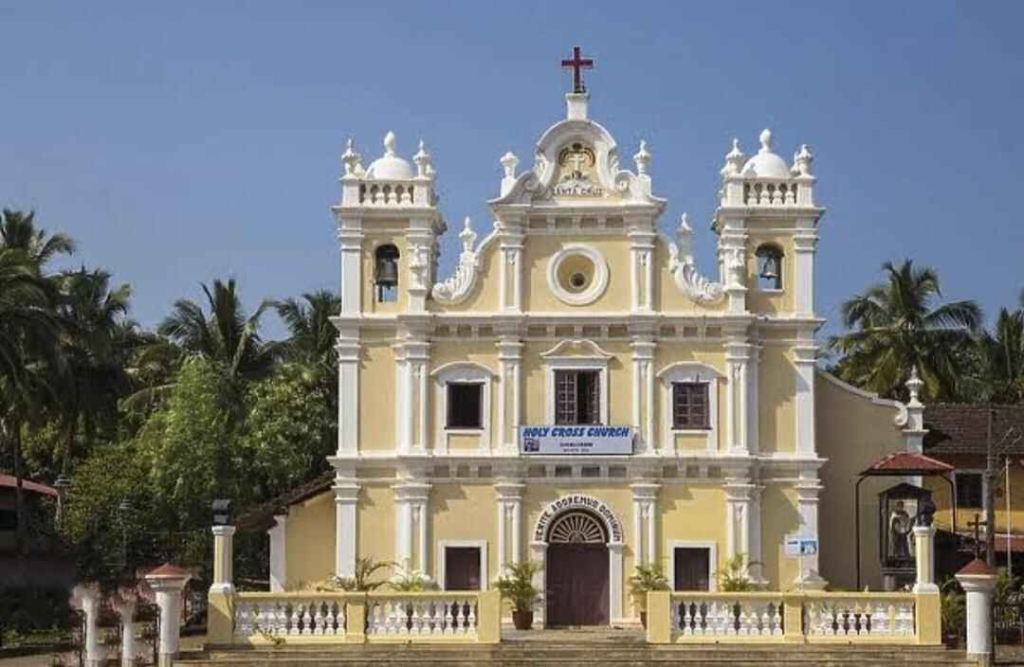 Shree Shantadurga Temple – You can begin exploring the splendid beauties near Cavelossim Beach from this spot of divinity. Shree Shantadurga Temple is just 5 kilometers away from the beach area. Having a clean canteen nestled amidst the lush greenery and hills, this place is a perfect location for drawing peace.
Cavelossim Church – The staunch followers of Christianity visit this holy place frequently. Due to being featured in several Hindi & other films, this church holds a place among the prime attractions of the Cavelossim area. You can access this place just by walking 2.2 kilometers far from Cavelossim Beach. Also popular as "Holy Cross Church", this place offers a blissful opportunity to grab serenity.
Varca – Fatrade Beach & Lady of Gloria Church – This place is a fine blend of surreal natural beauty, enticing history and religious energy. The church is in the mid of the market area. Visitors love to pray here and explore the market, shacks and beach views. It is 8.3 kilometers far from the Cavelossim Beach area.
Betul Lighthouse – While visiting this hidden beauty of South Goa, you can experience the fun of hiking as well. This hiking range begins from the Holy Cross Chapel and culminates at the panoramic view of Betul Lighthouse. Words are incapable to praise the beauty of Betul Beach from this point. It is 9.3 kilometers far from Cavelossim Beach.
Sandalwood Ayurvedic Clinic – Getting a soothing massage to calm your nerves is the best activity during a beach holiday. You can find this amazing place right on Cavelossim Road. Visitors are served here with diverse kinds of massages. You can also book a couple massage at Sandalwood Ayurvedic Clinic for a memorable experience.
Cabo De Rama Fort – This ancient fortress is linked with Hindu and Portuguese cultures deeply. Along with it, the fort is counted among the most scenic architectural marvel of India. A few steps away from the Cabo De Rama fort will surprise you with the pristine Arabian Sea panorama. Though the distance is slightly large from Cavelossim Beach, every minute is worth spending in covering it.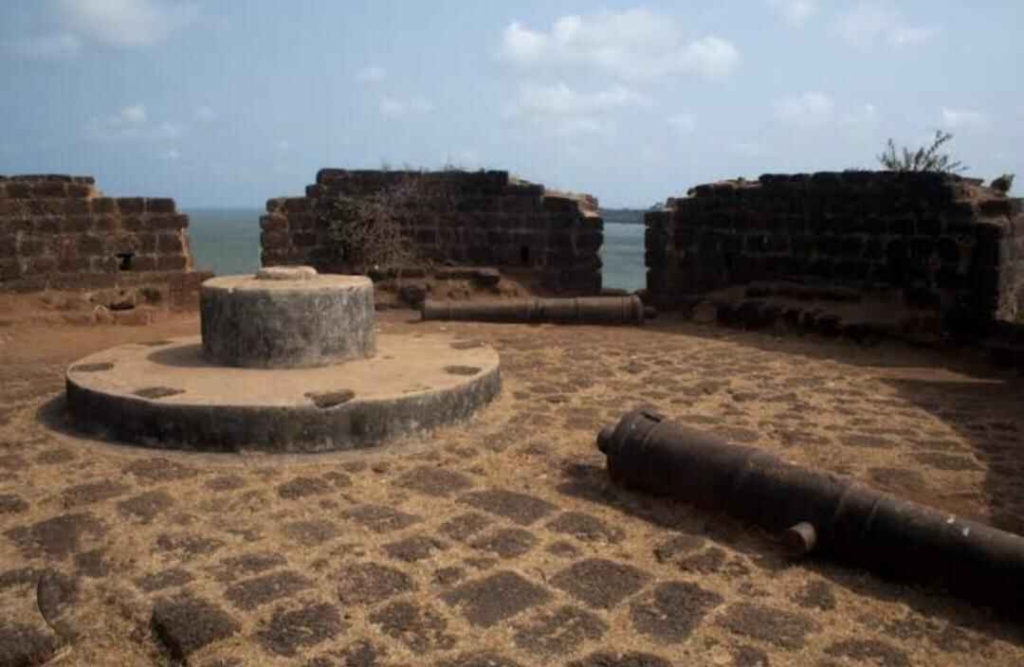 These worth-watching locations near Cavelossim Beach hold the caliber to add some most indelible chapters to your Goa Beach Holiday memories.
2. A rise to your adrenaline levels through water adventures near Cavelossim Beach –
Do not visualize Cavelossim Beach as just a hub of peace and natural beauty. The extended range of thrilling water activities available at Cavelossim Beach will add a serious dose of fun & adventure to your beach holiday plan.
Have a glimpse of the most prominent beach water sports.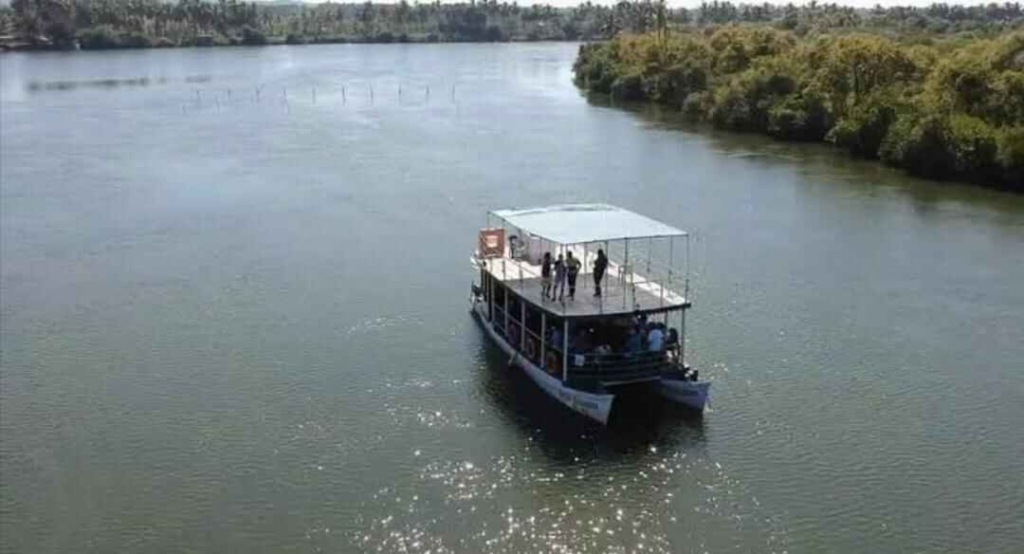 Parasailing – No other water ride can offer you a mesmerizing view of the whole of Cavelossim Beach better than Parasailing. Experiencing the melange of wind, water and sky for 15 -20 minutes fills the visitors with a plethora of refreshing vibes. Before initiating this adrenaline-rising activity, the trained riders guide you with essential information.
Windsurfing – Beginners or naive people can easily take part in this fun-packed water ride without taking any rigorous training. However, following the instructions provided by water sports operators will be mandatory. Gliding rapidly on the insane waves of the sea through a surfboard will fill you with excitement.
Banana Boat Ride – Looking for a less risky yet enticing water ride at Cavelossim Beach? The banana boat ride can exceed your expectations. Performing a beach water activity in a group enhances the pleasure up to the maximum. You will be harnessed with the safety equipment connected to the banana boat. Now you are all set to fall in the water and experience the bumps during the ride.
Jet Skiing – Though the ride is for a very short duration, it offers the most memorable moments to the riders. The charges for Jet Skiing at Cavelossim Beach range between 800-1000 rupees. Through this thrilling skiing, you will feel the splashes of seawater and the swift breeze on your face.
Cruise tour – A distinct experience served at Cavelossim Beach is a 5-hour cruise tour. Witnessing the rice paddy fields, fish farms, and mangroves of Sal River while enjoying a cruise ride catches the mind of visitors. The only advice you need before including Cruise Ride in your itinerary is, do not forget to keep your camera for capturing some beautiful shots of splendid nature. The cost of the cruise tour is nearly 850 rupees.
Fishing or Dolphin watching – If you do not want to try your hands at risky water sports, explore some inseparable water adventures available at Cavelossim Beach like fishing and dolphin watching. By spending 700-800 rupees one can revel in the pleasure of watching these amazing marine creatures for hours.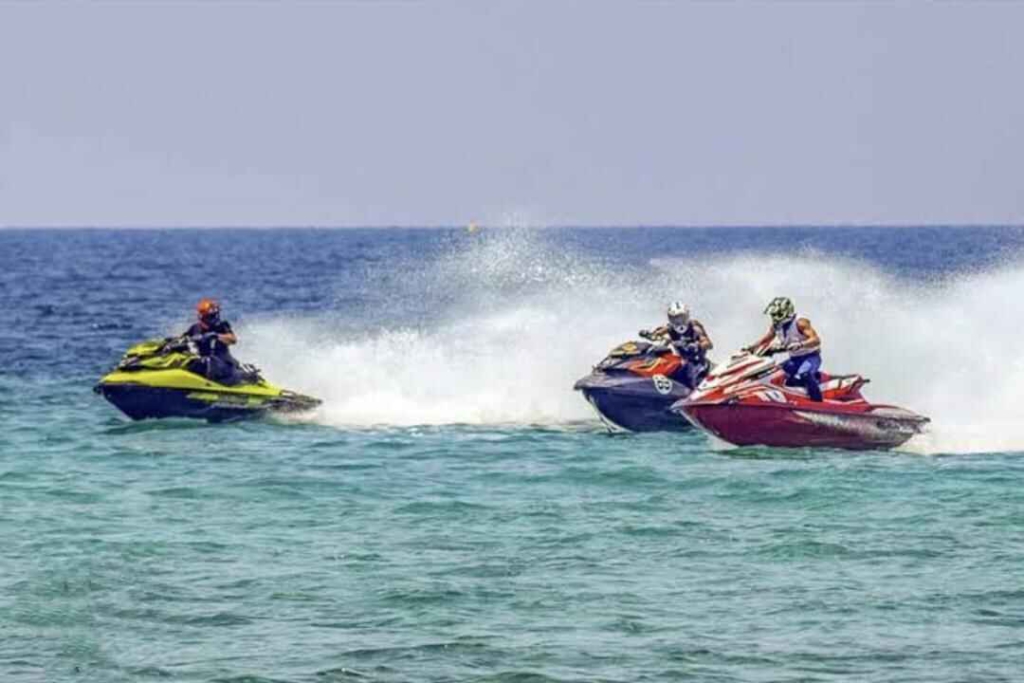 The operators available at the beach are highly skilled and certified for providing such services. Their guidance and quality tools offered by them will take you to the gateway of immense fun & adventure.
3. Where to go for a shopping spree near Cavelossim Beach?
Cavelossim Beach is dotted with several colourful markets where you can find every required stuff at logical prices. Whether it's groceries or gifts, visitors across the whole of Goa come here for buying unique materials.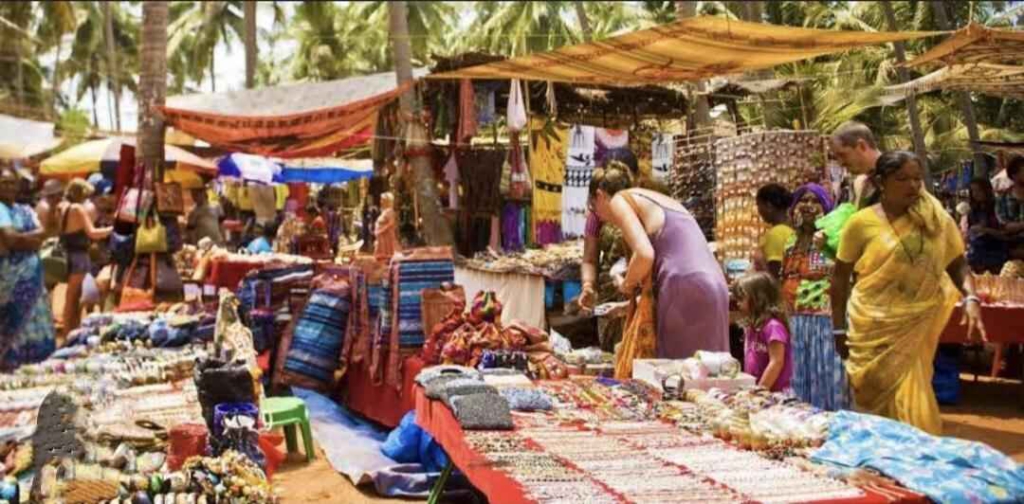 Galleria of Gem's Goa – Just 700 meters far from Cavelossim Beach, this place serves the best services to jewelry and gem buyers. The staff of this popular gem store in Goa provides every single detail about diamonds, gold & silver jewelry and other gems.
Main Street Market – This marketplace not only offers catchy clothes, souvenirs, books and groceries but also allows you to hone your bargaining skills. You will find this famous market flooded with locals and visitors, especially on the weekends. Even after being available at reasonable prices, the visitors love the quality of each item sold by shoppers.
D'Mellos Supermarket – This place holds a classical range of Liquor. Along with it, you can find all grocery items, toys for kids and some gifting items as well. The friendly staff of D'Mellos Supermarket helps the buyers in finding the right material and in billing work also.
Muxer Fish & Vegetable Market – This market will depict the authentic Goan culture of selling fruits, vegetables, fish and other seafood items. The freshness of each item lures the people the most.
Indian Tea Court – Tea lovers should not miss visiting here. Availability of diverse tea varieties, coardial behavior of shop owner and the great ambiance of the place gives an unparallel experience to the visitors here.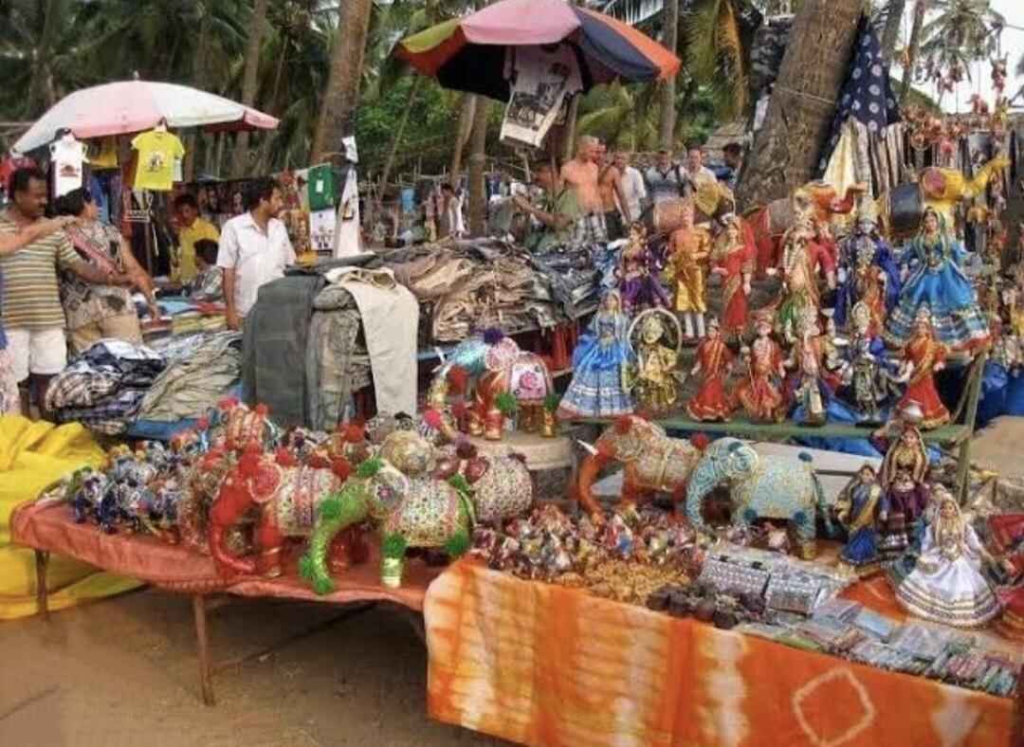 The local vendors near Cavelossim Beach also sell several edibles and souvenirs that display the pure Goan culture. You can bring some lifetime memories from this beach location in the form of objects.
4. Get included in the vibrant crowd of Cavelossim Beach's Nightlife –
Though the serene surroundings of Cavelossim Beach claim to be free from chaos, the fun of happening Nightlife is just irresistible. The clubs & lounges located near Cavelossim Beach organize some vibrant live events, dance shows and theme parties overnight.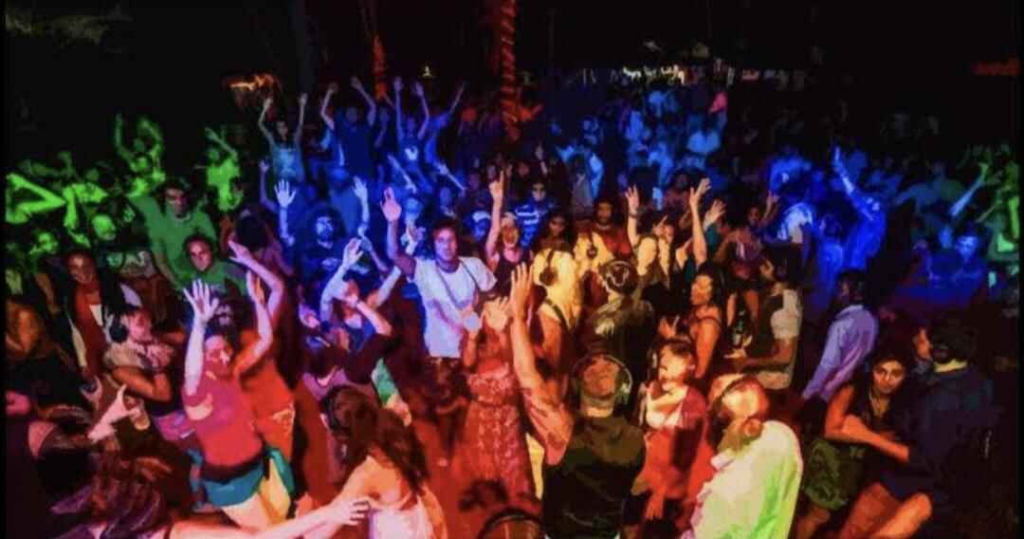 Jazz Inn – A lovely pairing of great food, fun and ambiance is served here to the visitors to make their evening and night worth memorable. The musicians give live engaging performances. Perfect lighting, specific area for smokers and great setup for clicking pictures etc tempt the guests heavily. From refreshing drinks to different cuisines, you'll find everything here to live some memorable moments.
Island's Dav Beach dining & Splash Bar – Well spending a whole night with your family at a bar & restaurant can confuse you a lil bit. But this place offers you & your family a whole lot of things to live some vivid moments. Cocktails, drinks, music and food of this place are just hard to forget for the guests after one visit. You can stay here right after sunset till the sunrise of the next day.
Mike's Place – Trust us, the wide dance floor, DJ and party anthems played here will win your heart if you belong to the group of insane dance lovers. The location of this party place is near the Sal River which makes your evenings even more beautiful. Apart from that, the variety of drinks and tantalizing food items leave no stone unturned in leaving you awestruck.
Port O Call Sports Bar – Those who love to play enticing indoor games while partying must pay a visit here. The place is run by a British couple who are well-versed in hosting the guests with great food, ambiance, drinks, sports and music etc. If you want to experience a blend of Indian and international bar services, this place will be a great choice.
Tito's – One can not ignore Tito's when it comes to the electrifying nightlife of the Cavelossim Beach area. The most lucrative things visitors find here are the big dance floor and DJ playing trance & Bollywood songs. The lip-smacking delicacies and complimenting drinks or alcohol aid the visitors in fully reveling in the fun & pleasure of Goan Nightlife. Another place named Tito's is also located in Baga, Goa, you should not get confused with that.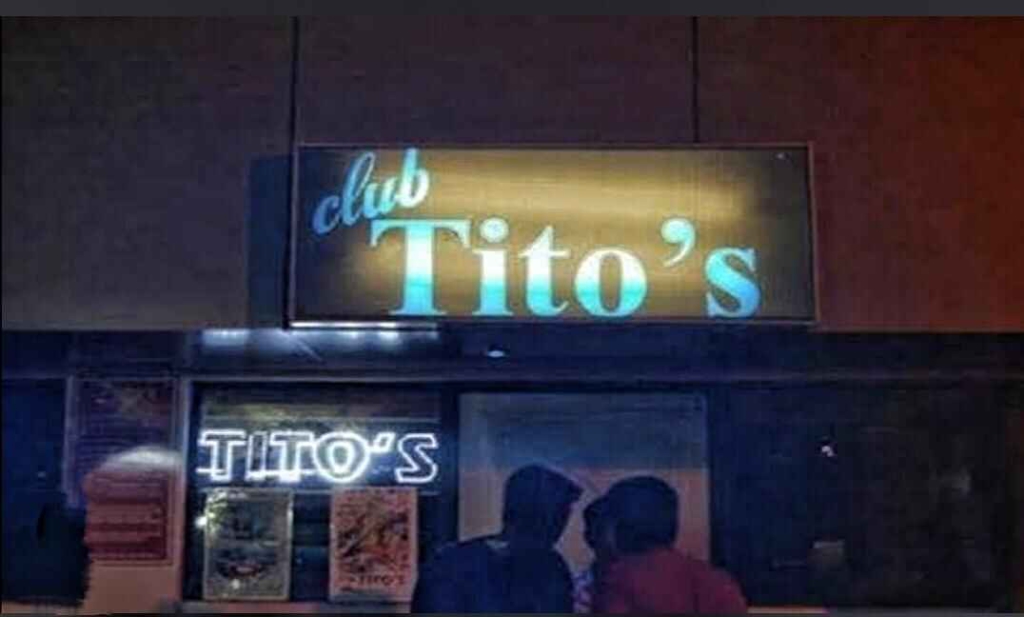 The captivating vibe of these clubs & pubs will compel you to groove the whole night and take a pause from all the hustle and bustle of routine life.
5. Explore the frequently chosen shacks near Cavelossim Beach –
Undeniably the real fun of Goan Beach is linked with the colorful shacks located right on the sandy surfaces of the beach areas. Those who find themselves drawn towards the seafood delicacies cooked with authentic Goan spices, do not skip visiting the shacks of Cavelossim Beach.
Let's know about the best Beach Shacks that fall in the vicinity of the Cavelossim Beach area.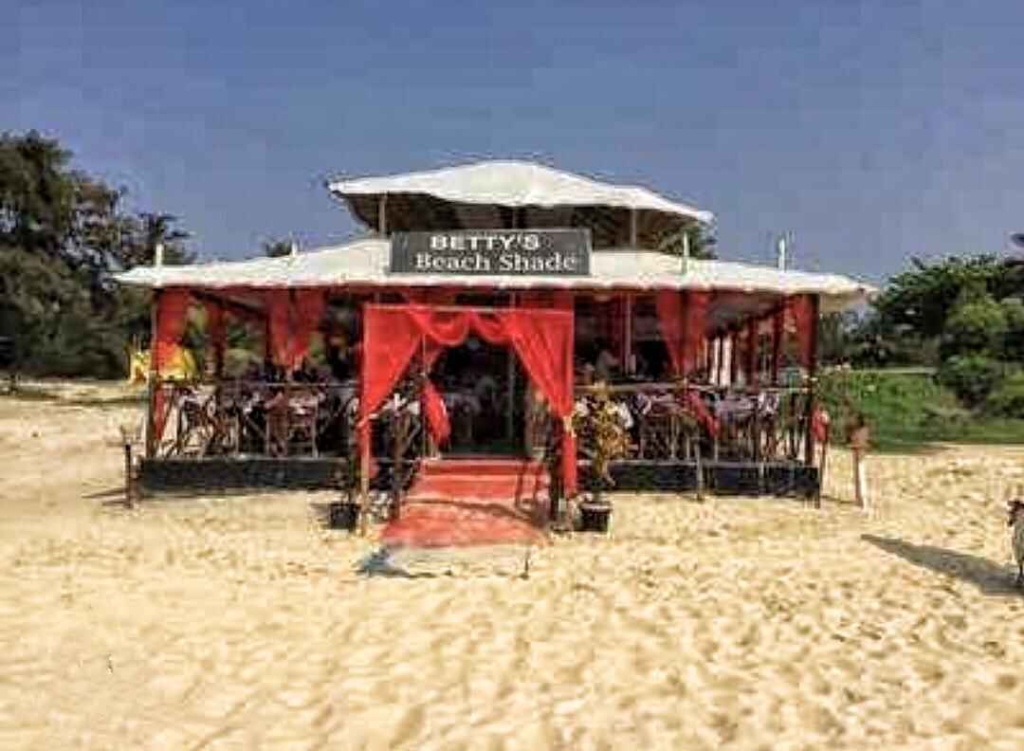 Betty's Place – The cozy ambiance of this shack gives a wholesome vibe of having fine dining at home. Located just beside the sea, this place offers you some catchy views of raw natural beauty. The Goan recipes like Prawns, Fish Curry, Crab, and other spicy edibles satiate the appetite of visitors. It takes 20 minutes to reach here from Cavelossim Beach.
Sam's Beach Shack – Great ambiance and extendedly spread tranquility of this location calm the mind of guests while relishing the best Indian and international cuisines. The ambiance of the shack and stunning beach views right in front of your seat please the guests of Sam's Beach Shack the most. Here you can savor Chicken Sizzler, Prawn Dishes, delicacies made up of Fish and numerous soups, drinks and refreshing juices.
Gaffino's – Along with providing the staying services, the beach shack is also quite popular among visitors. It is located close to Cavelossim Beach and Mobor Beach. Visitors love to cater to their taste buds with lip-smacking seafood items, drinks or beer while grooving to the loud & peppy beats played here.
Dom's Beach Shack – The location, food, and services of this place make the people feel awesome. After enjoying your seafood loaded with Goan Spices with drinks, you can take a long walk on the soft beach sand along the shoreline. Fresh fish, plenty of drink varieties, and sunset views everything available here is value for money. You can plan a candlelight dinner date here as well to romanticize some moments.
Casablanca Seafood – It is located in Ambelim Goa, 5 kilometers away from Cavelossim. The quantity of seafood served here attracts the visitors the most. You can find here all kinds of Goan Fish and other seafood items at reasonable prices.
Seaway's Beach Shack – Located on Cavelossim Beach, this place is truly a paradise for food & nature lovers. You can pick the fish of your choice and it will be served on your table after being finely cooked in Goan style. The guests view the sinking sun into the Arabian Sea while relishing their food and sipping the drinks. The polite staff of this beach shack makes your experience even more memorable.
All these above-mentioned beach shacks are the prime attractions of Cavelossim Beach. In the peak holiday season, you'll find them densely packed with visitors.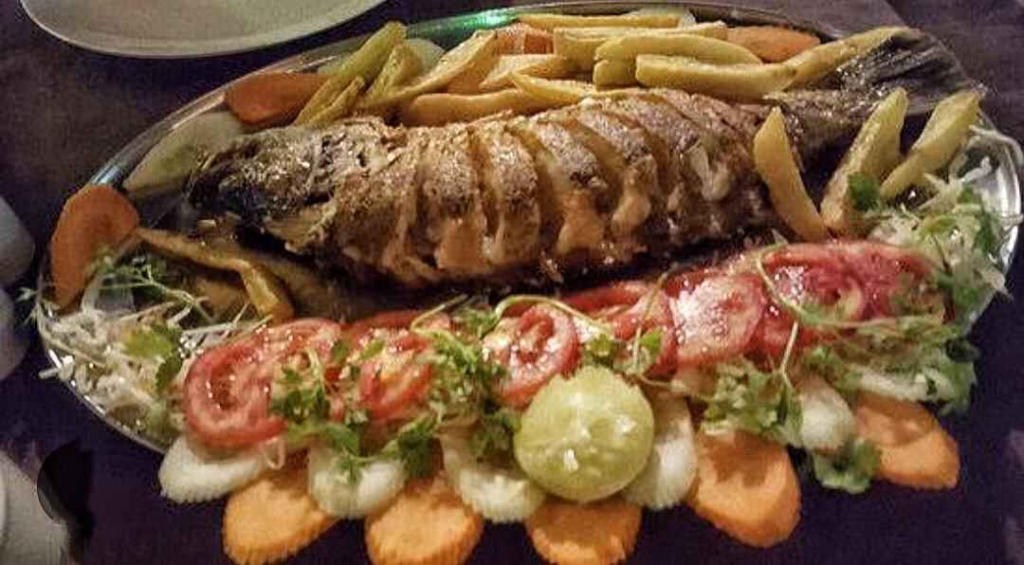 6. Best resorts /hotels/shacks near Cavelossim Beach for luxury accommodation –
To spend maximum time near the beach area where you have planned your entire vacation, you require a perfect place to stay. Cavelossim Beach is surrounded by ample stay options that fit well into your holiday budget plan. Villas near Cavelossim beach is also a good option people can go for.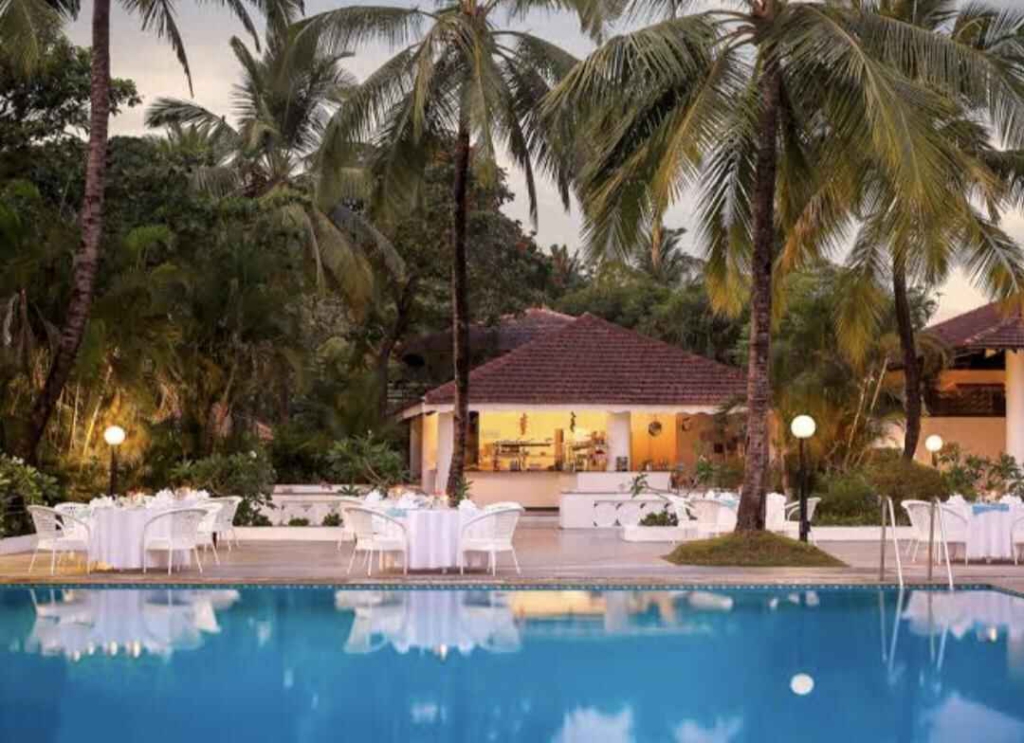 Shikara Beach Resort – While staying here, you can collect some indelible moments filled with comfort, luxury and fun. Due to being located seaside, it offers you scenic views of lush greenery and blue water. In-house parties, restaurant facilities, spacious rooms equipped will all top notch amenities and pool services make this place akin to a little paradise for the guests.
Dona Sylvia Beach Resort – No doubt this place is a synonym for luxury. A fitness center, sports area, outside pool, bicycle service to explore the resort, luxury rooms, fine dining facilities and sitting in a private balcony etc, you can experience all these under a single roof. Walking for just 5 minutes from Cavelossim Beach can help you access this mesmeric stay location.
Radisson Blue Resort – This place is frequently picked by visitors due to experiencing the sheer royalty during the stay. A spa center inside, sea-facing rooms, prompt services of staff members and a range of international cuisines draw the attention of visitors.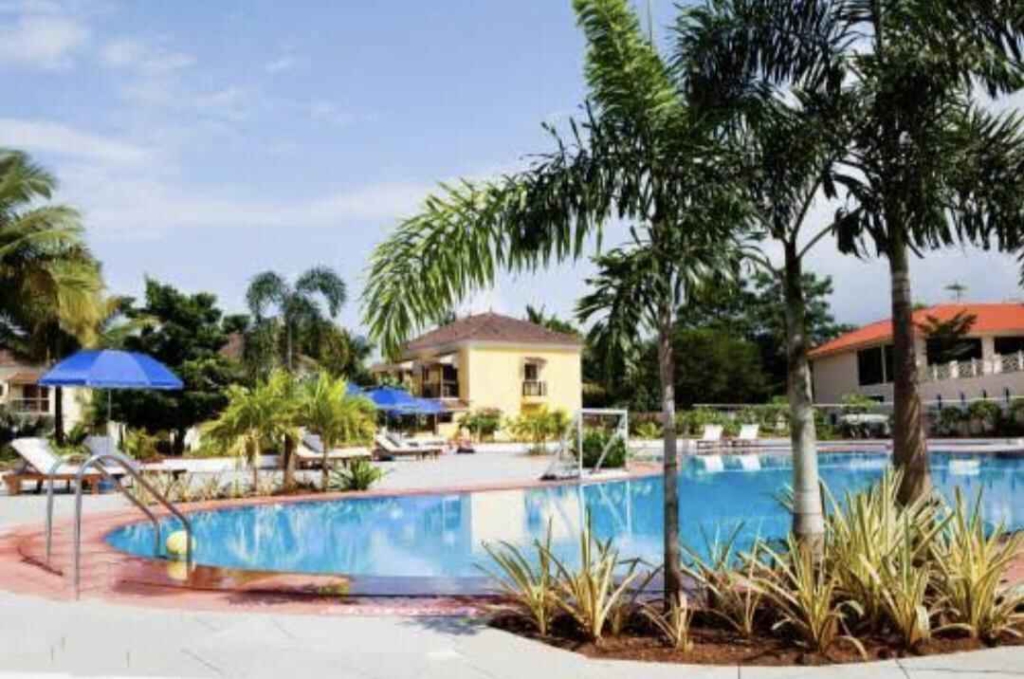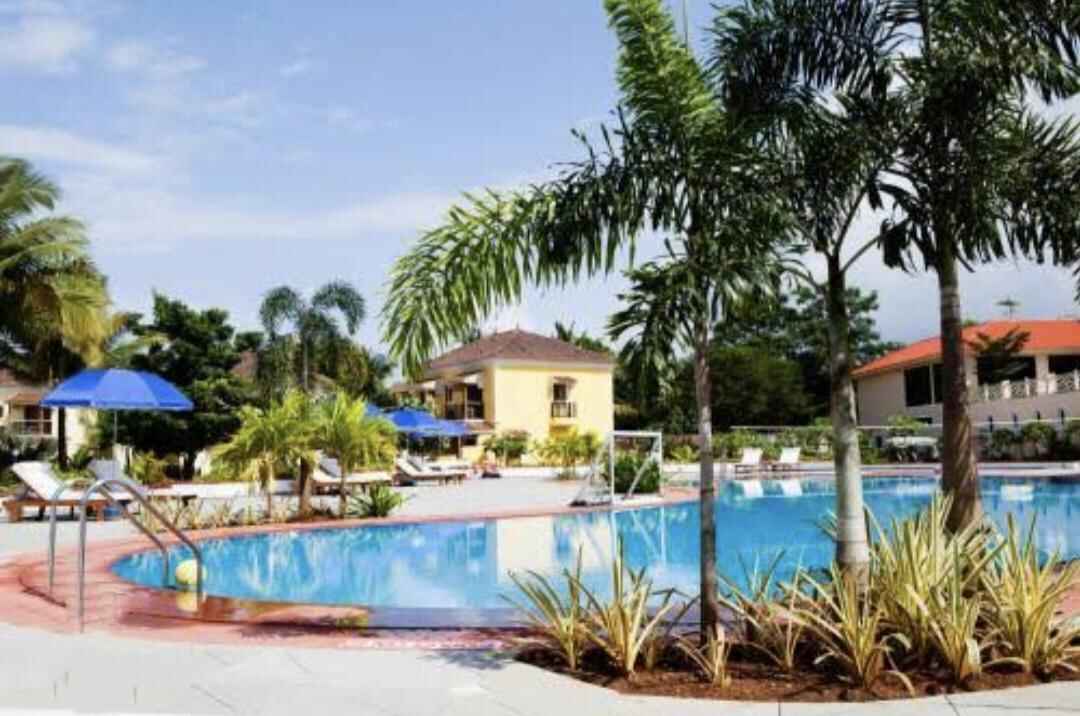 Luisa By The Sea, The Byke Old Anchor, Haathi Mahal, Dona SA Maria and Gaffino's Beach Resort etc are some other options open for beachgoers to stay near Cavelossim Beach.
Frequently Asked Questions (FAQs) –
Q – What is the best time to visit Cavelossim Beach? 
A – From November to March.
Q – What is the distance between Panaji and Cavelossim Beach? 
A – 48.2 kilometers. (One and a half an hour is needed to cover this distance.) 
Q – What to carry for a perfect holiday at Cavelossim Beach?
A – Sunscreen, extra clothes, swimsuit, hat, energy drinks & light snacks. 
Also check : south goa quotes