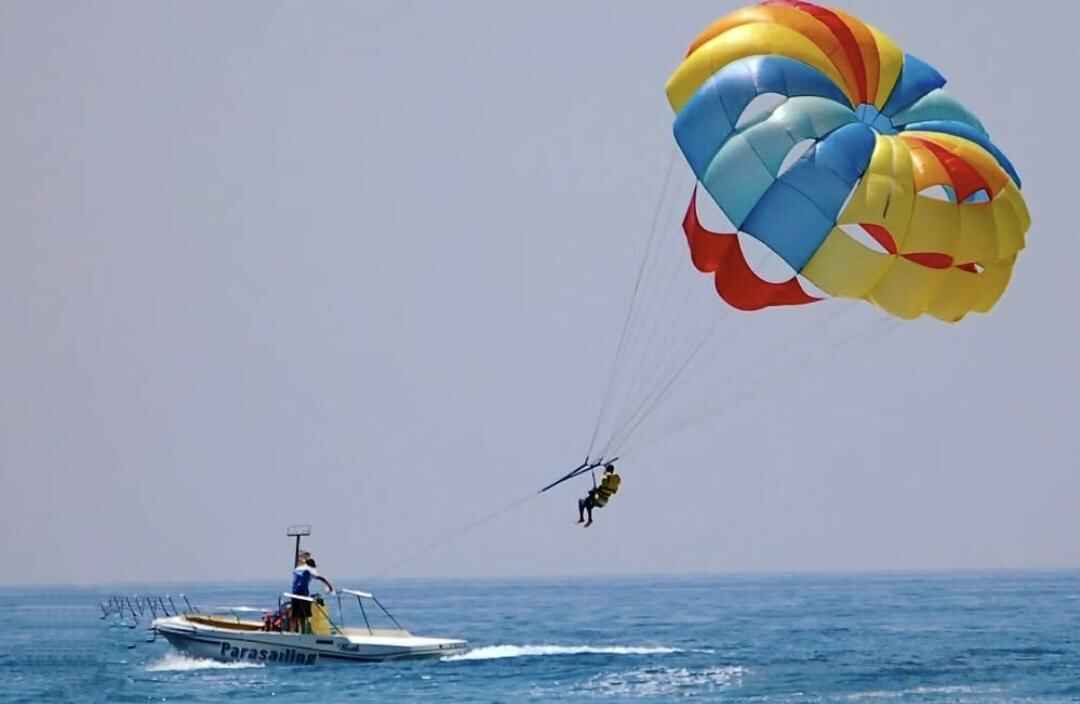 A tourist's hunt for historical significance, scenic & soothing nature abode, and a plethora of adventures come to an end after hitting the shores of Sinquerumium Beach. The inward curve of this North Goa pristine beach land encompasses the panoramic views of the azure water of the vast Arabian Sea, sandy shore, clear skyline and lush greenery.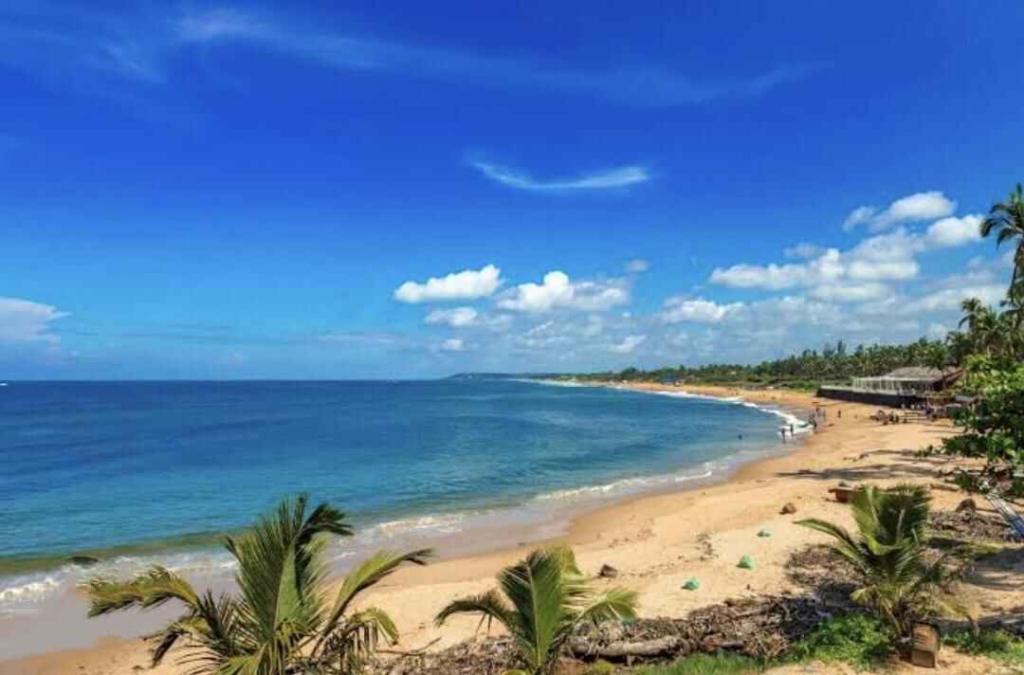 On one hand, the broad backdrop dotted with skyrocketing palms & pines embraces your love for nature while on the flip insane waves of sea inject thrill in fun freaks.
Once you get apprise of the widely prevailed charm of sun, sand, adventure and sightseeing on and around Sinquerium Beach, you are all convinced to plan a long holiday here.
Let's embark on the visionary expedition of Sinquerium Beach to turn it into the real one in the upcoming days.
Highlights of Sinquerium Beach –
Beach lovers adore its long golden sand stretch repleted with plush greenery.
If you are keen to revel in water fun, do not miss the world-class level water sports of Sinquerium Beach.
Its proximity to Aguda Fort draws history buffs in bulk to this pristine beach of North Goa.
In nearby areas of Sinquerium Beach, you can get ample resources to learn about the Portugese Era.
The Sinquerium Fort is a must-visit marvelous spot for photography fanatics.
Witnessing the all-orange and then blood-reddish sky while sinking the sun in the Arabian Sea will be an exceptional experience for you.
Watching the playful dolphins galloping in the seawater will fill your heart with joy.
What is the best time to visit Sinquerium Beach?
To take indelible glimpses of scenic Sinquerium Beach and traverse through its nearby attractions without any obstacles, visitors should schedule their beach holiday here in the winter season. From November to February, each kind of explorer gets a lot to experience. In between these months, you can be the part of prominent Sunburn Festival as well.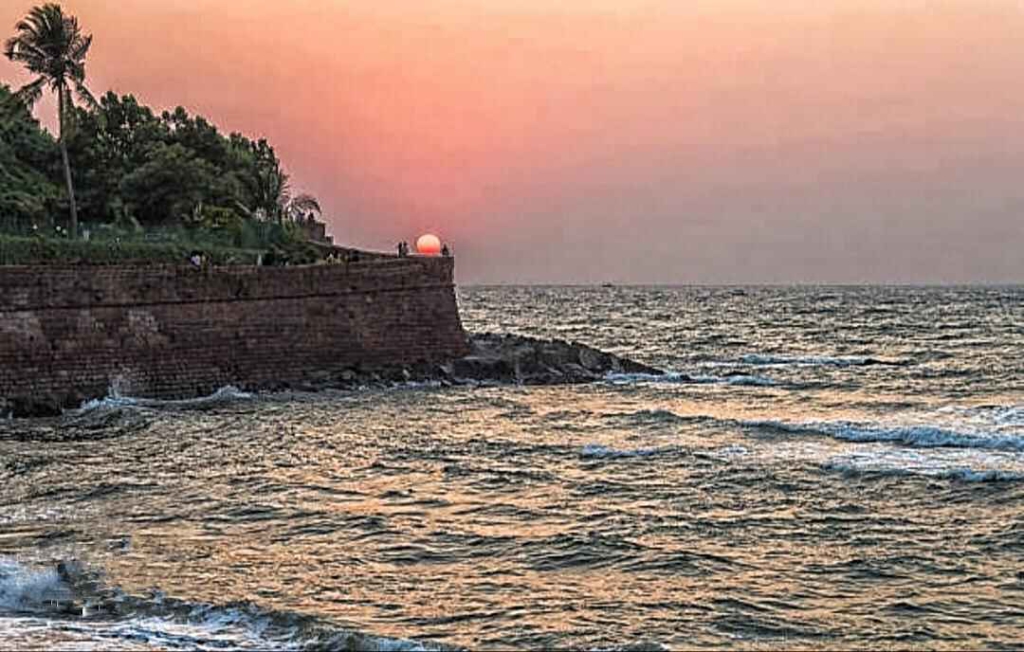 If you are willing to enjoy a beach holiday in the least rush and take benefits of great deals offered by accommodations, restaurants and other services, pick the monsoon season (June to October). But be ready to miss the thrilling punch of water rides and sports.
How to reach Sinquerium Beach?
A lot of travelers access this beach from the capital of Goa, Panjim. The mere distance of 15 kilometers between both these locations requires only 30-35 minutes for smooth covering. Bus services, private cars, cabs and taxi services are conveniently available for Sinquerium Beach visitors. There are two popular routes to reach this beach land from Panjim.
You can access the location straight from Goa International Airport. It is 39.8 km distant from the beach and takes an hour to cover the distance via the NH66 highway. Frequent cab services are available at the airport to access the beach location.
Thivim and Karmali are the two closest railway stations to Sinquerium Beach. Hence if you are traveling by train, step down at one of these railway stations.
1. Which top attractions you can not afford to miss while being at Sinquerium Beach?
The monuments located close to Sinquerium Beach are recognized for their remarkable ancient glory. Concealing the stories of Portuguese and Indian rulers, these vigorous architectures dazzle the eyes of visitors. Apart from them, places having religious significance are also a few km away from the beach area.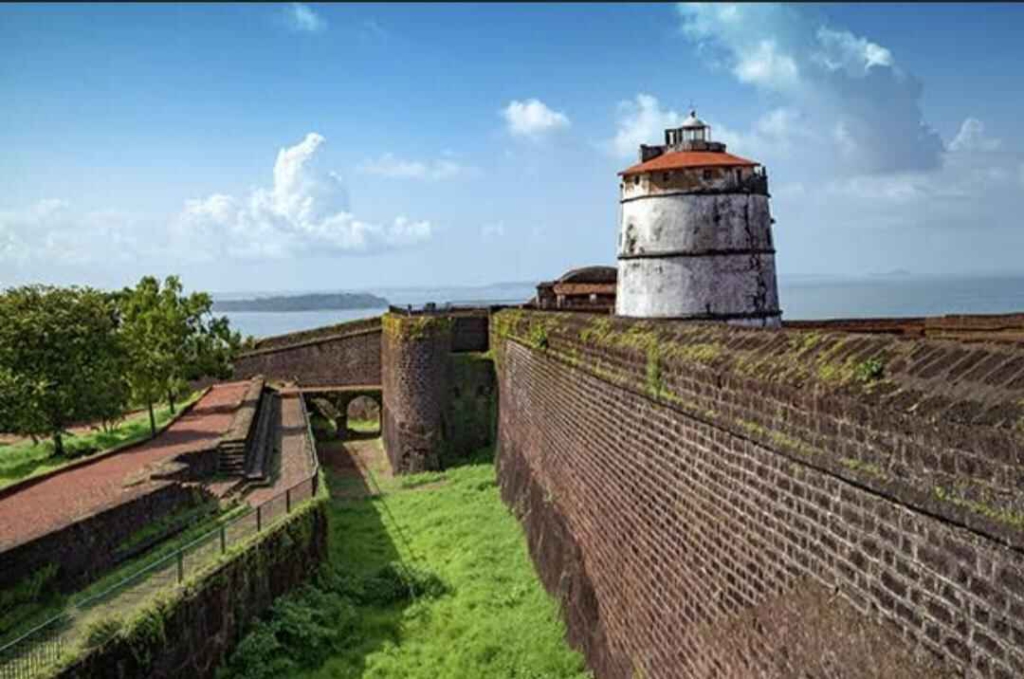 Sinquerium Fort –
One of the well-conserved historical landmarks of Goa is just 1.1 km distant from Sinquerium Beach. Made up of red laterite stones, it represents gun turrets, bastions and battlements of the colonial Portuguese era. For photography fanatics, its breathtaking scenery and gleaming coastline during sunset are enough to take hundreds of shots.
Aguda Fort –
Another marvelous monument close to Sinquerium Beach is decades decades-old Aguda Fort which was built by the Portuguese in the 17th century. The magnificent architecture of this citadel has a lighthouse and jailhouse. Along with its thorough exploration, do not miss viewing the endless shore and coastline of nearby beach areas. The distance between Sinquerium Beach and Aguda Fort is 3.1 kilometers.
Reis Magos Fort –
Still not getting over the influential vibe of historical significance around Sinqurium Beach? Here's one more fortress overlooking the seafront – Reis Magos Fort. Before reaching the fort, you will have a glimpse of the towering church named Reis Magos Church. This fort is considered the oldest fort of Goa built by the Portuguese in 1551 and rebuilt in 1707.
Our Lady of Immaculate Conception Church –
If we say this spellbinding and graceful white architecture of Goa claims all the fame, there will be no denial. After the golden bell of Se Cathedral, Our Lady of Immaculate Conception has the second-largest bell in Goa. Its cake-like structure and zigzag stairs catch the gaze of visitors. The distance between the church and Sinquerium Beach is nearly 13 kilometers.
Shri Shantadurga Temple –
The visitors come here to seek the divine blessings of Ma Durga. The idol of Durga between Shiva & Vishnu impresses the devotees a lot as it is said that the idol signifies, that Devi Durga was pacifying the ongoing war between Shiva and Vishnu. The outside area of the temple offers soothing surroundings which are ideal for meditating. It is just 1.9 kilometers away from the Sinquerium Beach location.
Salim Ali Bird Sanctuary –
A heavenly abode to the world's rarest bird species and lush flora & fauna, Salim Ali Bird Sanctuary lures nature admirers massively. 16 km away from Sinquerium Beach, you can visit here to witness the unparalleled beauty of an ornithological paradise. The mangrove marshes, river estuaries, strange birds chirping and scenic sunrise will win your heart instantly.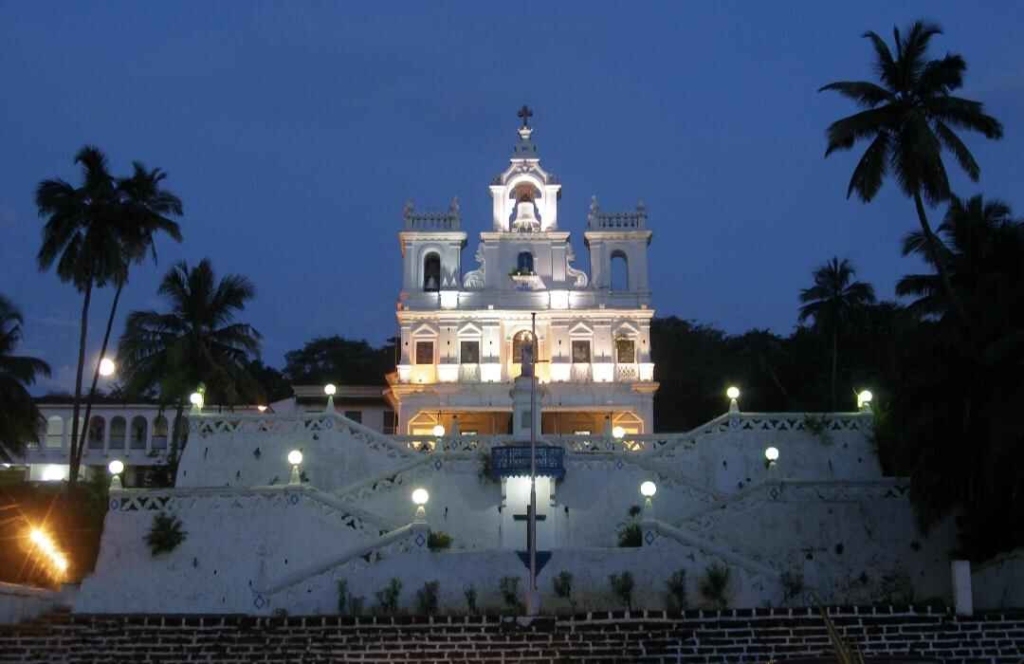 Sinquerium Beach is adjacent to several pristine beaches of Goa. If you want to make your vacation just a beach-centric holiday, include Baga Beach, Calangute Beach and Coco Beach in your itinerary.
2. Why do the adventure fanatics visit Sinquerium Beach frequently?
Well preserved and cleanest beach in Goa, Sinquerium is acclaimed as one of the most vibrant beaches in the context of thrilling and simple water rides & sports. You can find here a plethora of rides and sports activities packed with adrenaline-rushing vibes. Pick your favorite one and just dive into the ocean of adventure.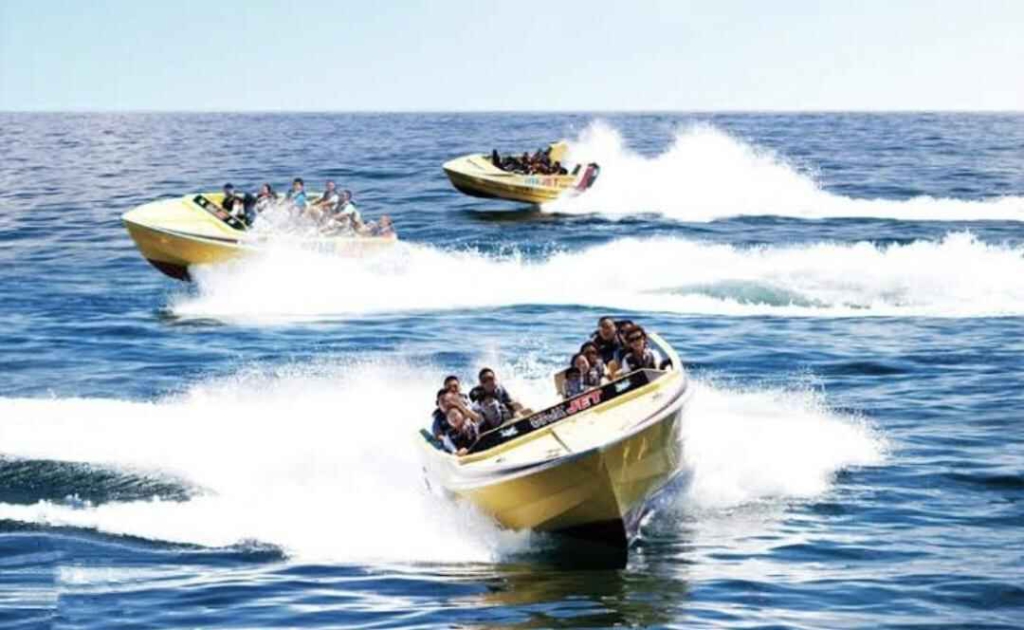 Speed Boating –
One of the most liked water activities by fun freaks, especially speed lovers is riding a boat on the smooth water surface of the Arabian Sea. The simple yet exciting speed boating is for both types of people, experienced and naive ones. The beginners can ask professionals to ride the boat if they are unable to ride solo.
Jet Skiing –
Well, before enjoying jet skiing to the fullest, you have to learn to balance your body in a speedy movable position. The experienced ones must go for it. While sliding swiftly on the sea surface, the rejuvenating splashes and gentle breeze give an unforgettable memory to the adventure addicts.
Parasailing –
Just in the budget of 1000 rs/- you can live a lifelong evocable moment at Sinquerium Beach. The wholesome view of turquoise water, beach activities, gleaming shoreline and clear panoramic sky is only possible through Parasailing. All you need to do is accumulate the grit to perform this thrilling ride.
Bumpy Banana Ride –
Sinquerium Beach water sports operators have options for faint-hearted visitors and kids as well. You can enjoy a banana ride here. The fun of falling in the water and again trying to sit on the boat is unparalleled. This quirky banana-shaped inflated boat is dragged by a motor boat from one end in speed.
Simple Boating Ride –
The serene beach views and endless coastline of Sinquerium Beach are best explored by boat ride. One can ride the boat self or hire a professional. To upgrade the charm of boating, pick the sunset time.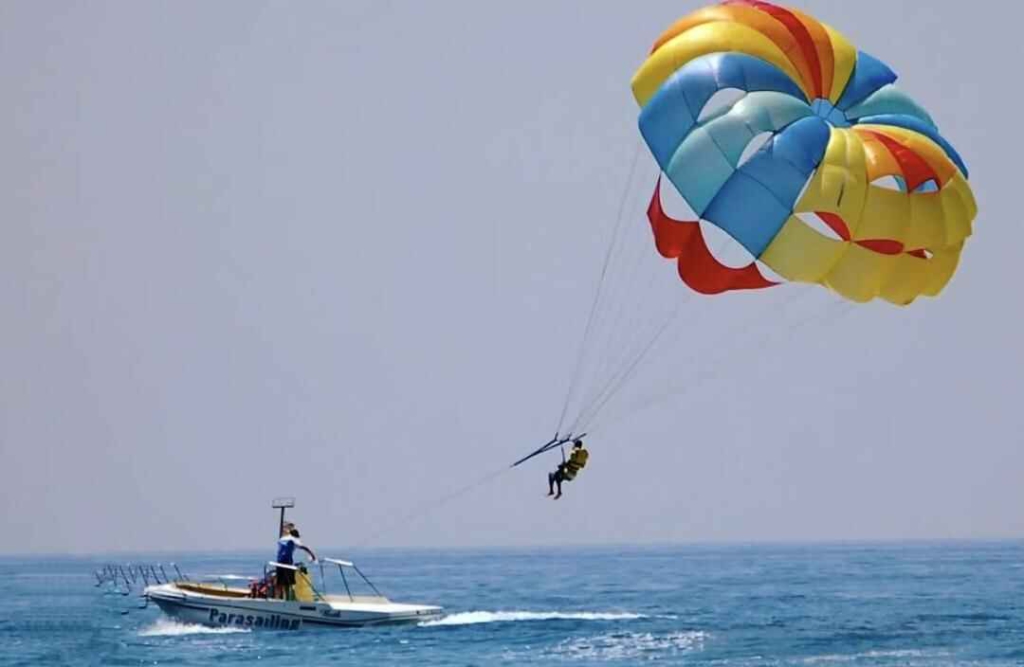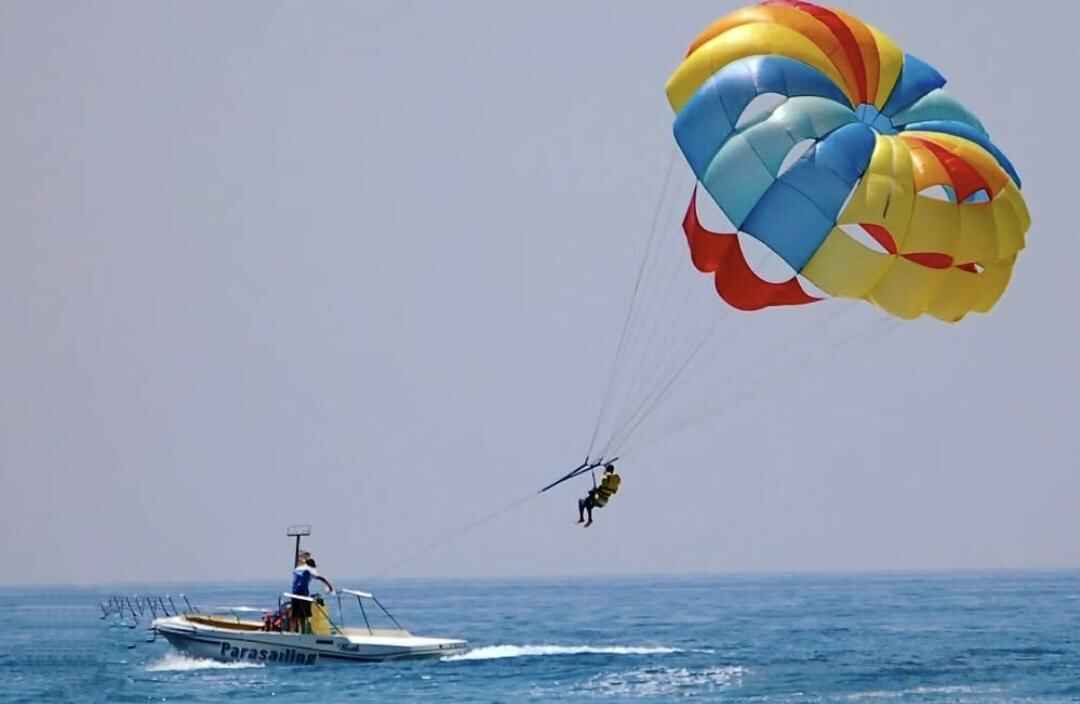 3. What are the famous markets near Sinquerium Beach for experiencing a shopping delight?
Any trip or vacation feels lacking if you don't explore the bustling lanes of local markets. Viewing the specialties of beach markets, haggling with vendors and buying the best one at the best rates, shopping hits differently at new locations. Apart from that, you get a chance to know their street food, culture and local language as well.
Take a glance at prominent markets and stores that fall in the vicinity of Sinquerium Beach.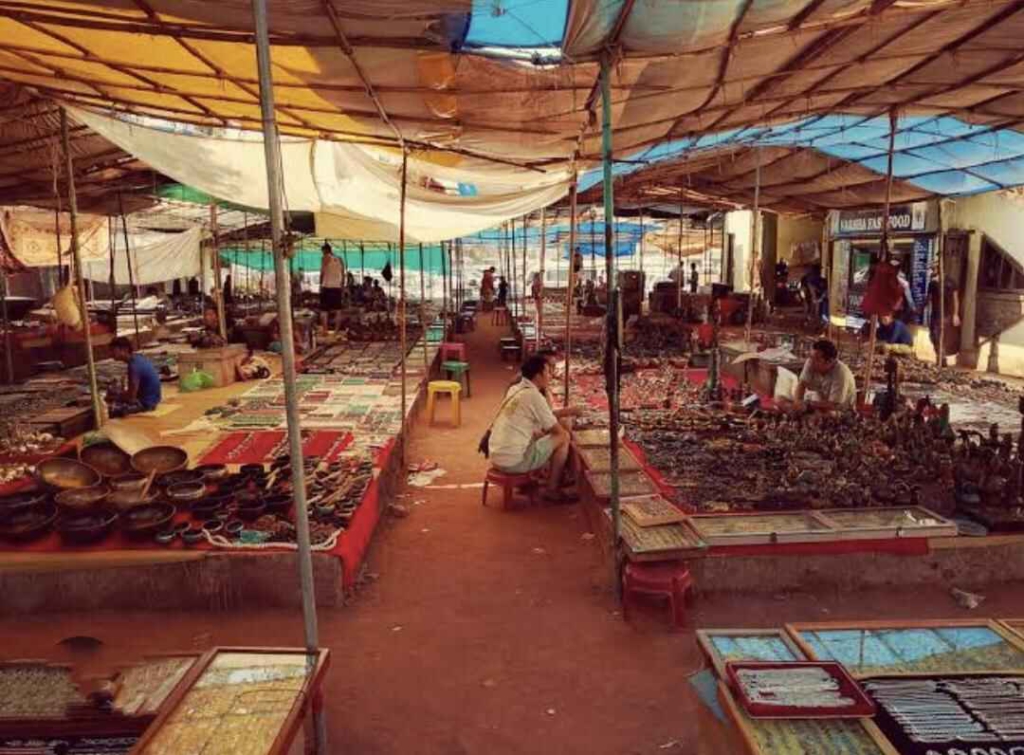 Calangute Market Square –
This famous flea market is located in the Calangute Beach area. Here foreigners and local visitors come to buy leather products, trinkets, funky jewelry, beachwear, seashells and handicrafts etc. Its distance from Sinquerium Beach is 5.6 kilometers only.
Tibetan Market –
Full of the colors and lighting, this market area has a heart of Goan visitors. You will be amazed to see the varieties and extended range of quartz products, metal jewelry pieces, leather items, notebooks, clothes, footwear, silver artifacts, handmade items, jute bags and wooden carved decorative things etc. You can find this gem place 6.9 kilometers distant from Sinquerium Beach.
Candolim Market –
Located at a distance of 2.8 kilometers, you can visit this lively place to buy some unique souvenirs and gift items. The lip-smacking delicacies of local food joints present in Candolim Market are famous across the entire area. At a few points, the live music bands give their performances as well.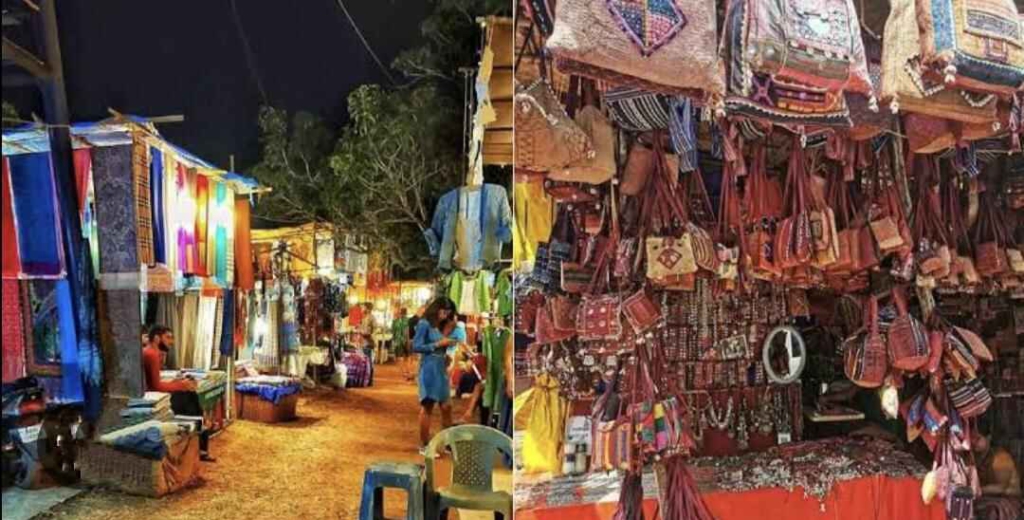 4. How to wallow in the nightlife fever of Goa while staying close to Sinquerium Beach?
Goan Nightlife is something that drags the party animals here from across the globe. The vivid vibes of nightclubs near Sinquerium Beach will compel you to lost in the flamboyance of lights, music, dance, food, drinks and casino games.
Have a look at nightlife options near your holiday destination – Sinquerium Beach.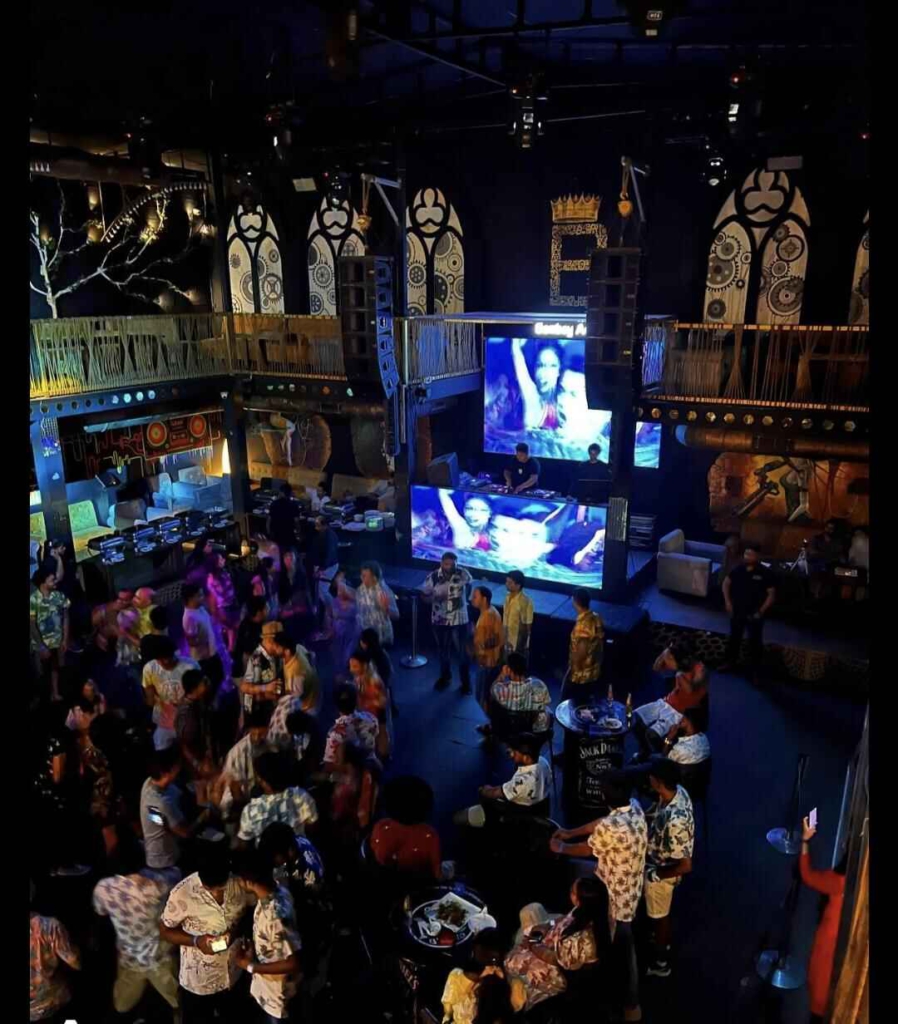 Bang Bang Club –
A place that knows well how to inject energy in party freaks is Bang Bang Club located on Candolim Road, Goa. Amazing ambiance, catchy light setup and electrifying music played by talented DJs bring you to the dance floor of this nightclub. The open-air bar and sitting area also give this party place a unique vibe. Gained popularity as a premier nightclub of Goa, Bang Bang serves you with tantalizing food and a classy cocktail range. It is 2.1 km distant from Sinquerium Beach.
LPK Waterfront Club –
Love, Passion and Karma, concisely known as LPK, is a prominent waterfront club in Goa. This amazing club located in Nerul, 3.5 km away from Sinquerium Beach, offers plenty of choices to live a memorable night here. You can take a long romantic walk along the river with your partner, indulge in the scenic beauty and lip-smacking food or dance on peppy beats overnight. In it's brilliantly designed ambiance, you can get some nice aesthetic photographs.
Sinq Night Club –
Call it a pride of Goa's Nightlife culture without hesitation. Well-stocked bar, spacious dance floor, professional DJs, lounge area to relish the mouth-watering delicacies and captivating club ambiance are some prime features of Sinq Night Club. The club hosts some live music events as well to offer you the opportunity to hit the dance floor and groove on evergreen Bollywood superhits.
Jack Deck Bistro –
This night place near the beach area is highly recommended to those visitors who are seeking the best food, Hookah and drinks to satiate their appetite. Colorful ambiance lighting makes it more happening for fun & food lovers. It is 1.9 km distant from Sinquerium Beach.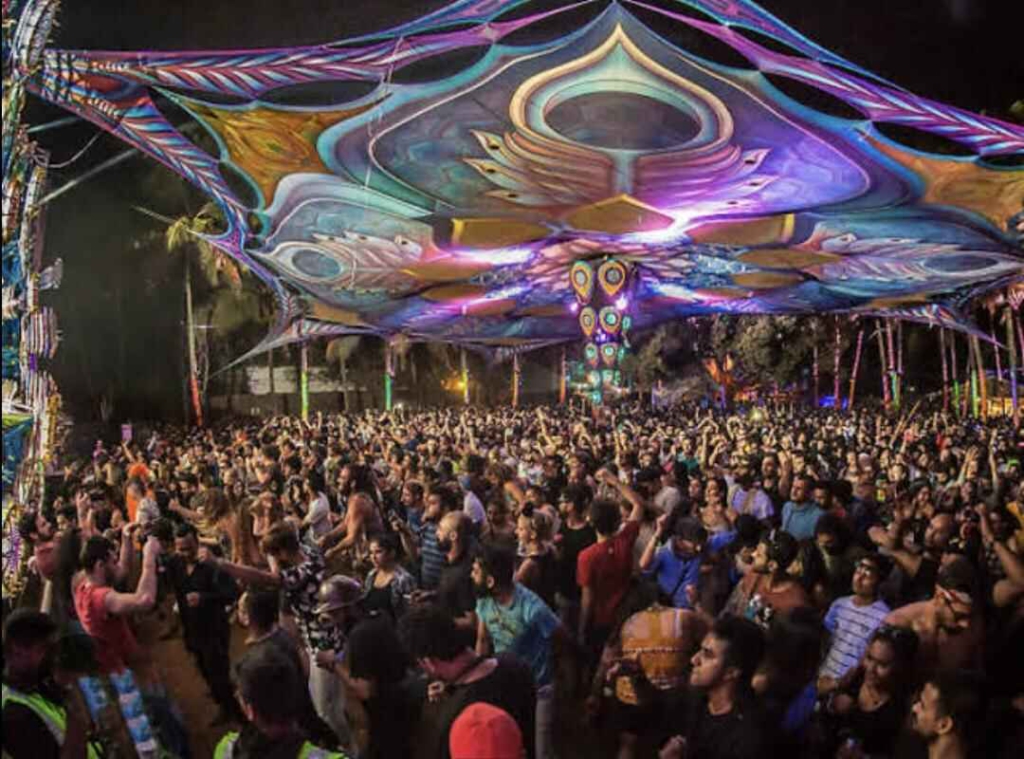 5. What are the finest eateries located close to Sinquerium Beach?
Exploring authentic Goan delicacies along with a variety of international cuisines is a ritual for beachgoers. The fine dining locations near this beach area are well-recognized for their top-notch hospitality, signature dishes and great ambiance.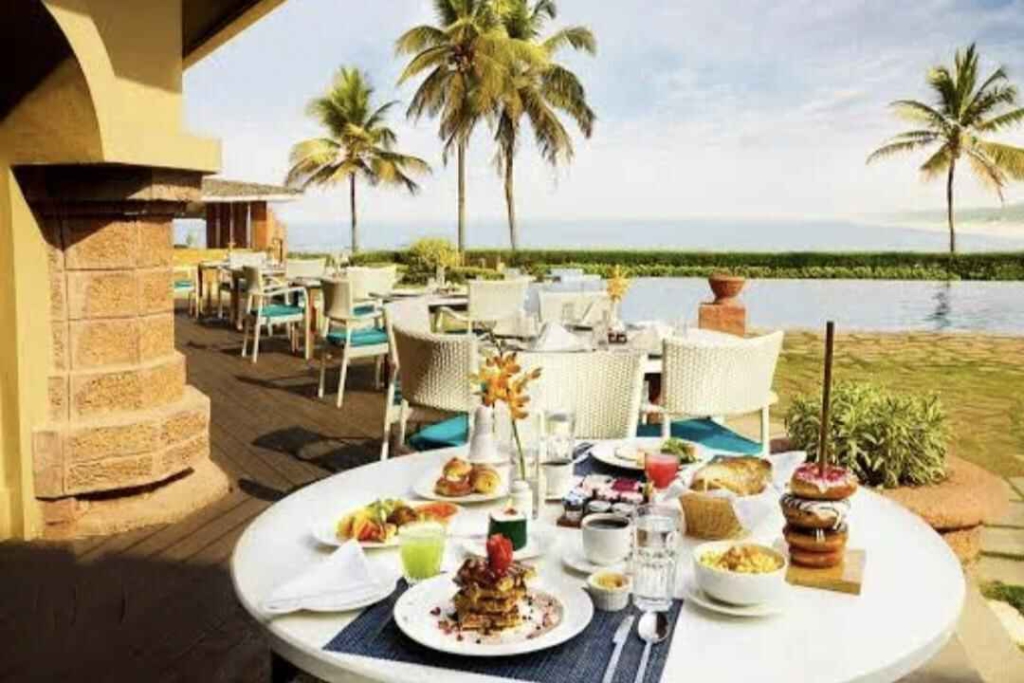 Kokum Kitchen –
A range of fascinating continental, north Indian, Goan and oriental cuisines are offered here to the guests. Apart from the food, the well-furnished ambiance, catchy food representation and scenic seafront views warm the hearts of guests. Malaysian Chicken Satay, Ghost Roganjosh and Mango Coconut Pudding etc are some must-try options at Kokum Kitchen. The restaurant is owned by the Taj and is 1.1 km distant from Sinquerium Beach.
Tuscany Garden –
This is truly a paradise for Italian food lovers. Modified Pasta dishes, Margarita Pizzas, Spaghetti drenched in alfredo sausage, Penne Bianco, Bruschetta pizza and Panna Cotta are some top-rated and frequently ordered items at Tuscany Garden. Only 650 meters away from Sinquerium Beach, this prominent restaurant is located.
Morisco Restaurant –
Another lavish food point well known for the finest seafood delicacies by Taj is Morisco Restaurant. Prompt services in delivering the order, amazing view, wide variety of food choices and nice outdoor sitting speak volumes regarding this fine dining location. It's 1.1 km away from Sinquerium Beach.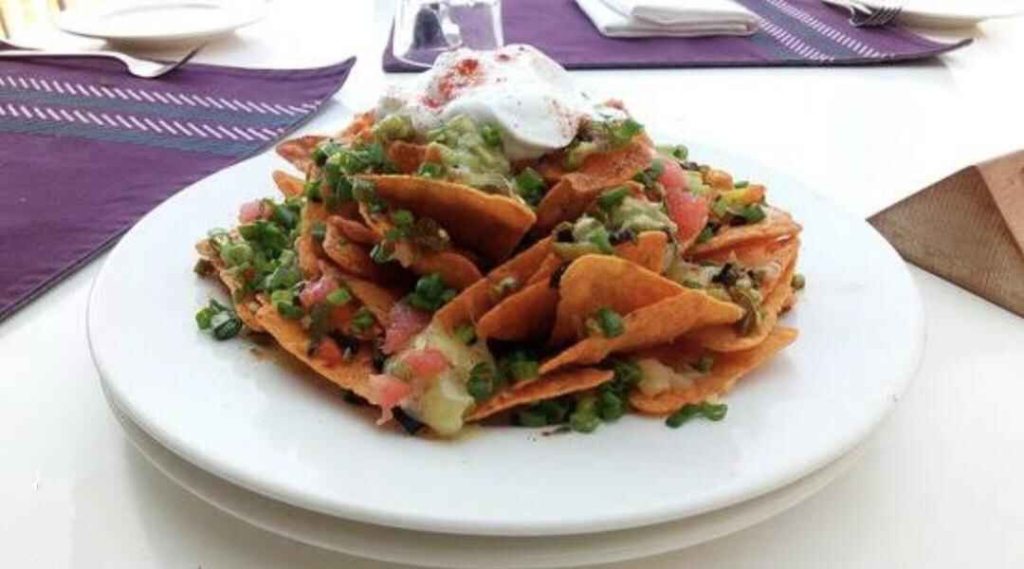 6. Where to enjoy the best shack vibes near Sinquerium Beach?
There is no replacement for leisure sensed while lounging on the sea bed under umbrellas and doing just nothing. Sinquerium Beach's proximity to the best Goan shacks enhances its worth among hippies and foreign visitors.
Let's know the amazing shacks of Sinquerium Beach.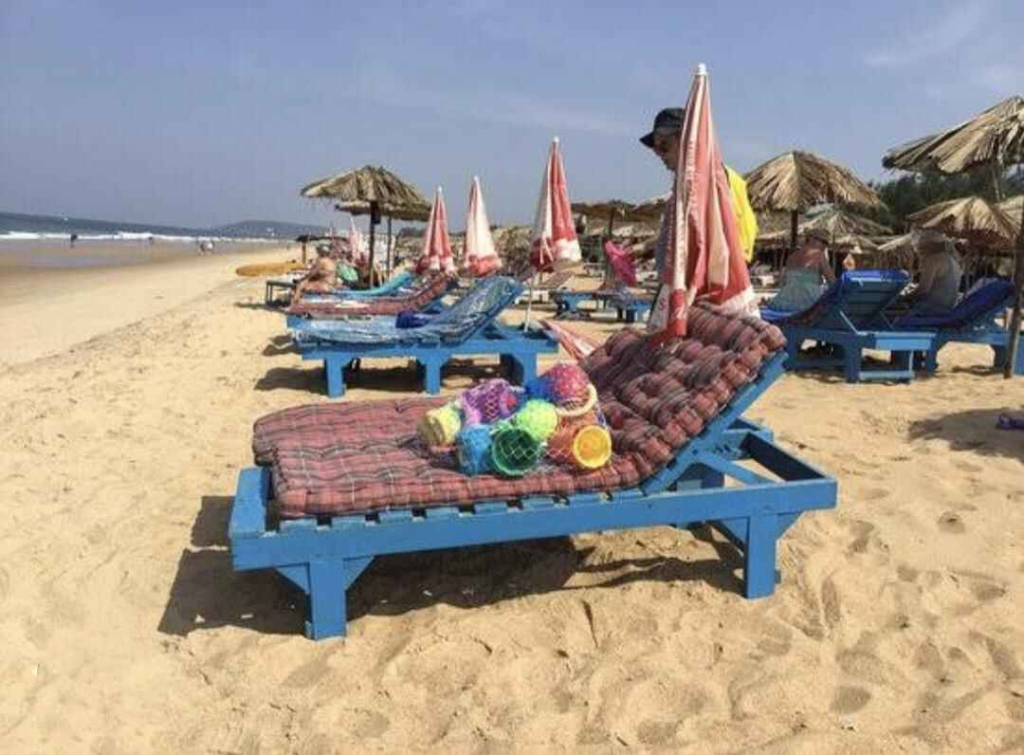 Big Blue Shack Bar & Restaurant –
It's pretty decoration and seafront sitting area will compel you to take a pause here for a bite and a sip. Located right in the heart of Sinquerium Beach, you can relish here some best quality veg, nonveg and seafood items combined with amazing drinks or beers.
Tony's Shack –
Want to enjoy the views of the fort and coastline while having your lunch or breakfast? Tony's shack owned by Taj is a great option near Sinquerium Beach (1.1 km). Do not forget to taste the signature feature of Tony's Shack – the cashew curry. Prompt services and cordial behavior of staff members make the guests feel homely.
Pine Tree Beach Shack –
This simple yet fancy beach shack gives pleasant vibes to those visitors who want to spend the whole day away from crowds, rush and noise. Fresh juices with English breakfast in the morning or a heavy dinner with a variety of cocktails at night, Pine Tree will treat you in the best possible way. It is 4.6 km away from Sinquerium Beach.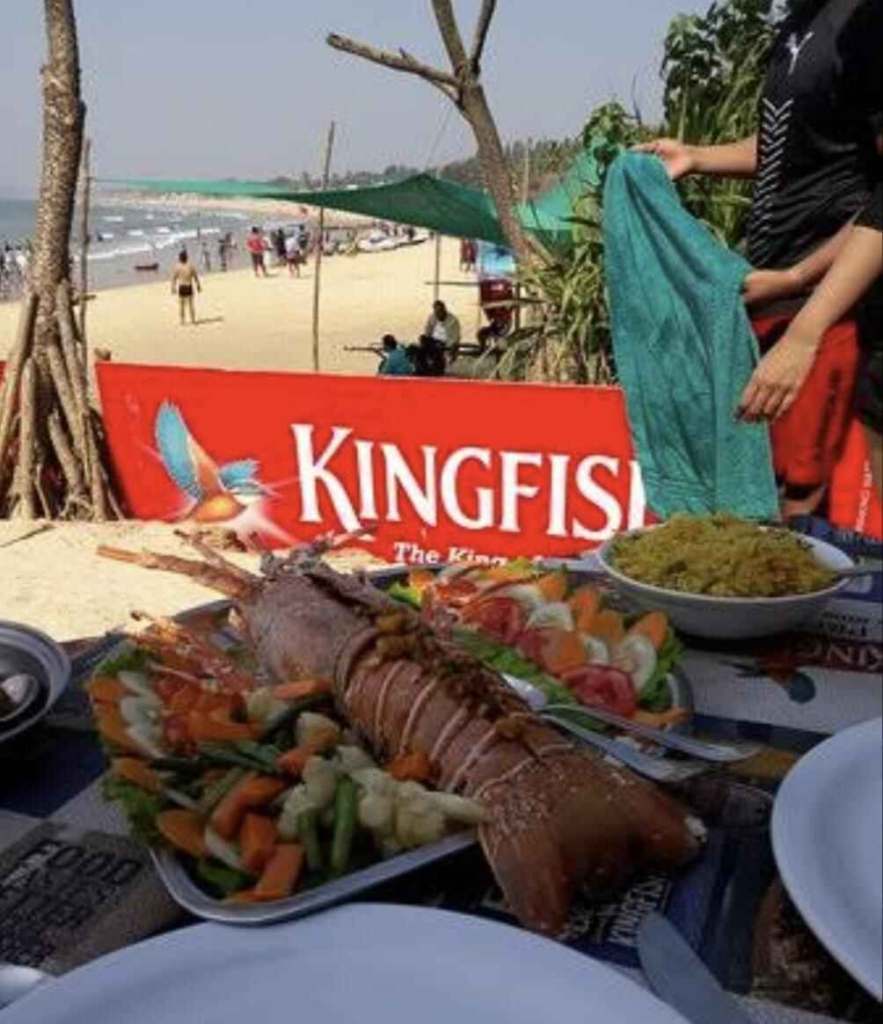 Other shack locations you can try near Sinquerium Beach are -:
Fisherman's Hut Beach Shack
Ryan Shack
Rams Beach Shack
The New Inn James Shack
Sham's Shack
7. What are the luxury yet affordable accommodations near Sinquerium Beach?
At the end of the day, after living an exciting yet exhausting day in Sinquerium, Goa you will need a comfortable stay property. Several luxurious and comfortable properties are available near Sinquerium Beach with great deals.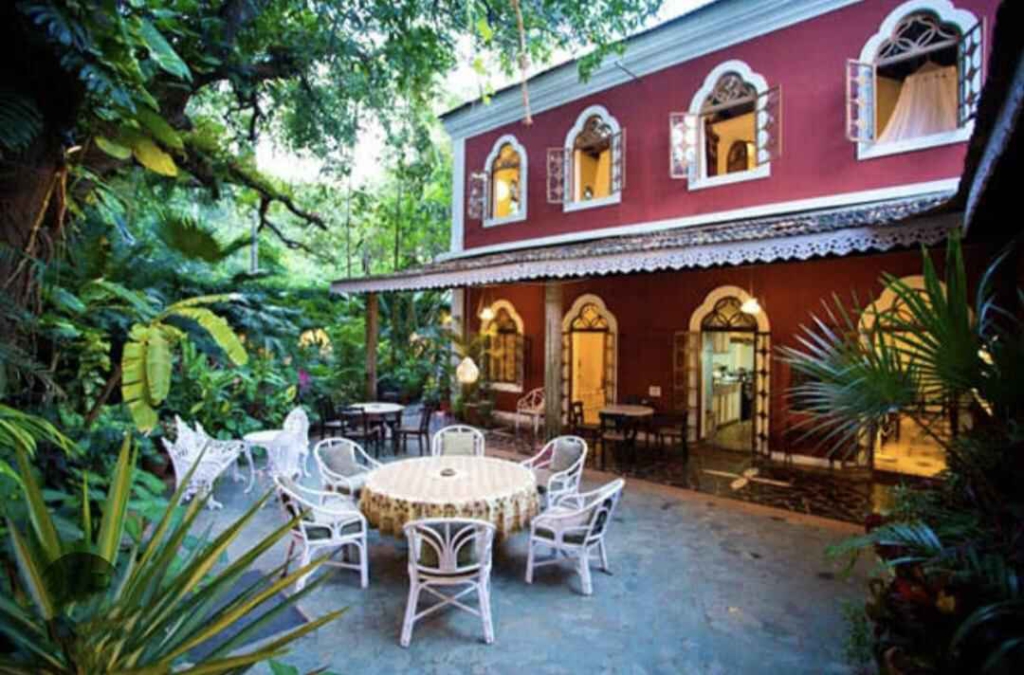 Marbella Guest House –
Located 950 meters distant from Sinquerium Beach, this property offers an unforgettable stay to the guests. Beautiful suites having spacious rooms including bathrooms, AC facilities, TV and quick room services will surely make you feel at home. If you are willing to plan a budget-friendly stay near Sinquerium Beach, Marbella Guest House is an ideal choice.
Resort De Alturas –
Due to being very close to the sea location, beachgoers book their stays here frequently. The fantastic ambiance, swimming pool, well-equipped spacious rooms and top-notch hospitality by professional workers make your stay even more comfortable. You can access this property at a 1.4 km distance from Sinquerium Beach.
Shivers Oasis Luxury Rooms –
Located between Sinquerium and Candolim beaches, the mass visitors love to stay here during their beach vacations. Proximity to forts, markets and restaurants levels up its worth among visitors. Beautiful, clean and comfortable rooms are idyllic for solo travelers and couples who want to spend a cozy & romantic holiday. Its distance from Sinquerium Beach is 850 meters.
Other stay choices one can make near Sinquerium Beach are -:
Aldeia Santa Rita
Amigos Candolim Beach Hotel
V Resorts Aguda Anchorage Villa 39
Hangover Resort
PerAvel Beach Holiday Home
Tips for travelers to have an amazing Sinquerium Beach Holiday -:
Do not miss wearing your life jacket even in the simplest water ride or sports activity. Swimming only in the presence of lifeguards is recommended for visitors, especially kids and beginners.
Do not booze or drugs near the sea area. It can risk your as well as others' lives.
Missing the necessary things like beachwear, swimwear, hats, sunscreen, flip-flops and water bottles can cause obstacles during your beach exploration.
Book your rooms before arrival if you are planning a holiday in the peak or festive season.
Frequently Asked Questions (FAQs)-
Q – Where is Sinquerium Beach located in Goa?
A – It is located in the northern Goa district, managed by Taj Holiday Village and Taj Fort Aguda.
Q – What is the best time to visit Sinquerium Beach?
A –  From November to February. 
Q – What are the major attractions you must visit near Sinquerium Beach?
A – Ancient forts of the Portuguese era steal the limelight in its vicinity.
Q- Is Sinquerium Beach a private beach?
A – Yes, but it is open to the public at all times.
Also check: funny quotes on goa trip