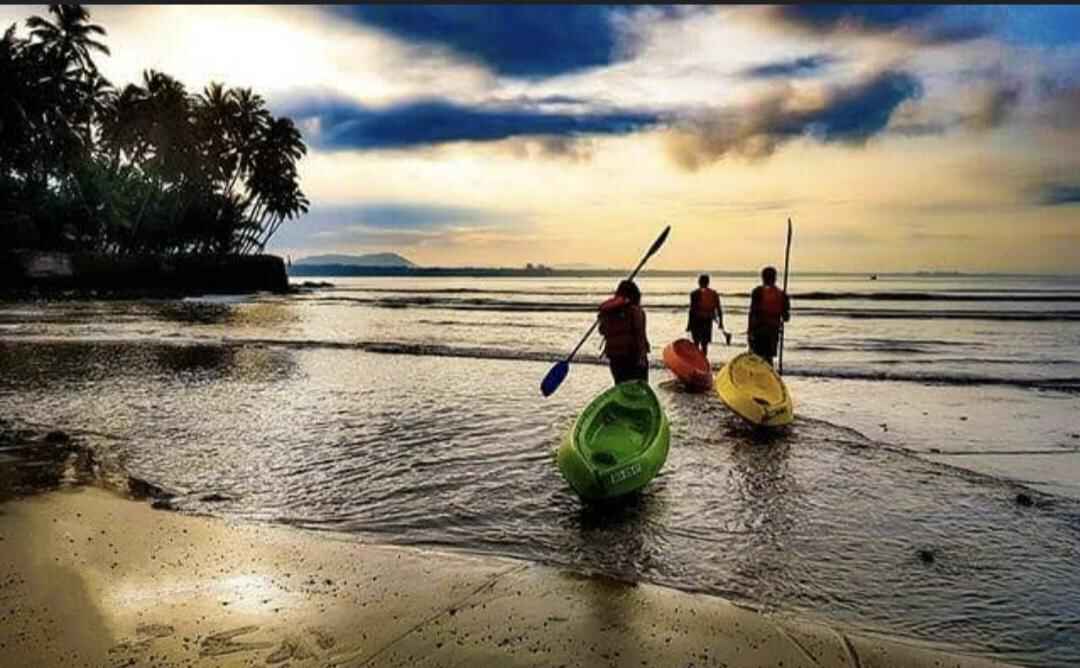 Nestled in the Canacona region of Goa, Rajbaga Beach unfurls its pride flag as one of the cleanest, least crowded and well-preserved beaches in Goa. The surroundings of Rajbaga Beach loaded with lavish properties amplify the charm of hitting its sand floor up to tons.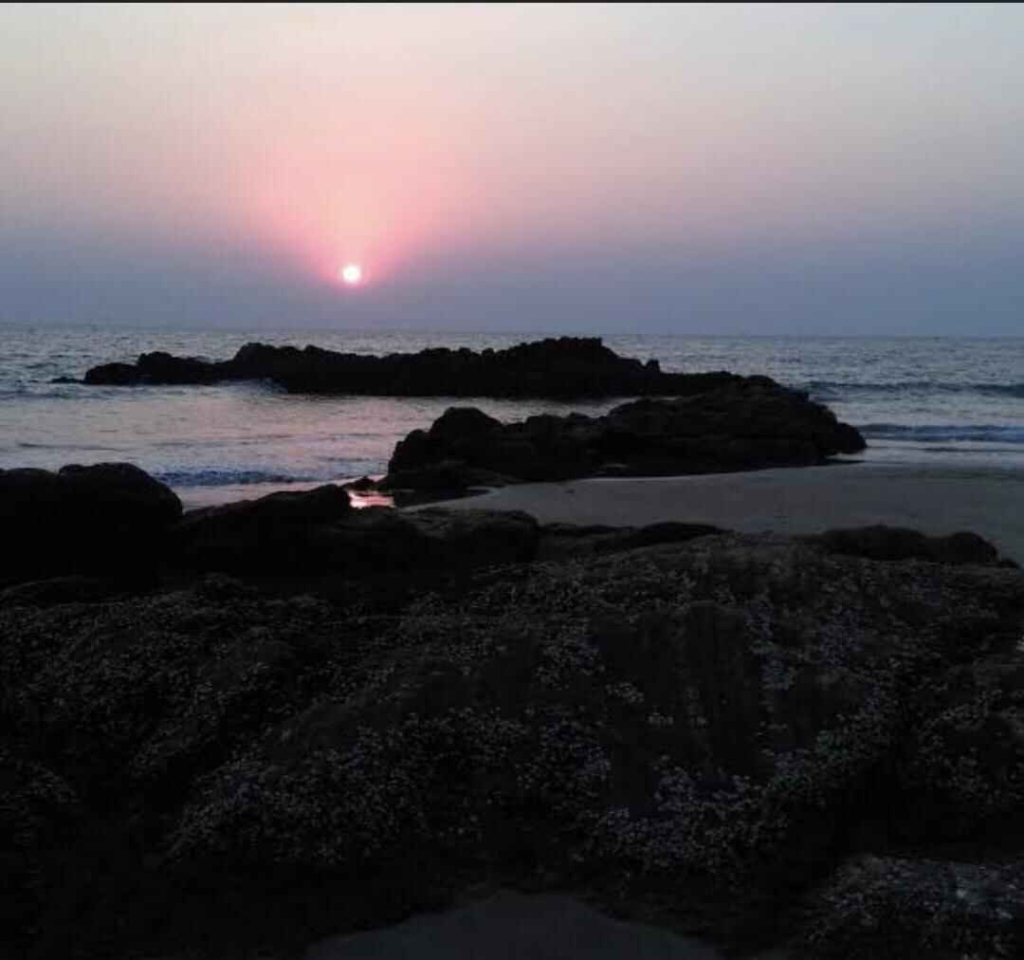 The one-and-a-half meter-stretched shoreline of Rajbaga Beach depicts the pleasing convergence of the Talpona River and the Arabian Sea. Shining golden sand, swaying palms & pine trees and soothing waves are ideal for swimming and are prime traits of Rajbaga Beach that tempt peace seekers.
Due to being closely located in the most prominent South Goan beaches, Palolem and Patnem, the visitors fell prey to the scenic beauty of Rajbaga Beach as well.
Though the beach area is open to the public, it is cleaned and maintained by some private authorities. The cafes and restaurants located quite close to the beach are owned by Rajbaga Resort.
Highlights of Rajbaga Beach –
The mighty landscape flanked by swaying tall palms & pines is a big catch for nature praisers at Rajbaga Beach.
It is an ideal location in South Goa to plan a private vacation due to less accessibility by foreigners and locals.
You can visit the Talpona River estuary to view the scenic sights and listen to the endearing chirping of unique birds.
The lavish resorts in the closest vicinity of Rajbaga Beach offer you the opportunity to spend a great time with loved ones privately.
The clean sand bed of Rajbaga Beach is ideal for lounging on for hours and relaxing under the balmy sunlight.
What is the best time to visit Rajbaga Beach?
A beach holiday becomes indelible if the visitors can roam on the beaches without worrying about heavy and sudden downpours, the scorching heat of the shiny sun and high tides in seawater.
Well, the peak winter season in India is ideal for exploring the Goa beaches and Rajbaga Beach is no exception in this context. One should choose a time slot between October and March.
In these months of rosy winters, Rajbaga Beach welcomes visitors with a clean shoreline, clear sky, blooming nature and surreal sunsets. The accommodations, restaurants, private bars, adventure sports operators, shacks and party venues come at full blast to lure the visitors.
Temperature touches the scale of 30°C barely during the day and night. Put on light clothes, a pair of flip-flops, a hat, take your favorite book and you are all set to spend the whole day on Rajbaga Beach.
How to reach Rajbaga Beach easily?
If you are flying from any city of India to reach Dabolim Airport or Goa International Airport, frequent flights are smoothly available. From the airport, Rajbaga Beach is nearly 62-63 kilometers distant. Visitors can take car or taxi services to cover this distance in 1 hour 40 minutes approximately.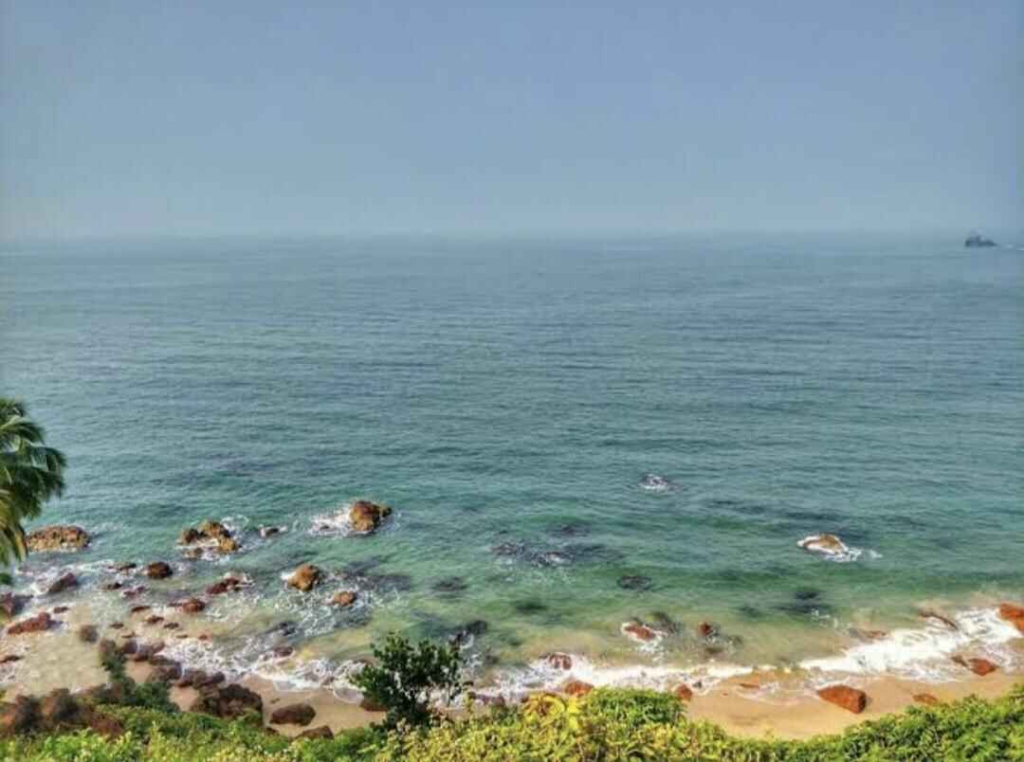 Accessing this beach location from Panjim is easier due to the frequent availability of public bus transport services. The buses will take approximately 2 hours to cover the 72.8 km between the beach and the Panjim bus stand through NH 66 Highway. Taxi rented car, bus and cab services are also preferable if you want to enjoy a short road trip.
Local ferry services from nearby beaches also provide a facility to leave the visitors at Rajbaga Beach. However, it could be expensive comparatively.
1. What to visit as South Goa exploration after spending good hours at Rajbaga Beach?
Unlike the other beaches of Goa, Rajbaga Beach's precincts are sporadically occupied by monuments worth sightseeing. Instead of them, the peaceful natural abodes win the hearts of visitors. If you are done with strolling & relaxing on the beach, visit the below-listed locations to learn more about South Goa closely.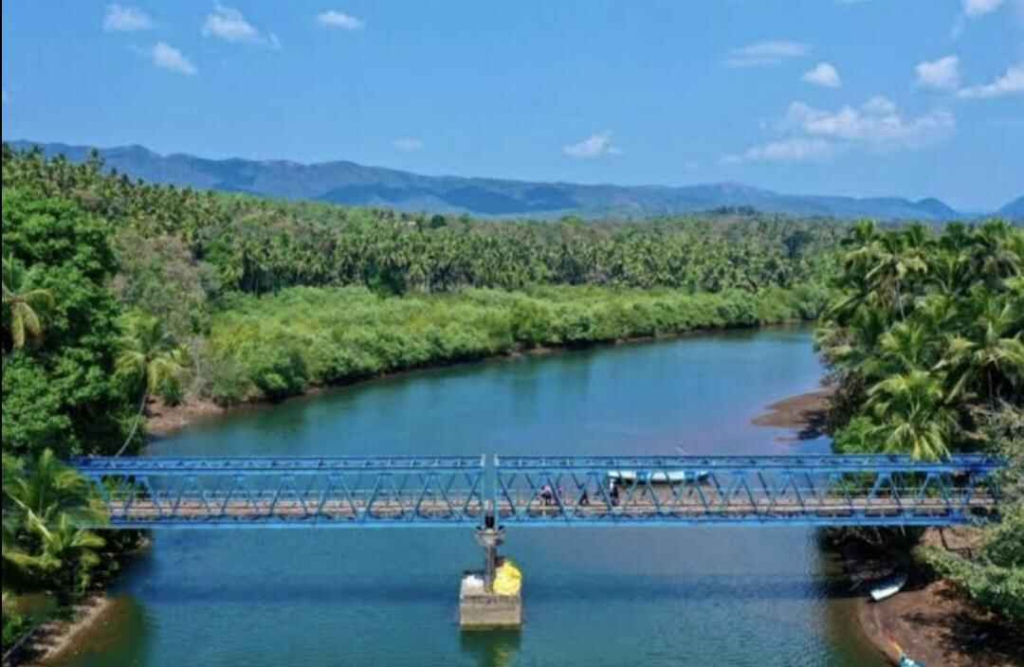 Sadolxem Bridge –
Are you seeking a scenic location to flaunt your photography skills or want to sit in the lap of sheer nature? Visit this blue bridge area located 4.3 km away from Rajbaga Beach. The clean water, colorful boats, lush greenery in the backwater, ample bird species and widely prevailed peace immerses the visitors in the beauty of this place and sends them back rejuvenated. The bridge is built on the Sal River and acts as a link between the northern and southern regions of the State.
Shri Mallikarjuna Swami Temple –
Nestled amidst the lush green mountains, this Shiva Temple spreads surreal and spiritual vibes all around. The cultural diversity and picturesque surroundings of this sacred place attract many locals as well as tourists. You can visit here to seek divine blessings and meditate for a few minutes in its soothing ambiance. The distance between the temple and Rajbaga Beach is 8 kilometers.
Canacona Island or Monkey Island –
Located 5.7 kilometers distant from Rajbaga Beach, another natural paradise awaits its admirers. This captivating island is imbibed with unreal treasures for nature lovers as well as for adventure freaks. The turquoise water crashing the shore, swaying palms, extended sandy shoreline etc make you realize being in another world. You can hire a fisherman for boating and fishing or self-paddle the boat to feel the sea spray on your face.
Shri Damodar Temple –
One of the most prominent and sainted sacred abode of lord Ganesha in Goa is recognized as Shri Damodar Temple. The old architecture, fine paintings and peace-generating ambiance of this temple draw the attention of devotees. If you have planned your Rajbaga Beach holiday with friends and family, this place is a must-visit location altogether. It is 11 kilometers distant from Rajbaga Beach.
Palolem Rocks Sunset Point –
No doubt it's a slice of paradise for sunset lovers. The catchy sound of insane sea waves crashing the giant rocks creates a sense of serenity for the visitors. To capture the panoramic view of immersing the sun in the vast ocean, you need to cover the distance of 5.7 km from Rajbaga Beach and access this vantage point.
Goa Jungle Adventure –
Adventure enthusiasts must pay a visit here to experience the exceptional thrill of climbing the mountains, canyoning, zip lining and enjoying a ride in the hilly areas. For building more evocable memories hire a professional guide to explore Goa Jungle Adventure. It is 4 km distant from Rajbaga Beach.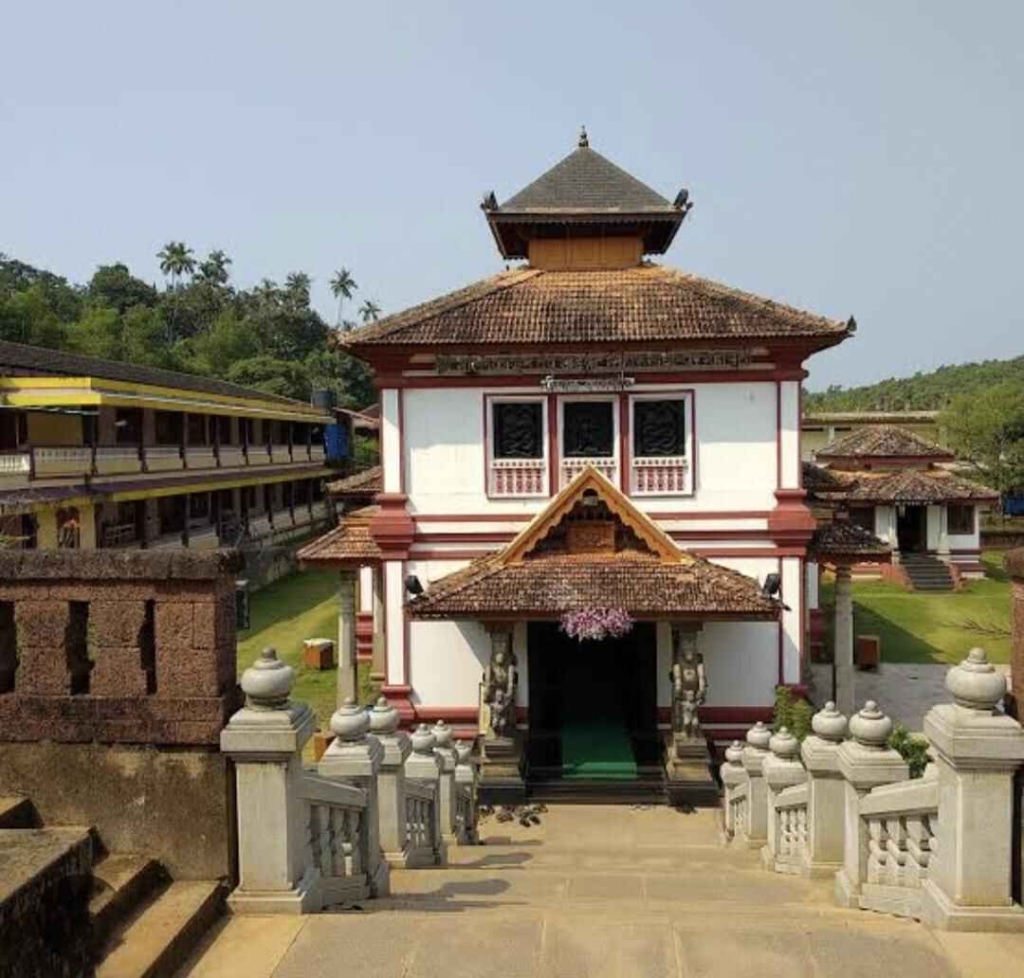 You can include the nearby beaches in your plan such as Talpona Beach, Turtle Beach, Palolem Beach, Patnem Beach and Butterfly Beach etc.
2. What to opt for sensing an adrenaline rush from the water sports platter of Rajbaga Beach operators?
Rajbaga Beach area offers you a plethora of chances to revel in the water fun. Whether one wants to swim on the sea surface, glide on it or fly over it, the variety of water sports fulfill all these desires.
Take a look at what will you enjoy the most.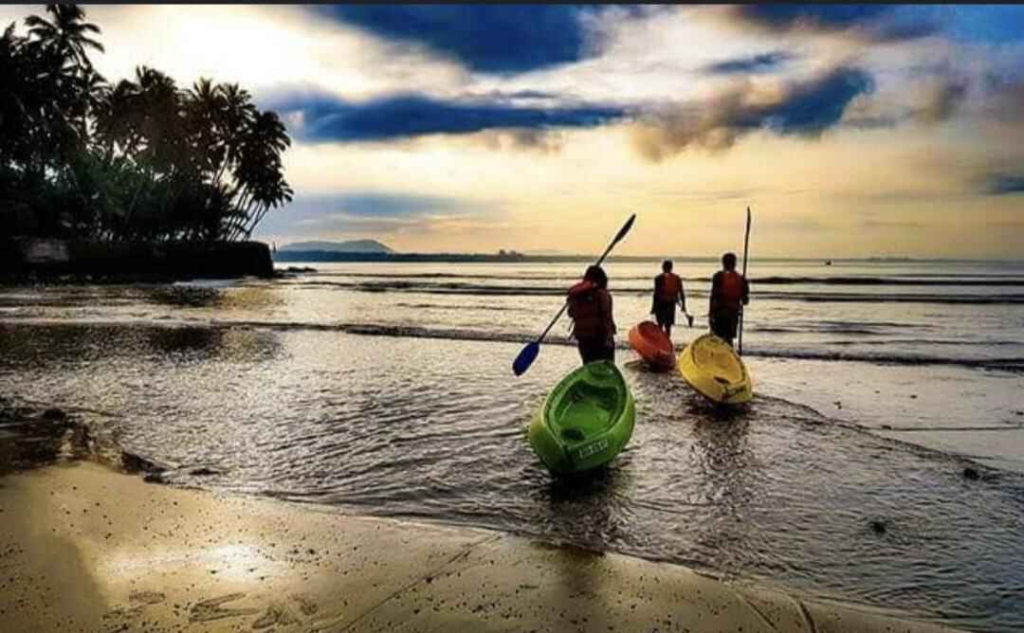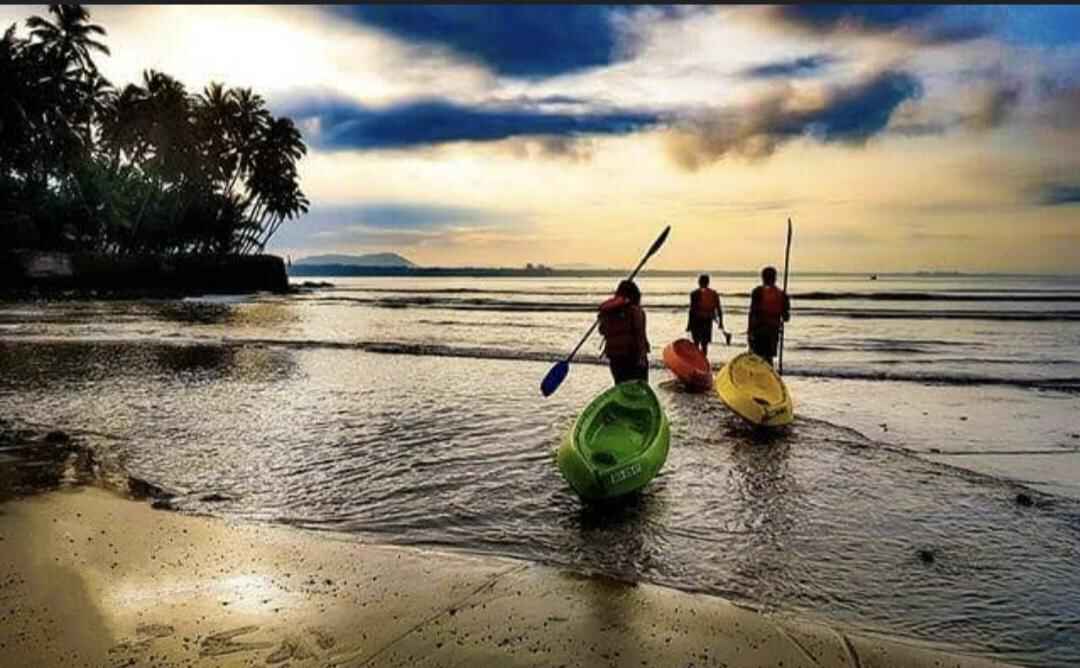 Banana Ride or Bumper Ride –
Both water rides fall under the category of simplest seawater activities. The faint hearted, kids and older ones can enjoy sitting on the inflated boats and being dragged by a speedboat on the sea surface. Do not forget to wear life jackets before hopping on these funny boats.
Kayaking –
The picturesque backdrop of Rajbaga Beach and a slow Kayak ride make the finest combination for nature & peace lovers. Visitors love exploring the night kayak adventure as well provided by some specific water sport operators. The nearby areas of Talpona River estuary, Palolem Beach and Patnem Beach offer some spellbinding views to enjoy while paddling the double-bladed sticks.
Parasailing –
The mesmeric views of the entire beach area can be best captured in your sights from the top of the location. Only parasailing adventure activity offers this advantage. Sailing over the turquoise water of Rajbaga Beach, exploring the beach and feeling the cool breeze sensation etc are some unparalleled experiences a parasailer feels here.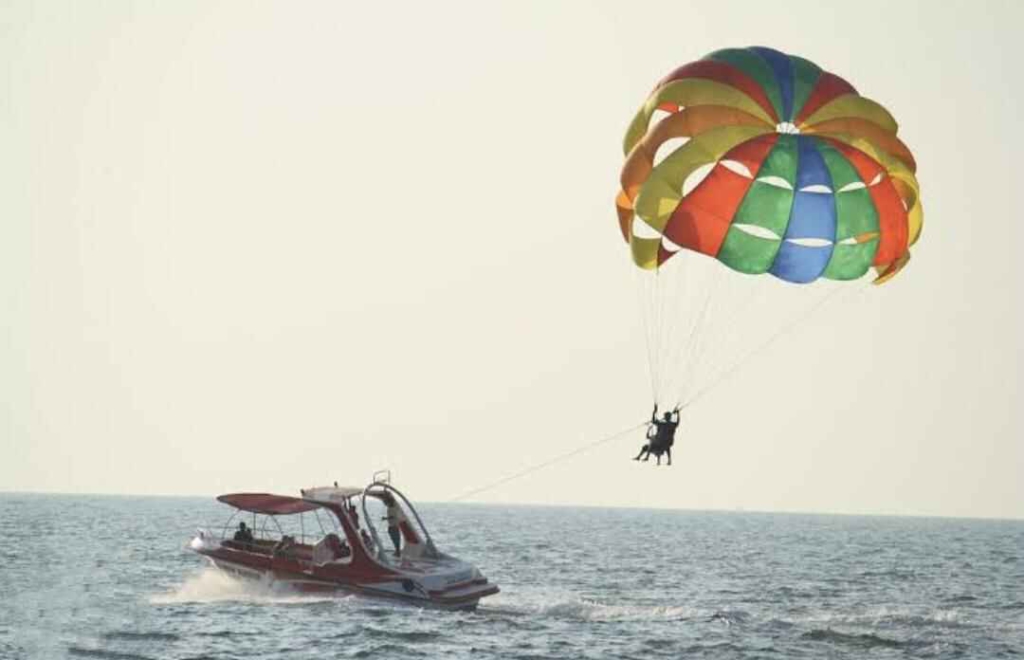 The seasoned swimmers love to dive deep into the mildly warm water of the Arabian Sea during the daytime. The beginners should swim in marked areas only and follow the presence of lifeguards. Fishing is also allowed on Rajbaga Beach. You can patiently spend hours in catching the fresh fish straight from seawater.
3. From where can the shopaholics set off their shopping spree near Rajbaga Beach?
Shopping is fun around the Rajbaga Beach area. The vibrant and bustling lanes of localities lure tourists through their unique items. Knowing the local language, haggling with the vendors for the low price and enjoying the street food of Goa will be a perfect evening plan for your whole group.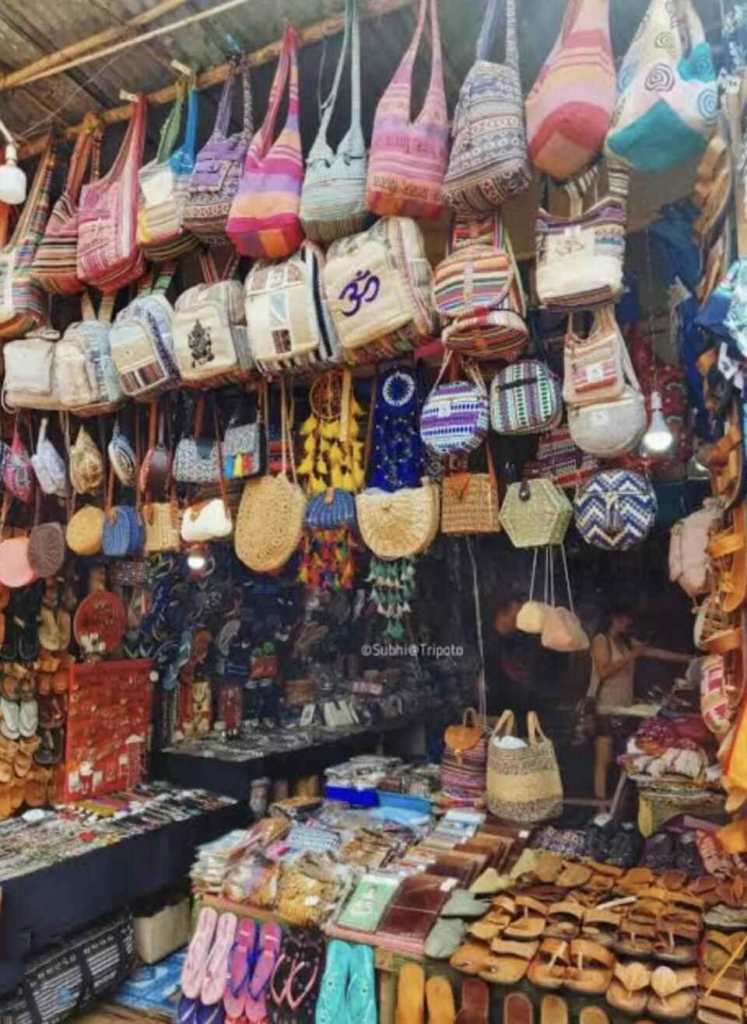 Canacona Saturday Market –
Every Saturday the locals and other visitors come here in bulk to buy the fresh produce at competitively cheap rates. Fresh fish, vegetables and fruits are found here in heaps during the early morning. Some grocery stores are also located in this market area selling the daily-need stuff. It is 3.2 km far from Rajbaga Beach.
Canacona Fish Market –
You can find a variety of fish and seafood items in this popular market of Canacona. Apart from fish, the diverse spices, fresh vegetables, fruits and other grocery items are also available here at reasonable rates. You can buy dried fish from this market too. Canacona Fish Market is adjacent to the Canacona Saturday market.
Palolem Market –
Located 5.4 kilometers distant from Rajbaga Beach, this flea market is a hub of South Goan tourists. You can find junk jewelry, decorative items, quirky clothes, unique souvenirs, dresses, crystals and handmade items under one roof. The food joints located in Palolem Flea Market serve some best Goan delicacies and street food items & drinks.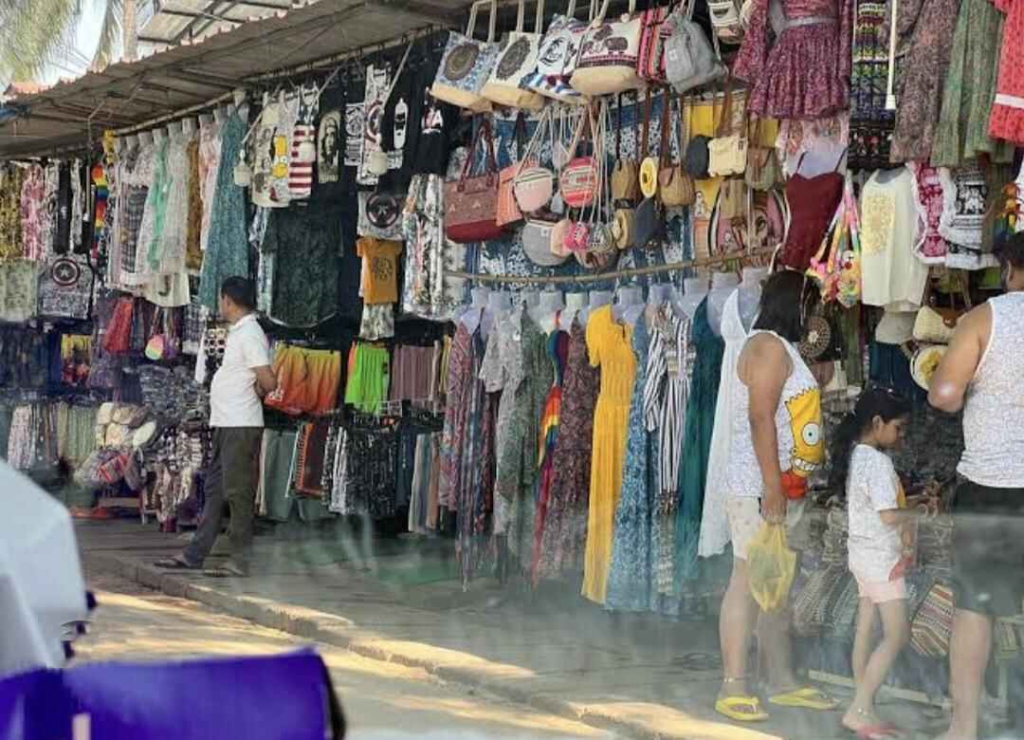 4. How can you revel in the unprecedented fun of lively Goan nightlife while being close to Rajbaga Beach?
If you are planning only the daytime of your beach vacation, a lot more exciting can be missed. The vivacious nightclubs, pubs, bars, discotheques and restaurants of Goa keep them all set to brace the fun freaks. Catchy ambiance, electrifying music, and tantalizing food combined with classy liquors and live events of these lively party locations add spark to the evenings & nights of visitors.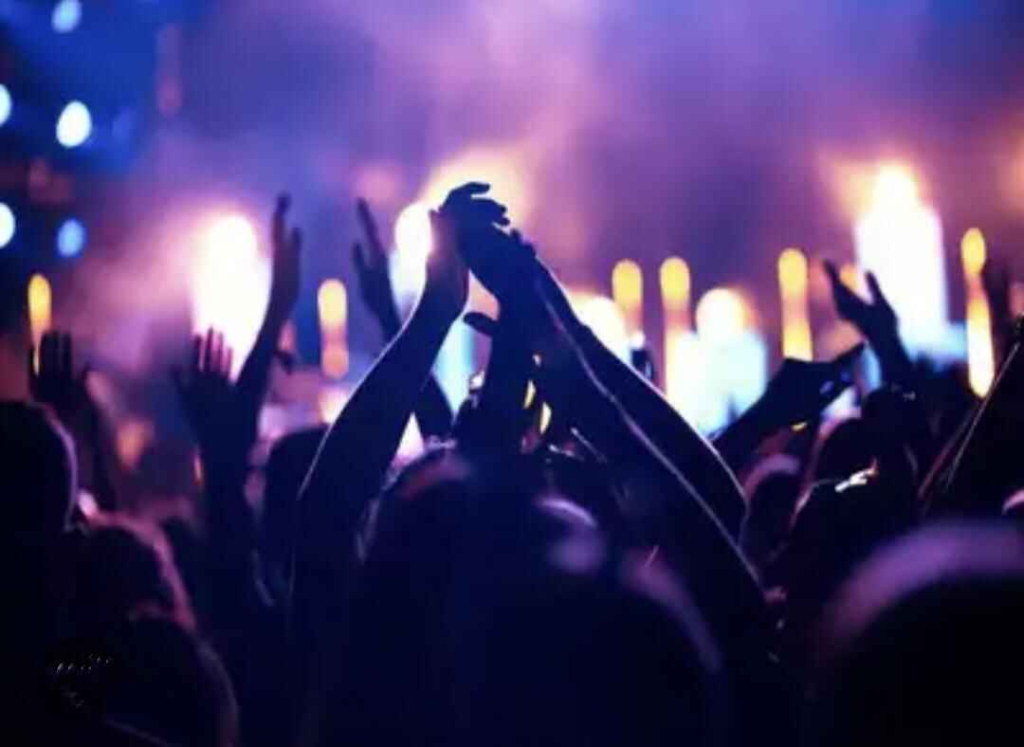 Silent Noise Club –
A quirky place to dive deep into the music, dance, and lighting near Rajbaga Beach is Silent Noise Club. Those who love grooving in the club crowd must pick the Saturdays to spend quality time here. Visitors wear their headphones and groove over the night on their favorite DJ song channels (techno, Bollywood and house). Don't forget to enjoy the fine combo of amazing food and drinks. It is 4.1 km away from Rajbaga Beach.
Black Noise Night Club –
To spend a cozy night in the dim lights while listening to the peppy songs or grooving on their beats, Black Noise Club near Rajbaga Beach is an idyllic location. A small bar setup inside the club satiates the dried throats of boozers. You can access this happening location at a distance of 5.3 km away from Rajbaga Beach.
Alpha Club –
The excellent sound setup, funky ambiance and frequently hosted night events of Alpha Club catch the attention of party enthusiasts. The prompt services of the staff, lip-smacking veg and nonveg food items, a range of drinks and ample area to dance like insane are some undeniable features of Alpha Club that one must experience for once. This vibrant abode of fun, food and music is 4.7 km distant from Rajbaga Beach.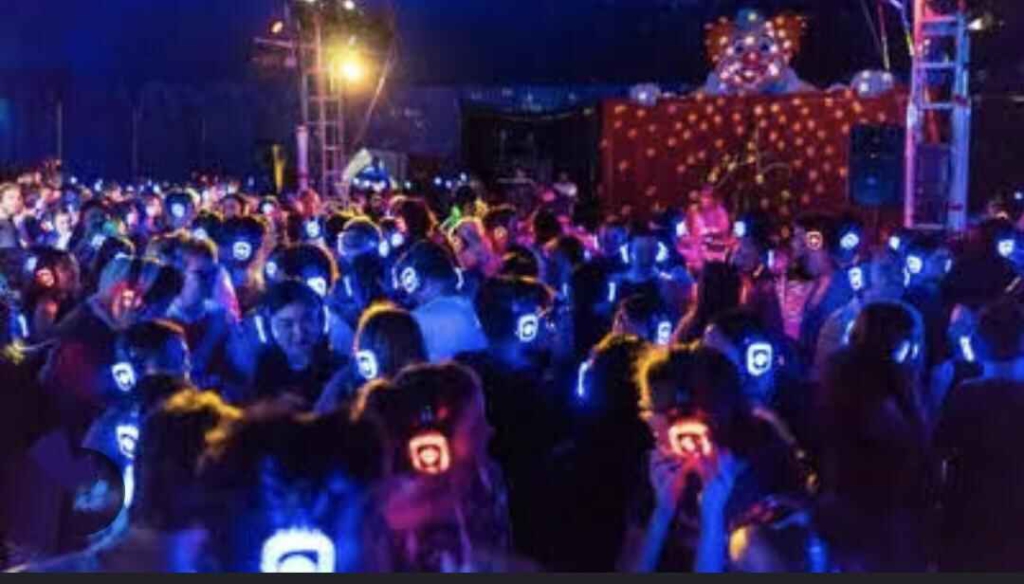 5. Which cafes or restaurants near Rajbaga Beach are perfect for a fine dining moment?
Exploring the beaches of Goa without relishing the local authentic delicacies or enjoying a lavish lunch in a fancy restaurant? It's impossible even in thoughts. Rajbaga Beach's surroundings are full of economical as well as luxurious eateries.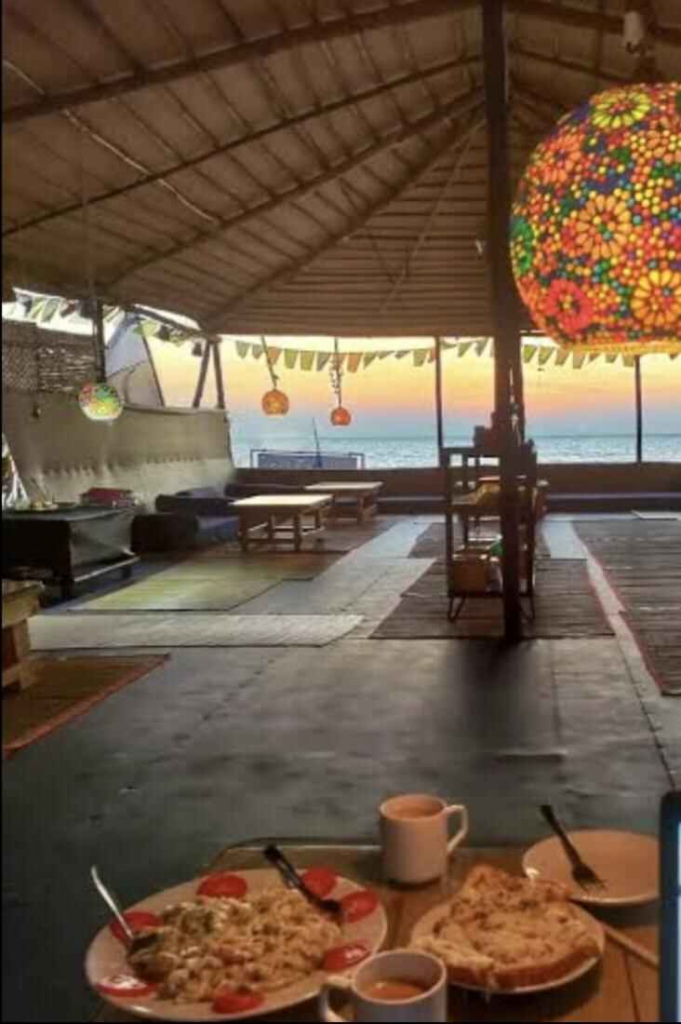 Cafe 17 –
Looking for a great quality of food to satiate your evening cravings? Visit this cute little place and get awestruck by its unique aura. Ground floor sitting, upstairs sitting, a vantage point to see the sinking sun in the ocean, lip-smacking food, courteous staff and their prompt services regarding top-notch hospitality, what else do you want to spend a great evening or daytime near Rajbaga Beach? It is 2.8 km distant from the beach area.
Sea B Q –
This open-roof fancy restaurant is owned by Lalit Golf Course and Sea Resort Goa. A variety of food including local dishes and multicuisine can be relished by the visitors. Along with satisfying your appetite, you can satiate your gaze with scenic views visible from this open-roof restaurant. It is 1.2 km distant from the beach location.
Rutvi Restaurant – Fish & Veg Thali –
A hidden gem located on Patnem Beach Road especially for fish lovers is recognized by Rutvi Restaurant. The super reasonable authentic veg and non veg Goan thalis give a homely feeling to the visitors here. The ambiance and sitting setup will also warm your heart. Its distance from Rajbaga Beach is 2.7 km.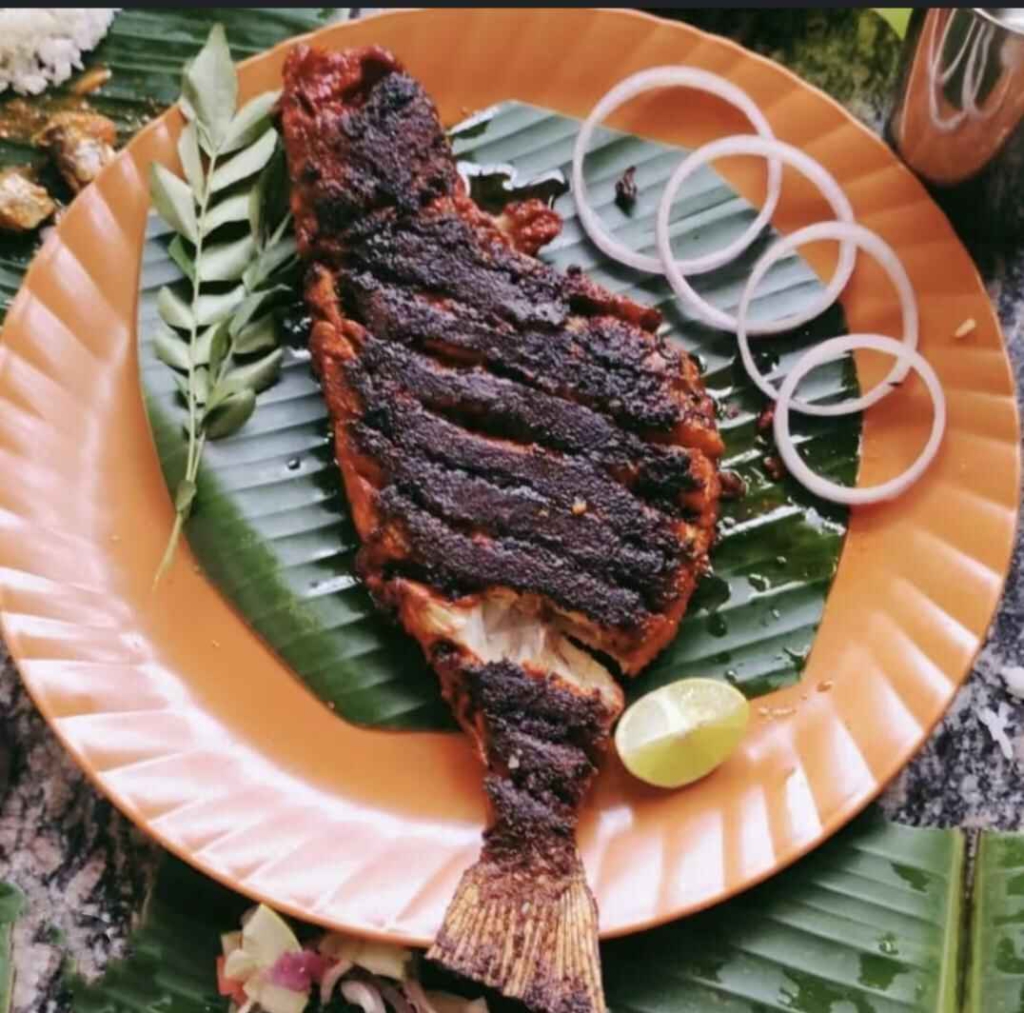 You can also try the below-listed food joints that serve a great fusion of flavors to their guest along with top-notch hospitality.
Nirvana restaurant cafe & bar
USSR restaurant
Namaste Beach huts
Sai JC restaurant and bar
The Goan Belly
Sushi Cafe
Cafe Inn
6. Which are the most prominent shacks located adjacent to Rajbaga Beach?
To loosen up along the shoreline and unwind from all your worries, shacks are the best companions. Rajbaga Beach's vicinity provides you with some best ones. Let's have a look!
Namaste Beach Huts –
The stay facilities available at this rustic wooden shack are worth experiencing. You can lounge on the sunbeds and enjoy your best seafood with a refreshing drink. Its distance from Rajbaga Beach is 2.8 kilometers. You can also ask for help from the staff to plan a dinner date or another special event for your loved ones.
Bhakti Kutir –
Giving a jungle vibe to the visitors, this natural abode is ideal for staying in solace for nature lovers. The huts are equipped with basic amenities, the inside cafe serves economical and amazing food and to make your stay evocable for decades, the professional staff offers an ayurvedic spa & massage facilities. It is 3.8 km distant from Rajbaga Beach.
Casa Fiesta –
This lavish hut-structured shack serves the guests with multicuisens. A budget-friendly stay facility is also available here. Laundry, locker, spacious rooms, rental car, AC facility and prompt room services are major attractions of Casa Fiesta Shack property. It is 2.8 km distant from Rajbaga beach.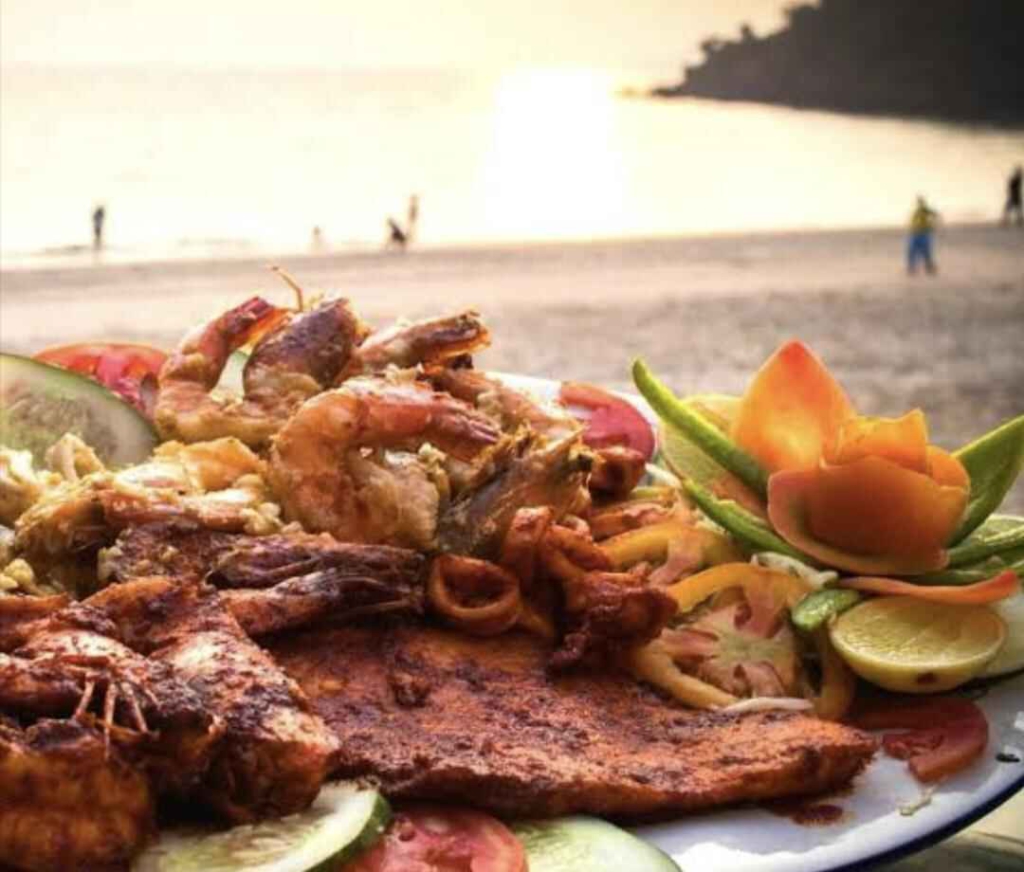 7. Which accommodations are preferred by the frequent Rajbaga Beach visitors and tourists?
To make your holiday purely beach-centric, you should choose the closest accommodation facility available on the beach. In the peak seasons, book your stay location before the arrival and in off seasons don't forget to take advantage of luring deals.
Take a look at the luxury, comfortable yet economical resorts and hotels near Rajbaga Beach.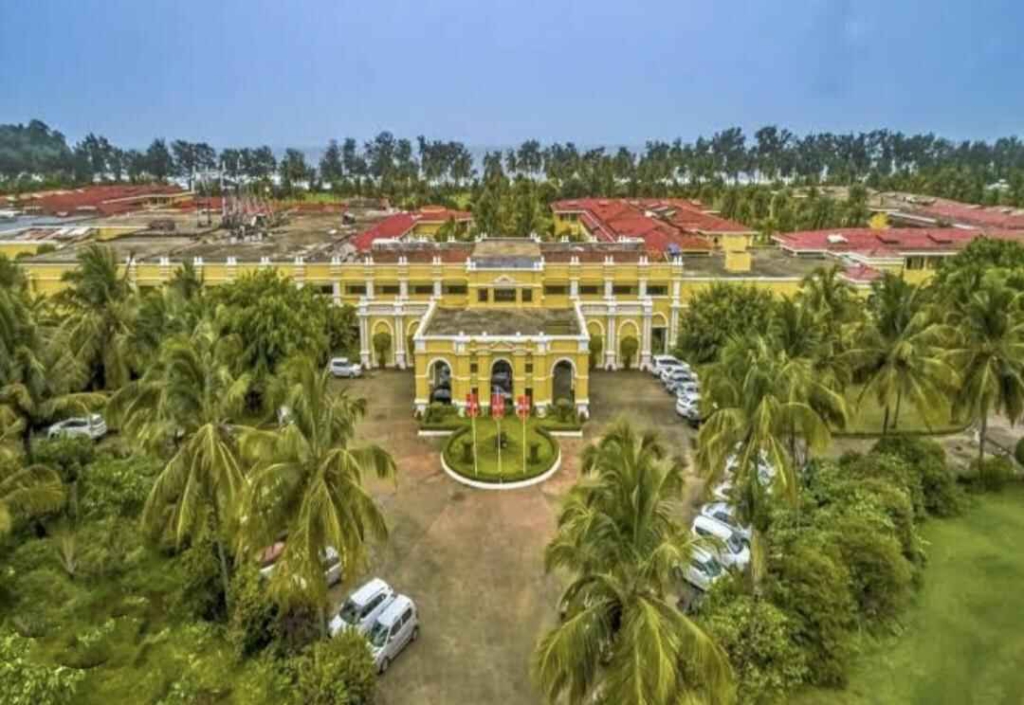 The Lalit Golf & Spa Resort Goa –
Located right on Rajbaga Beach, this luxury resort matches the international parameters. Spacious rooms equipped with basic to advanced amenities, scenic beach views from the balcony and open open-roof restaurant are some of the most tempting traits of this luxurious stay property.
Roundcube Patnem –
Located 2.8 km away from Rajbaga Beach, this property leaves no stone unturned in pleasing & impacting the guests. From the well-maintained rooms and terrace area, you can witness and capture the surroundings of Patnem Beach and Agonda Beach. Mouth-watering food and prompt room service catch the attention of each visitor of Roundcube Patnem.
The Tubki Realtors –
For those who are willing to book a place that fits well in their low-budget frame, this place is the perfect choice. You can spend nights comfortably in just 1000 rupees per night. The fundamental amenities, courteous staff and complimentary breakfast options make it worth booking. You can access this location at a 2.1 km distance from Rajbaga Beach.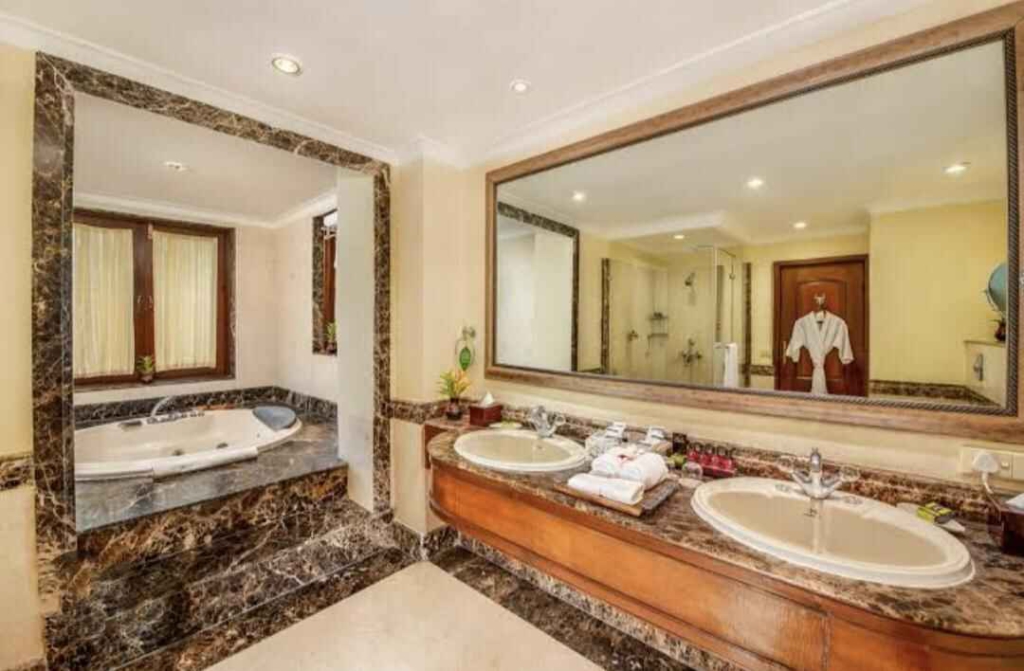 Other choices one can make regarding accommodation near Rajbaga Beach are –
Talpona Paradise Beach House
The Pentacon Resort
Pereira Bliss
Om Shanti Patnem
Patnem Beach park
Patnem Beach Cottage
Tips for travelers to make their beach vacation smooth & hassle-free – :
Walking on the beach alone in the late evenings can be risky due to high tides/Waves. Women and kids must go in groups.
Don't forget to keep the beach essential stuff in your backpack. It includes a sunscreen, hat, flip-flops, sunglasses, and light cotton clothes.
In peak seasons book your rooms before the arrival to skip the issue of unavailability of rooms at the end moment.
Keep cash in a small amount to buy things on the beach. Not all vendors accept online payment.
Frequently Asked Questions (FAQs)-
Q – What is Rajbaga Beach's location?
A – It is located in South Goa near to Patnem beach.
Q – What is the ideal time to visit here?
A – From October to March
Q – Which are the famous Rajbaga Beach Resorts?
A – The Lalit Golf & Spa Resort Goa is the most prominent resort located on Rajbaga Beach.
Q –  What are the prominent casinos located near Rajbaga Beach?
A – Deltin Royale, The Zuri White Sands and Casino Pride are the most visited casinos located close to this beach location.
Check Also: quotes on goa