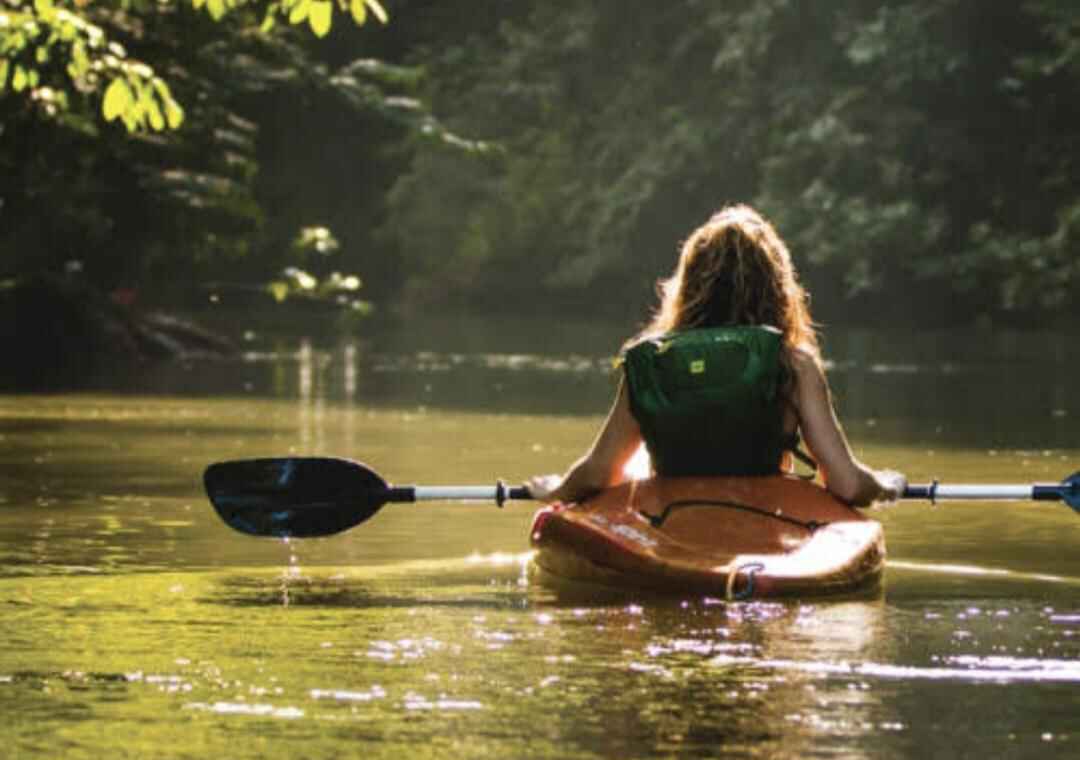 Colomb Beach is truthfully blessed by mother nature. Being free from the clamor of local vendors and mass visitors, Colomb Beach is concealed delight for the peace & nature praisers.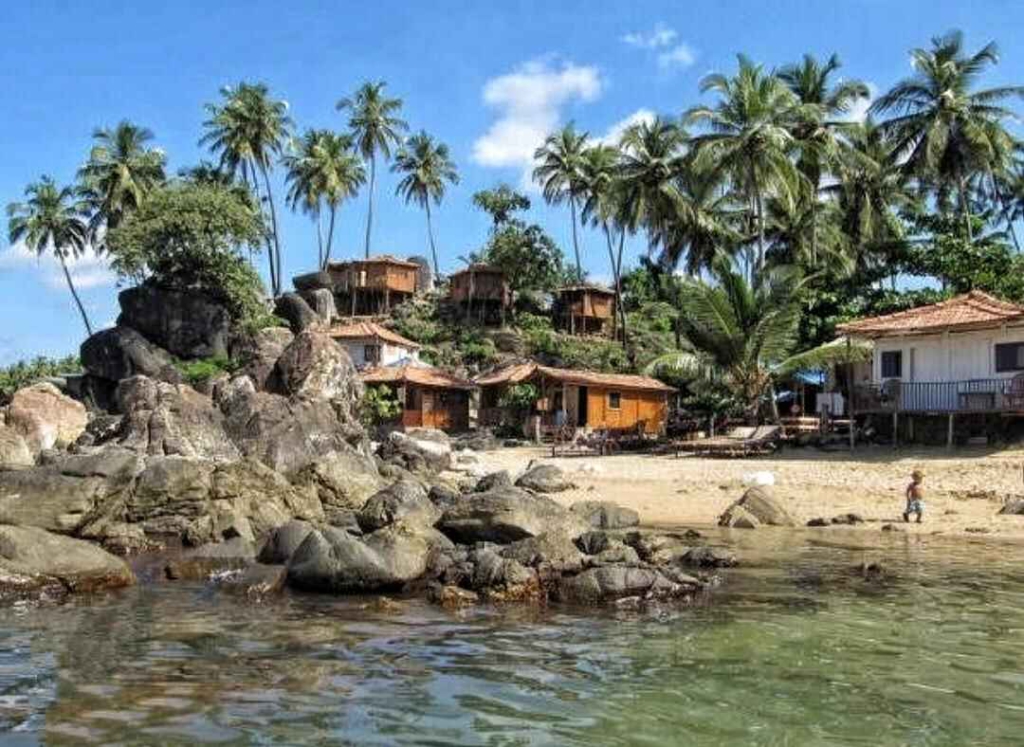 The beauty of Colomb Beach is sporadically handed out among diverse natural elements. Smooth gold sand, turquoise water, swaying palm trees, clear skies, blazing sun and prevailed calmness etc make Colomb Beach a slice of paradise.
It feels like calm nature has nurtured the marine life of Colomb Beach with additional affection. Whether a water beacon desires for swimming in the seawater or traverse through the serene beauty of colorful coral reefs by snorkeling, Colomb Beach is an ideal choice.
Inevitable attractions of Colomb Beach
Do not miss the sightseeing of Pandava's Drum, a rock that sounds similar to the drum on throwing a stone on it.
Experience the popular Silent Noise Weekly Headphone Parties at Neptune's Point.
Take a panoramic view of Colomb Beach and the Arabian Sea from the surrounding hills after a small hike.
Explore this beach as a romantic gateway due to its serene and calm vibes.
The pretty hat houses will be the best suitable accommodation for you while on Colomb Beach vacation.
Ways to reach Colomb Beach
Colomb Beach is located in south Goa and is 70 kilometers far from the capital Panjim. You can take bus services from the Kadamba Bus Stand, Panjim to reach Colomb Beach. Other railway stations from where you can access the beach through cab and taxi services are Vasco Da Gama railway station (66km) and Margao railway station (36 km).
The two closest beaches to Colomb Beach are Patnem Beach and Palolem Beach. You can include them as well in your itinerary for adding more holiday fun.
Best time for planning a holiday at Colomb Beach
At Colomb Beach, the early mornings of the winter season are blessed with mild and balmy weather. These mornings can fulfill your desire of strolling on a secluded beach, soaking in the sun or meditating near the calm shoreline. The late evenings and nights of the summer season are also ideal to spend some time privately at Colomb Beach.
While on the flip, summers bring scorching heat and unbearable temperatures of up to 40°C. In monsoons, you will see unpredictable heavy rainfall that enhances the sea level and makes swimming & watersports risky.
Before drawing a rough sketch of your Colomb Beach vacation, awareness regarding the prime attractions and facilities at or nearby Colomb Beach is unskippable.
1. The nearby attractions of Colomb Beach for sightseeing
Visitors not only find Colomb Beach densely occupied with the presence of natural elements but the adjacent locations are also the abode of unique plants, creatures and waterfalls.
Take a look at options, the visitors can include in their Colomb Beach holiday plan for sightseeing.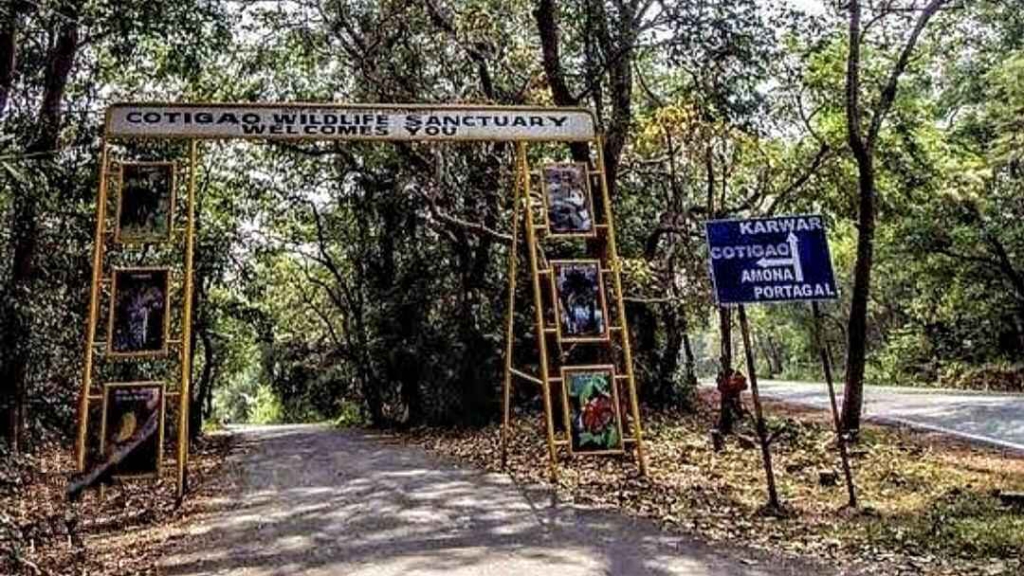 Cotigao Wildlife Sanctuary
The visitors can spend hours here exploring the unparalleled tranquility of the dense forest and a plethora of wildlife species. This pleasant abode to diverse flora & fauna, monkeys, birds and deers leaves no stone unturned for awestruck nature enthusiasts. It is 23 kilometers far from Colomb Beach and takes nearly 1 hour to reach here. The route connecting these two locations will offer a treat of lush greenery and mountains to your vision.
Cabo De Rama Fort
Even the ruins of this marvelous fort holds a charm that is enough to drag history & architecture buffs. Mounting on the peak of this decades-old fort will offer you a panoramic view of the enormous Arabian Sea and nearby locations. Concealing the intriguing past of lord Rama and Portuguese rulers, Cabo De Rama Fort is visited by a mass crowd throughout the year. It is 24 kilometers away from Colomb Beach and requires a journey of 1 hour to access it.
Sahakari Spice Farm
Though this spice plantation area is 56 kilometers distant from Colomb Beach, every minute of this long travel is worth spending. Taking a guided tour at Sahakari Spice Farm will make you learn about the spice varieties, their origin and beneficial properties. At the end of your tour, a traditional Goan meal will be offered to you. The tantalizing aroma of spices will slowly creep into your beach holiday memories.
Galgibag River Estuary
An ideal place for birdwatching is quite close to Colomb Beach and recognized as Galgibag Estuary. Visitors come here to witness several migratory birds like eagles, herons and kingfishers. To make your experience even more indelible, take a boat ride and try your hands at fishing. It is 8.4 kilometers far from Colomb Beach.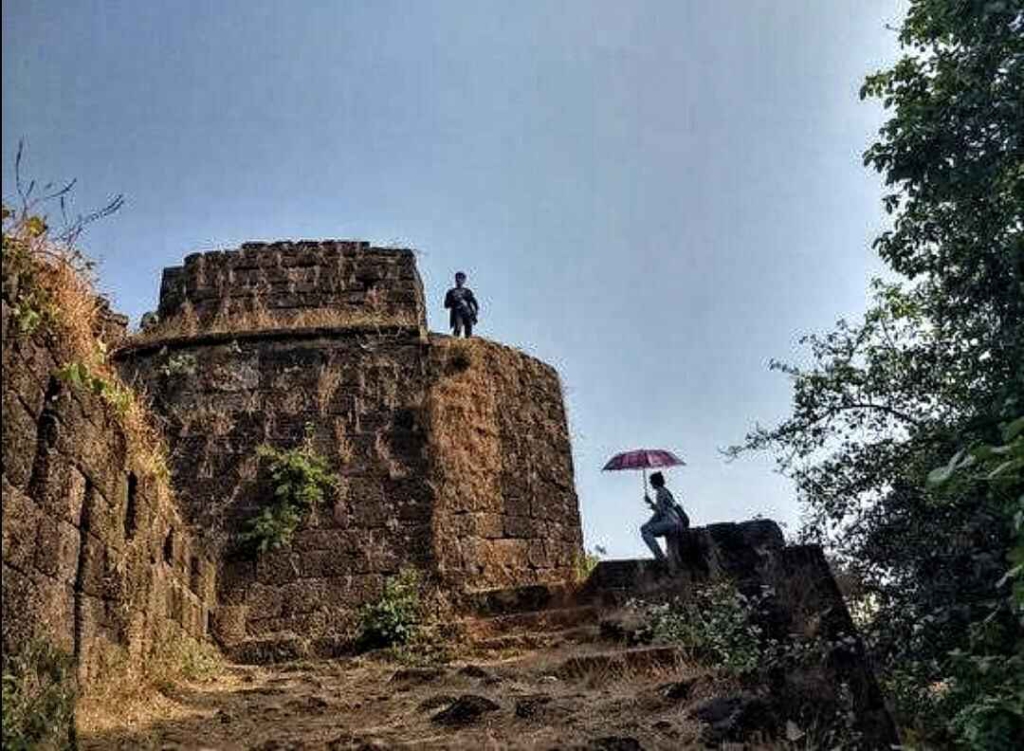 As it is mentioned above Colomb Beach is a secluded & hidden beauty of South Goa, a very few attractions falls in the vicinity of this beach.
2. Dive into the fun of thrilling Water Sports at Colomb Beach –
The sparkling water of the Arabian Sea lures the water beacons to drench themselves in the adventure of beach water sports. Simply swimming in the calm lagoon's water will infuse relaxation in you. Other water activities also catch the mind of visitors and compel them to show some grit to explore Colomb Beach thrillingly.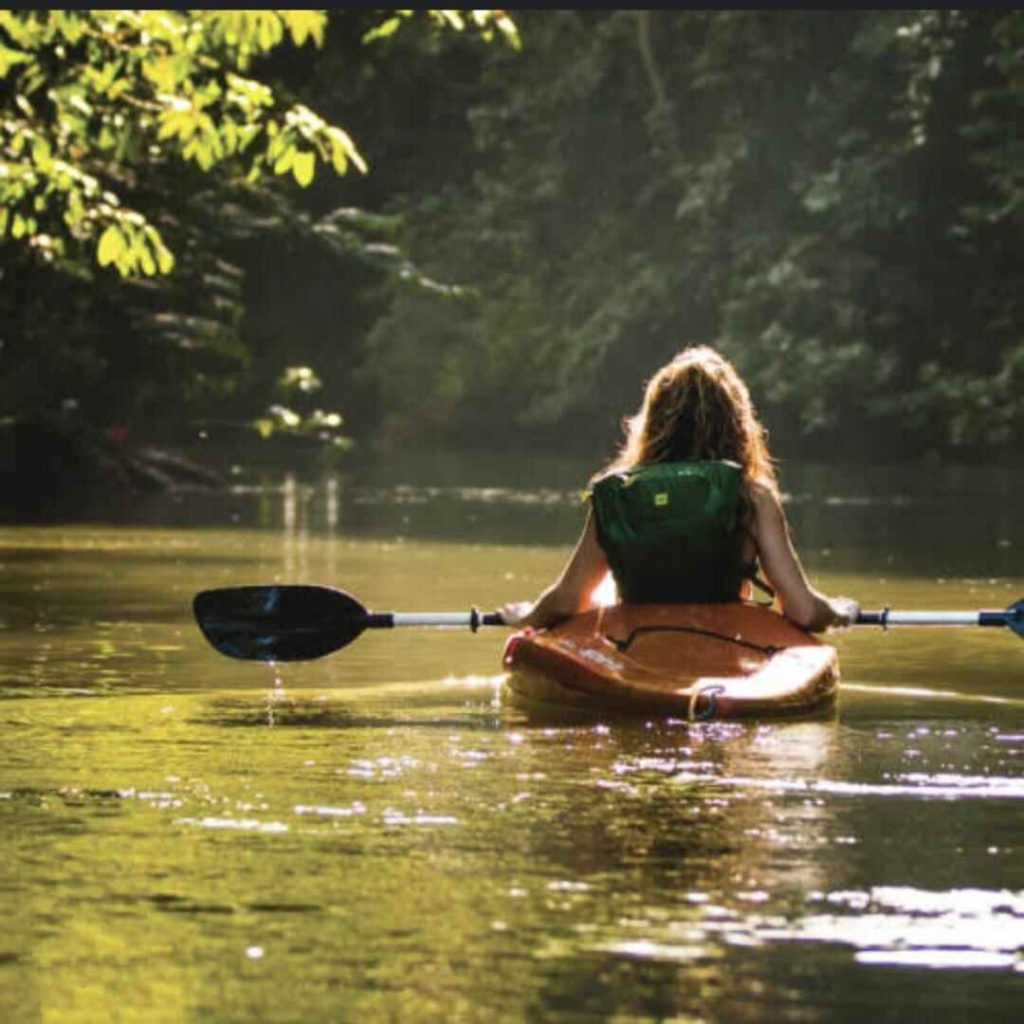 Snorkeling
A close view of colorful coral reefs and the marine life of the Arabian Sea at Colomb Beach will take you to another world. The right precautions and quality equipment will keep you safe during the entire activity. Zillions of visitors come to this beach beauty for rejuvenating themselves by seeing, touching and praising this magical marine life.
Kayaking or Paddleboarding
This one is quite simple water activity and attracts ls beginners mostly. Simply sitting on a boat or inflated tube and exploring the small yet surreal Colomb Beach while a magnificent sunset will strike you differently. You can contact the local Kayak operators for providing new kayaks & guiding you. Evenings at Colomb Beach are ideal for Kayaking here as you can see the sinking sun into the Arabian Sea.
Swimming
Colomb Beach is one of the smallest beaches of South Goa. Those who love swimming in the turquoise water of the Arabian Sea with a feel of tranquility and seclusion, visit Colomb Beach frequently. The sea level here is completely favorable for swimming and there is no steep gradient in the water. Kids can also try swimming here but with all safety measures and under guidance of the experienced ones.
Boat Trip
How would you feel to take a boat ride with your family or friends and witness the galloping dolphins at Colomb Beach? Surely it's a tickling thought for beach lovers. If you are not interested in taking a solo kayak ride, choose a boat trip to an extended sea area at Colomb Beach. Capturing the beauty of other adjacent beaches, spotting dolphins and viewing the rock formation etc compel us to recommend you a memorable boat trip to Colomb Beach.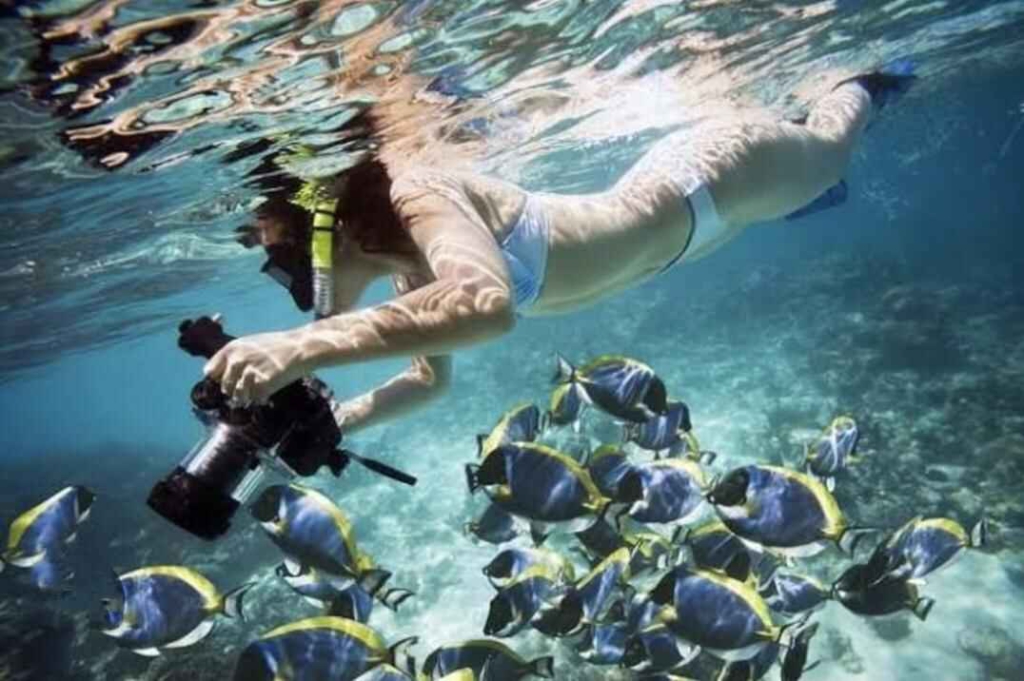 These water activities create some treasurable memories of panoramic views of the shoreline, sunrise and sunset moments etc as well.
3. Markets near Colomb Beach to satiate your inner shopping enthusiast –
Nobody can stay at an arm's length from the shinning stall setup established at the nearby Colomb Beach areas. Buying some souvenirs as a memory or gift, exploring the street food stalls and knowing the locals etc, these all desires have just one solution – Unleash your shopaholic trait.
Let's know what options you have near Colomb Beach for a fun frolic shopping activity.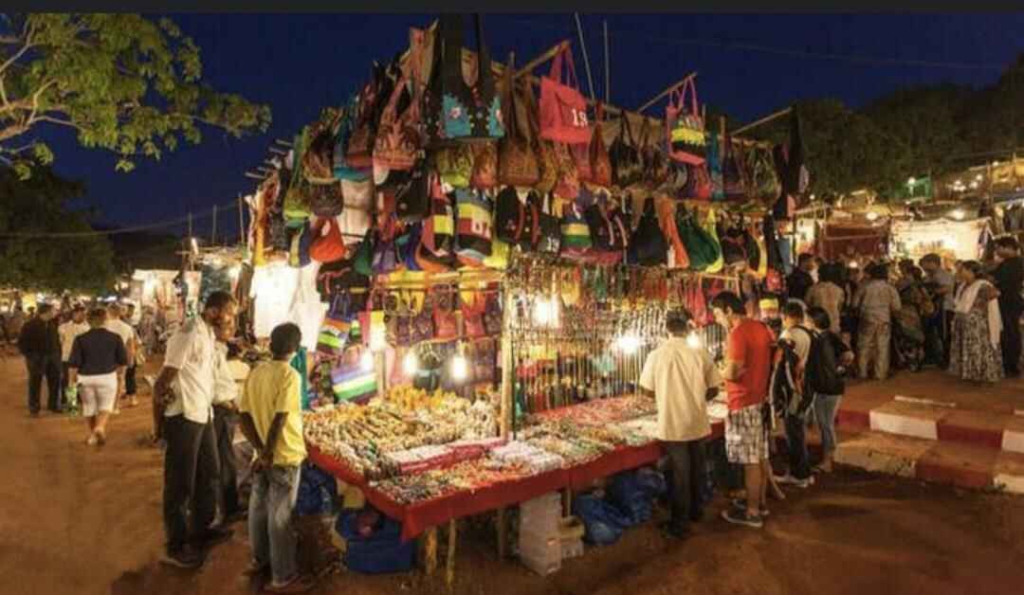 Palolem Market–
It is just 2.3 kilometers away from Colomb Beach. This flea market is finely organized by the vendors and local authorities. You can find here a range of items like jute bags, crystals, dresses, footwear, decorative items, clothes and other souvenirs etc at rational prices. While strolling on the streets of Palolem Market and finding the perfect items, you can explore the local eateries as well. However, the peak summer season can disappoint you slightly as several shops remain shut during this period.
Neena Arts
This place will surely win your heart if you pose a great inclination toward art. Apart from purchasing souvenirs or decorative items from this small shop, you can get the services of Hina Tatto making as well. The prices are slightly high for the items here but there is still room for honing your bargaining skills. It is 2.2 kilometers far from Colomb Beach.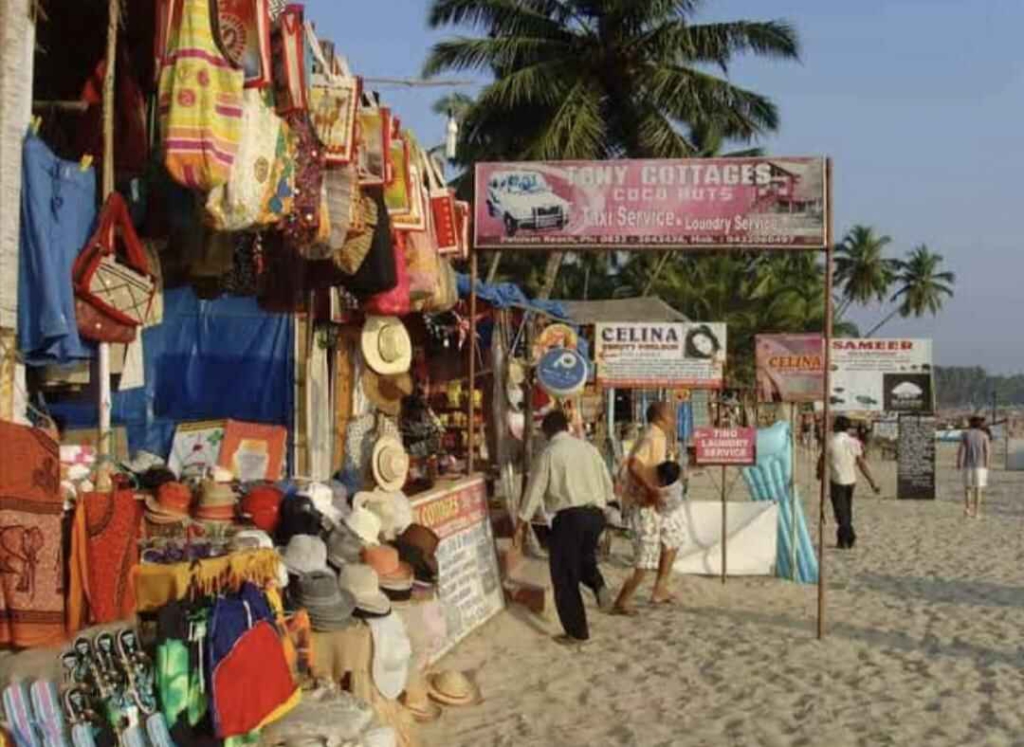 4. The bustling Nightlife of Colomb Beach –
It's a sin to not hit the floors of the most prominent clubs or pubs located close to Colomb Beach. Though being a secluded beach of South Goa, it offers numerous hubs to groove to your madness. You'll find this beach land laden with night parties in the peak winter season.
A quick view of the classic clubs near Colomb Beach to unleash your wild party animal.
Silent Noise Club
It is going to be a crazy night if you choose Neptune Point for this strange silent party. The location is just 80 meters far from the Colomb Beach area. You can take headphones and choose your DJ tune for grooving like an insane for just 600 rupees. Watching the crowd doing quirky dance moves will be a different fun for you surely. The timing of this fun-packed party is from 7 pm to 2 am. While on Saturday nights, you can dance till 4 am.
Smuggler's Inn
The ambiance of this place depicts European-style architecture. You can watch movies on the big screens, enjoy karaoke nights and play some enticing indoor games along with relishing your favorite food and sipping a striking drink. A plethora of choices for great British cuisines and a classy drink menu enhance the worth of this party place. Located just within walking distance from Colomb Beach, it attracts fun lovers in bulk. The budget for two people here is 1500 rupees and the place opens from 11 am to 12 am.
Kala Bahia
A well-planned night out at Kala Bahia will be an unforgettable one for your entire group. Food, drinks, ambiance, music and services everything treat the guest so well here. Due to being close to the beach, the visitors enjoy the splendid views of sunset and calm nights. There is a floor for dance lovers and DJ will play the peppy songs till your ankles ache so badly. A good walk of 350 meters will meet you with this paradise of fun.
Black Noise Night Club
The place serves you great food, drinks, energetic music, a dance floor, ambiance and a great party vibe to its fun-loving guests. In the happy hour drinks, you can enjoy the advantage of complimentary drinks here. The place is 2.2 kilometers distant from Colomb Beach.
Leopard Valley Goa
A nightclub with a laser show, DJ stage, Jungle quarry, VIP sections, open sitting area and great food compel you to spend long hours here with your gang. The cheese-filled prawns and hookah varieties are the prime specialties of Leopard Valley Goa. The poolside area is also ideal for having a great time with your group. You can enjoy the party till 4 am. The distance of this party place from Colomb Beach is 5.4 kilometers.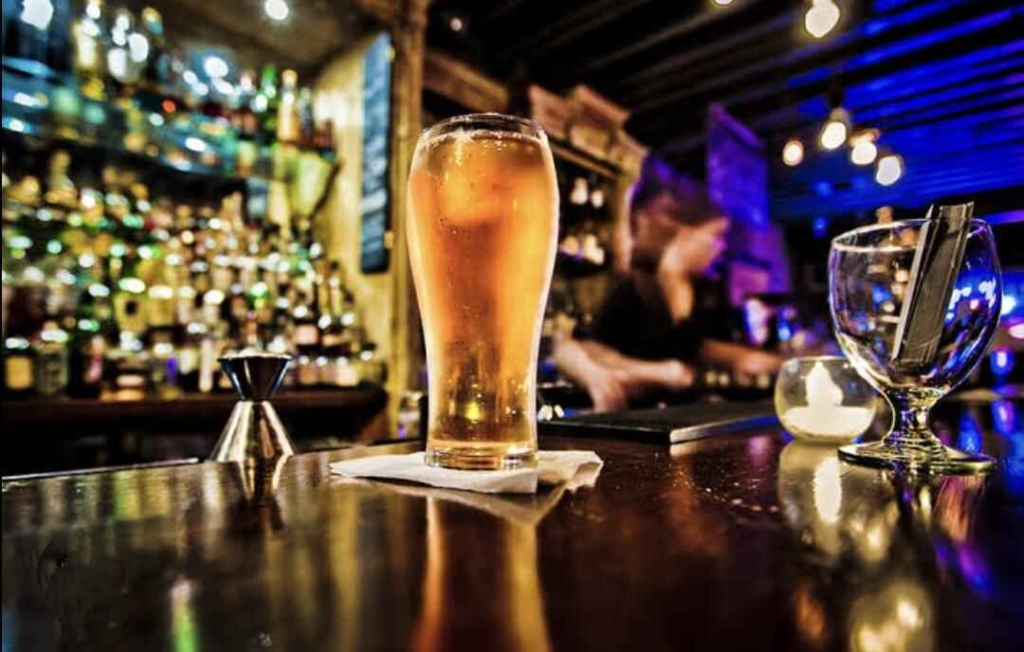 All these decent places are prominent for the bar facilities. Getting slightly tipsy during your beach vacation will be an exceptional experience for you and your group.
5. Explore the beach shacks for living a hippie vibe for a few moments –
Beach shacks of Goa are the perfect blend of the freshest seafood, finest cocktails, beach views, music, dance, live performances and stress-free strolling on the sand.
Colomb Beach is no exception in this scenario. The nearby areas are repleted with prominent shacks. Visitors love to stay at these temporary structures or setups.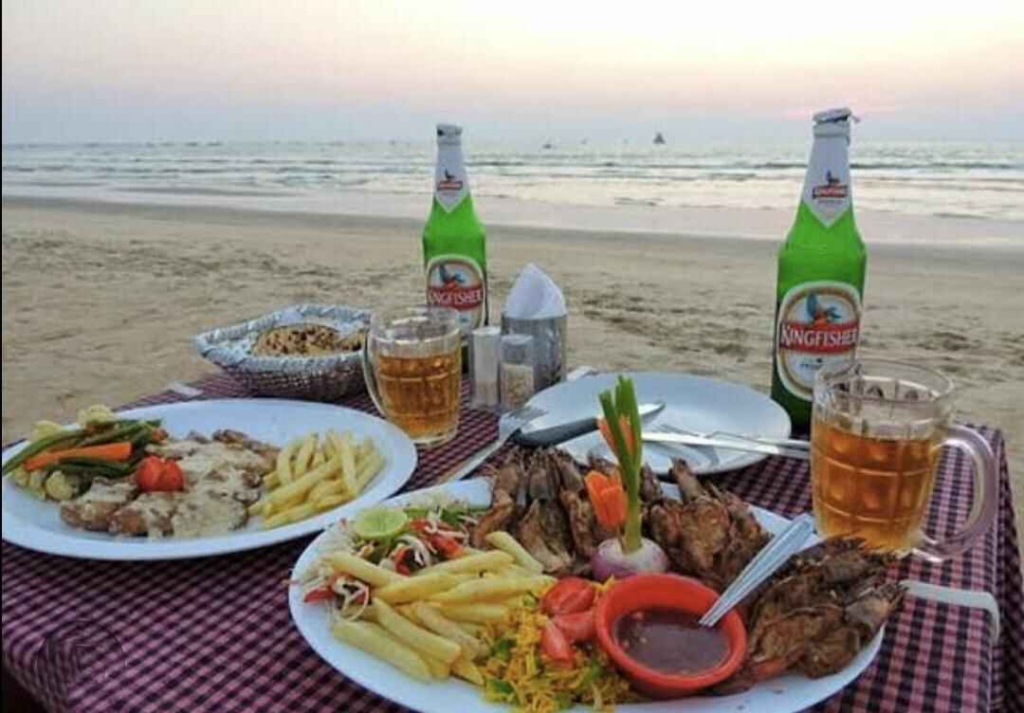 Here are the best shacks located near Colomb Beach.
Sevas Beach Hut
It is a beach restaurant serving visitors with staying facilities and great food & cocktail options. It is 1.9 kilometers far from Colomb Beach. The ambiance of this shack is indeed lucrative.
Marita Beach Shack
This shack is crowded with bulk visitors throughout the year. Great ambiance, variety of seafood, and refreshing drinks are the compelling causes to be packed with people. Super friendly and prompt services of this shack please the guests mostly.
6. Stay facilities near Colomb Beach –
A beach holiday gets an absolute pack-up when you finalize the closest accommodation serving all comfort & luxury under one roof. Colomb Beach of South Goa is encapsulated with ample stay options like Villas near colomb beach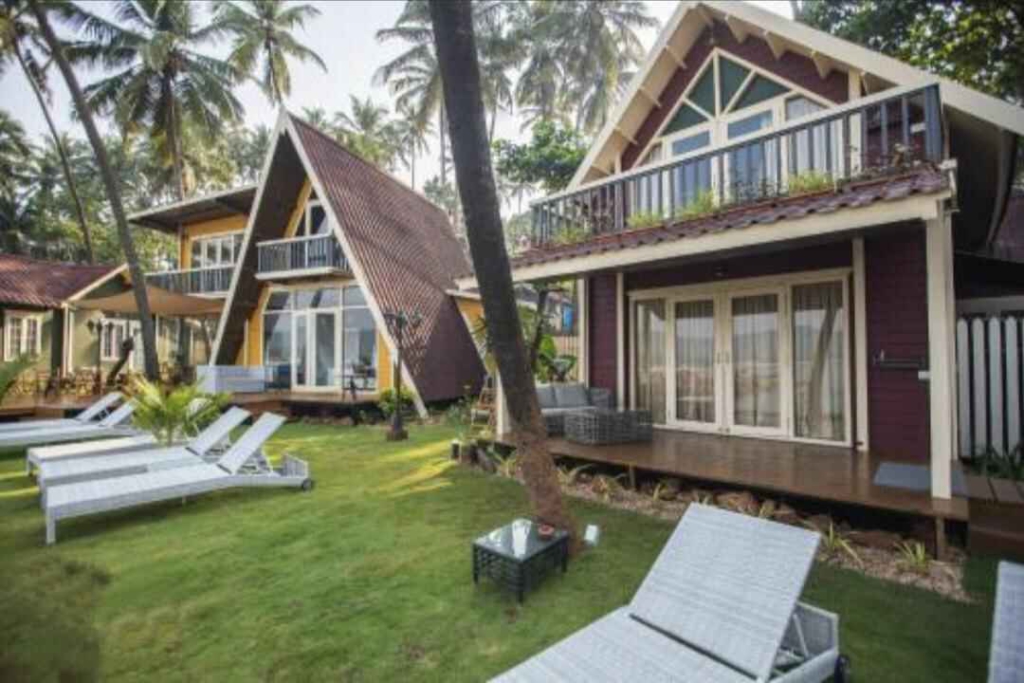 Grand Sea Shades, Goa
Located at a 50-meter distance from the beach area, this place is known for tidy and spacious rooms. Visitors find scenic beach views straight from their rooms pretty much luring. Restaurant facilities, enough parking lot, prompt services at the reception desk and the serene environment of this property will build an indelible memory of your stay.
The Ark Comforts
This wooden cottage is just 80 meters away from Colomb Beach. If you are looking for a property that can offer you a private environment, The Ark Comforts is an idyllic choice. Whether you want to recline near the beach, enjoy Internationalcuisines, look at the beach view from your room and take a dip in the pool, this property fulfills all your demands.
La la Land Resorts
Truly a paradise for nature lovers, this property holds the capability to serve you the best stay experience. Surrounded by dense green forest, the property lacks nowhere in offering a lavish and comfortable stay. Swimming pool, spa, restaurants, nearby attractions and modern amenities in spacious rooms make it heavenly. It is 400 meters away from Colomb Beach.
Bhakti Kutir –
Another place giving jungle vibes to the guests is Bhakti Kutir, located 280 meters far from Colomb Beach. This property is ideal for staying during monsoon. Inside- the restaurant facility, ayurvedic massage and peaceful surroundings just make it perfect for treating yourself to a peaceful delight.
A few other options open for an unforgettable stay popularized as Colomb Beach Resort are, Marron Sea View Resort, The Shore Beach Resort, Casa Jalli, O3 Beach Resort and Piccolo Dreams etc.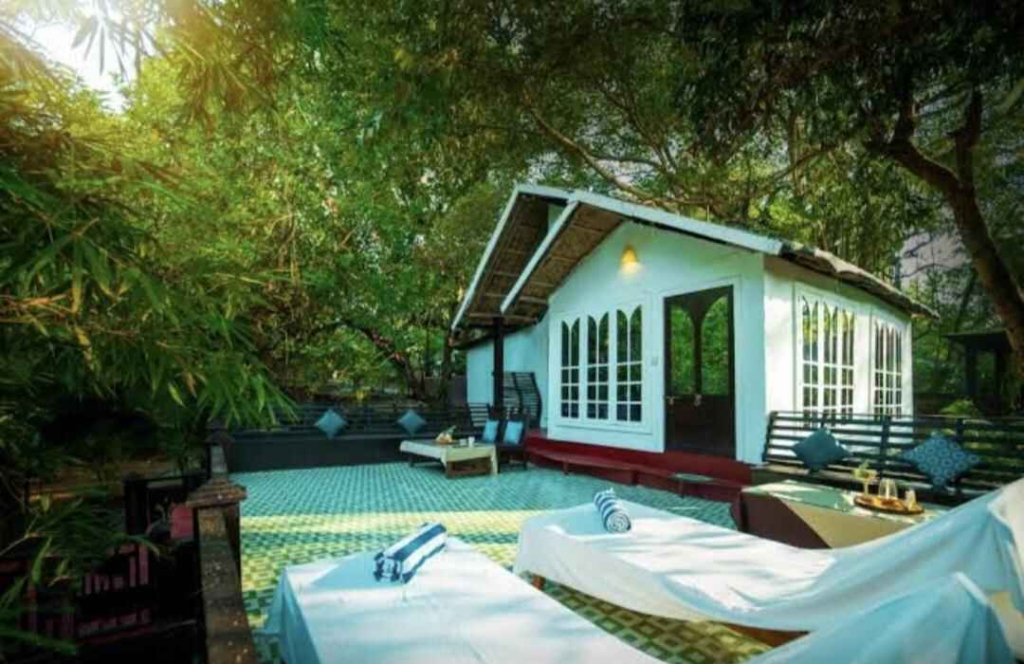 Tips for travelers to make the Colomb beach vacation worth memorable –
Do not forget to keep light cotton clothes for spending a great time on the beach.
Keep yourself hydrated while relaxing or strolling on the beach.
Avoid going beach late at night, especially the women. You must go for a beach walk in groups.
Use online modes for payment and avoid keeping cash in more amounts.
Take good care of your children if you are having a family vacation at Colomb Beach.
Frequently Asked Questions ( FAQs) –
Q –  How to reach Colomb Beach from Panaji?
A – Bus services are available from Panaji to access Colomb Beach in nearly one hour.
Q – Is a personal vehicle allowed at Colomb Beach?
A – Yes, you can take your four-wheelers to the Colomb Beach area.
Also check : plan cancel quotes