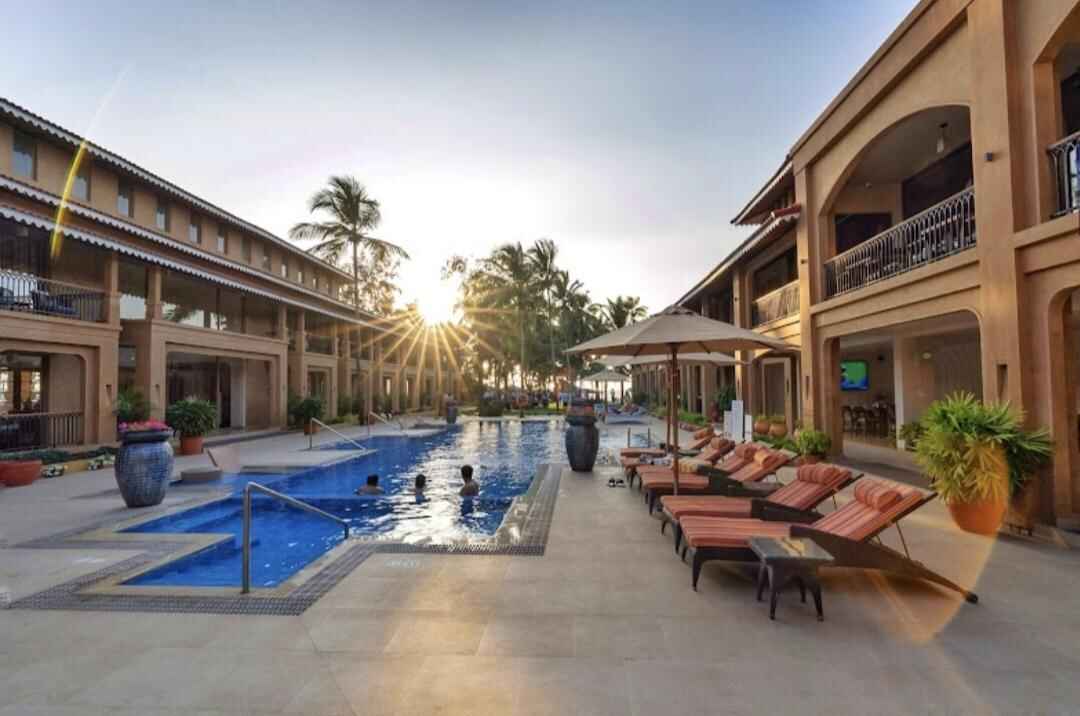 Coco Beach of Goa is famed as a Fishing Spot but its adjacency with the capital of beach land Goa (Panjim) draws the local and foreign visitors in mass. Another compelling reason behind luring visitors towards it is, Coco Beach acts like a bridge beach between Nerul & Candolim Beach.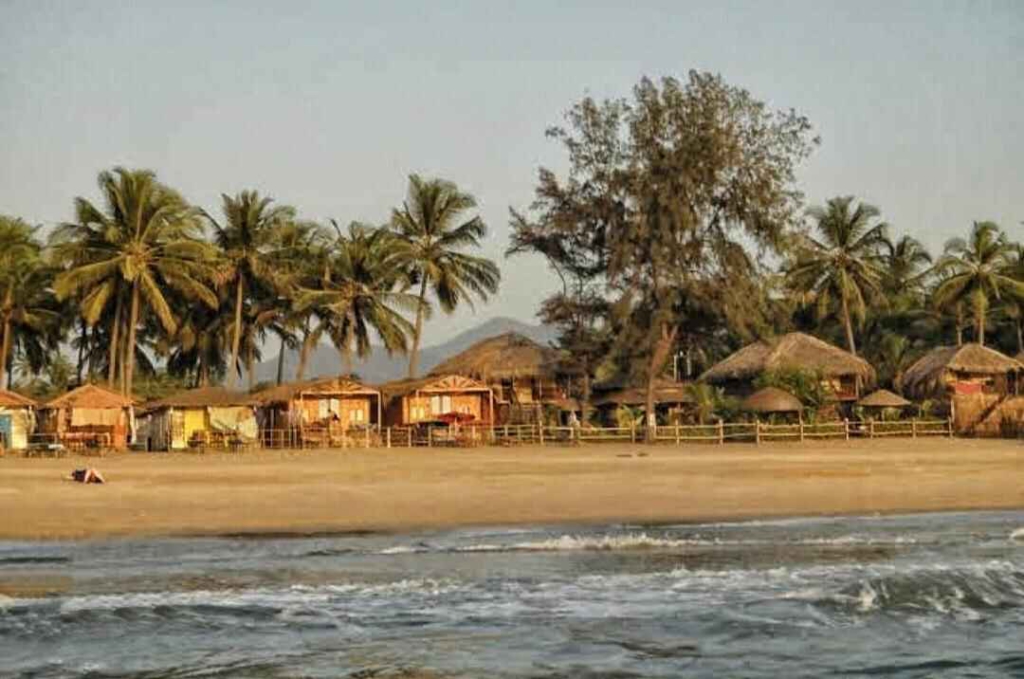 Beach lovers can plan a perfect holiday here by indulging in the heavenly boat rides in the morning while strolling along the shoreline in the evenings. Coco Beach is considered the hub of adventure as well. However, you should avoid swimming here due to the steep gradient.
The melange of Seawater and River water create this beach akin to a paradise for nature admirers. Along with it, you can revel in the fun of exploring an array of markets, shacks, Portuguese villas, forts and fine dining spots.
Let's know how one can live the best holiday moments in or near the Coco Beach area.
1. What are the must-see attractions near Coco Beach?
The location of Coco Beach is heavily covered with a range of popular tourist spots. Forts, architectural jewels, nature's spots, religious or spiritual locations and other beaches give a whole package for traversing the diverse beauties to visitors.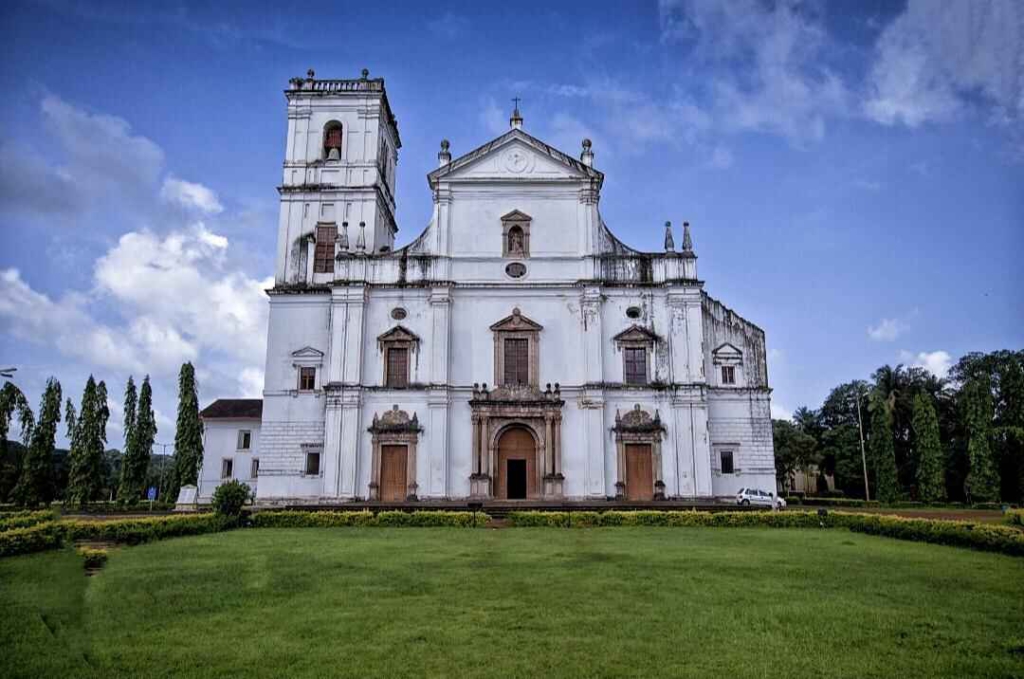 Se Cathedral – You can not take your eyes off the intricately designed interior of this ancient architectural gem. The beauty of the church leaves the visitors in an awestruck state. The golden bell and a museum holding plethora of memories entice the visitors the most. The distance of this ancient church from Coco Beach is 19 kilometers. You can visit here between 7:30 am to 6 pm.
Fountainhas – Another ideal visiting location for the praisers of ancient architecture is Fountainhas. You can not resist capturing the colorful bungalows built in Portuguese style, narrow streets, balconies of decades-old houses, art galleries and wells etc. The mornings of this top-rated tourist location of Goa are ideal for roaming freely here. It is nearly 10 kilometers away from Coco Beach.
Reis Magos Fort – Just 4 kilometers far from Coco Beach, this marvelous fort depicts the British, Portugese and Marathas' battle stories of the 18th century gracefully. The serene ambiance, finely preserved architecture and knowledgeable exhibits etc make this place worth visiting at least once.
Big Daddy Casino – To find a new fun frolic activity near Coco Beach, you must visit Big Daddy Casino. Trying hands at several exciting casino games and relishing the lip-smacking snacks with drinks, will give you the joy you are seeking for. It is located in Panaji, quite close to Coco Beach. The lowest ticket costs 3500 rupees here and you are free to spend good 3-4 hours.
Salim Ali Bird Sanctuary – This place is an estuarine mangrove habitat and home to scores of bird species. Traversing through the dense greenery and listening to the chirping sound of unique birds will rejuvenate your mind and soul. A drive of half an hour from Coco Beach can offer you this unforgettable experience.
Aguda Fort – The key attraction of this historical location is "the lighthouse" present here. Visitors find themselves highly fascinated by the bird's-eye view from the top of this fort. History buffs should not skip this option as they'll find a plethora of details about the Portuguese era. It is just 7.4 kilometers far from the Coco Beach area.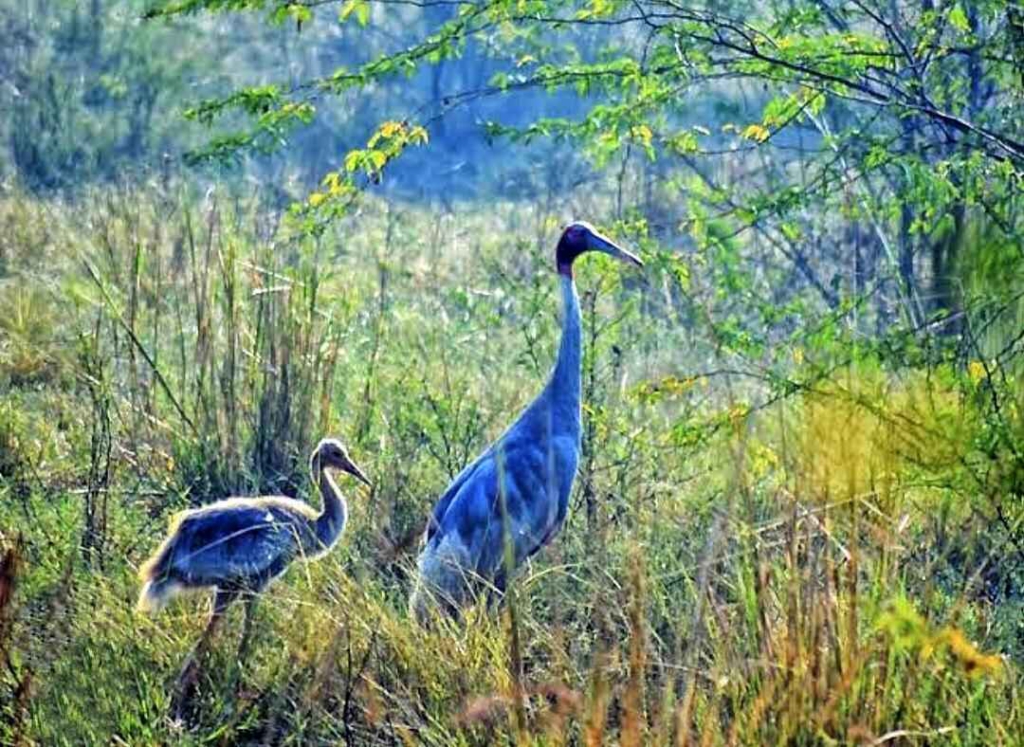 These are some prime tourist attractions that fall in the vicinity of Coco Beach. You can include several beaches in your itinerary as well that are adjacent to Coco Beach.
2. Gain a lifetime experience through the water adventure at Coco Beach –
The thrilling water activities on a beach land are something that stirs the level of adrenaline in every person. One can try the hands at a simple or slightly risky water ride. These amenities are provided by the PADI-certified and highly trained riders & sports operators at Coco Beach.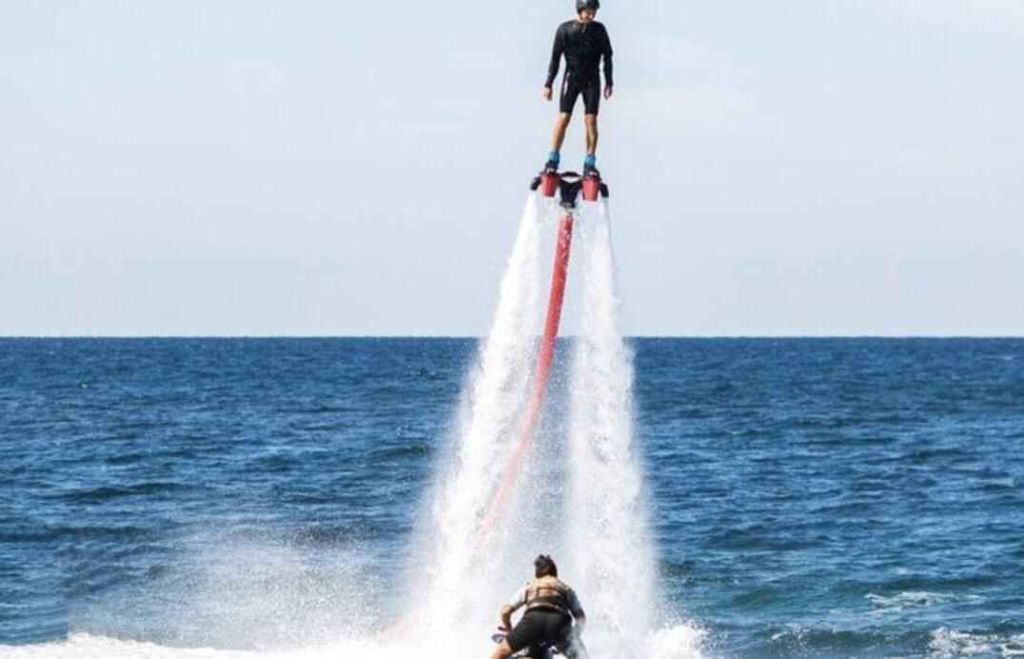 Cruise Tour – Due to being located quite close to the Mandovi and Nerul Rivers, Coco beach offers you the mesmerizing cruise tour services. Sailing on the crystal blue water, witnessing the galloping dolphins merrily and romanticizing the moments with your partner, these all you can get during a cruise tour at Coco Beach. You can not afford taking a quality camera with you before leaving the beach for cruise tour.
Bumper Ride – As the name of the ride signifies, you must be ready for experiencing some unpredictable bumps during the Bumper Ride. An inflated raft of boat will drag you rapidly while being hooked with a speed boat. For the safety purposes the operators provide a life jacket to the visitors. The cool breeze and splashes of seawater will make you sense the refreshing vibes.
Jet Skiing – This choice is only open for the experienced ones and who know to perfectly balance while gliding on the sea water. Though the naive or inexperienced ones can get the company of trainers while skiing. The fun of skiing on the Arabian Sea at Coco Beach will be unparalleled for you surely.
Banana Boat Ride – Want to experience some simple yet thrilling at Coco Beach? Banana Boat ride will be idyllic for you. Plunging into the water fun and flying high on the banana boat through the insane sea waves add some precious moments to your beach holiday memories.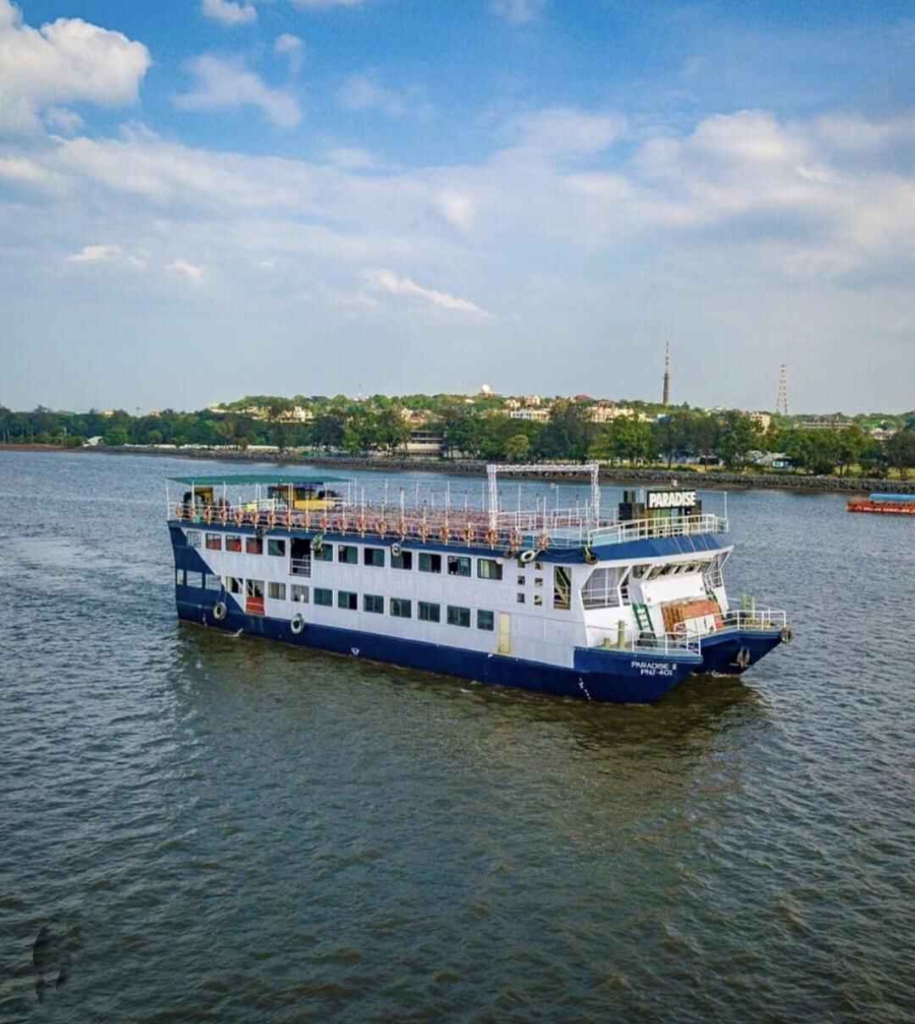 A few other exciting water activities at Coco Beach are available like Dolphin Watching, Snorkeling and Fishing etc.
3. Plan an indelible dinner near Coco Beach with family, friends and your partner –
The tantalizing aroma of authentic Goan food makes every visitor irresistible. You can find numerous food outlets near Coco Beach. The awestrucking ambiance, great food, complimentary drinks and prompt services of these places catch the attention of guests in just one visit.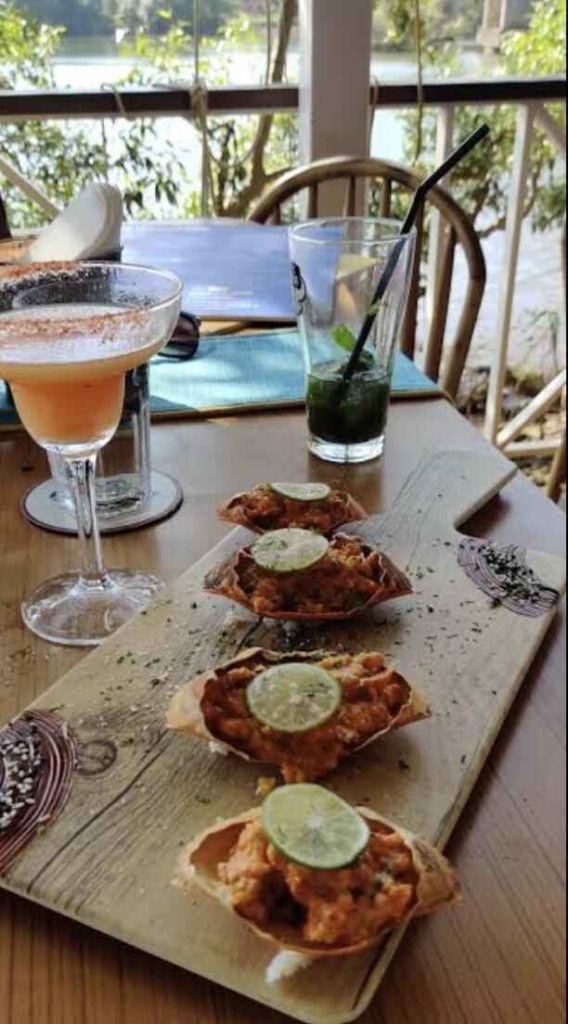 The Lazy Goose – The ambiance and presentation of food here deserve an acclamation. Stuffed Baby Crab, Thin Crusted Pizza, Chicken Skewers, Vietnamese Fishcakes and Goan Curry Soup etc are the frequently ordered dishes of this open-view restaurant. Though the prices are not so pocket friendly, every single penny spent here will make a worth. The place is very well recognized in Nerul, just a few minutes away from Coco Beach.
Rohan Family Bar & Restaurant – The calmness and proximity to the sea view of this food outlet pleases the guests drastically. The great open ambiance, tempting food items and a perfect choice of Konkani music played here make the place ideal for spending beautiful hours with your loved ones. The prices of the delicacies served here are not too much high to afford. It is also located on Coco Beach Road, Nerul.
Banyan Tree – This place is truly a delight for the sight as well as the taste buds of guests. Located nearly 4 kilometers far from Coco Beach in Candolim, it pleases the people with some unique Thai cuisines. The presentation of the dishes along with refreshing drinks will satiate your appetite. Another best trait of this restaurant is, the staff members go the extra mile to exceed the expectations of guests.
Wok And Roll – Looking for a place to try some international cuisines, especially Asian ones? Wok & Roll can meet all your expectations. Right before serving your order, they offer special table services that catch the attention of guests. You can try here Singaporean, Vietnamese and Chinese delicacies with a brilliant selection of drinks. Your palate is never going to forget this delightful culinary experience.
Rita Bar & Restaurant – Here you can cater to your taste buds with some best Goan and Chinese delicacies. The refreshing mocktails are also available here in a wide variety. The only advice you need before visiting here is to try to reserve a seat here or reach early as the place gets packed with crowds quickly due to their best food and services. Tandoori Chicken, Crispy Chicken and Chicken Cafreal are the specialties of this place.
Delly Dolly's – Just in 600 rupees two people can enjoy the multi-cuisines at Delly Dolly's. A complete meal, snacks, cocktails and mocktails everything is available here to cater to your tickling taste buds. Do not miss enjoying the view while relishing your food here. Its location falls in Dandarim, Nerul near Coco Beach.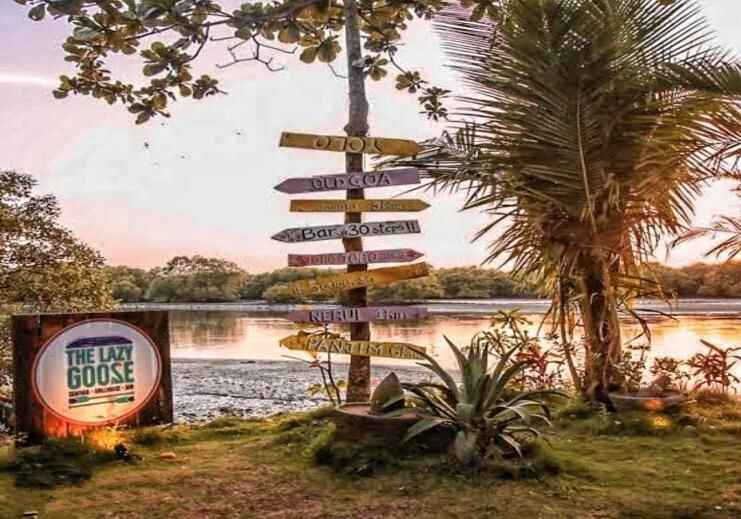 All of the above-listed places are family-friendly. On weekends and special occasions these food points host live music events also. No doubt it increases the fun manifolds.
4. The closest markets near Coco Beach for unleashing your inner shopaholic –
A beach holiday feels bland without packing some souvenirs as a memory after purchasing them from local markets. Coco Beach is encapsulated by several popular markets where you can find the desired stuff and brush your bargaining skills as well.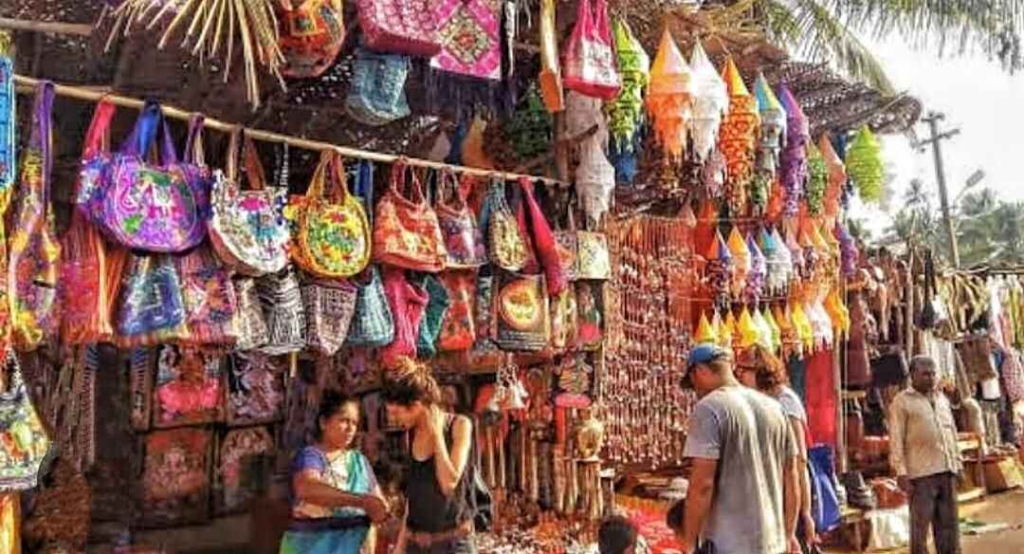 Verem Market – This local market is situated on the route connecting Panjim to Calangute. The crowd comes here to buy fresh fish, fruits , vegetables, grocery, cosmetic and other daily basis commodities. It is located in Verem, Narul and accessing this place just by covering a walking distance from Coco Beach is quite easy. The roadside food stalls also compel the shoppers to take a pause and savor the local snacks of Goa.
Anjuna Flea Market – This place becomes a paradise for all shopaholics every Wednesday. Clothes, bamboo bags, quirky jewelry, handmade items, tribal stuff, trinkets, decor items and several other souvenirs etc grab the attention of visitors. Anjuna flea market hosts several live music events, food stalls and night parties as well. You can explore here a lot apart from just enjoying a shopping spree.
Tibetan Market – You can see here a great depiction of Tibetan culture through the objects available for selling. Stones, Clothes, Jewelry, Decor items, Pots, leather material, metal crafts, quartz products and notebooks are sold here by local vendors, Tibetan and Kashmiri refugees. An ample parking area is available behind the markets.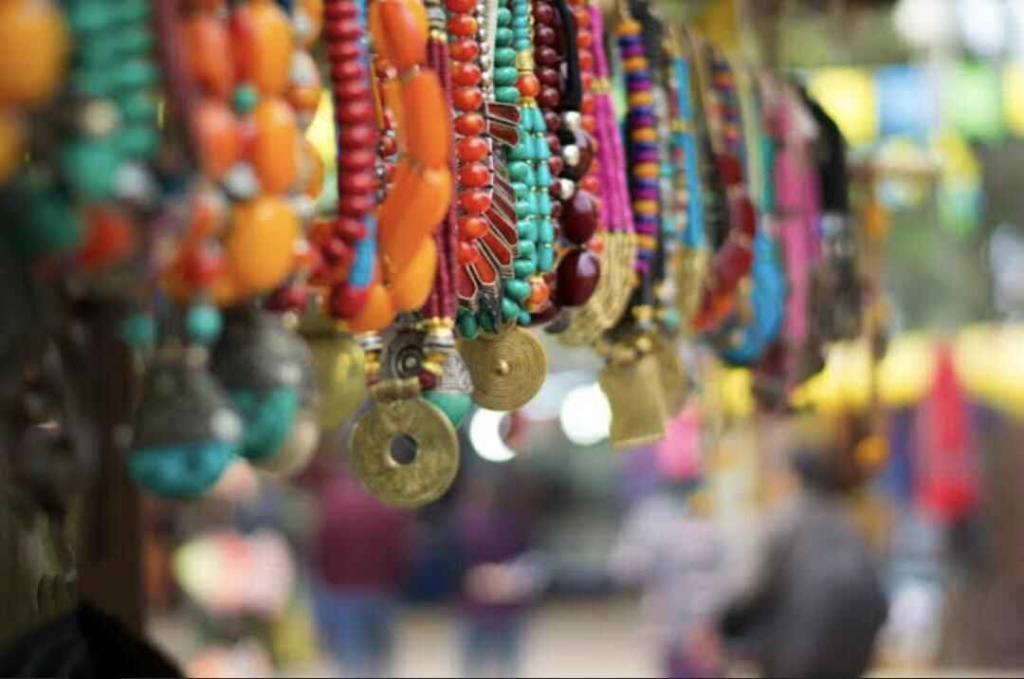 If you are looking for places where you can buy groceries and daily needs items, you can visit the supermarkets located in the vicinity of Coco Beach.
4. The Lively Nightlife of Coco Beach in clubs/pubs/beach areas –
Fun lovers should not miss a chance to hit the most happening nightclubs near Coco Beach. The vibe of these fun-packed spots is worth experiencing right after sunset to overnight.
Have a glance at the ultimate options available near Coco Beach for an unforgettable night.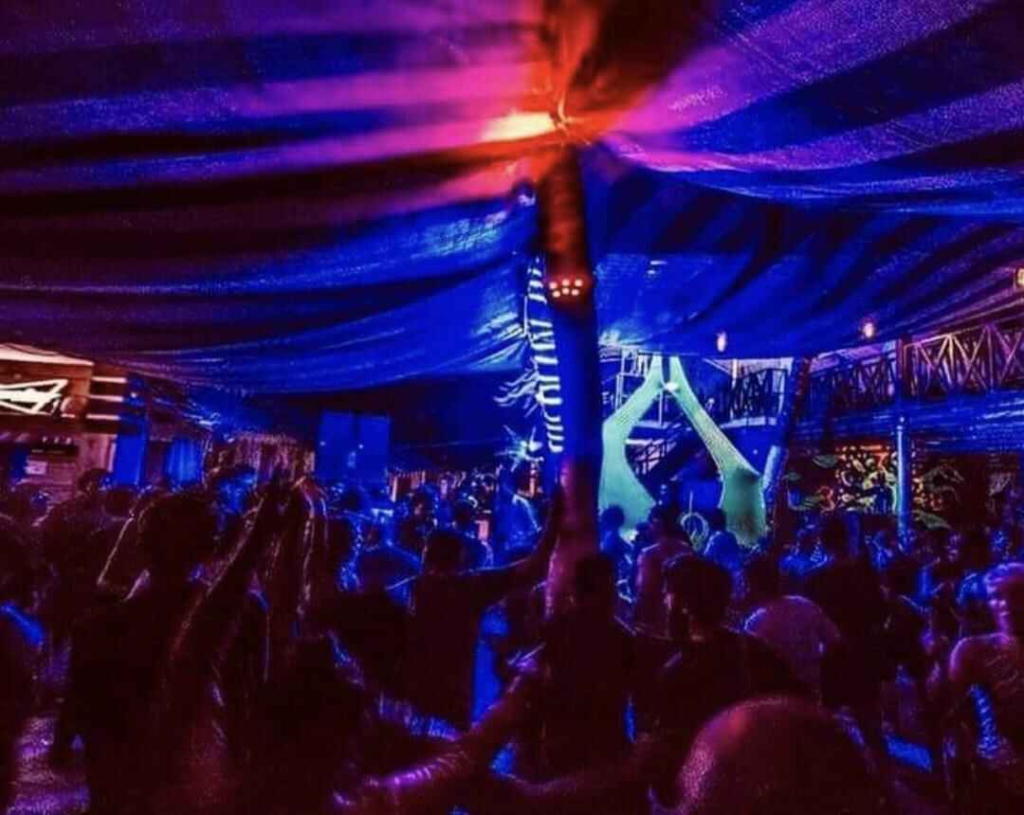 LPK Waterfront Club – The ambiance of this night sports club is picture-perfect. The live DJ area is finely embellished with catchy lights. You can pick a selective area for sitting as the place is segregated into sections. Outside the club, visitors can enjoy the art of brilliant music professionals like trumpet players. Food and drinks are also available in a wide variety. The party animals can not resist hopping & grooving like insane to the high-energy songs played by the DJ.
UV Bar – The fascinating events organize by the authorities of UV Bar catch the attention of visitors. Its ambiance can make you slightly trippy. Great trance music, UV pictures and dark lights create a perfect nightlife vibe here. After the party, you can take a long walk on the beach area to rejuvenate yourself. You can take a cab or taxi service to reach the place from Coco Beach.
Nyex Beach Club – Dance floor with a DJ, a small pool at the party area, a great ambiance, a beach view, mouth-watering food and a praiseworthy collection of classical drinks are some hyped elements of Nyex Beach Club. Due to being located pretty close to Coco Beach, you will find it packed with crowds throughout the year. Cheese Nachos, Chicken 8 to 8, Chicken Wings and Barbeque options are frequently picked food items at this beach-facing club.
Toy Beach Club – You can find this beach-facing club at Candolim Road. The grand entrance and a surreal ambiance of chandeliers & lighting will win your heart in a jiffy. Visitors love to try unique delicacies from the vast menu of Toy Beach Club. The quantity served here can satiate the appetite of two people. Planning a late evening dinner or enjoying overnight the peppy songs here will be an indelible memory for you.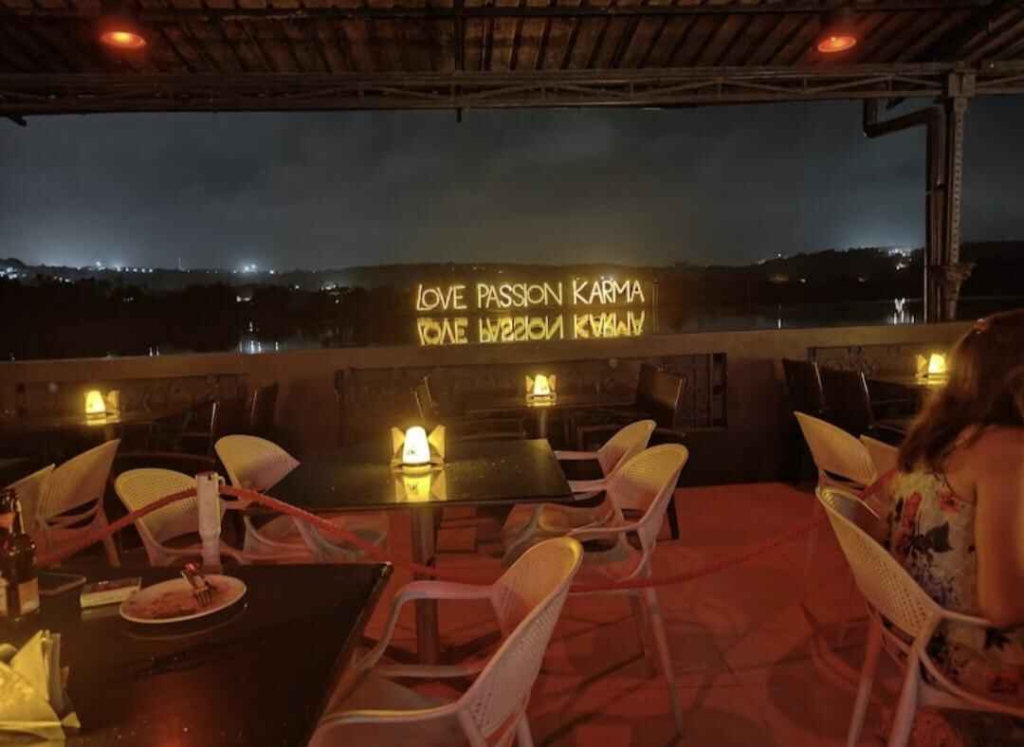 5. Accommodations located near Coco Beach for your luxury stay –
Staying close to the beach area can save your plenty of time and effort during transportation. Coco Beach's vicinity does not fall short of stay options imbibing with comfortable & lavish amenities.
Pick the best one for you from the below listed top hotels, resorts & Villas near Coco Beach.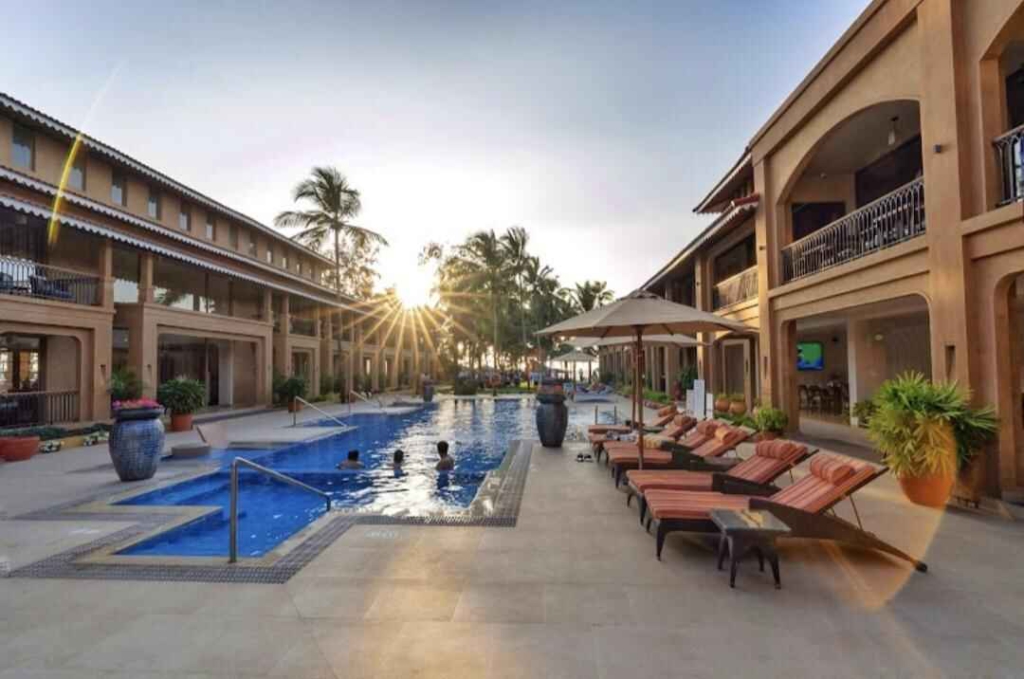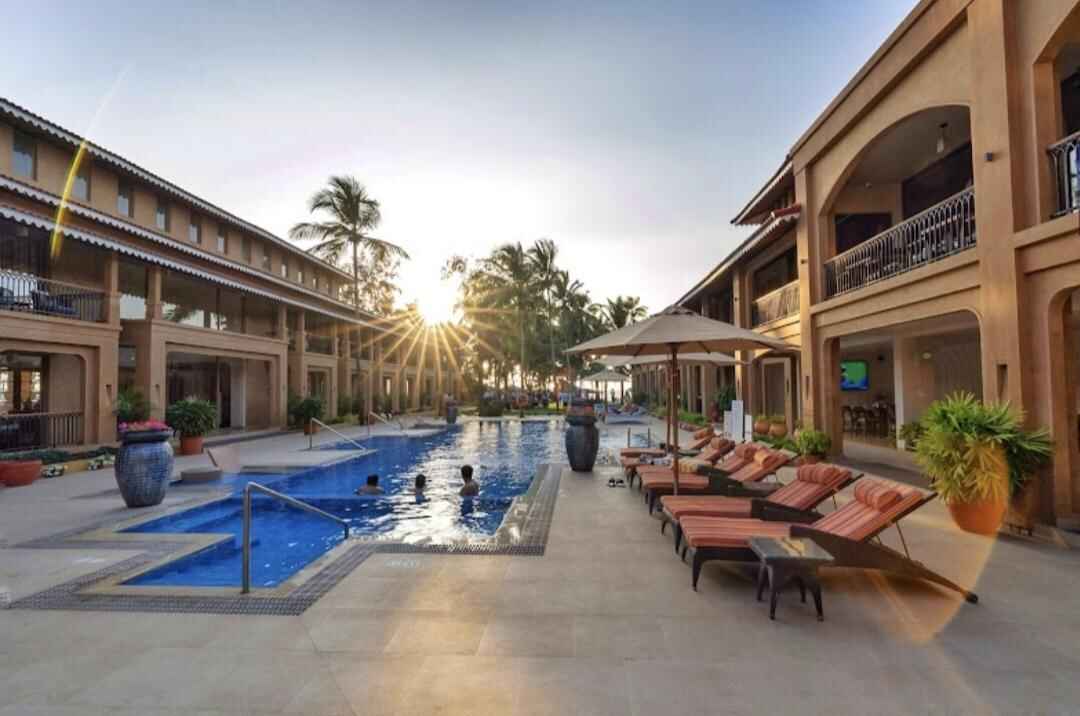 Taj Holiday Village Resort – The elegant architecture of this stay location is just 1.5 km away from Coco Beach. The renewed cottage area is full of greenery and modern amenities. In the nearby areas, you can visit luxury restaurants for a memorable dinner or brunch.
Marquis Beach Resort – The visitors love to stay here frequently due to the spacious room, wifi services, pool area, breakfast, evening parties and much more. The rooms available at the property are fully air-conditioned and offer a picturesque beach view. It is 5 kilometers far from Coco Beach.
Coco Shambhala Luxury Resort – This incredible property located in Nerul has a heavenly vibe. Courteous staff members, great food items served, modern amenities at the spacious rooms and traditional architecture etc lure the visitors massively. The property is slightly expensive but if you can afford it, don't miss a chance to stay here.
Acaron Seaway Resort – This place includes all those facilities that a visitor looks for during the vacation. Conference room for business meetings, kid's area for playing, spacious rooms, free parking, pool and wifi services etc. You can stay here with your family, friends and kids.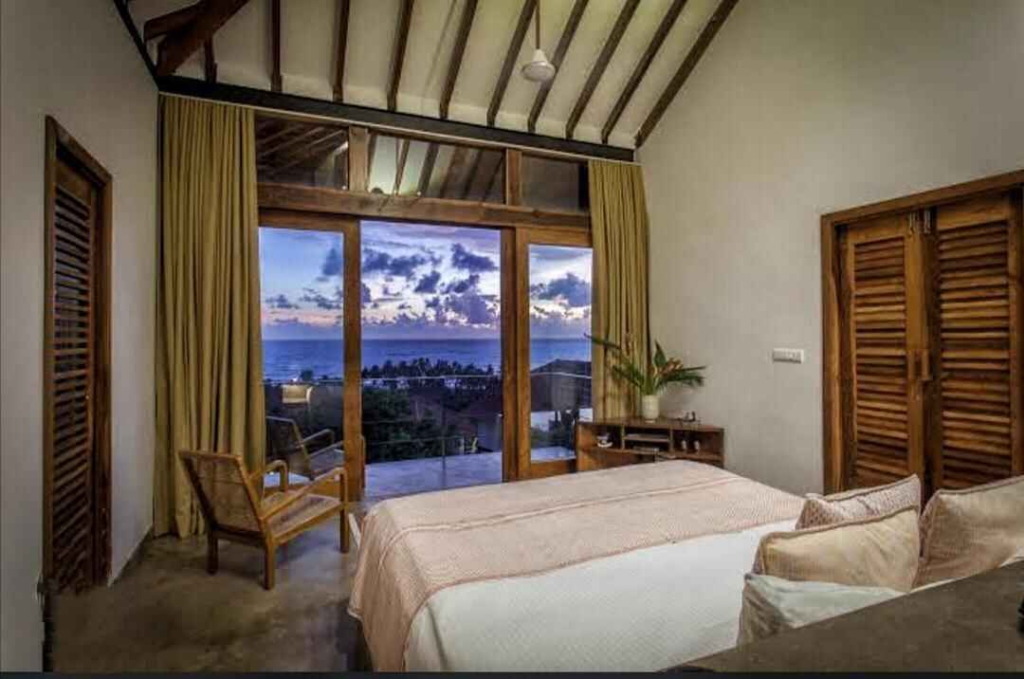 These are some top-rated stay properties near Coco Beach that get fully occupied in the peak holiday seasons. Ahilya By The Sea, Sinq Prive, Summerville Beach Resort, Marbella guest house and Seamantra Resort etc are some other options open for visitors to spend a pleasurable stay.
Points to keep in mind before planning a holiday at Coco Beach –
A few mistakes can deprive you of the fullest fun at beach locations. Try to avoid them.
To protect yourself from the scorching heat, do not forget to keep sunscreen.
Carrying too much cash with you while walking on the beach can be risky. Keep minimal cash or use an online payment mode.
Do not get too much friendly with strangers.
Frequently Asked Questions (FAQs) –
Q – What are the ways to reach Coco Beach? 
A – You can take airways, ferry, railways, bus, car and motorbike to reach here. 
Q – What is the best time to plan a holiday at Coco Beach? 
A – From October to March is the ideal time to plan a vacation here. 
Q – What is the distance between Coco Beach and Panjim? 
A – It is just 10 kilometers away from Panjim. Only half an hour will be needed to access it from Panjim.
Also check : goa funny quotes