Those who prize the calm ambiance with unusual natural beauty over any other thing must come to Mandrem Beach for a deviant affair. The exceptionality of Mandrem Beach lies in the 790 meters extended stretch imbibing white sand, fringes of towering palms & casuarina trees and small creeks etc.
It becomes more enticing when high tides of seawater strike and gush into the creeks that separate Mandrem Beach from other adjacent beaches.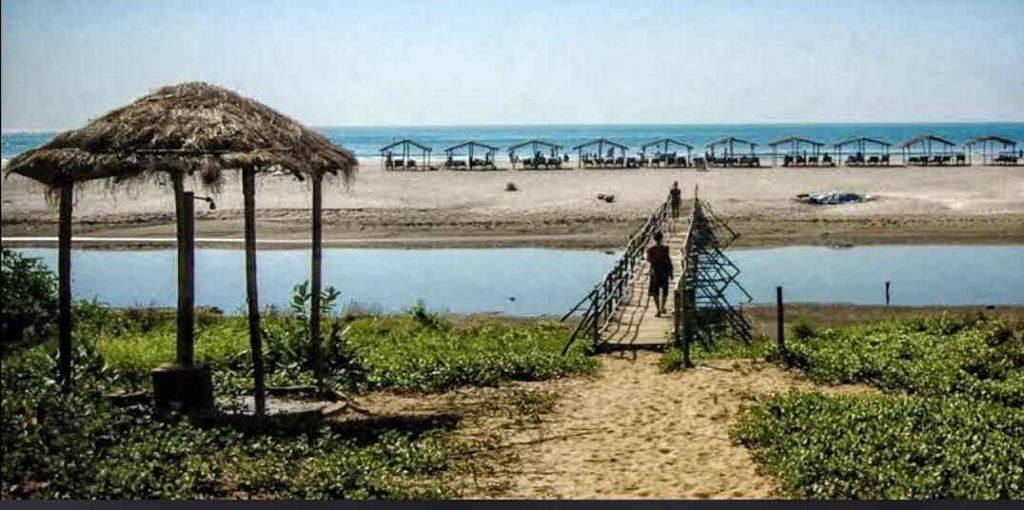 The sunsets of Mandrem Beach are prominent across the globe. You'll see a great flux of foreigners heading towards the beach in the evening to witness the charming sun sinking into the gigantic sea.
Well, the beauty of Mandrem does not limit itself to only surreal nature. It is spiced up with colorful shacks, water sports, availability of sea creatures and fancy food joints near Mandrem Beach.
To cover each worth-visiting spot near Mandrem Beach during your vacation, having a perfect itinerary is mandatory. We've eased this task for you by accumulating all the essential information in one place.
Highlights of Mandrem Beach –
The small river inlets joined with the beaches through bamboo bridges create a more surreal look on the beach.
Do not miss a single chance of viewing the pleasant sunset and capturing it with your cameras.
Sunbathing and relaxing on Mandrem Beach will offer you a distinct experience.
Exploring the Mandrem Village and its local fishermen can be a part of your itinerary.
The early mornings of Mandrem Beach are no less than a paradise and ideal for meditation, yoga and planning for a few private moments with your partner.
What is the best time to plan a holiday at Mandrem Beach?
The hot & humid summers and troubling monsoon season create an unfavorable atmosphere at the beach area. While on the flip, the pleasant winters (November to March) make Mandrem Beach a slice of paradise. The heavily blooming nature, calm sea, good flux of visitors on the beach, availability of water sports, beach shacks and local fishermen make the place truly happening.
Temperature ranges from 31°C to 34°C during the peak winters. Hence these months become a peak tourist season of Mandrem Beach as well.
How to access Mandrem Beach easily from nearby locations?
Mandrem Beach is located in the Prerna Taluka of North Goa. Its distance from Panaji is nearly 41 kilometers. There are too many options to cover the distance between Panaji & Mandrem such as KTCL bus services, taxi/cab ride and Towncar etc. The clear routes take 2 hours to reach Mandrem from Panaji. Charges for each transportation vary, you can pick the most convenient one.
From Goa international airport, Mandrem Beach is 52.8 kilometers. It will take approximately 1 hour to reach here from the airport. You can hire a car/taxi service, self-driven rented car service and luxury transportation of a town car for covering this distance. Though the town car services will charge nearly 2000-3000 rs, it is worth hiring to explore the beauty of the route lavishly.
1. Which close visiting locations make Mandrem Beach the most preferred holiday place in Goa?
The places that fall in Mandrem Beach's close circumference are full of facts you dream to explore. Unique temples, small yet fascinating villages, forts, yoga centers, river areas and much more are located just a few kilometers away from Mandrem Beach.
Let's take a glance at must-visit places around your holiday location.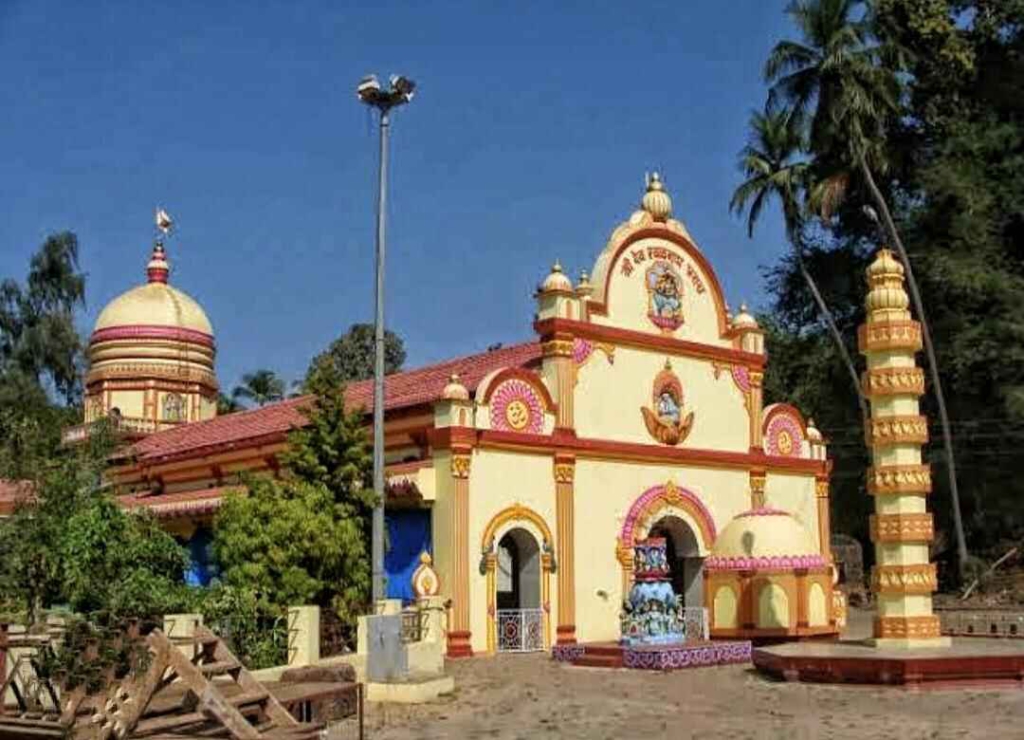 Chapora Fort–
This location compels visitors to feel that beauty can still stay in the ruins. The history buffs will love to explore the gun ports, arrow slits, murder holes and several concealed tunnels that are available here for decades. The fort is 16.4 kilometers far from Mandrem Beach. Having a great walk along with the ramparts of Chapora Fort will always be in your memories.
Shirr Purchevo Ravalnath Temple–
A prominent shrine located just 7.7 kilometers away from Mandrem Beach is Shirr Purchevo Ravalnath Temple. It is a giant and finely carved sculpture of Lord Vishnu in Mandrem Village. The half-human and half-eagle-shaped structure of the Hindu God catches the attention of all visitors. To attain the divine blessings and peace you must include this popular holy shrine in your itinerary.
Aguda Fort –
Seeking a location to capture some breathtaking views to cover the stretched beach lines, Aguda Fort is an idyllic location to fulfill this purpose. It is 28 kilometers distant from Mandrem but the mesmeric views of the coastline from the top of the fort will wipe off your all tiredness. A lighthouse present in the fort is the central attraction among locals and foreign visitors.
Oceanic Yoga & Meditation School –
To make your relaxing beach vacation even more pleasurable and spiritual, you can head toward this perfect place. The peaceful yoga sessions at a scenic location with soothing spiritual music will calm your mind and soul. It is 5.1 kilometers far from Mandrem Beach.
Dog Temple –
Just 1.4 kilometers away from Mandrem Beach, this place is so apt for dog lovers. You can spend here a great time with furry friends and capture the best moments of your Goa vacation. The entire place is dedicated to the dogs and is surrounded by nature. If you are willing to donate something, there are several food options for offering them.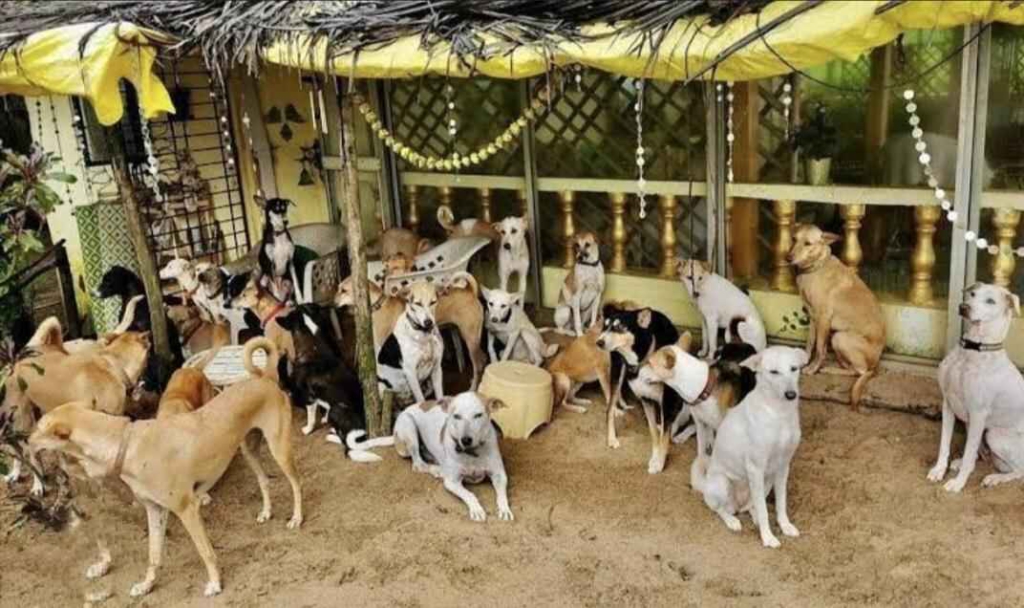 For nature admirers, the surroundings of Mandrem offer Chapora River and Mandrem Village for exploration. In the village, you can meet with the locals, fishermen and vendors to know their traditions, occupation and lifestyle closely. The flora & fauna of the village area will also revive your exhausted soul.
2. What is on the platter of Mandrem Beach's adventurous water sports for you?
Approximately all the beaches of Goa are full of fun vibe due to offering some thrilling water sports and Mandrem Beach is not an exception in this case. You must be ready to experience the adrenaline rush up to its peak just by jumping into seawater with all safety measures.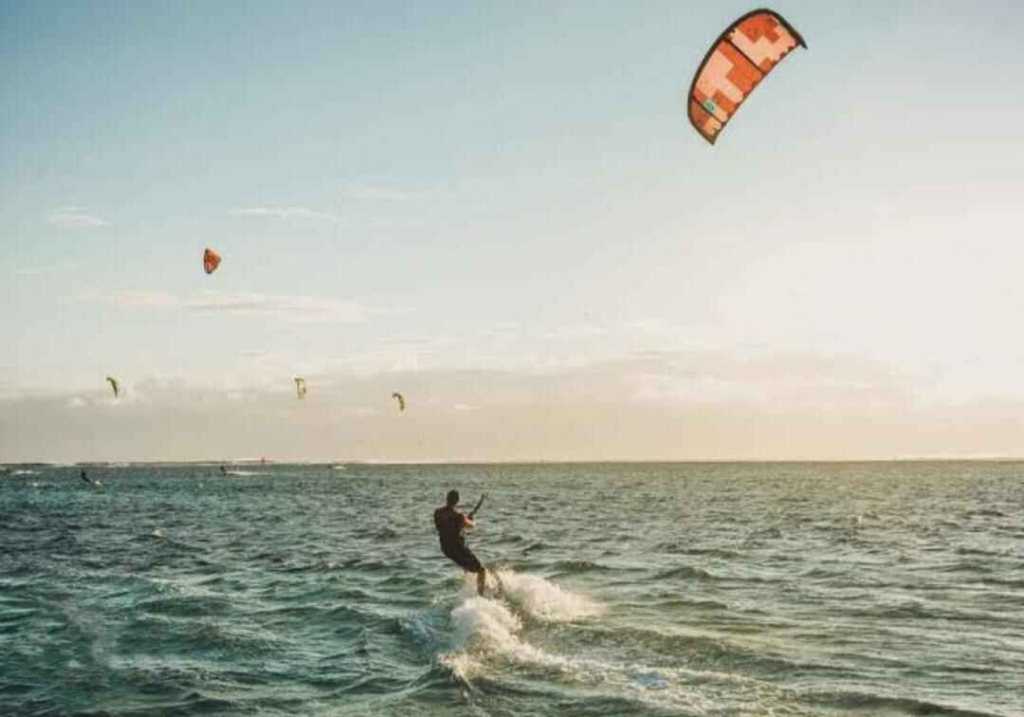 Kitesurfing–
This is a unique water sport available at Mandrem Beach to check your challenge-accepting caliber. It is a wind-driven water activity in which you can sail on the sea surface yet feel like flying in the sky. Taking the whole view of the coastline while performing this thrill-filled ride will enhance your pleasure.
Backwater Kayaking–
To witness the surreal sunset and dense mangroves from Mandrem Beach to the river sides, one just needs to slowly paddle the kayak. It is for both kinds of visitors who are naive or experienced. This ride will act like therapy for riders when they sail forwards and witness the unusual beauty of vast water bodies.
Fishing–
As it is explained above Mandrem is a hub of excellent fishermen of Goa, why don't you learn some skills by trying your hands at fish catching? Well, this will not be that much thrilling but it is a great idea for those who love exploring something new with patience.
Windsurfing–
It is a blend of sailing and surfing. You need to get trained well for having the best experience. The refreshing breeze, gentle splashes of blue water on your body, and serene views of the less crowded coastline will be locked in your memory forever as a good holiday time at Mandrem Beach.
ATV Ride–
Not only the water area of Mandrem Beach provides a great option for adventure but the beaches are also open to thrill you with a bumpy ATV ride. Riding along the beach or covering the narrow and muddy terrains near Mandrem Beach will hit you differently.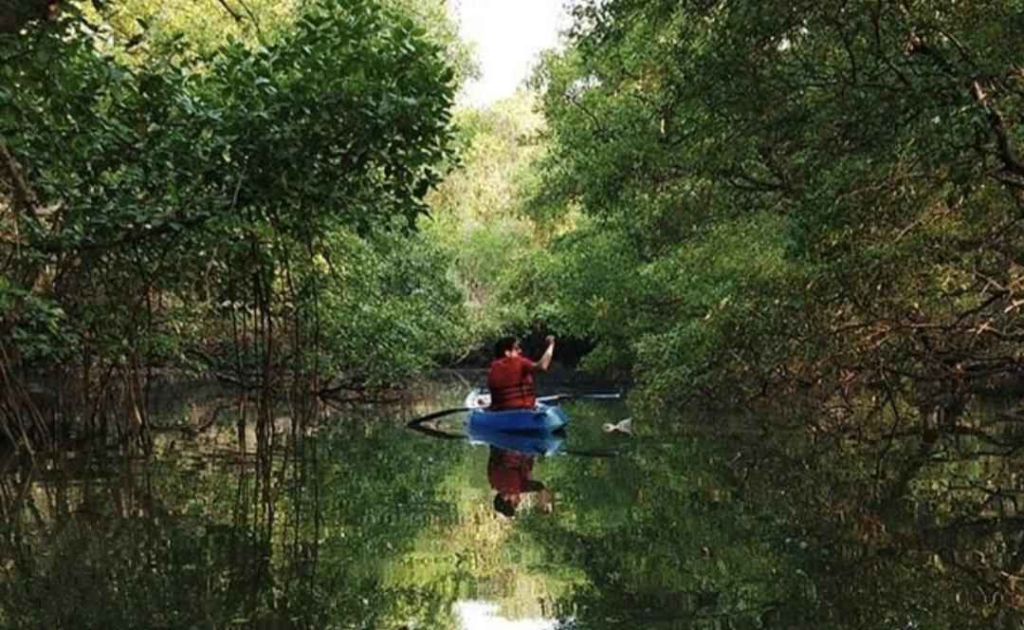 During all these water and beach rides, you must comply with the guidelines provided by PADI-certified water sports operators.
3. What are the best markets near Mandrem Beach to satiate the thirst for shopping?
The local markets of Mandrem are the perfect spots where you can take a glimpse of the authentic Goan vibe. Whether you want to buy some souvenirs or relish the spicy snacks at roadside stalls, go on a shopping spree in Mandrem.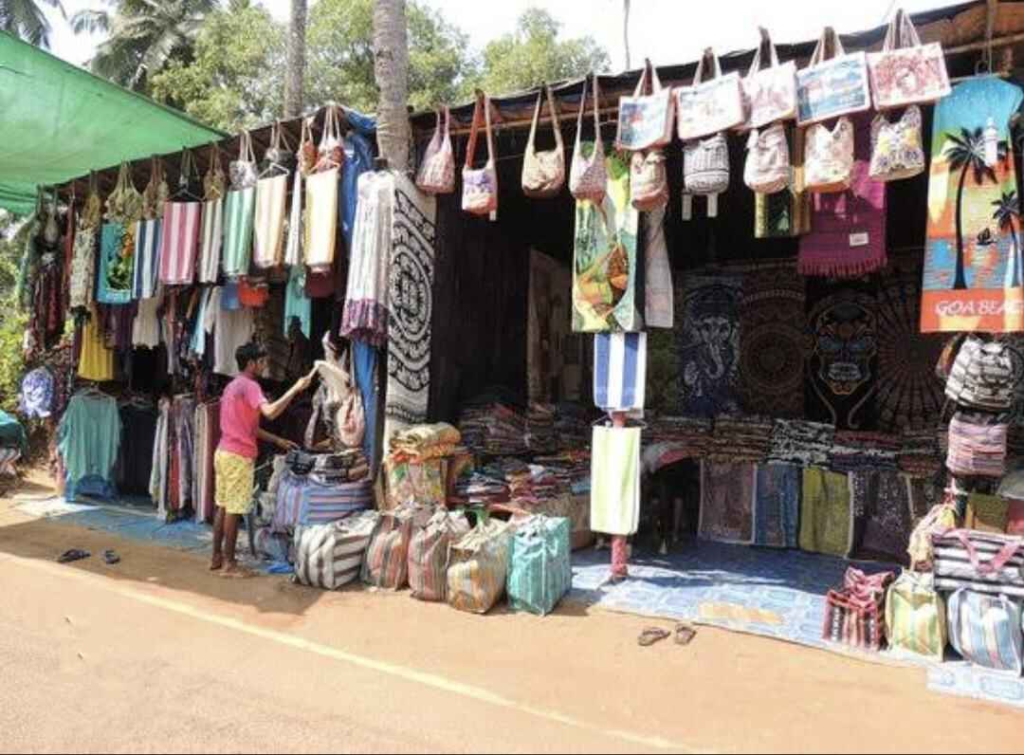 Mandrem Fish Market–
The market is 2.3 kilometers far from the beach area. You can access the stalls set by local fish vendors just by covering a small distance by walking. Here you will find a plethora of varieties of fish and other seafood items. Talk to vendors, grab the surprising facts about fish and seafood and make a good deal with them after flaunting your bargaining skills.
Madhalamaj Market–
It includes a supermarket store where you can find all the daily need stuff such as groceries, bakery items and poultry things etc. In the nearby shops, you will find mobile and other equipment services as well. Some eateries are available here to serve you the local food of Goa. It is 1.6 kilometers away from Mandrem Beach.
Several jewelers, leather, garments and footwear stores are also located near the beach area. You can explore a lot more apart from the above-listed marketplaces.
4. What are the best spots for exploring the lively nightlife near Mandrem Beach?
Mandrem Beach is widely recognized among Goan visitors for its extended serenity, calm ambiance and blooming nature. Therefore very few clubs and party hubs are located near Mandrem but you need not get disheartened as we have rounded up some best and closest options for you.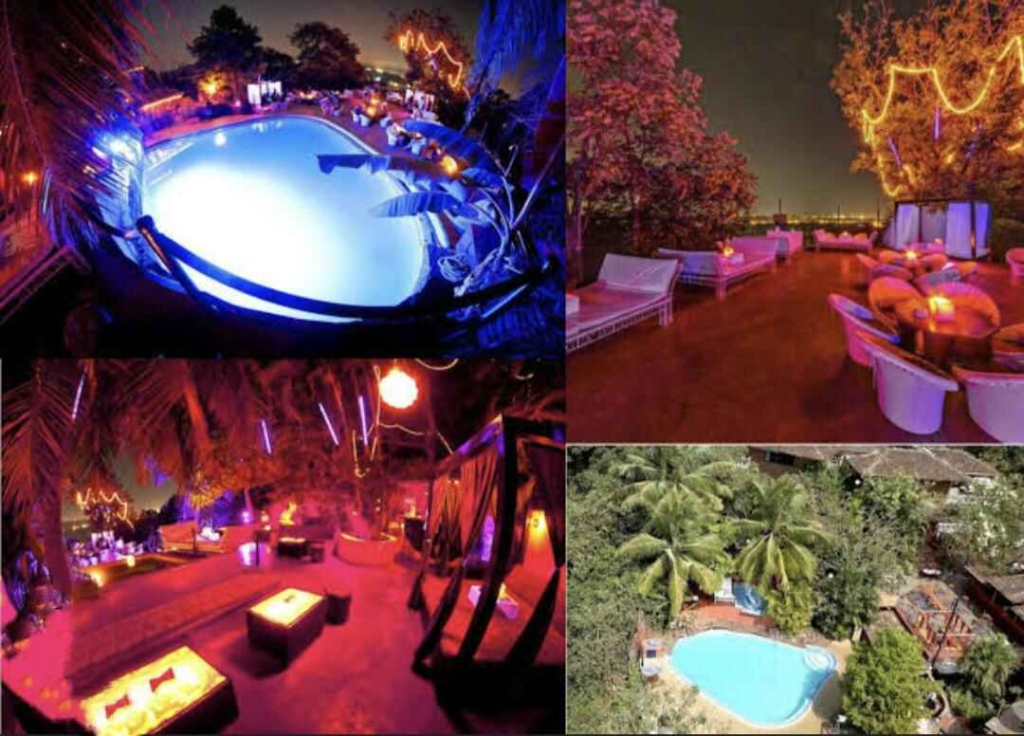 Primrose Cafe & Club–
The place hosts some amazing & glorious night parties for the guests. A separate cafe area and club domain makes the place best suitable for families and friends. Revamped ambiance giving club vibes, Bollywood and trance music in the background, friendly staff with prompt services and a great combination of tempting food and refreshing drinks etc enhance the worth of the location up to ten folds. It is 7.4 kilometers far from Mandrem.
Club Cubana –
No doubt why Goa visitors call it the most happening club in Goa. The club is located on Arpora Hill and gives a splendid view of Goa City from its premises. Specifically, organized parties, spacious ambiance, wide dance floor, DJ music, live performances, themed decor and ample outdoor area for sitting are some prime attractions of Club Cubana. Women can take advantage of free entry and free drinks on Club Cubana's women's night. The distance from Mandrem is 10.1 kilometers.
CIEL Club –
It will be very close (7.1km) for the Mandrem Beachgoers who are seeking a place full of fun, food & drinks. The amazing ambiance, good food, variety of drinks and unparalleled music choices offered to guests compel them to fall in love with CIEL Club of Goa.
Nyex Beach Club–
Though the distance between Mandrem and this party location is good enough (14 kilometers), it is worth hitting this place if you love enjoying drinks at a poolside bar, sitting in front of the sea area while relishing good food and dancing till your ankles ache on the DJ songs. The ambiance is fascinating and the range of food items will satiate your tickling taste buds. The fewer choices for nonalcoholic drinks can disappoint you slightly.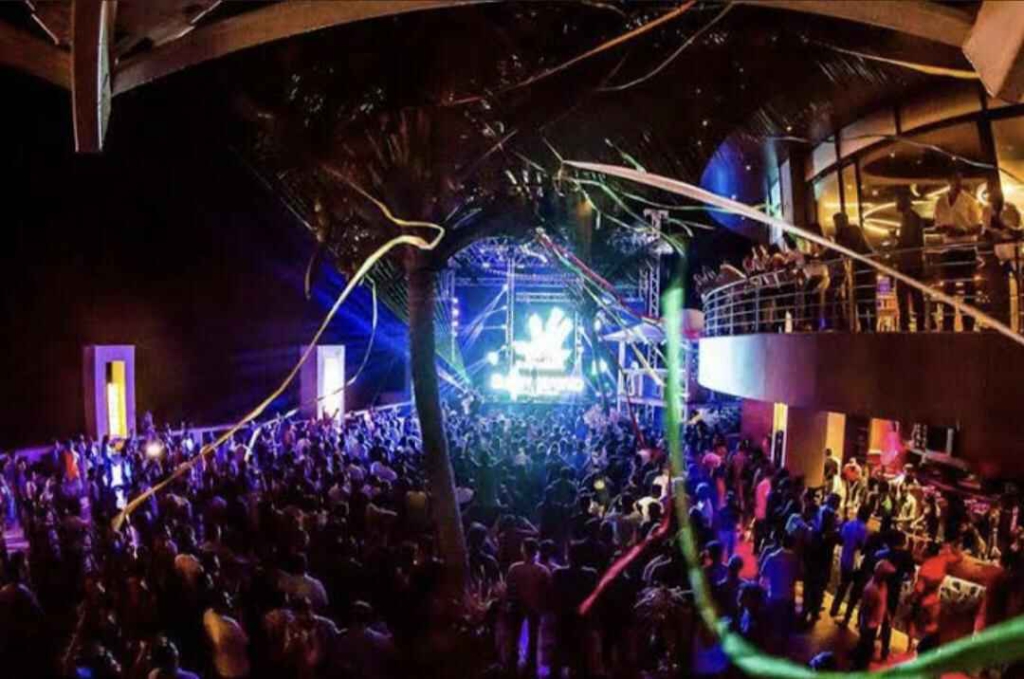 5. Where to plan fine dining near Mandrem Beach?
A vacation feels bland if you have secluded the best eateries located near your holiday location. Here are the top-rated & classy food outlets to spice up your entire vacation.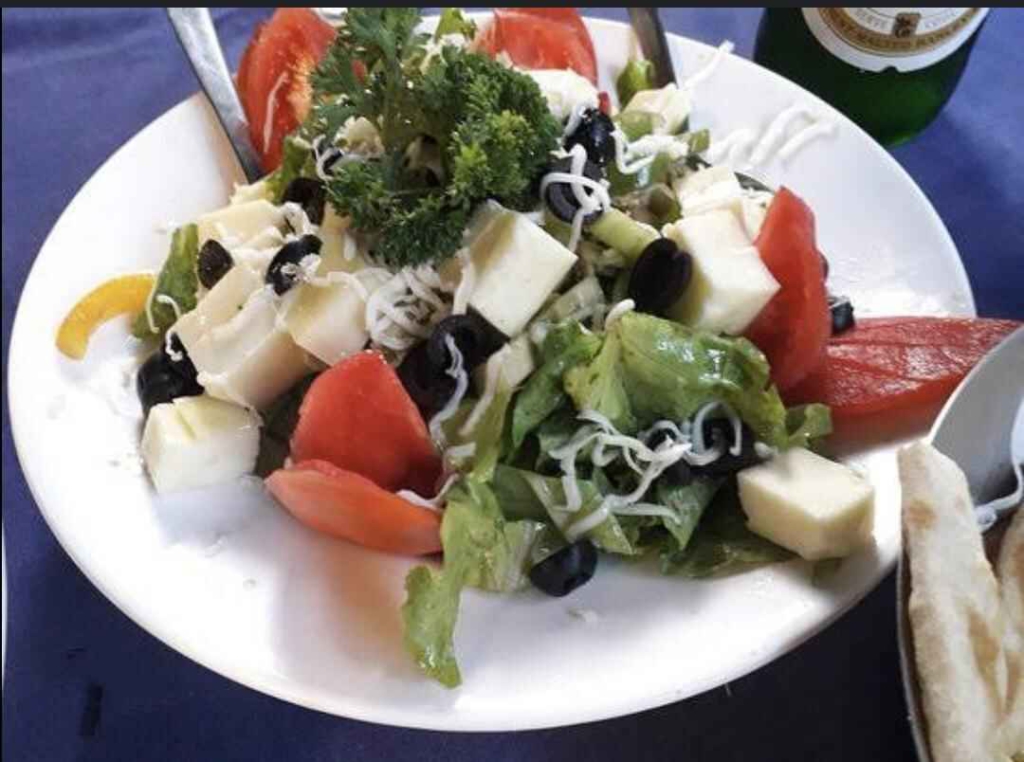 Cafe Junas9–
Just 6 kilometers distant from Mandrem Beach, this place is worth visiting if you want to try Indian and European-style seafood with drinks. Some prime specialties of Cafe Junas9 are Tuna & Kingfish dishes. Due to being located on the beach, it lures the bulk of visitors in peak season.
End-of-the-world restaurant–
This place tempts the great foodies by organizing food fests quite frequently. Here you can experience a range of items that hold a caliber to win the hearts of food lovers through their tantalizing aroma.
O Saiba New Cafe–
If you want to feel homely at a dining place, this cafe is idyllic for lunch with families, friends and a romantic date. Here you will find Chinese, Thai, Italian and Indian cuisines. Their signature curry pizza sandwich catches the attention of guests in just the first bite.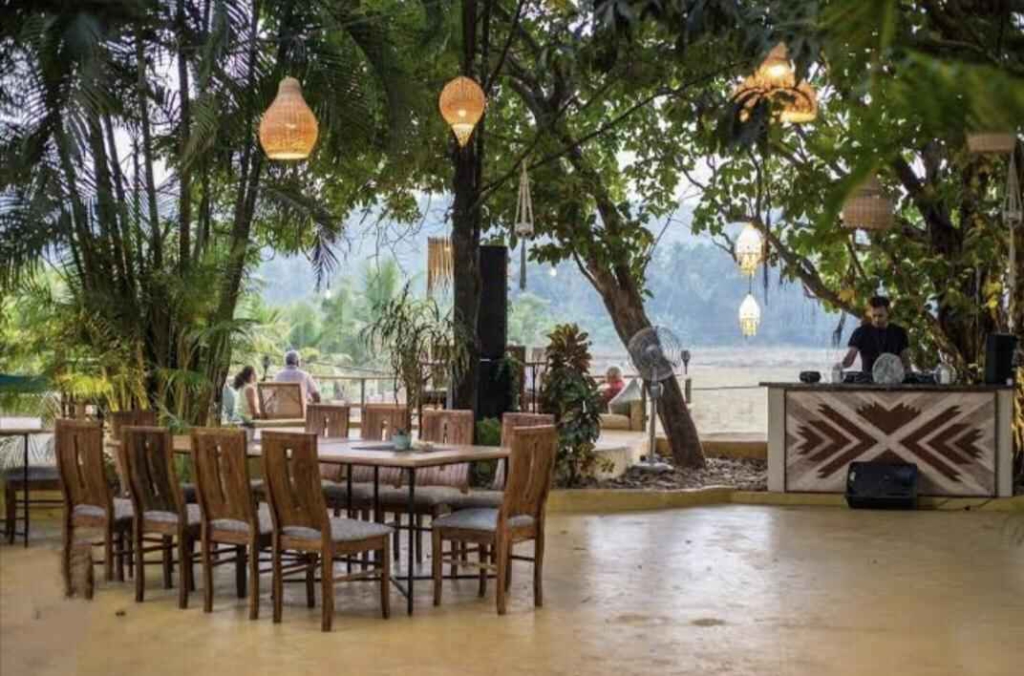 You can visit some other places near Mandrem Beach like Boonies, Bedrock Bar & Restaurant, Tom Yam Thai restaurant, Sunset Mandrem, Cafe Food Planet and Verandah etc.
6. Why visiting beach shacks near Mandrem Beach is must for you?
Enjoying some relaxing moments near the seafront is one of the hyped things in Goa. The shacks near Mandrem Beach give a hippie vibe to visitors. Savoring the seafood, viewing the sunset, sipping a classy bear and listening to the roaring sea waves etc are some pleasurable things you can enjoy only at a beach shack.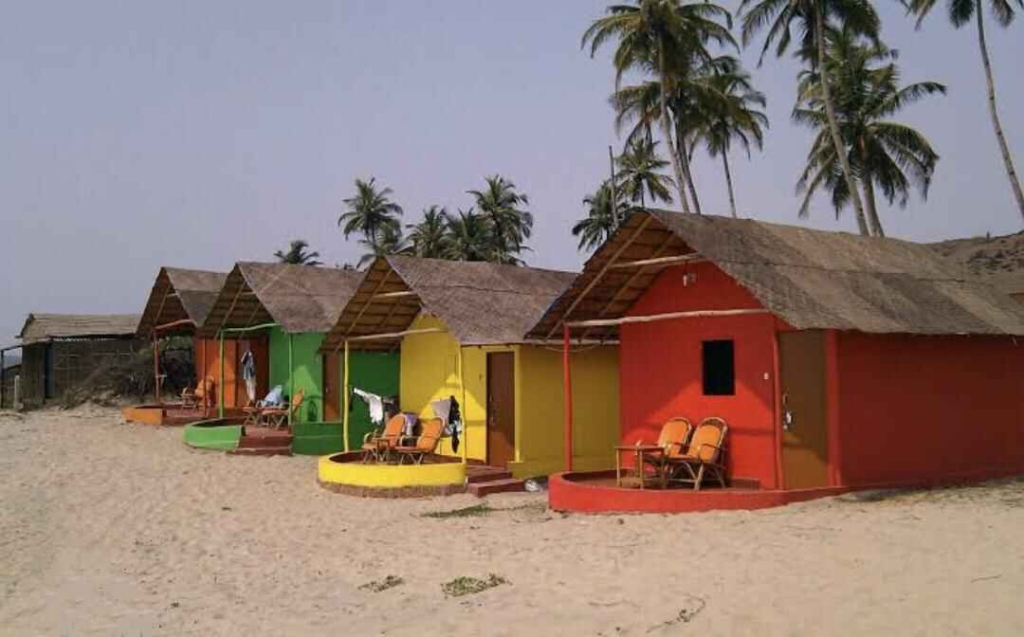 Paradise Beach Shack–
Looking for a shack where you can simply lounge on the sunbed under shades and sip your favorite drink? Visit this beach shack without giving it a second thought.
Sanjay Vailakanni Beach Shack–
The nearest (4.8 km) beach shack from Mandrem Beach is Sanjay Vailakanni beach shack. Along with offering a comfortable stay, the shack services are prominent due to its range of offered delicacies. It includes Goan, Seafood, Italian and Indian cuisines.
7. Where to stay for a luxury and comfortable vacation near Mandrem Beach?
The lavish accommodations near Mandrem Beach provide all comforts that a visitor demands. Among the scores of options, here are frequently preferred stay places.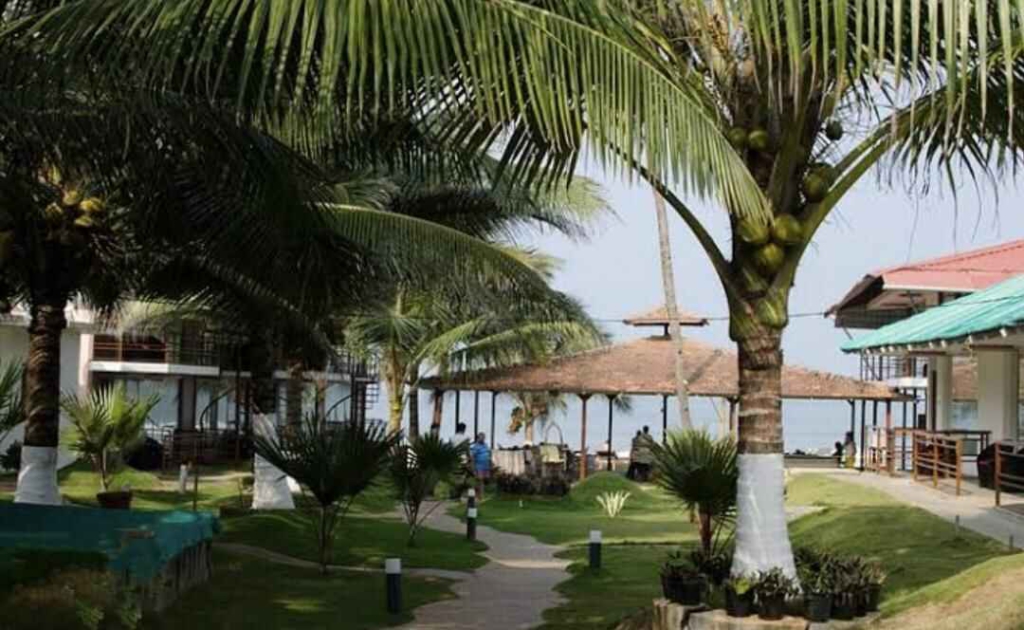 Mandrem Paradise–
The sea-facing rooms of this luxurious property allure the guests to plan a lavish stay here. It is 650 meters away from Mandrem Beach. The spacious, tidy and well-equipped rooms are value for money. The surroundings are also heavily occupied with lush greenery.
Riva Beach Resort–
120 meters far from Mandrem Beach it is no less than a paradise for beach lovers. High-quality services available at the property enable it to make a place among the top-rated accommodations near Mandrem Beach.
D Pedro Inn –
This property boasts a plethora of advanced amenities like bar, garden, free wifi, free parking, Asian & continental breakfast etc. You just need to pay 2000 INR for spending a night at this luxury location.
Ashwem Boomerang–
Located at a 3.3 kilometers distance, this stay property is a synonym for comfort and luxury. It is also known as Boomerang Beach Resort among locals and visitors. You can spend a great vacation here by having the best sea views and other comforts by the prompt services of workers.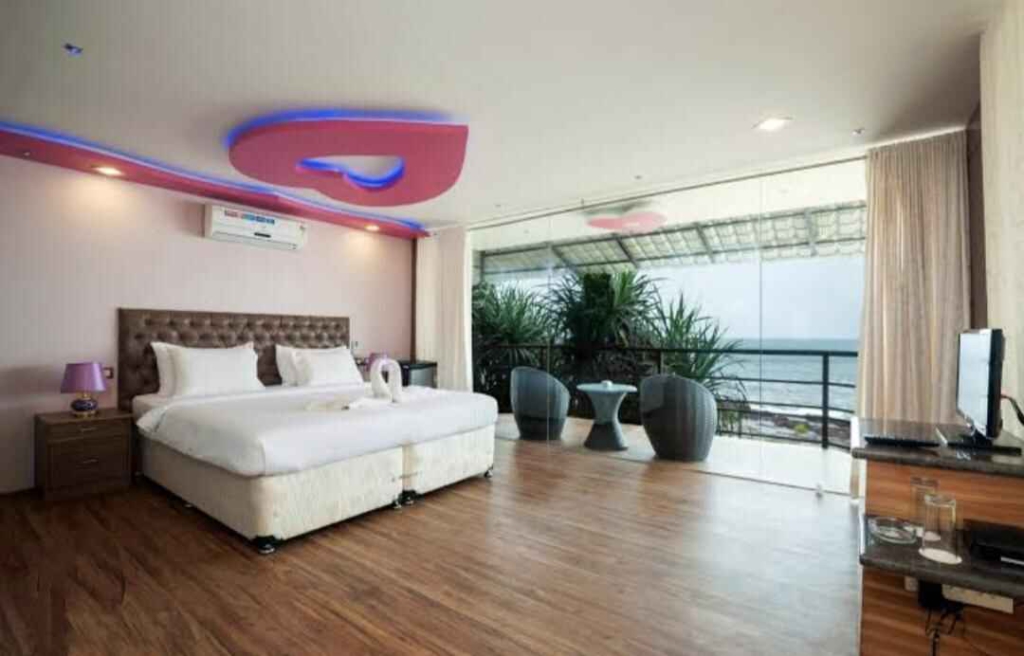 Tips for travelers to make their Mandrem Beach vacation unforgettable –
Keep all the essentials in your backpack for a perfect beach holiday such as cotton clothes, hats, sunglasses and sunscreen etc.
Don't forget to keep a good quality camera as the splendid views will compel you to take brilliant shots.
Do not keep cash in bulk amounts. All vendors and shops accept online payment modes.
Frequently Asked Questions (FAQs) –
Q – Is alcohol allowed on Mandrem Beach?
A – No, it is prohibited in the beach area. You can enjoy boozing at the nearby shacks and restaurants.
Q – Are there washrooms and lockers available at Mandrem Beach?
Q – Is Mandrem Beach crowded?
A – Yes during the peak season.
also check : status for goa trip